Britain
Get more with myNEWS
A personalised news feed of stories that matter to you
Learn more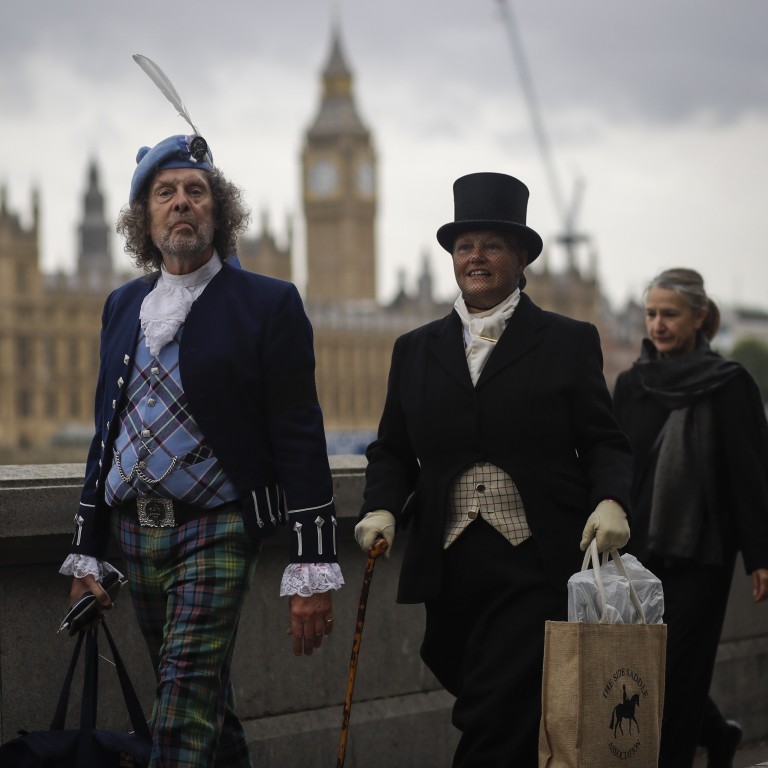 Thousands queue for 'once-in-a-lifetime' opportunity to pay respects to Queen Elizabeth
The lying-in-state of the queen's coffin will run for four days ahead of her funeral on Monday. An estimated 400,000 people could view it in the coming days
Hundreds of world leaders are expected to attend the funeral, including Chinese Vice-President Wang Qishan – amid objections from some Conservative MPs
Florence Brearley, five, just had to see Queen Elizabeth.
As soon as she found out that she could view the queen's coffin lying in state in person, she wanted to go, her mother Rachel Brearley said.
So with her sister Matilda, who turns three on Friday, Florence took a day off from school and the family travelled from Stratford-upon-Avon to join thousands of other ordinary Britons for a chance to say one last goodbye to Britain's longest-reigning monarch, who died at the age of 96 last week.
"Over the summer we went to Windsor Castle. It ignited a fascination [by her daughters] with the royal family and the history of how the United Kingdom has been ruled," Rachel Brearley said. "I think it's just a once in a lifetime opportunity. It's completely surreal that she's died."
A queue of thousands of people snaked more than 3km (2 miles) past the London Eye and the Tate Modern museum along the south bank of the Thames at 7am BST (2pm HKT) on Thursday, the first full day that the public could view the queen's coffin at Westminster Hall.
Three hours later, the queue stretched nearly 5km and it could grow bigger over the coming days as authorities have prepared for a queue as long as 16km. About 500 portable toilets have been set up along the route and businesses beside the river are staying open extra hours to accommodate the crowds.
Queen Elizabeth's
coffin will lay in state until 6.30am BST on Monday, the day of her funeral. It will be the first state funeral in Britain since Winston Churchill died in 1965 and be attended by hundreds of world leaders.
Diplomatic sources confirmed on Thursday that Chinese Vice-President Wang Qishan is
expected to attend
after signing a condolence book at the British embassy in Beijing earlier this week.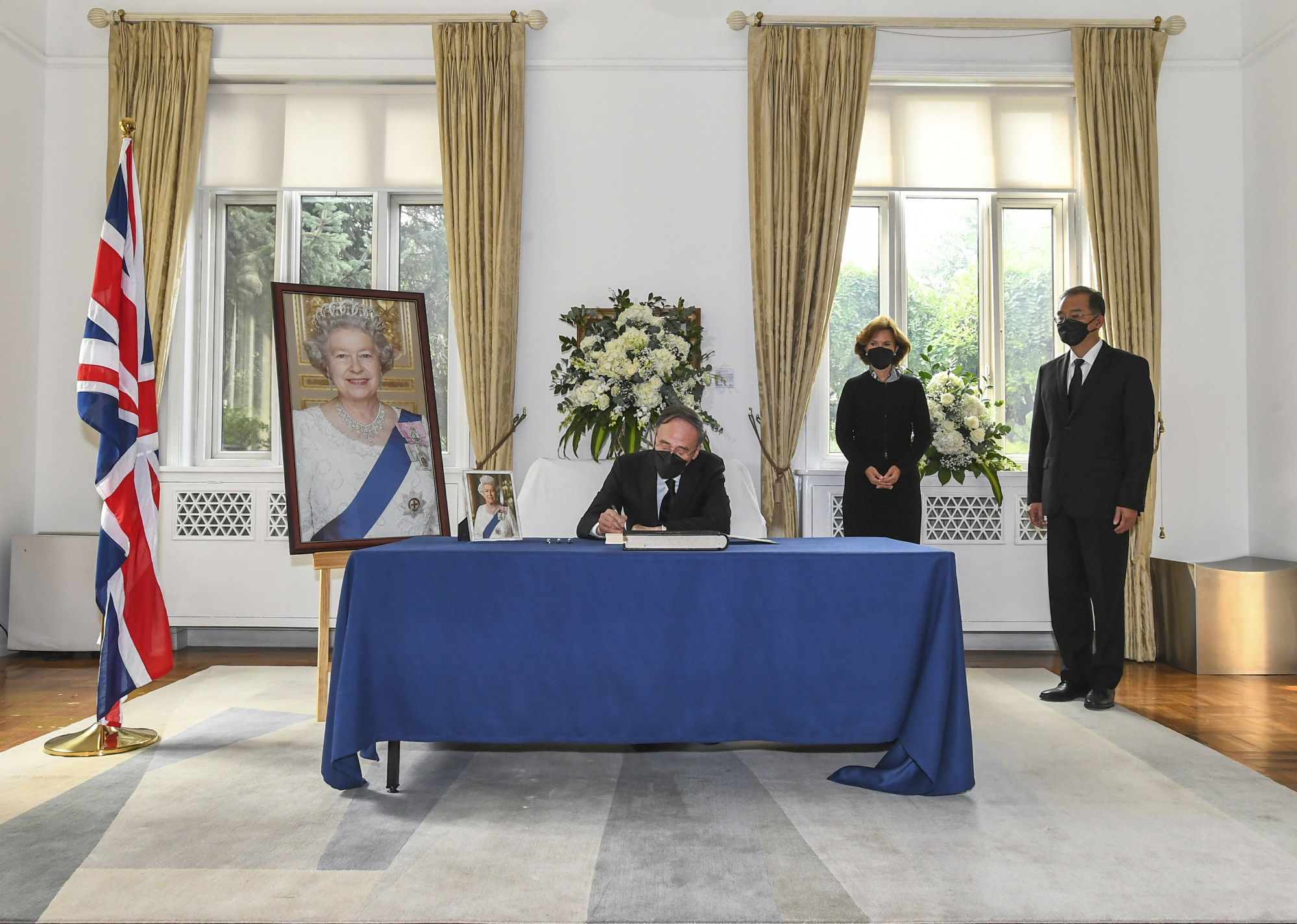 However, some Conservative members of Parliament have objected to an invitation being extended to Chinese officials over purported human rights abuses against ethnic Muslim Uygurs in the Western Chinese region of
Xinjiang
.
"It is incredible that the government would contemplate inviting representatives of the government of China to attend such an important international occasion as the state funeral," Tory MP Tim Loughton told The Independent.
Officials have estimated 400,000 people will file past her coffin by early Monday morning, but British papers have reported the crowds could be double that size.
Authorities have said they will close the queue early this weekend if members of the public would not be able to make it inside in time, with warnings the wait could exceed 30 hours.
Early on Thursday morning, members of the Household Division, the military regiments who guard the monarch, held a dress rehearsal in the streets of London for Monday's funeral at nearby Westminster Abbey.
Justin Welby, the Archbishop of Canterbury, greeted members of the public as they queued on Thursday, often asking how many hours they had stood in the queue.
However, the next few days will be for the public to remember Queen Elizabeth, who reigned for 70 years following her father's death in 1952.
Along the Thames, the BFI Southbank cinema set up a screen showing footage of historic moments with the queen and music rang out from the nearby Southbank Centre.
As joggers ran past, well wishers sipped morning coffee and chatted as they waited for hours for their chance to view the queen's coffin.
"I just want to pay respect Her late Majesty, Queen Elizabeth," said Tony Tang, who joined the queue on his day off. Tang described himself as a "newcomer" to Britain, after recently moving from Hong Kong to London.
Some carried boutiques of flowers, others wore clothing that evoked Britain's tricolour Union flag or medals they received in military service. One man wore a green tartan kilt, with a tricolour bow tie.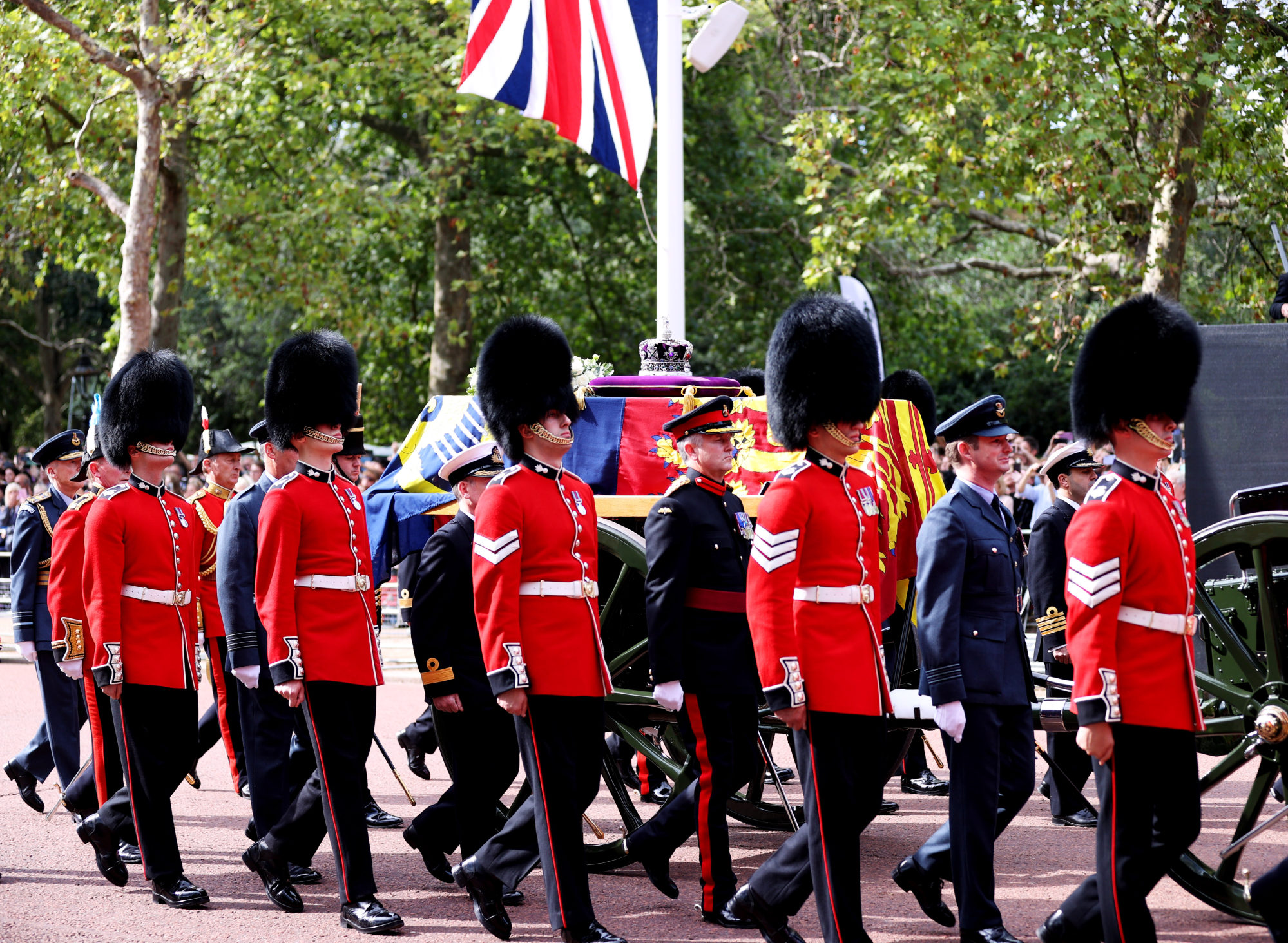 The queue move steadily, as fast as one person a second at times, but paused every so often at bottlenecks along the route or as the guard was changed inside Westminster Hall.
Covered in the Royal Standard flag, the queen's coffin sits on a raised platform in the centre of Westminster Hall and has a ceremonial guard as mourners stream past 24 hours a day.
The coffin has been brought to Westminster Hall in a
ceremonial procession
the day before, with
King Charles
and other members of the royal family walking behind the coffin as gun salutes and Big Ben rang out every minute.
Built in the 11th century, Westminster Hall is the oldest building on the parliamentary campus and served as one of the earliest courts in Britain, including the trial of King Charles I in 1649. It also has hosted speeches to Parliament by monarchs and world leaders, including Nelson Mandela and former US President Barack Obama.
King Charles will have a private day of reflection on Thursday after engaging in public events nearly every day since his mother's death. He will travel to Wales on Friday as part of a mourning tour of the nation.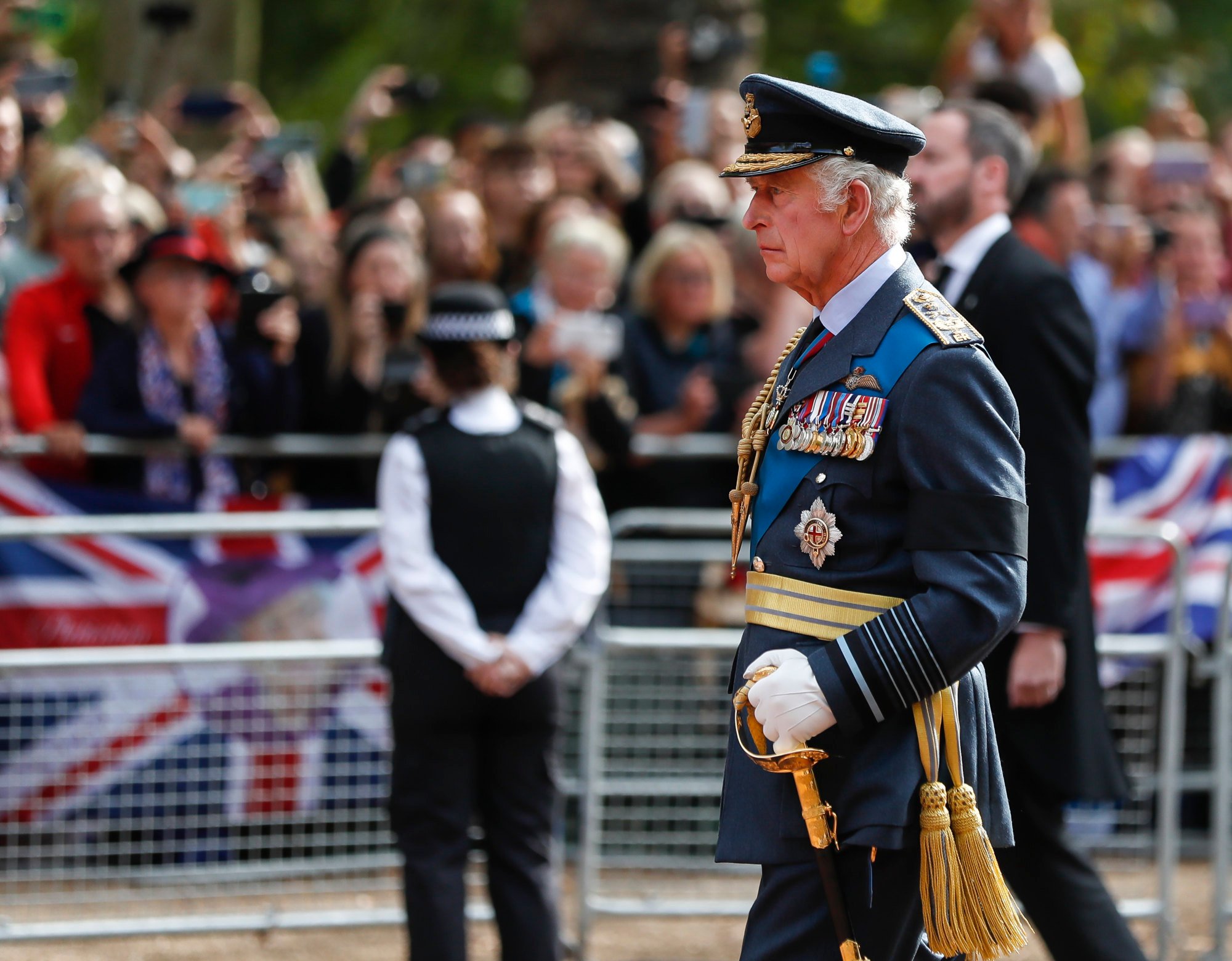 French President Emmanuel Macron, who will attend the queen's funeral on Monday, said he spoke with King Charles by telephone on Wednesday night.
"The ties between France and the United Kingdom are unbreakable. We will continue to strengthen them, following the path laid by Her Majesty Queen Elizabeth II," Macron said in a series of tweets on Thursday.
Jane Derbyshire had already been in the queue for 90 minutes with her son when she reached the London Eye and received a colour-coded wristband, which would allow her to reclaim her place if she stepped away to the toilet or for some food.
Derbyshire said the queen had been a "constant" in the lives of Britons and she felt compelled to come. She had travelled from Manchester the day before.
A woman who only identified herself as Cynthia from St Albans said she wanted to come after attending the lying in state of the queen Mother in 2002.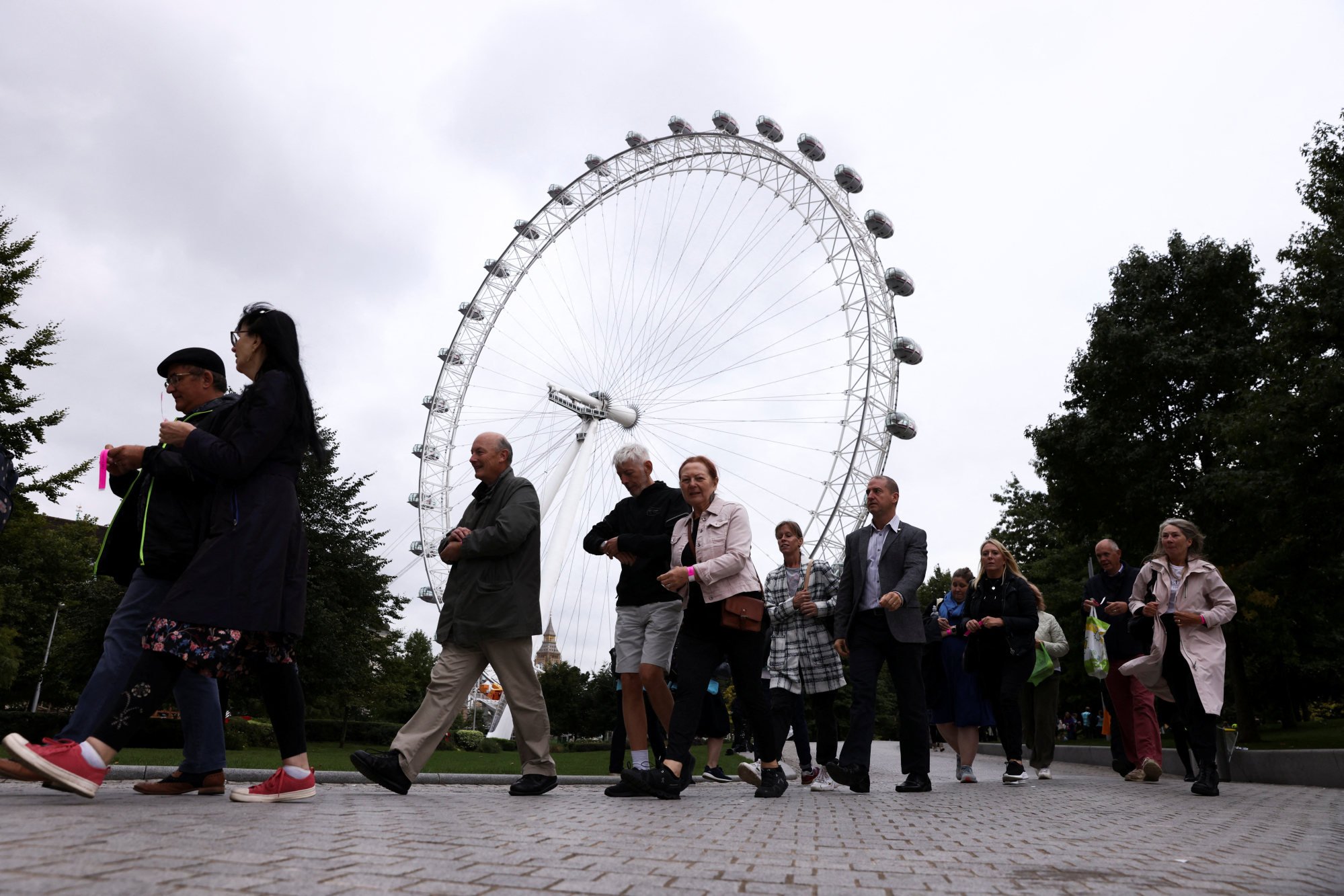 "I wanted to do it," she said, as her voice broke with emotion. "I was on the Mall yesterday. I just wanted to have the moment of stillness and reverence in the Hall, having experienced it once already. She was just such an amazing person."
Inside Westminster Hall, mourners stay silent and are not allowed to use handheld devices, such as mobile phones, or take pictures.
Members of the public often bow or curtsy when they reach the centre of the hall or make the symbol of the cross. It can be quite emotional, with visitors often seen wiping away tears as they step away from the dias.
Many have brought their children, despite the long queue, because of a sense of the moment in history.
"I was watching the television yesterday and I just had that feeling, a sense I wanted to be here," said Agnes Lynch, who lives in North London. "I've never done anything like this in my life before. I just really admire the queen and felt she was iconic for this century."