Britain
Get more with myNEWS
A personalised news feed of stories that matter to you
Learn more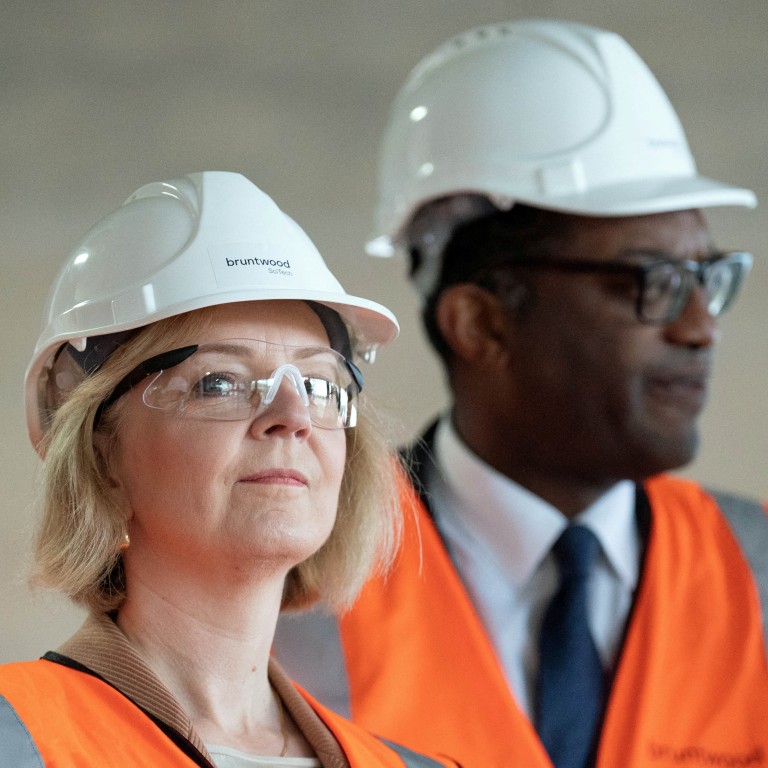 More UK U-turns? Speculation mounts about embattled Truss and Kwarteng
Finance minister Kwarteng cuts short US trip as new PM Truss comes under pressure over economic proposals
Multiple media reports suggested the embattled leaders were mulling more U-turns on some of their plans
Britain's beleaguered finance minister Kwasi Kwarteng cut short his trip to Washington for this week's global finance minister meetings and has headed back to London amid reports Prime Minister Liz Truss is considering reversing more of her government's controversial "mini-budget".
Kwarteng confirmed to reporters in Washington that he was flying back to London early, without providing further details. Sources familiar with the matter said he planned to meet with colleagues to work on his medium-term budget plan.
Kwarteng is set to announce that plan on October 31, alongside independent financial forecasts. He had been in Washington to attend meetings of the Group of 20 finance ministers as well as the annual meetings of the International Monetary Fund and World Bank.
Reports circulated on Thursday that Truss was weighing a U-turn on elements of the plan Kwarteng announced three weeks ago that triggered turmoil in financial markets, prompting the Bank of England to step in to restore calm. The battered pound and British government bonds all rallied on the news.
Sky News, citing sources, said discussions were under way in Downing Street over whether to scrap elements of the plan, and The Sun newspaper said Truss was considering allowing a rise in corporation tax next April, something she promised to halt in her bid to be prime minister, in which she vowed to sweep away the "orthodoxy" of economic policy.
On Thursday before his departure, Kwarteng was asked repeatedly in an interview with BBC television whether the reports of a change of policy on corporation tax were accurate, and he answered that he was focused on his growth plan.
"Our position hasn't changed. I will come up with the medium-term fiscal plan on the 31st of October, as I said earlier in the week, and there will be more detail then," he said.
Truss is under huge pressure within her Conservative Party to change her push for £43 billion (US$48.8 billion) of unfunded tax cuts as polls show her support has collapsed and investors have balked at the potential impact on the public finances.
Some lawmakers have pondered whether she should be removed from the job only a month after becoming Britain's fourth prime minister in just six years since the Brexit referendum.
Paul Goodman, a former Tory MP who is editor of the influential ConservativeHome blog, told the BBC that less than 40 days into her premiership, "all sorts of names are being thrown about" to replace Truss.
Goodman said potential leaders being talked about included former finance minister Rishi Sunak – who stood against Truss – and "even Boris Johnson".
"One idea doing the rounds is that Penny Mordaunt and Rishi Sunak, who, after all, between them got pretty much two-thirds of the votes of MPs (in the leadership contest), come to some kind of arrangement and essentially take over."
Pressure on the government intensified after a YouGov poll published late on Thursday by The Times newspaper said 43 per cent of Conservative voters wanted a new prime minister in Downing Street.
The front pages for the Friday's newspapers offered no relief for Truss with The Times reporting of a "plot" to replace Truss and Kwarteng while the Daily Mail had "PM 'has 17 days to save her job'".
Truss has enjoyed the shortest honeymoon period of any British political leader in living memory – so much so that The Economist this week said she had "the shelf life of a lettuce".
Earlier, Foreign minister James Cleverly had warned that a change of leader would be "a disastrously bad idea, not just politically but also economically".
Under current rules, lawmakers can only write letters to call for a no-confidence vote when the leader has been in place for a year.
As Truss battled with the turmoil, she met King Charles for a weekly audience at Buckingham Palace between monarch and prime minister on Wednesday.
"Back again … dear, oh dear," Charles said.
Agence France-Presse and Reuters