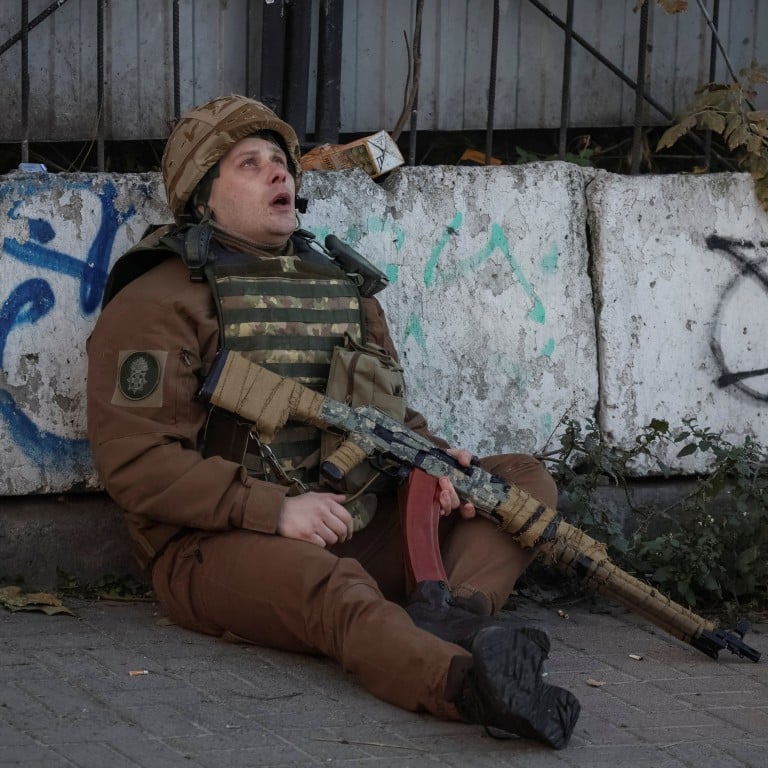 Ukraine: Missiles, exploding drones again hit power and water, situation is 'critical', say officials
Several Ukraine regions, including the capital Kyiv, experiencing power cuts after multiple strikes targeted energy facilities
Thirty per cent of the country's power stations have been destroyed in a week, President Zelensky says
Air strikes cut power and water supplies in a repeatedly bombed Ukrainian city and pounded energy and infrastructure facilities elsewhere in the country on Tuesday, part of an apparent quickening effort by Russia to drive Ukrainians into the cold and dark as winter bites.
All of Zhytomyr, a city with military bases 140km (85 miles) west of the capital, was without electricity and water after a double missile strike on an energy facility, said Mayor Serhiy Sukhomlyn. Hospitals were left running on backup power, he said.
Missile strikes also hit an energy facility in Kyiv and severely damaged another in the south-central city of Dnipro, authorities said.
Kyiv Mayor Vitali Klitschko called on residents to save electricity and stock up on drinking water and said two infrastructure targets, which he did not identify, had suffered "significant damage".
"As a result of today's attack on the critical infrastructure of Kyiv, three people were killed. These are employees of one of the critical infrastructure facilities," he said.
Kyiv's Prosecutor's Office said it had opened an investigation into a possible "violation of the laws and customs of war."
"The situation is critical now across the country because our regions are dependent on one another ... It's necessary for the whole country to prepare for electricity, water and heating outages," Kyrylo Tymoshenko, the deputy head of the Ukrainian president's office, told Ukrainian television.
As well as missiles, Russia is mixing up its modes of attack.
Suicide drones – so called because they slam into targets and explode – set ablaze an infrastructure facility in the partly Russian-occupied southern Zaporizhzhia region, the regional governor said.
Air-defence S-300 missiles that Russia has been repurposing as ground-attack weapons as its stocks are being depleted were used to strike the southern city of Mykolayiv, killing a man whose body was found in the debris of a two-storey building, the region's governor said.
In the eastern city of Kharkiv, rockets were used to hit an industrial area. The regional governor said the eight rockets were fired from across the nearby border with Russia.
Waves of explosives-laden drones also struck Kyiv on Monday, hitting energy facilities and setting ablaze and partly collapsing buildings. One drone slammed into a four-storey residential building, killing four people.
Ukraine says Russia is getting thousands of drones from Iran. The Iranian-made Shahed drones that nosedived with their explosive charges into targets in Kyiv on Monday have also been widely used elsewhere in recent weeks.
In the past week alone, more than 100 of the drones have slammed into power plants, sewage treatment plants, residential buildings, bridges and other targets in urban areas, Ukraine's Foreign Ministry said.
Ukrainian President Volodymyr Zelensky said nearly a third of the country's power stations have been destroyed in Russian strikes since October 10, sparking massive blackouts.
Zelensky expressed gratitude to troops who have intercepted attacking drones, saying "every destroyed drone is a life saved".
He added that there was "no space left for negotiations with Putin's regime".
European Union countries want to review evidence to confirm when Iranian drones were delivered to Russia before imposing new sanctions against the country, according to people familiar with the issue.
Additional reporting by Bloomberg, dpa, Reuters