Britain
Get more with myNEWS
A personalised news feed of stories that matter to you
Learn more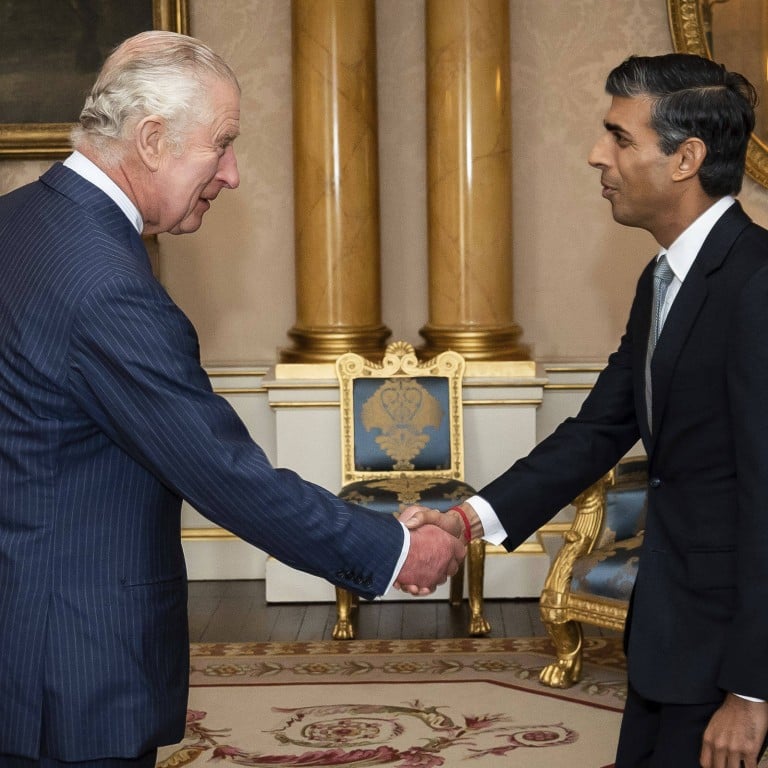 Rishi Sunak vows to put 'stability', 'competence' at heart of government as Britain's new prime minister
At 42, Sunak is Britain's youngest prime minister in more than two centuries and first British-Asian prime minister
Sunak, the former Chancellor of the Exchequer, must navigate a cost-of-living crisis and regain the confidence of financial markets
Rishi Sunak
, Britain's former Chancellor of the Exchequer, vowed to put "economic stability" and "competence" at the heart of his new government as he became the nation's youngest prime minister in more than two centuries on Tuesday.
Sunak, 42, was asked to form a government on Tuesday by King Charles after he was named the new leader of the Conservative Party the day before.
He succeeds
Liz Truss
, who was forced to resign last week following a chaotic premiership that saw her economic policies – namely a move to slash taxes by their largest amount in 5o years – unnerve markets and send the pound to its lowest level against the dollar in a half-century last month.
She is
Britain's
shortest serving prime minister at 49 days.
"She was not wrong to want to improve growth in this country, it is a noble aim. And, I admired her restlessness to create change," Sunak said. "Some mistakes were made -not borne of ill will or bad intentions, quite the opposite, in fact. But, mistakes nonetheless. I have been elected as leader of my party and your prime minister in part to fix them. That work begins immediately.
"This will mean difficult decisions to come," he added.
Sunak, who is a practising Hindu, is the first British-Asian prime minister and its third in seven weeks. Truss defeated Sunak in an earlier leadership contest this summer to replace
Boris Johnson
, who
reluctantly offered his resignation
in July following a series of scandals.
Sunak served as chancellor from 2020 until he resigned in July, a move that heaped pressure on Johnson to leave office.
"This government will have integrity, professionalism and accountability at every level," Sunak said. "Trust is earned and I will earn yours."
He also is likely one of the most wealthy individuals to ever occupy 10 Downing Street at a time when the country is facing a cost-of-living crisis, driven by high inflation and surging energy costs.
His wife Akshata Murthy is the daughter of Indian billionaire Narayana Murthy and Sunak worked at Goldman Sachs and two hedge funds before being elected to Parliament in 2015.
A controversy emerged earlier this year over his wife's status as a non-domiciled British resident, which allowed her to avoid taxes on overseas earnings. She has since agreed to pay British taxes on those earnings to relieve pressure on her husband.
One of the most immediate challenges for Sunak will be regaining the confidence of the financial markets.
"I fully appreciate how hard things are," Sunak said. "I understand, too, that I have work to do to restore trust after all that has happened."
Truss' plan to provide massive support to consumers and businesses on energy costs while slashing taxes led to a wildly unstable period for the currency and drove up mortgage costs and government borrowing rates.
Her government was forced to roll back much of her tax-cutting plans and Jeremy Hunt, who was brought in as Chancellor on October 14 in hopes of stabilising markets, had suggested a new period of austerity may be needed to tackle the current economic environment.
Hunt had been set to unveil a medium-term fiscal package to Parliament on October 31, but it was unclear on Tuesday morning if that statement would go forward.
Sunak retained Hunt as chancellor as first confirmed member of his Cabinet on Tuesday afternoon. Ten senior ministers in Truss's government resigned or were sacked by the new prime minister on Tuesday.
"It is going to be tough. But protecting the vulnerable - and people's jobs, mortgages and bills - will be at the front of our minds as we work to restore stability, confidence and long-term growth," Hunt said in a tweet.
Other senior appointments include Dominic Raab as deputy prime minister and Justice Secretary, Suella Braverman as Home Secretary, James Cleverly as Foreign Secretary and Ben Wallace as Defence Secretary.
Raab served in the same role under Johnson and Wallace has served as Defence Secretary under three different prime ministers since 2019.
Braverman resigned from Truss' Cabinet as Home Secretary over a technical breach of ministerial rules a week ago and sent a scathing resignation letter that questioned the direction of Truss' government, while Cleverly retained his role after just seven weeks in the job.
The pound rose by 1.9 per cent to the US dollar on Tuesday afternoon, eclipsing its highest level since mid-September at US$1.149, and the FTSE 250 rising 2.9 per cent.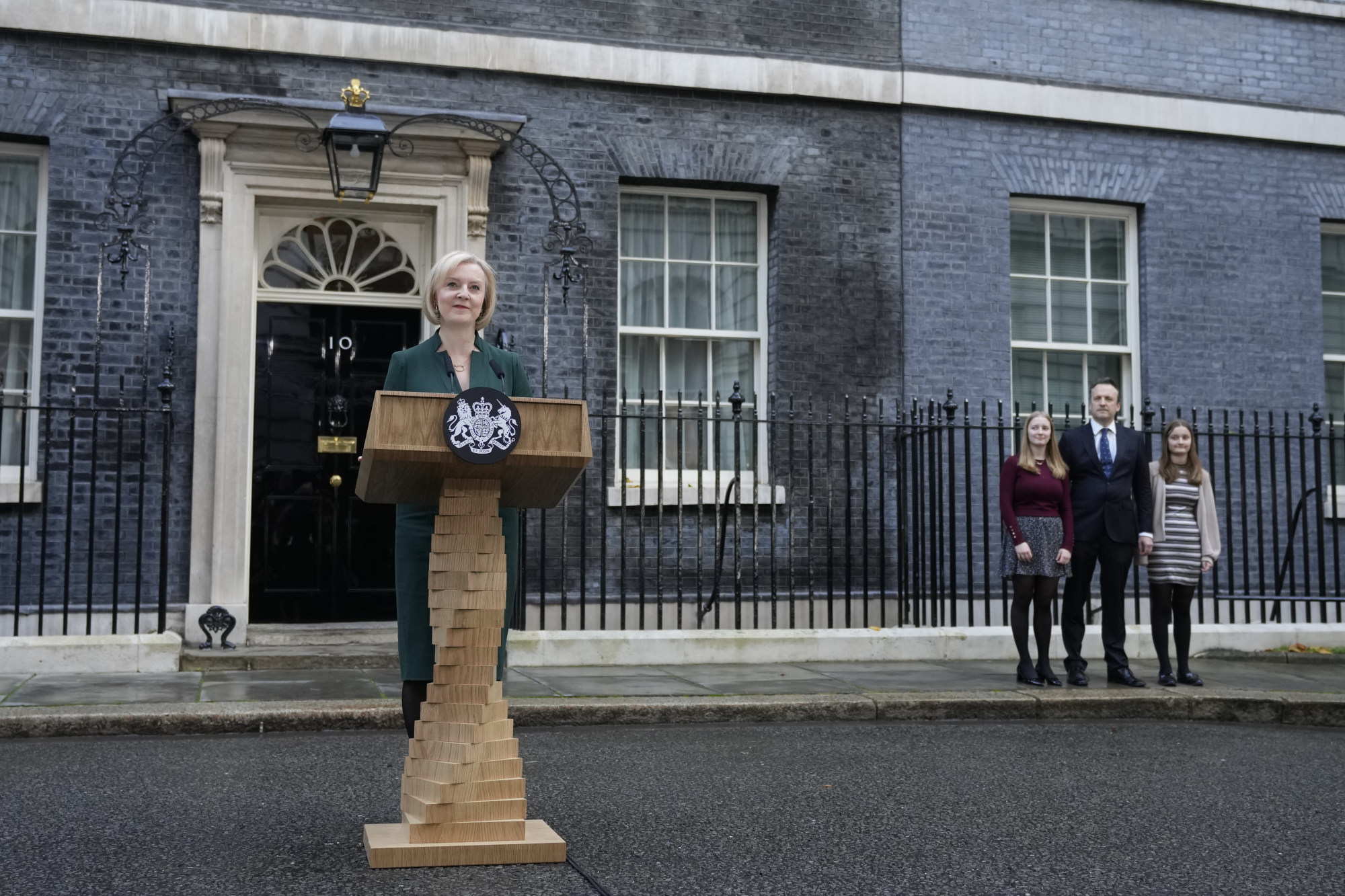 Last week, Moody's Investors Service changed its outlook for Britain's domestic and foreign-currency long-term credit ratings to negative from stable.
On Tuesday,
HSBC
said its "base case" is for the British economy to be in a recession for the next several quarters into next year.
"In terms of the recent changes, it is encouraging we now have a decision on the prime minster. It's a decision that allows the prime minister to work now on the fiscal policy that they want to put in place in just under a week's time," HSBC chief executive Noel Quinn said on a call with journalists on Tuesday.
"It's important that the markets have stabilised and have reacted well to yesterday's decision. That goes a long way to stabilising the economy," he said. "But, clearly there's an impact on the UK economy and many others of the increased inflation the world faces."