Britain
Get more with myNEWS
A personalised news feed of stories that matter to you
Learn more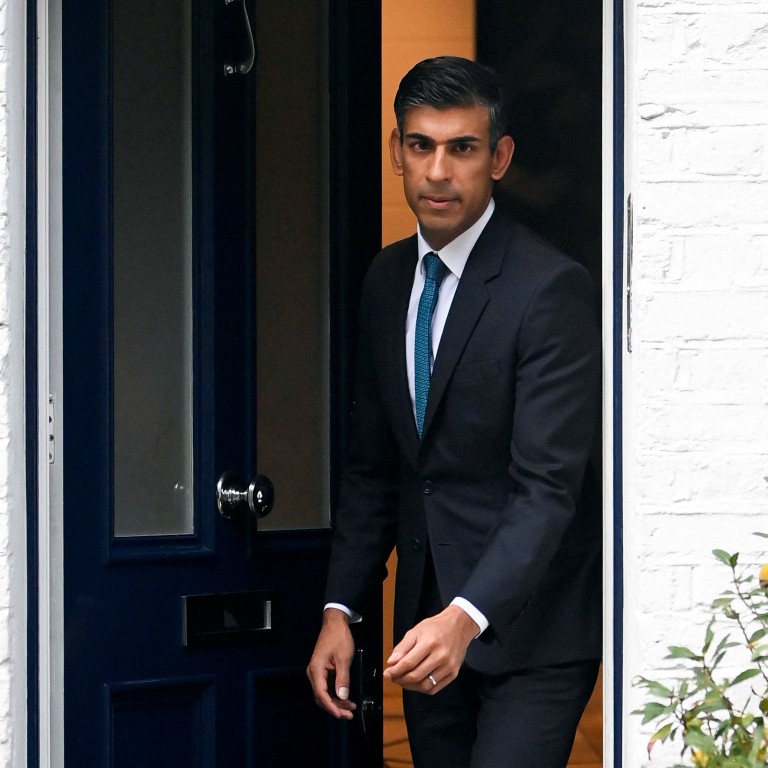 As many in the UK struggle, is Rishi Sunak's wealth a liability or asset?
Britain's new Prime Minister Rishi Sunak and his family will be the richest ever occupants of Number 10 Downing Street
Sunak's wealth is likely to be a target for critics as the country struggles with an economic crisis and he mulls 'difficult decisions'
History was made when Britain's Conservative MPs installed Rishi Sunak as prime minister. A devout Hindu of Indian heritage, he is the UK's first leader of colour. At 42, he is the country's youngest premier in more than 200 years.
He will also be the richest person to live in the flat above 10 Downing Street.
But ultra-rich Sunak, the former Chancellor of Exchequer, will need to overcome perceptions he is out of touch with struggling Britons as he steers the country through its worst economic crisis in decades.
Britain-born Sunak is a former hedge fund manager and extremely wealthy in his own right. His wife Akshata Murty is the daughter of an Indian technology billionaire. The couple have an estimated combined wealth of £730 million (US$826 million).
That exceeds the wealth of Edward Stanley, the 14th Earl of Derby, who served as prime minister three times (1866-1868, 1858-1859, 1866). His personal fortune exceeded £444 million in today's value, according to Guinness World Records.
The Sunaks, whose portfolio of properties includes a house in London's Kensington, a mansion in the north of England and a penthouse in California, are nearly twice as rich as King Charles and Queen Consort Camilla.
In a poll released this week, Savanta ComRes asked voters to describe Sunak in one word. The results, released in a word-cloud, showed one word was the most common response: "Rich".
"His wealth is going to be used as an attack line and they might find things to harm him such as his tax status, but there are bigger problems than his family situation," Will Davies, a professor in political economy at Goldsmiths, University of London, said of Sunak.
"He will do what he needs to do to win a general election, regardless of how much money he's got."
If current opinion polls are correct, the deeply unpopular Conservative government, which has had five prime ministers since it came to power in 2010 – three in the last two months – would not just lose Downing Street if an election was held now. It could also be relegated to the third, or even fourth party in parliament.
Sunak's first major task is to fix the financial turmoil caused by his predecessor Liz Truss, to whom he lost a leadership contest weeks before becoming prime minister on Tuesday.
Truss stepped down after just 49 days in office, and was the shortest-serving prime minister in Britain's history. She had replaced Boris Johnson, who resigned over the summer after mounting scandals.
But Truss soon lost her authority after her "mini-budget" rattled the financial markets and her ministers abandoned her.
Casting himself as fiscally responsible, Sunak sought to distance himself from Truss by acknowledging the UK was facing a "profound economic crisis" and that there were "difficult decisions to come".
"The government I lead will not leave the next generation – your children and grandchildren – with a debt to settle that we were too weak to pay ourselves," Sunak said in his first speech as prime minister.
Sunak and the new Chancellor Jeremy Hunt have postponed the announcement of their new budget until
November 17
as they find ways to fill an estimated £40 billion spending gap in the national purse.
After Truss' shambolic leadership, people in Britain are looking to Sunak as a steadying force for the markets and economy.
If Sunak and Hunt don't get their budget right, and if people don't get financial relief, Sunak's personal wealth could become an issue.
The first direct attacks on Sunak's fortune have come, as expected, from the opposition Labour Party.
"A nurse would have to work over 20,000 years to match the vast wealth of this prime minister," said Labour's Richard Burgon at Sunak's first parliamentary question time on Wednesday.
"The prime minister knows only too well that the super-rich could easily afford to pay more in taxes. So rather than announce a new wave of cuts and austerity, wouldn't it be fairer to introduce wealth taxes?"
Sunak, who was finance minister in the Johnson government, had hiked workers' taxes to their highest level in 40 years to pay for social care. He was also responsible for not raising the pay of health workers in line with inflation.
"I don't need to explain to the prime minister how non-dom status works, he already knows all about that," opposition Labour leader Keir Starmer said.
Revelations last April that Sunak's wife had saved millions by claiming non-domiciled tax status caused public anger in Britain. Murty then changed her status.
Even some of the UK's richest people are calling for Sunak to introduce wealth taxes in his budget rather than repeat the punishing cuts to public services enacted by another predecessor, David Cameron.
"You didn't do it as Chancellor," the UK branch of the US lobby group Patriotic Millionaires, a group of extremely wealthy people who want more tax, tweeted to Sunak.
"Now you're Prime Minister and it's more important than ever: Tax. The. Ultra. Rich. We can afford it (so can you!) and we want you to do it. Time for the rich to pay fair; our country cannot afford any cuts."
Sunak has stressed that he was not born rich, and suggested that people should not judge others who are wealthy. He has spoken of his humble beginnings as the son of a doctor and a pharmacist who came to the UK from east Africa.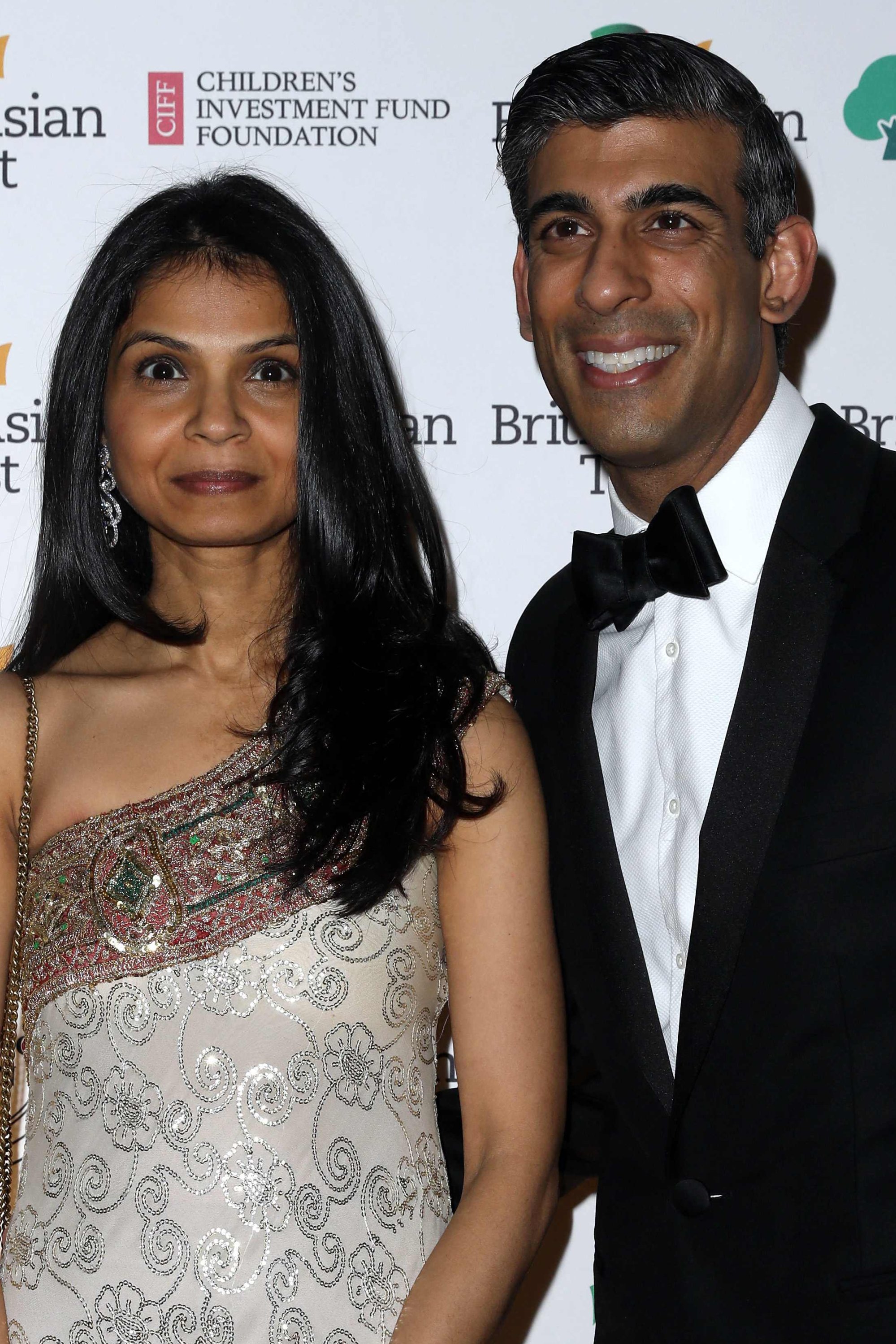 His parents enrolled him in Winchester College, one of the UK's top private schools, where boarder fees today are about £46,000 per year.
He then went to Oxford where he studied philosophy, politics and economics, and then a stint at Stanford University in California, where he met his wife, before starting his career in banking.
"As a Conservative, I believe in hard work and aspiration and that's my story," Sunak told the BBC earlier this year. "I don't judge people by their bank accounts, I judge them by their character. And I think people can judge me by my actions over the past couple of years."
Still, many question why, with so much money, Sunak even wants to be prime minister, which pays about £164,000 per year.
"The UK has such high levels of inequality that traditional elites are not going into politics – you either get nutters like Truss or billionaires. It's a complete freak show," Davies said.
Additional reporting by Reuters and Associated Press