Britain
Get more with myNEWS
A personalised news feed of stories that matter to you
Learn more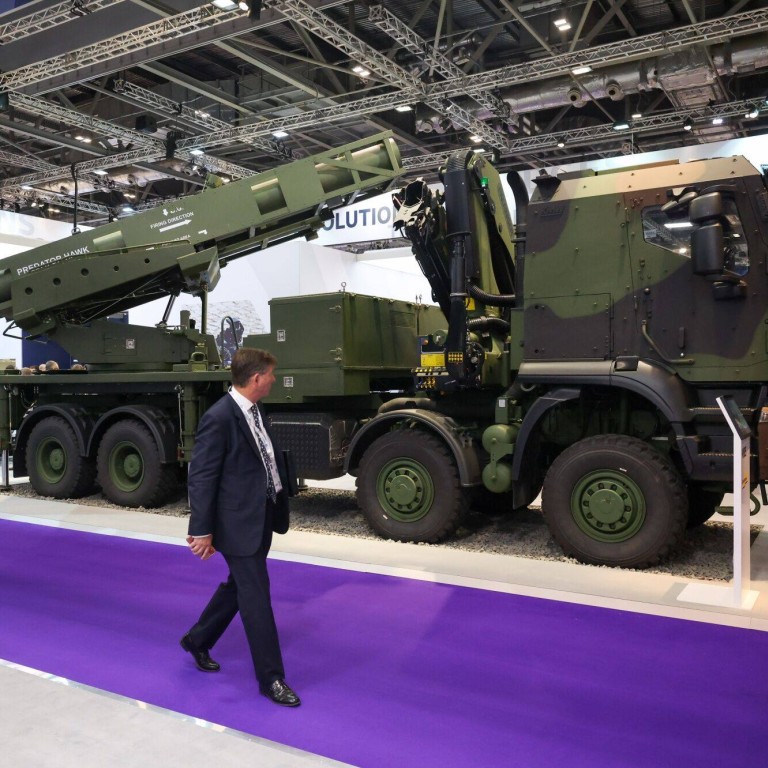 Defence spending reaches all-time high at Europe's biggest arms fair: 'War is good for business'
European defence spending rose 13 per cent in 2022 alone, bringing total global spending to a record high of US$2,240 billion
Russia's invasion of Ukraine and dramatically increased tensions over Taiwan and North Korea have boosted global arms manufacturing
As Russia's Vladimir Putin and North Korean leader Kim Jong-un met this week to discuss what analysts believe will be a deal for an exchange of weapons, the West's leading companies were descending on Europe's biggest arms show in London.
Since the last iteration of the biennial Defence and Security Equipment International (DSEI) in September 2021, Russia's invasion of Ukraine and dramatically increased tensions over Taiwan and North Korea have given a shot of adrenaline to arms manufacturers worldwide.
According to the Stockholm International Peace Research Institute, European defence spending rose 13 per cent in 2022 alone, bringing total global spending to an all-time high of US$2,240 billion.
Consultancy McKinsey reports that Russia saw its defence exports fall 21 per cent over the first year following the Ukraine invasion, creating further openings for Western arms sales in the developing world.
Overall, it expects military spending to increase globally by an average of 4 per cent a year through to 2028, led by Japan increasing its military budget by an unprecedented 14 per cent a year.
"We are extremely busy," says Michael Elmore, head of sales at MTL Advanced, which specialises in processing and fabricating armoured steel at its factory near Sheffield.
Within days of Russia's invasion of Ukraine in February 2022, it was supplying basic body armour plating for Ukrainian combat troops.
Since then, demand has only increased, particularly for armoured vehicle components to be used by both Britain and other European states.
The need for greater armour is one of the more obvious lessons of fighting in Ukraine, analysts say. Others include the importance of being able to move quickly, minimise electronic emissions to avoid detection, and the mounting importance of high volumes of unmanned systems.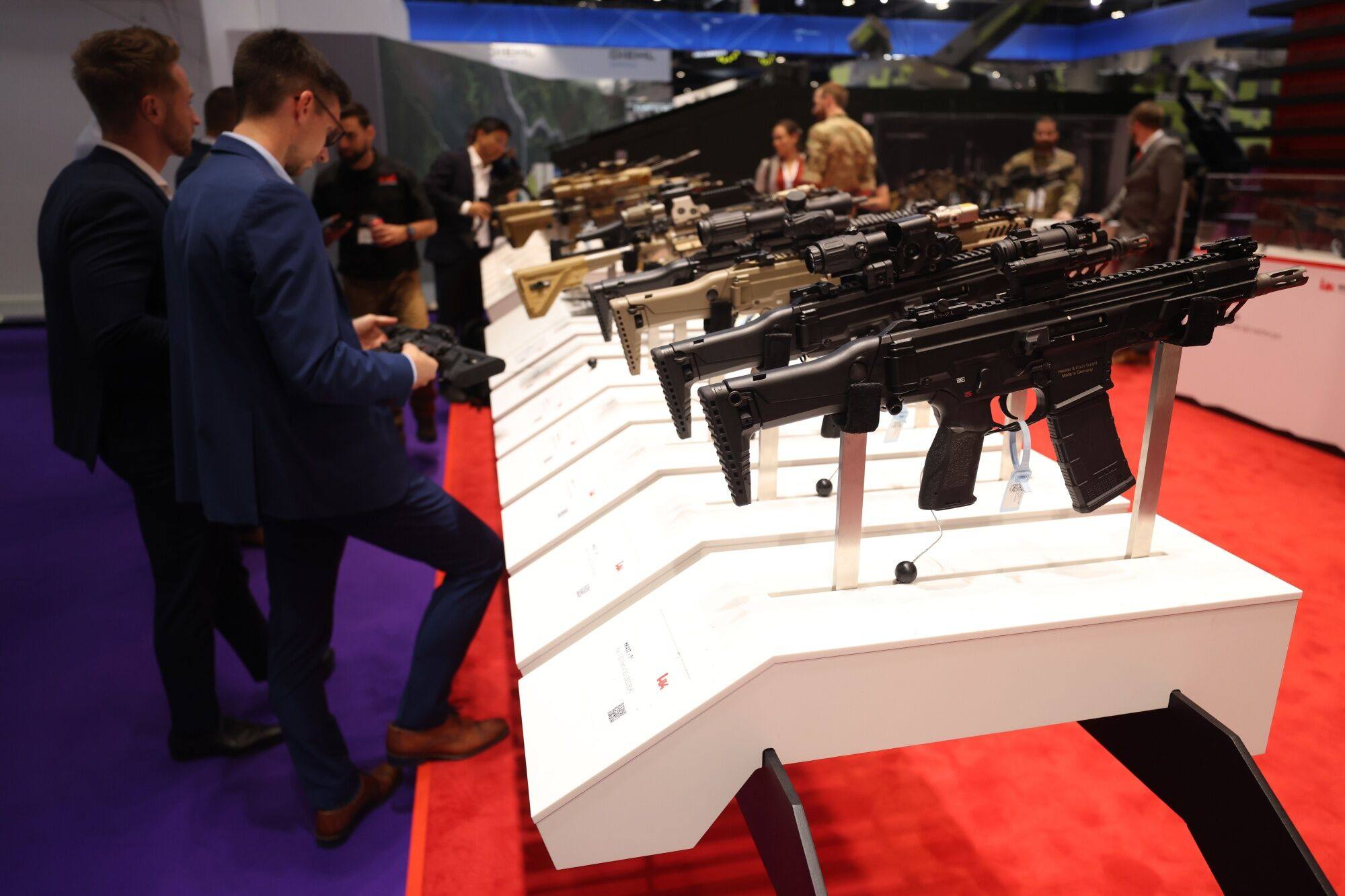 Estonian firm MILREM, a market leader for light unmanned ground vehicles, says some of its equipment has already been trialled in action in Ukraine for tasks such as route clearance, surveillance and casualty evacuation.
Already, battlefield experience has highlighted the importance of night operations and resistance to electronic jamming, CEO Kuldar Vaarsi said.
"Ukraine is a very interesting combination of First and Second World War technologies and very modern technology," said Vaarsi, also pointing to the development of "loitering munitions" and artificial intelligence analysis.
"Before the war in Ukraine, these were more theoretical concepts."
MILREM says it has struggled to secure sufficient financing in Europe, prompting it to turn to Middle Eastern investors in the United Arab Emirates to fund the next round of development and expansion.
According to the organisers, this year has also seen a significant uptick in the presence of Asian, eastern and northern European manufacturers, many of them beneficiaries of Ukraine-related sales and rapidly shifting international partnerships.
South Korea's tech and defence industries have made particular inroads into Europe, viewed as an alternative to China to manufacture high-tech chips and striking an increasingly confident series of defence deals to conquer the European market.
The largest, a 2022 US$13.7 billion deal to supply Poland with equipment including tanks, artillery pieces and jets, began delivering weapons within months.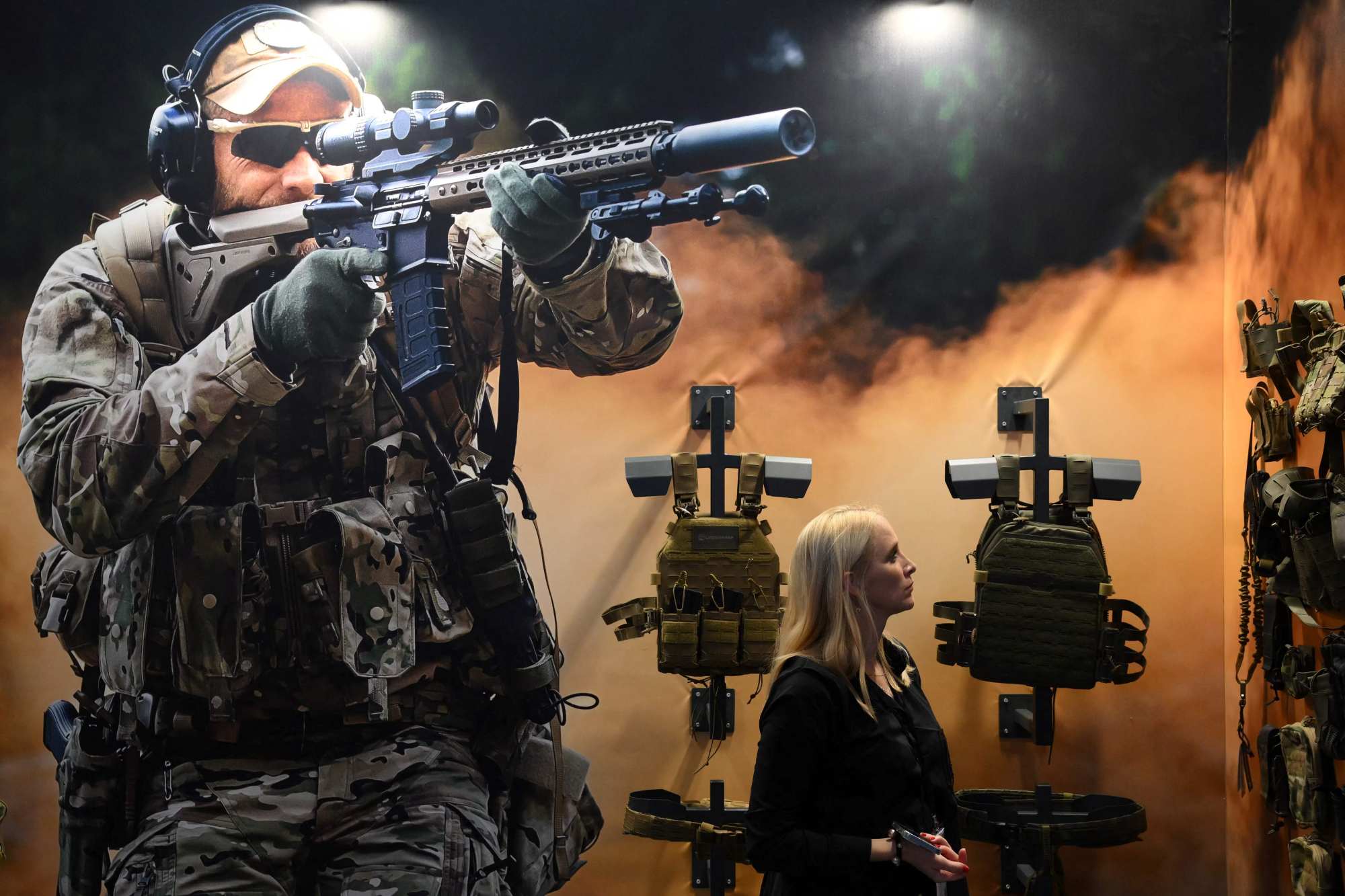 Defence industry insiders say South Korean firms are also now shipping increased amounts of weaponry to Taiwan, although this has not been acknowledged publicly.
Ukraine is also striking its own deals with foreign suppliers. This month it announced a deal with Sweden to jointly produce 1000 CV-90 infantry fighting vehicles for the Ukrainian army.
Multiple firms including Britain's BAE, Germany's Rheinmetall and Finland's Patria have all been reported to be talking with Ukraine to build factories there.
As one defence executive put it: "War is good for business".