Israel
Get more with myNEWS
A personalised news feed of stories that matter to you
Learn more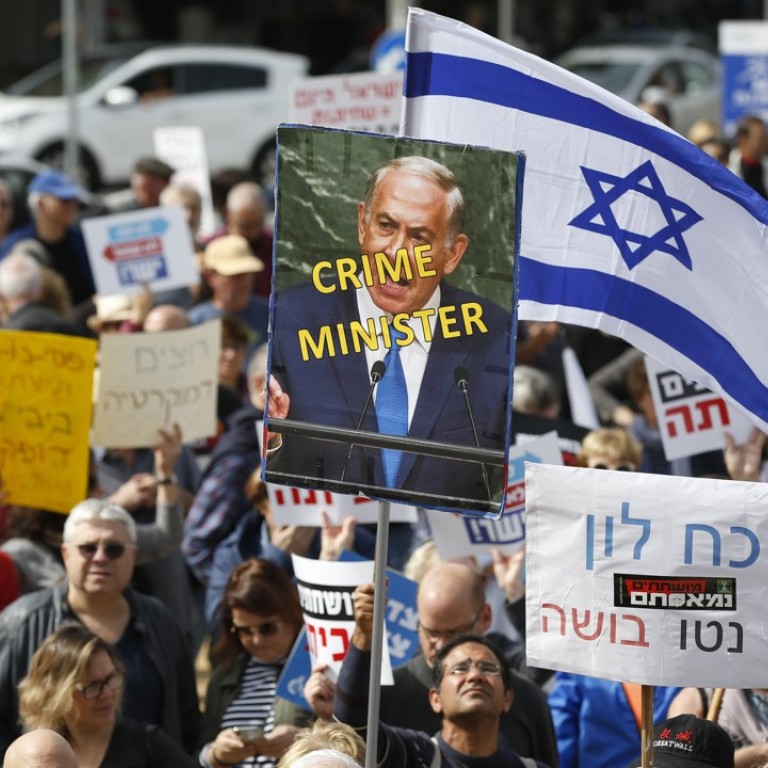 Israeli protesters urge 'crime minister' Netanyahu to resign over bribery allegations
The 68-year-old leader denies wrongdoing in both cases and has said nothing will come of the authorities' investigations. It is now up to the attorney general to determine whether to press charges against him
Israeli demonstrators gathered in Tel Aviv on Friday to urge Prime Minister Benjamin Netanyahu to resign after police recommended he be charged with bribery in two corruption cases.
Police said on Tuesday enough evidence had been found for Netanyahu to be charged, saddling the four-term premier with one of the biggest challenges to his long dominance of Israeli politics.
Netanyahu, 68, denies wrongdoing in both cases and has said nothing will come of the police investigations. It is now up to the attorney general to determine whether to press charges against him.
Around 1,000-2,000 protesters rallied in a Tel Aviv square, some with signs saying "crooks go home" and "crime minister".
"We think the prime minister should immediately disqualify himself and resign," said Shlomit Bar, 63, a retired music teacher. "He cannot be any longer the prime minister of Israel."
There is no strict legal obligation for a prime minister to step down over such a case unless he is convicted in court. The right-wing Netanyahu's governing coalition appears stable for the time being after key partners said they will wait until the attorney general's decision.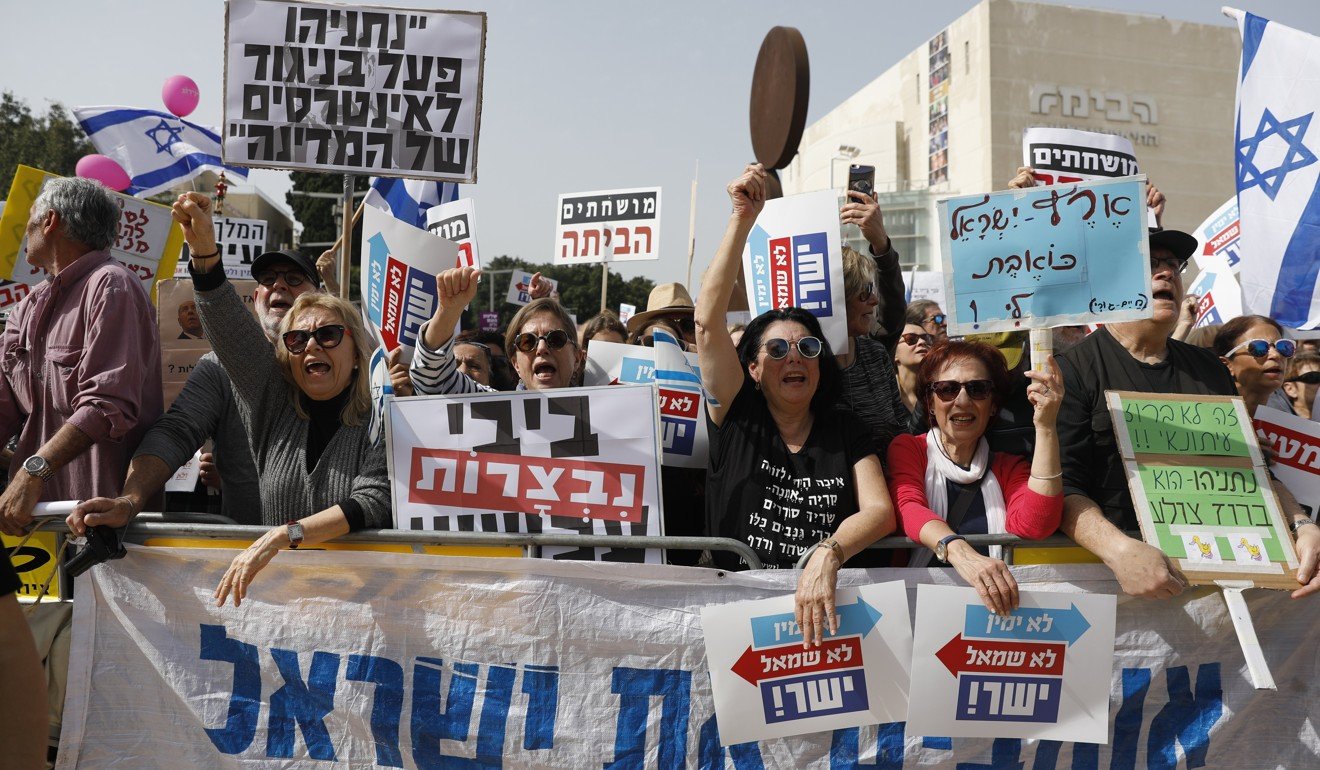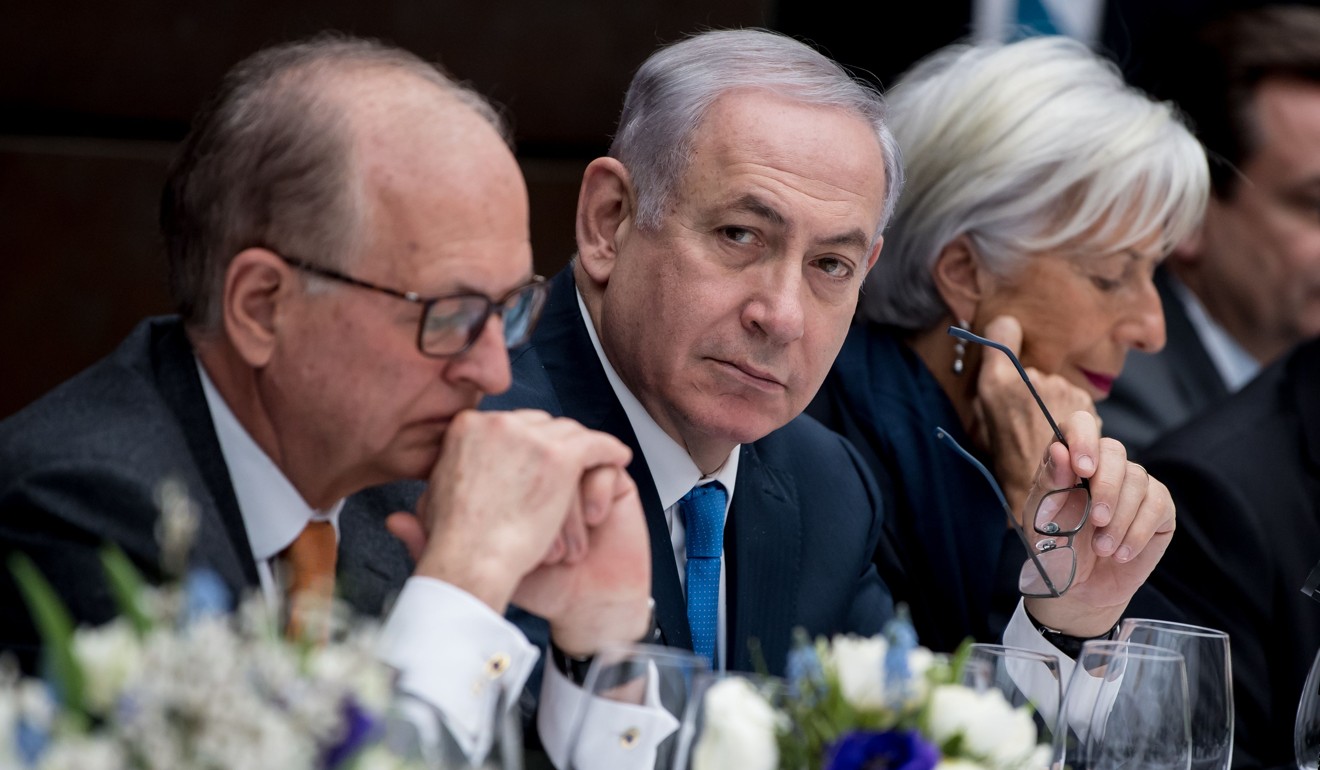 "From a moral standpoint, this is a disgrace to the state of Israel, where a prime minister is suspected of such serious crimes," said Oren Simon, one of the protesters. "He should go home. Enough."
A poll published on Wednesday showed almost half of Israel's electorate believe the police rather than Netanyahu.
The poll, aired on the Israeli commercial television channel Reshet, said 49 per cent of respondents sided with the police's version that Netanyahu had acted improperly. Twenty-five per cent said they believed Netanyahu. The remainder, 26 per cent, said they did not know whom to believe.
Forty-nine per cent said he should stay in office, and 43 per cent that he should suspend himself.
The first case in which Netanyahu is a suspect involves receiving gifts, including cigars, champagne and jewellery, from businessmen. The second involves discussing a deal with the publisher of Israel's bestselling newspaper for better coverage in return for curbs on a rival newspaper.
It could be months before the attorney general makes a decision on whether to charge him.