Yemen
Get more with myNEWS
A personalised news feed of stories that matter to you
Learn more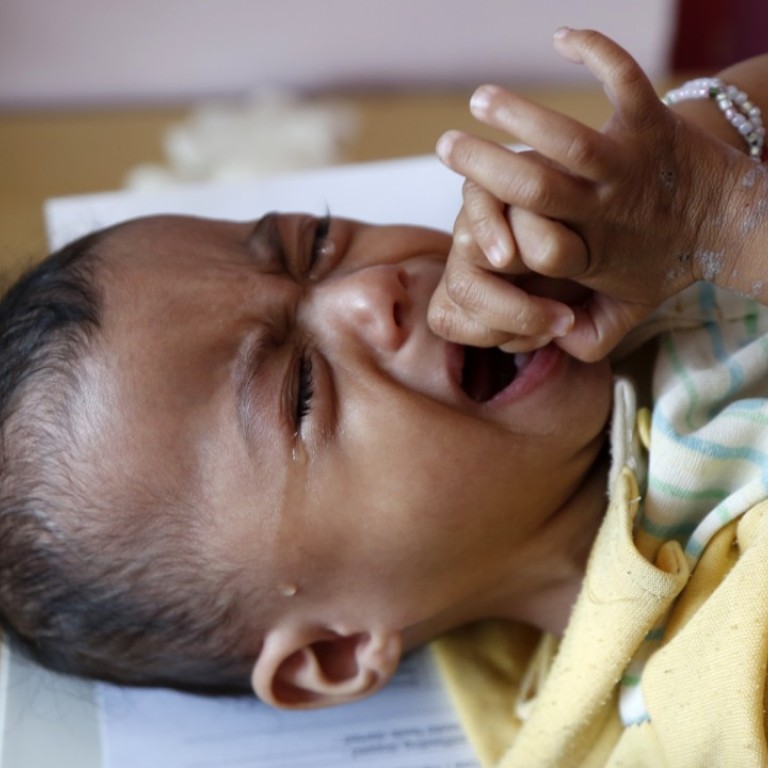 In Yemen, 20 million people are at risk of famine as fighting continues
The world's worst humanitarian crisis spiralled in Yemen after a Saudi-led coalition launched an offensive to support the government against Iran-aligned Houthi rebels in March 2015
Around 20 million Yemenis are food insecure, UN agencies said on Saturday, adding the conflict ravaging the impoverished country was the key driver behind rising hunger levels.
"As many as 20 million Yemenis are food insecure in the world's worst humanitarian crisis," a joint statement by the UN's Food and Agriculture Organisation (FAO), the children's fund Unicef and the World Food Programme (WFP) said.
"Already 15.9 million people wake up hungry" in Yemen, it said, citing an analysis by the Integrated Food Security Phase Classification (IPC), a food security survey.
According to the IPC – whose analysis is necessary to decide whether to declare famine in countries – the 20 million people facing "severe acute food insecurity" represent 67 per cent of Yemen's population.
"What the IPC tells us is alarming," said Lise Grande, UN humanitarian coordinator for Yemen.
WFP head David Beasley said the analysis "is an alarm bell that shows hunger is rising".
"We need a massive increase in aid and sustained access to all areas in Yemen in order to rescue millions of Yemenis. If we don't, we will lose an entire generation of children to hunger," he warned.
A WFP spokesman said the organisation aims to scale up its support programme in Yemen from the current level of 7-8 million people to reach 10 million by the end of December and 12 million by end January.
"This scale-up is an ambitious undertaking for WFP, which will demand massive resources both logistical and financial," said Herve Verhoosel. "WFP has enough food stocks in country for now but will need US$152 million a month to sustain its scale-up into next year."
The world's worst humanitarian crisis spiralled in Yemen after a Saudi-led coalition launched an offensive to support the government against Iran-aligned Houthi rebels in March 2015.
It has killed at least 10,000 people, according to the World Health Organisation.
The latest report comes as Yemeni government representatives and a rebel delegation were holding UN-brokered peace talks in Sweden.
The armed conflict was at the top of a list of the "key drivers of food insecurity", which has been further exacerbated by a protracted economic crisis in the impoverished Gulf Peninsula country.
Yemen's finances have been devastated by the conflict, with the World Bank reporting the economy has contracted by around 50 per cent since 2015.
Unemployment is running at over 30 per cent and inflation is projected at around 42 per cent, while the majority of state employees are not paid.
A slide in the value of the riyal also has caused food prices in the famine-threatened country to soar.
"A large proportion of the population, even in more stable areas, cannot access basic food commodities because food prices have jumped by 150 per cent compared to pre-crisis levels," the statement said.
This article appeared in the South China Morning Post print edition as: 20 million at risk of famine in yemen