US to send more troops to Saudi Arabia after attacks on oil facilities
The latest deployment is expected to add hundreds, not thousands, of US troops to a region already peppered with multiple US military bases
The Pentagon on Friday said it will boost
US
air and missile defences in
Saudi Arabia
after last week's surprise attack, allegedly from Iran, on critical oil facilities exposed the kingdom's vulnerability.
The modest response, announced shortly after the Treasury Department added new sanctions to
Iran
's financial sector, reflects a White House attempt to keep mounting tensions in the Persian Gulf from escalating into war.
Pentagon officials declined to provide specifics, but the latest deployment is expected to add hundreds, not thousands, of US troops to a region already peppered with multiple US military bases.
Defence Secretary Mark Esper described the deployment as a "first step" that would be "defensive in nature".
US and Saudi officials have blamed Iran for the predawn attack by 18 explosive-laden drones and seven cruise missiles on the world's largest oil processing facility and a nearby oilfield.
Secretary of State Michael R Pompeo on Thursday condemned what he called an "act of war" but stopped short of calling for direct retaliation.
Earlier Friday, the
Trump
administration said it had added sanctions on Iran's Central Bank, its national development fund and a third financial institution. More than 450 Iranian individuals, institutions and entities already are under US sanctions, most imposed under Trump's "maximum pressure" campaign since he pulled out of the 2015 nuclear deal with Iran.
"Attacking other nations and disrupting the global economy has a price," Pompeo said Friday.
Trump is expected to use his Tuesday speech at the United Nations General Assembly in New York to seek international support for confronting Tehran. His previous ability to build coalitions has been hamstrung by his open disdain for international alliances.
Although Trump is trying to increase pressure on Iran, his measured steps so far reflect a reluctance to use military force and a desire to steer clear of another
Middle East
conflict.
"The easiest thing I can do, like I could do it right in here, would say, 'Go ahead, folks, go do it,'" Trump told reporters in the Oval Office on Friday, referring to military action. "And that would be a very bad day for Iran."
He added: "It's all set to go, but I'm not looking to do that if I can."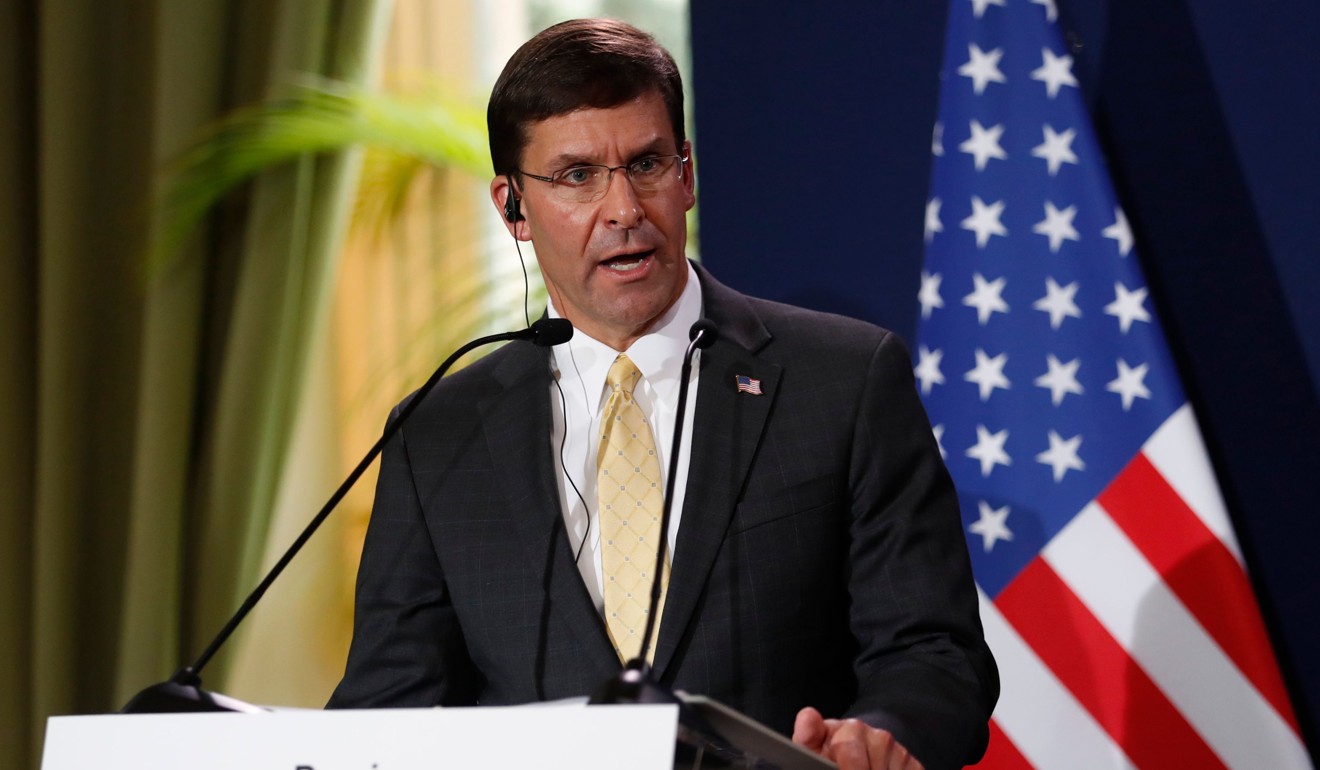 Speaking at the Pentagon, Esper reiterated claims that Iran was behind the attack on Saudi Arabia's oil industry.
"The weapons were Iranian produced," he said, "and not launched from Yemen."
Iranian-backed Houthi militants in Yemen have said they launched the attack.
Esper did not say whether the attack originated on Iranian soil, however. Saudi officials have also stopped short of publicly making that assessment.
Tehran has denied responsibility, and Iranian Foreign Minister Mohammad Javad Zarif warned on Thursday of "all-out war" if the US or Saudi Arabia launched a retaliatory strike.
In addition to deploying US troops, Esper said Washington would send more military equipment to Saudi Arabia and the neighbouring United Arab Emirates "to enhance their ability to defend themselves".
The announcement was an implicit acknowledgement that Saudi Arabia, despite its purchase of billions of dollars in American weapons systems, was at risk of another attack from Iran without direct US involvement.
"The fact is, the Saudis were attacked by both drones and cruise missiles, and are still vulnerable to attack," Esper said. "So asking allies and partners to contribute resources … I don't think is too much of an ask in this situation."
General Joseph Dunford, chairman of the Joint Chiefs of Staff, said the US would help provide "a layered system of defensive capabilities to mitigate the risk of swarms of drones or other attacks that may come from Iran".
Tensions between the US and Iran have risen since last year, when Trump abruptly withdrew from the international nuclear accord forged by President Barack Obama in 2015.
None of the other world powers who signed the deal backed Trump, and all have tried to keep the deal alive.
Trump has sought to cripple Iran's economy through sanctions in an unsuccessful effort to force it back to the negotiating table. Tehran has responded with its own provocations, including seizing a British oil tanker and shooting down a US reconnaissance drone this summer.
Trump recently offered to meet with Iran's president, Hassan Rowhani, but that seems increasingly unlikely.
Both will be at the UN next week, but the Iranians have ruled out a meeting.
"We have many other military options available should they be necessary," Esper said. "We urge the Iranian leadership to cease their destructive and destabilising activities and move forward on a peaceful, diplomatic path."
This article appeared in the South China Morning Post print edition as: Saudi defences reinforced after attacks on oil sites