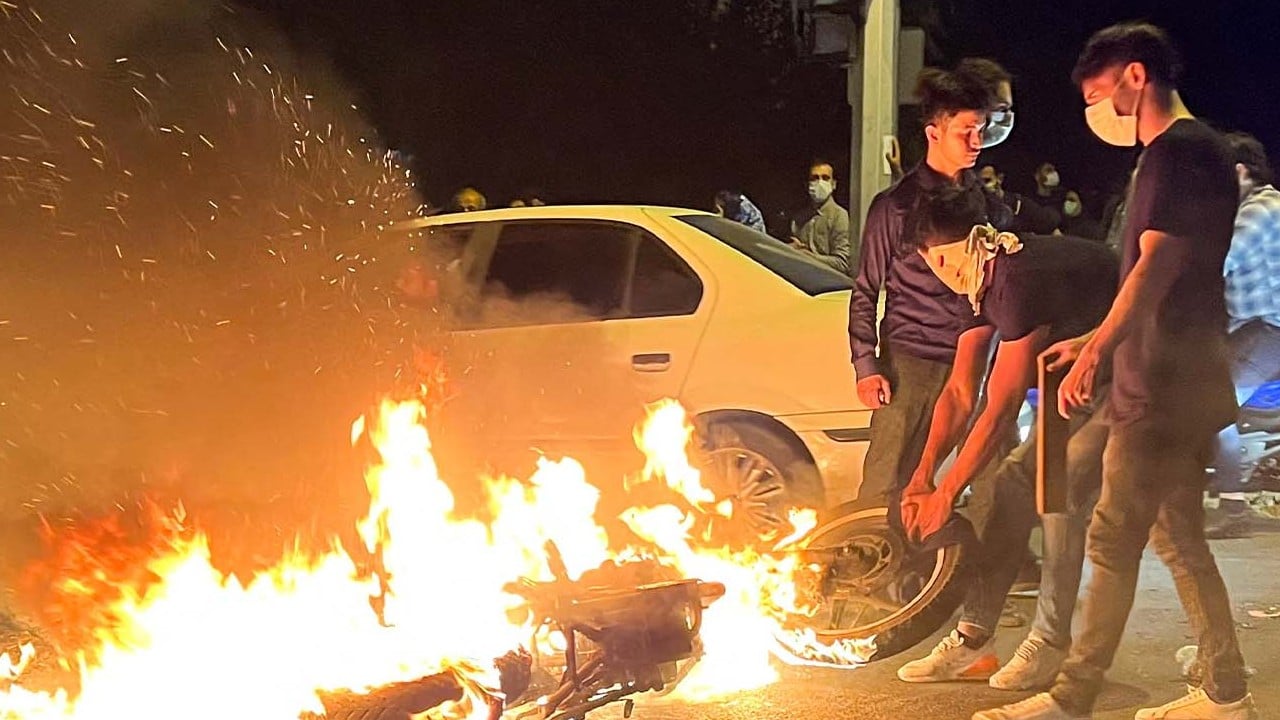 01:52
Security vehicles torched in Iran amid growing protests over woman's death in 'morality police' cust
Security vehicles torched in Iran amid growing protests over woman's death in 'morality police' cust
26 dead in Iran, arrests, in crackdown on violent unrest
State TV said 26 people had been killed since protests erupted following the funeral of Mahsa Amini who died after being arrested by Tehran morality police
A prominent activist and a journalist were arrested as protesters torched police stations and vehicles and the unrest showed no signs of abating
Protesters across Iran continued to clash violently with security forces early Friday following the death of a young woman in police custody, as Iranian state TV suggested the death toll from the unrest could be as high as 26, without offering details.
An anchor on state television said late on Thursday that 26 protesters and policemen had been killed since the protests erupted last Saturday after the funeral of the 22-year-old Mahsa Amini, without elaborating on how authorities reached that figure. He said official statistics would be released later, but in past times of turmoil the Iranian government has not offered official death tolls.
The unrest has killed at least 11 people according to one tally based on statements from state-run and semi-official media. Most recently, the deputy governor of Qazvin, Abolhasan Kabiri, said that a citizen and paramilitary officer had been killed in unrest that rocked two cities in the northwestern province.
Iranian security forces have arrested one of Iran's most prominent civil society activists and a journalist who played a key role in exposing the case of Mahsa Amini that sparked nationwide protests, reports said on Friday.
Majid Tavakoli, an activist who has been repeatedly imprisoned in Iran in recent years including after disputed 2009 elections, was arrested overnight at his home, his brother Mohsen wrote on Twitter.
Another prominent activist still based in Iran, Hossein Ronaghi, was giving an interview to London-based channel Iran International when security agents came to his home, the channel said.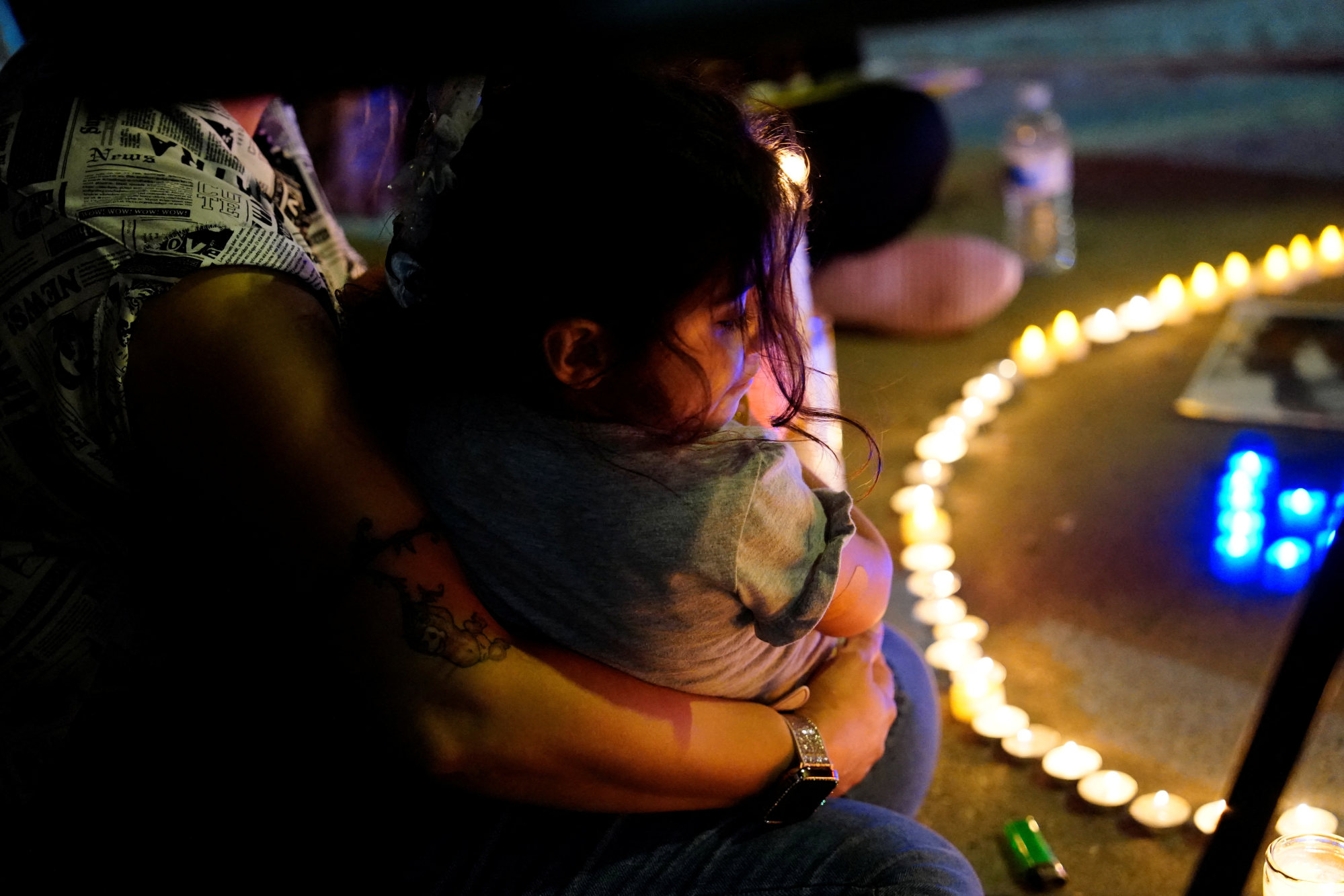 Videos on social media show protesters in Tehran torching a police car and confronting officers at close range. Elsewhere in the capital, videos show gunfire sounding out as protesters bolt from riot police shouting, "They are shooting at people! Oh my God they're killing people!"
In the northwest city of Neyshabur, protesters cheered over an overturned police car. Footage from Tehran and Mashhad shows women waving their obligatory hijab head coverings in the air like flags while chanting, "Freedom!"
The chants have been scathing, with some calling for the downfall of the ruling clerics. The protesters cry, "Death to the dictator!" and "Mullahs must be gone!"
The police said Amini died of a heart attack and was not mistreated. But her family has cast doubt on that account, as have the many Iranians voicing pent-up anger over social and political repression on the streets. Authorities have alleged that unnamed foreign countries and opposition groups are trying to foment unrest.
The Iranian army had announced earlier on Friday that it would "confront the enemies" to ensure security, the toughest warning yet to nationwide protesters enraged by the death of Mahsa Amini.
The army said "these desperate actions are part of the evil strategy of the enemy to weaken the Islamic regime". It will "confront the enemies' various plots to ensure security and peace for the people who are being unjustly assaulted," it said.
More demonstrations as well as pro-government protests were planned for Friday, Iranian media said.
Iranian media described the pro-government marches that will begin after Friday prayers as a "roar of people's zeal against rioters".
The nation's clerical rulers fear a revival of the 2019 protests that erupted over petrol price rises, the bloodiest in the Islamic Republic's history. Reuters reported 1,500 people were killed.
In the latest unrest, protesters in Tehran and other cities have torched police stations and vehicles as outrage over Amini's death showed no signs of abating, with reports of security forces coming under attack.
Iranian media reported the arrest of 280 rioters on Thursday.
Amini's death has reignited anger over issues including restrictions on personal freedoms in Iran – including strict dress codes for women – and an economy reeling from sanctions.
Iran has grappled with waves of protests in the recent past, mainly over a long-running economic crisis exacerbated by American sanctions linked to its nuclear programme. In November 2019, the country saw the deadliest violence since the 1979 Islamic Revolution, as protests erupted over a rise in the state-controlled price of petrol.
Economic hardship remains a major source of anger as Iran's currency shrivels in value and unemployment remains high.
Reporting by Reuters, Associated Press, Agence France-Presse