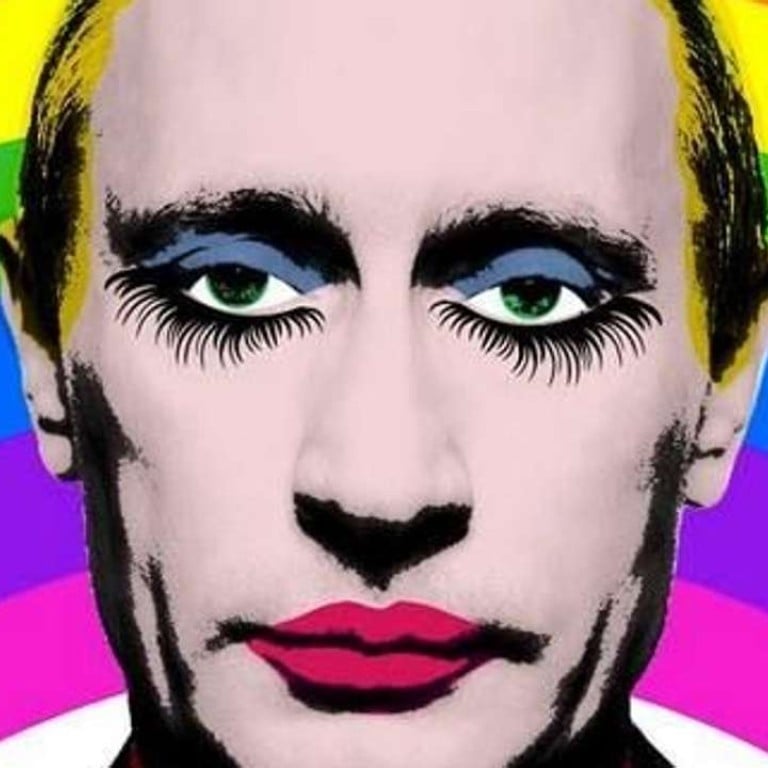 It's now illegal in Russia to share an image of Putin as a possibly gay clown
Russia has banned a picture depicting President Vladimir Putin as a potentially gay clown.
Russian news outlets are having trouble reporting exactly which image of the Internet's many Putin-gay-clown memes is now illegal to share. Because it's been banned.
But the picture was described last week on the Russian government's list of things that constitute "extremism."
"Item 4071" is described as a picture of a Putin-like person "with eyes and lips made up," captioned with an implicit anti-gay slur, implying "the supposed nonstandard sexual orientation of the president of the Russian Federation."
The Moscow Times thinks it looks like a poster set against a rainbow that became popular in 2013, after Russia passed a law banning propagandising to children about "nontraditional sexual relations," and gay rights protesters were beaten and arrested.
But gay Putin memes have proliferated as Russia has cracked down on both sexual liberties and online speech in recent years.
Thus, another news site thinks the banned image is one of Putin with Russian Prime Minister Dimitry Medvedev, seen below. He's more commonly associated with sleeping memes than sexuality issues, though in 2015, he signed an order banning transgender people from driving.
A Kremlin spokesman told Russia's state-run news service, Tass, that he hadn't seen the Putin-clown picture, though he was sure it didn't bother the president.
"Kremlin says Putin skilled at brushing off 'vulgarities' hurled against him," reads the state-sanctioned headline on that interview.
The Kremlin has also become fairly adept at controlling what people say about each other on the Internet.
Russia passed its first "Internet extremism" laws in 2013, according to the Moscow Times - a year after Putin returned to the presidency and began restricting civil rights.
A year later, the paper reported, Putin signed a law imposing prison sentences for people who give so much as a "like" to a forbidden online post. Those include an article about a theoretical coup, which landed a philosophy professor in detention.
In 2015, Russian authorities began shutting down websites of Putin critics, and restricting nearly all anonymous blogs. And Russia's Internet censor has long allowed public figures to file court complaints if they run across a meme that misrepresents their "personality."
Last year, United Press International and other outlets reported on a single mother sentenced to community service for reposting a cartoon of Putin looking at a map with a knife in his hand. And a former naval captain from Rostov who reposted an antiwar report about Ukraine got a two-year suspended sentence and one year of probation for inciting hatred and animosity.
The saga of the banned Putin clown actually began years ago, when a man posted a slew of offensive images to a Russian Facebook clone.
They included openly racist and anti-immigrant posts, according to Radio Free Europe. The man was convicted last year, his social media account was shut down, and he was placed in psychiatric care.
A year later, many of the images he shared were added to the government's thousands-strong blacklist of "extremist materials" - with the potentially gay clown listed right above a picture of Putin and Medvedev as Nazi soldiers.
This article appeared in the South China Morning Post print edition as: Kremlin bans 'Putin as gay clown' meme