Three foreigners who fought for Ukraine sentenced to death by firing squad
Three fighters accused of acting as mercenaries for Kyiv were found guilty by a court in the self-proclaimed Donetsk People's Republic
The court proceedings were denounced by Ukraine and the West as a sham and a violation of the rules of war
Ukraine and the West have denounced a pro-Moscow court that sentenced two British citizens and a Moroccan to death for fighting for Ukraine, calling the proceedings a sham and a violation of the rules of war.
The court in the self-proclaimed Donetsk People's Republic (DPR) in Ukraine found the three fighters guilty of seeking the violent overthrow of power, an offence punishable by death in the unrecognised eastern republic. The men were also convicted of mercenary activities and terrorism.
Russian state news agency RIA Novosti on Thursday reported that the defendants – identified as Aiden Aslin, Shaun Pinner and Brahim Saadoun – will face a firing squad. They have a month to appeal.
The separatist side argued that the three were "mercenaries" not entitled to the usual protections accorded prisoners of war. They are the first foreign fighters sentenced by Ukraine's Russian-backed rebels.
Ukrainian Foreign Ministry spokesman Oleh Nikolenko condemned the proceedings as legally invalid, saying: "Such show trials put the interests of propaganda above the law and morality".
He said that all foreign citizens fighting as part of Ukraine's armed forces should be considered Ukrainian military personnel and protected as such.
British Foreign Secretary Luz Truss pronounced the sentencing a "sham judgment with absolutely no legitimacy".
Prime Minister Boris Johnson's spokesman Jamie Davies said that under the Geneva Conventions, POWs are entitled to immunity as combatants.
Saadoun's father, Taher Saadoun, told the Moroccan online Arab-language newspaper Madar 21 that his son is not a mercenary and that he holds Ukrainian citizenship.
Aslin's and Pinner's families have said that the two men were long-serving members of the Ukrainian military. Both are said to have lived in Ukraine since 2018.
The three men fought alongside Ukrainian troops before Pinner and Aslin surrendered to pro-Russian forces in the southern port of Mariupol in mid-April and Saadoun was captured in mid-March in the eastern city of Volnovakha.
Another British fighter taken prisoner by the pro-Russian forces, Andrew Hill, is awaiting trial.
The Russian military has argued that foreign mercenaries fighting on Ukraine's side are not combatants and should expect long prison terms, at best, if captured.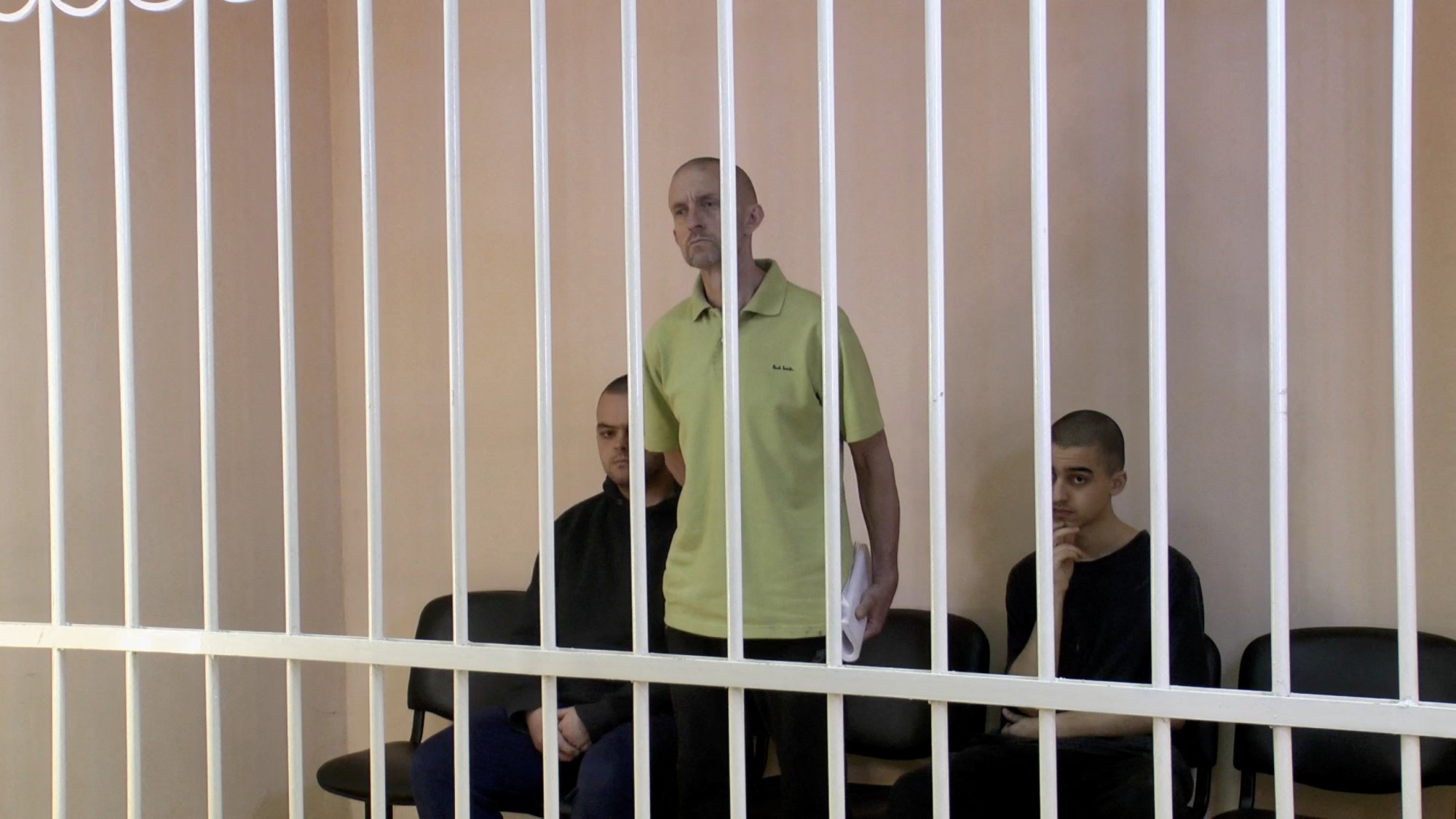 The DPR is one of two breakaway Russian-backed entities in the Donbas region of eastern Ukraine that Russia says it is fighting to liberate from Ukrainian forces.
Three days before launching its February 24 invasion of Ukraine, Russia recognised them as independent states in a move condemned by Ukraine and the West as illegal.
Britain does not recognise the DPR and Britain has not publicly engaged with local officials over the case.
Kremlin spokesperson Dmitry Peskov said earlier this week that should London raise the case directly with the DPR, this might amount to de facto recognition of the region's independence.
Both Ukrainian and Russian forces have captured hundreds of enemy fighters since the start of the conflict, with a handful of prisoner exchanges having taken place.
After stumbling in its initial advance on the capital Kyiv, Russian forces and their proxies have refocused on the southeastern Donbas region, establishing a so-called "land corridor" in recent weeks between Russia and the Crimean peninsula which it annexed from Ukraine in 2014.
Associated Press and Reuters