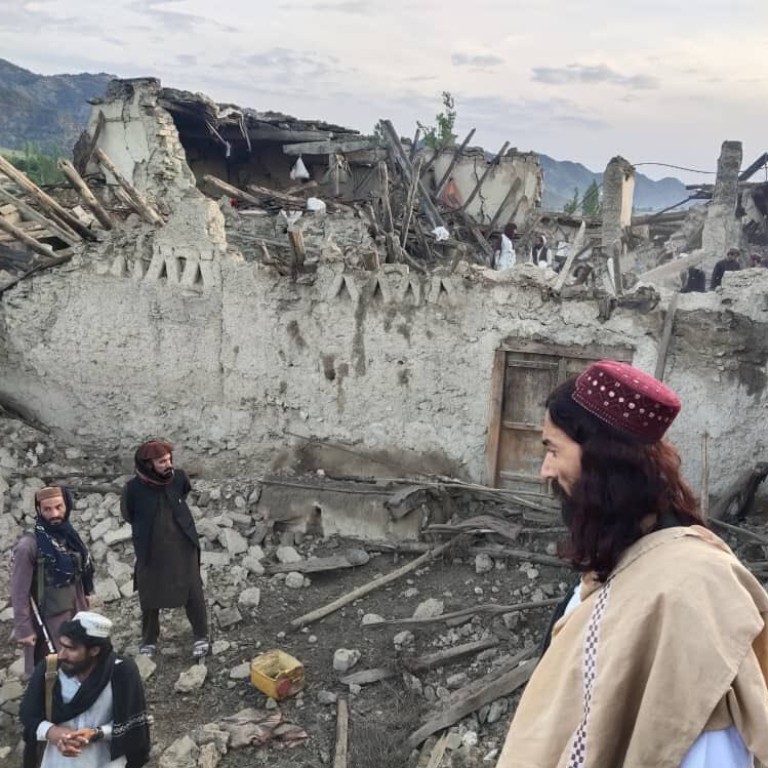 Afghanistan earthquake kills 1,000 – toll likely to rise
Rescue operation launched after deadliest Afghanistan earthquake in two decades
Death toll is likely to rise, official said, as rescue teams try to reach remote areas
An earthquake killed 1,000 people in Afghanistan early on Wednesday, disaster management officials said, with more than 1,500 injured and the toll expected to grow as information trickles in from remote mountain villages.
The European Mediterranean Seismological Centre (EMSC) put the earthquake's magnitude at 6.1, though the US Geological Survey (USGS) said it was 5.9.
The epicentre was about 44km (27 miles) from the city of Khost, near the Pakistani border. Experts put the depth at just 10km (6 miles) – another factor that could lead to severe destruction.
Such temblors can cause severe damage, particularly in an area like this one where homes and other buildings are poorly constructed and landslides are common.
Most of the confirmed deaths were in the eastern Afghan province of Paktika, interior ministry official Salahuddin Ayubi said.
"The death toll is likely to rise as some of the villages are in remote areas in the mountains and it will take some time to collect details," he said.
Authorities had launched a rescue operation and helicopters were being used to reach the injured and take in medical supplies and food, he added.
The response is likely to be complicated since many international aid agencies left Afghanistan after the Taliban takeover last year. Reaching rural areas remains difficult on the landlocked nation with its rutted mountain roadways that may now have sustained significant damage.
In light of those difficulties, a Taliban official asked for international help.
"When such a big incident happens in any country, there is a need for help from other countries," said Sharafuddin Muslim. "It is very difficult for us to be able to respond to this huge incident."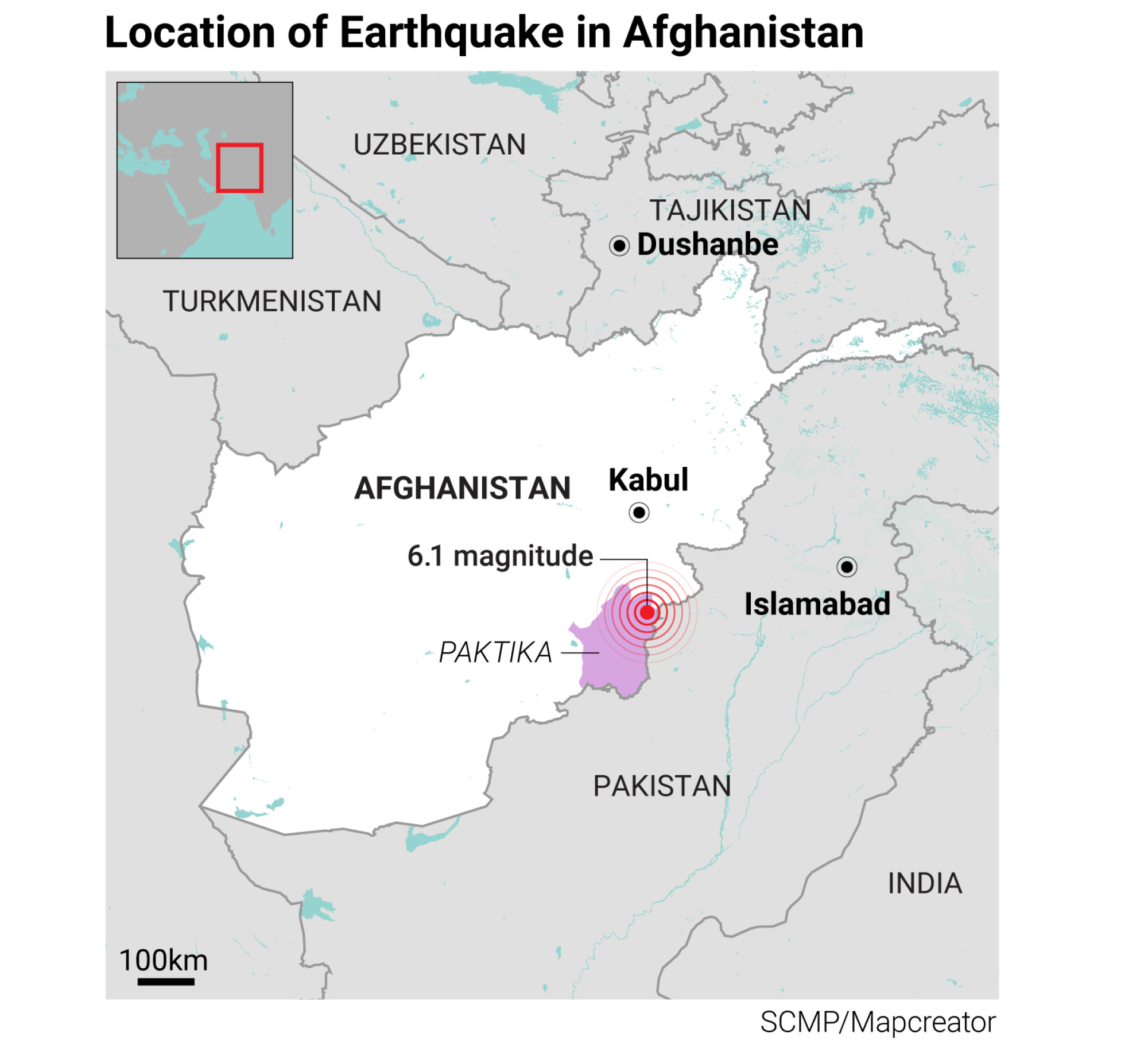 From Kabul, Prime Minister Mohammad Hassan Akhund convened an emergency meeting at the Presidential Palace to coordinate the relief effort for victims in Paktika and Khost.
Neighbouring Pakistan's Meteorological Department put the earthquake at a magnitude 6.1. Tremors were felt in the Pakistani capital, Islamabad, and elsewhere in the eastern Punjab province.
Some remote areas of Pakistan saw reports of damage to homes near the Afghan border, but it wasn't immediately clear if that was due to rain or the earthquake, said Taimoor Khan, a disaster management spokesperson in the area.
Pakistan's Prime Minister Shahbaz Sharif in a statement offered his condolences over the earthquake, saying his nation will provide help to the Afghan people.
The EMSC said the earthquake's tremors were felt over 500km (310 miles) by 119 million people across Afghanistan, Pakistan and India.
Mountainous Afghanistan and the larger region of South Asia along The Hindu Kush mountains, where the Indian tectonic plate collides with the Eurasian plate to the North, has long been vulnerable to devastating earthquakes.
Poor construction for homes, hospitals and other buildings put them at risk of collapse in earthquakes, while landslides remain common across the mountains of Afghanistan.
In 2015, a major earthquake that struck the country's northeast killed over 200 people in Afghanistan and neighbouring northern Pakistan.
A similar 6.1 earthquake in 2002 killed about 1,000 people in northern Afghanistan. And in 1998, a 6.1-magnitude earthquake and subsequent tremors in Afghanistan's remote northeast killed at least 4,500 people.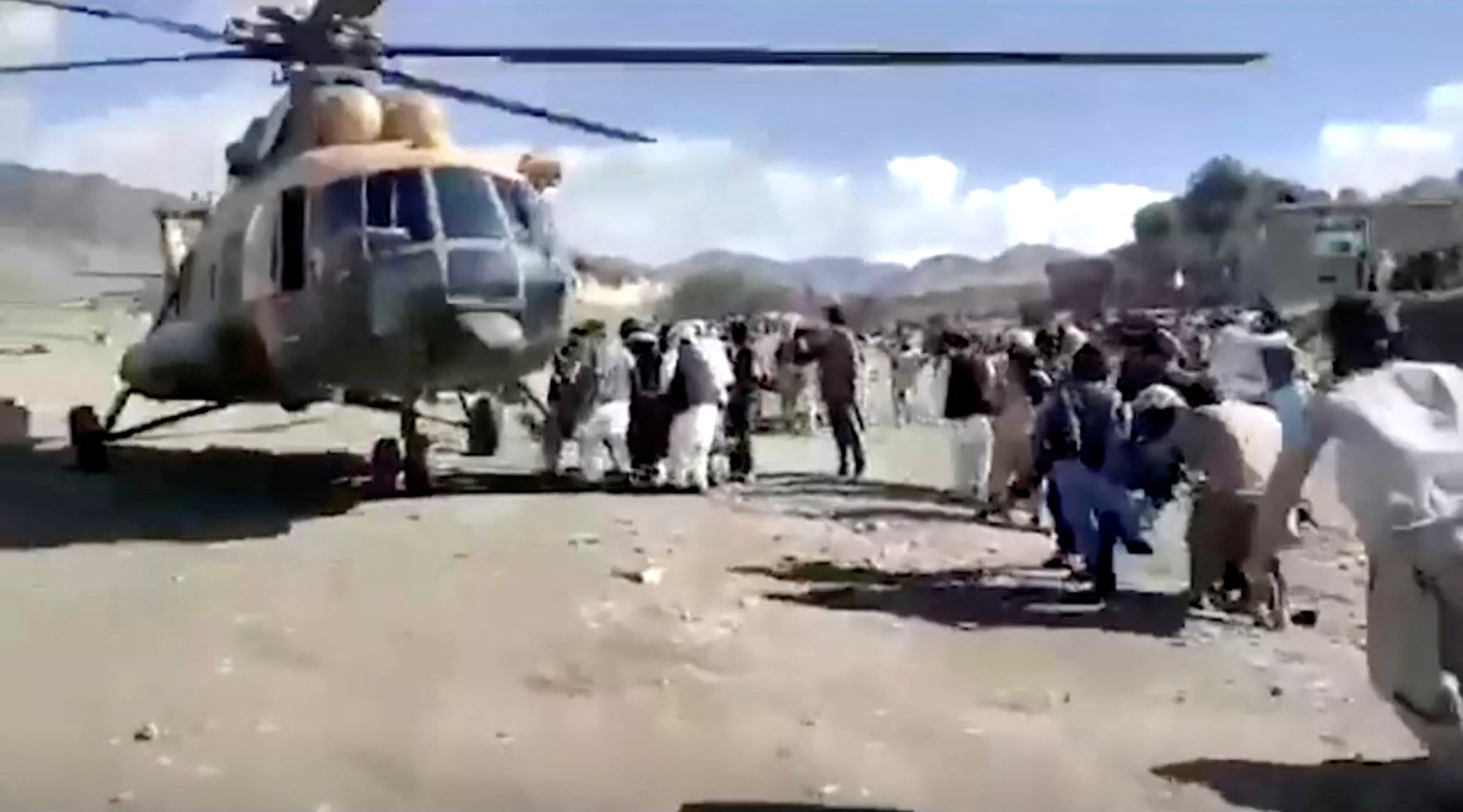 The disaster comes as Afghanistan has been enduring a severe economic crisis since the Taliban took over August, as US led international forces were withdrawing after two decades of war.
In response to the Taliban takeover, many governments have imposed sanctions on Afghanistan's banking sector and cut billions of dollars worth of development aid.
Humanitarian aid has continued and international agencies such as the United Nations operate in the country.
An Afghan foreign ministry spokesman said they would welcome help from any international organisation.
The UN resident coordinator in Afghanistan, Ramiz Alakbarov said that the world body's agencies were responding to the earthquake's devastation.
"Response is on it's way," he wrote on Twitter.
From the Vatican City, Pope Francis offered prayers for the victims.
"I express my closeness with the injured and those who were affected," the 85-year-old pontiff said at the end of his weekly audience.
Associated Press, Reuters and Agence France-Presse