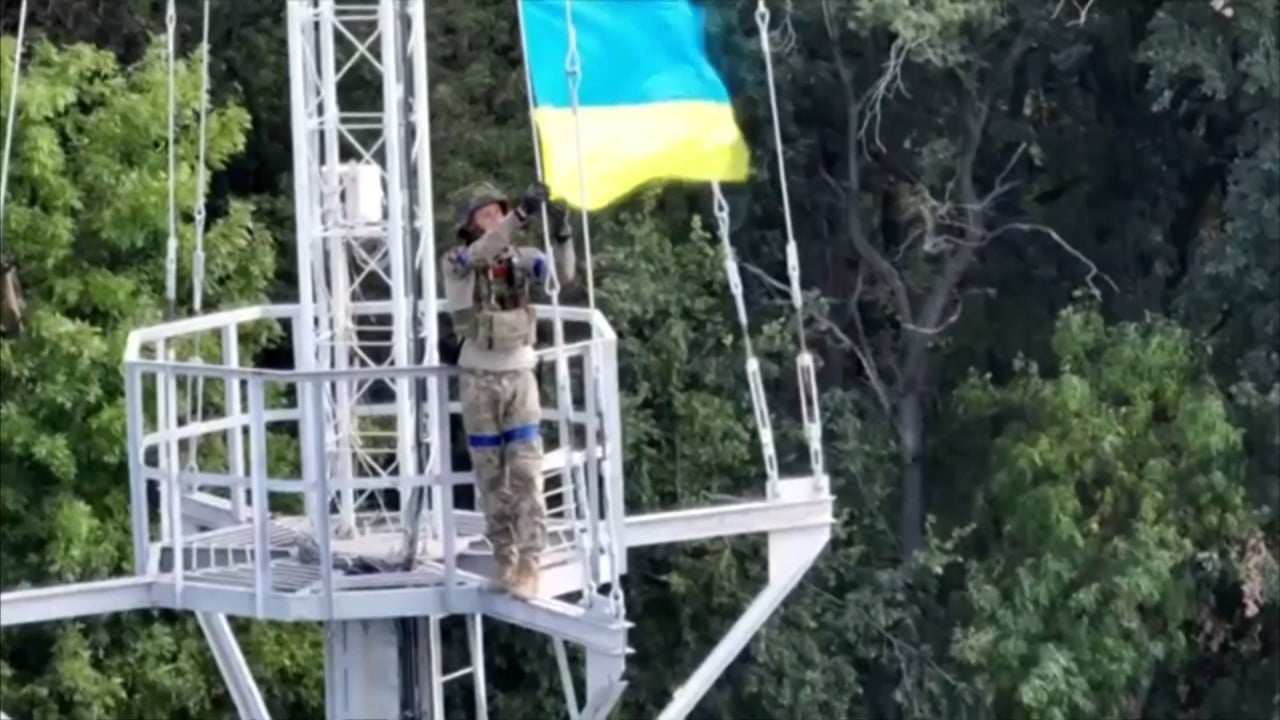 01:49
Ukraine's shock counteroffensive on eastern front pushes back Russian invasion forces
Ukraine's shock counteroffensive on eastern front pushes back Russian invasion forces
Ukraine accuses Russia of attacking power grid in revenge for counteroffensive
Ukraine's forces continue rapid advance in the Kharkiv region, exploiting an extraordinary collapse of Russian defences
Kyiv accused Russia of carrying out reprisal strikes against civilian infrastructure, causing widespread power blackouts
Ukraine accused the Russian military of attacking civilian infrastructure in response to a rapid weekend offensive by Ukrainian troops that forced Russia to abandon its main bastion in the Kharkiv region.
Ukrainian officials said targets of the retaliatory attacks included water facilities and a thermal power station in Kharkiv, and caused widespread blackouts.
"A total blackout in the Kharkiv and Donetsk regions, a partial one in the Zaporizhzhia, Dnipropetrovsk and Sumy regions," Zelensky said in a statement on social media.
"No military facilities," he added. "The goal is to deprive people of light and heat."
He blamed "Russian terrorists". Moscow denies its forces deliberately target civilians.
Zelensky has described Ukraine's offensive in the northeast as a potential breakthrough in the six-month-old war, and said the winter could see further territorial gains if Kyiv received more powerful weapons.
In the worst defeat for Moscow's forces since they were repelled from the outskirts of the capital Kyiv in March, thousands of Russian soldiers left behind ammunition and equipment as they fled the city of Izium, which they had used as a logistics hub.
In an address to the nation marking 200 days since the beginning of the Russia's invasion, Zelensky thanked Ukrainian forces who "liberated hundreds of our cities and villages … and most recently Balakliya, Izium and Kupiansk," naming three important hubs recently captured by Kyiv's army.
Ukraine's chief commander, General Valeriy Zaluzhnyi, said the armed forces had regained control of more than 3,000 sq km (1,158 square miles) since the start of this month.
Ukraine's General Staff said on Monday that defence forces had dislodged Russian forces from more than 20 settlements in the past day.
Near the Russian border, in the village of Kozacha Lopan north of Kharkiv, Ukrainian soldiers and local officials were greeted by residents with hugs and handshakes.
"Kozacha (Lopan) is and will be Ukraine," district Mayor Vyacheslav Zadorenko said on a video he posted on Facebook on Sunday. "No 'Russian World' whatsoever. See for yourselves where the 'Russian World' rags are lying around. Glory to Ukraine, glory to the Ukrainian Armed Forces."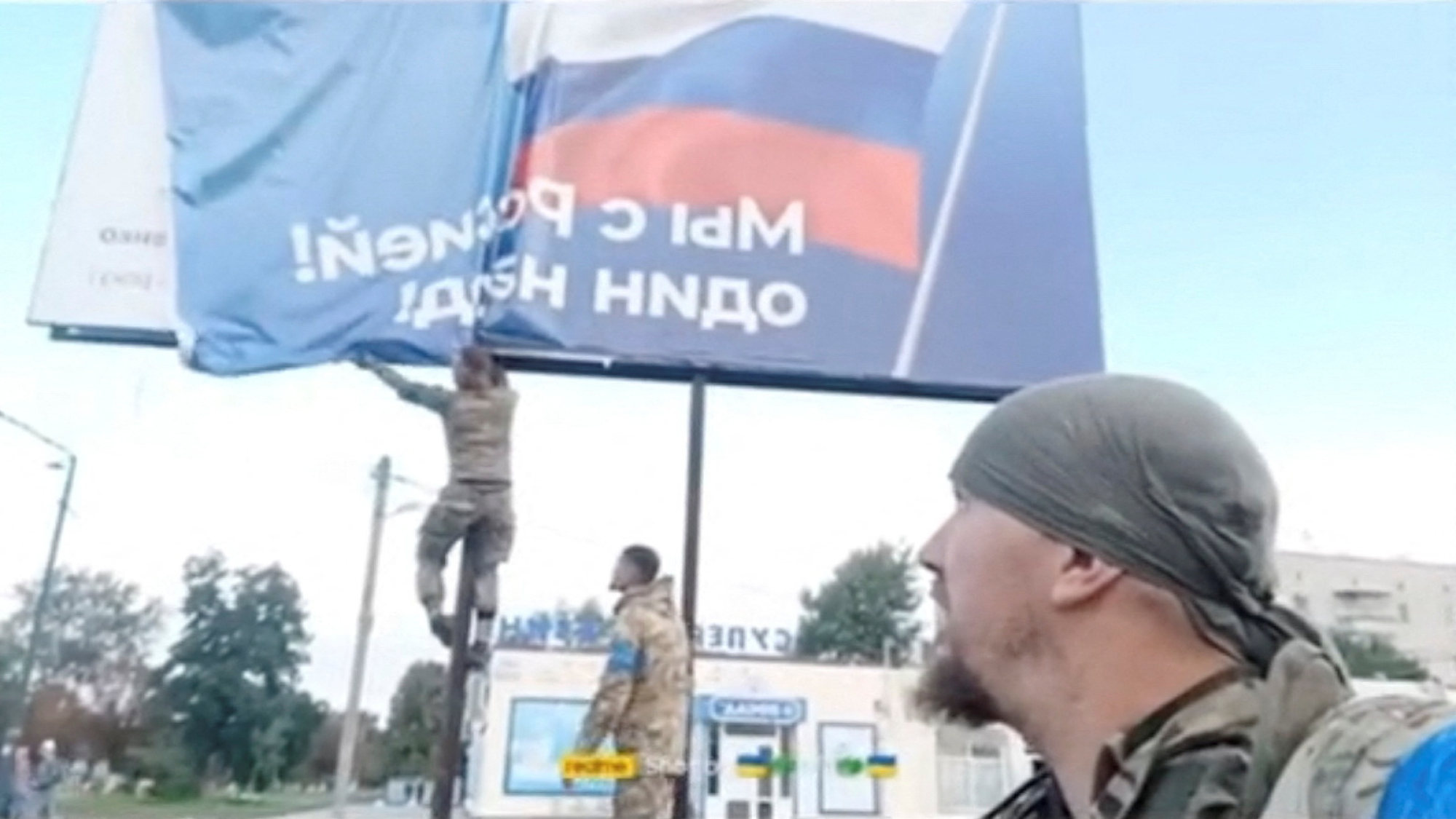 Russia's defence ministry on Saturday confirmed troop withdrawals from the region, yet cast the move as part of a plan to redeploy forces further east to to "achieve the stated goals of liberating Donbas".
On Sunday, the ministry made no mention of the retreat in a regular televised briefing, but showed a map that indicated Moscow's forces had pulled out of much of the territory they recently held in the Kharkiv region.
Outwardly, the Kremlin has showed no signs of panic. Russian President Vladimir Putin on Saturday kept to his announced schedule, including presiding over the opening of a new boxing gym and giant Ferris wheel at a Moscow park.
Authorities in Moscow held a huge fireworks display Saturday night to mark the anniversary of the city's founding.
On Sunday, Putin spoke with French President Emmanuel Macron, who urged Russia to withdraw weaponry from around the Zaporizhzhia nuclear power plant, some 350km southwest of Kharkiv.
The pair spoke after the last operating unit at the Russian-occupied facility was shut safely – dialing back, for now, the "precarious" danger level cited on Friday by the UN's atomic agency.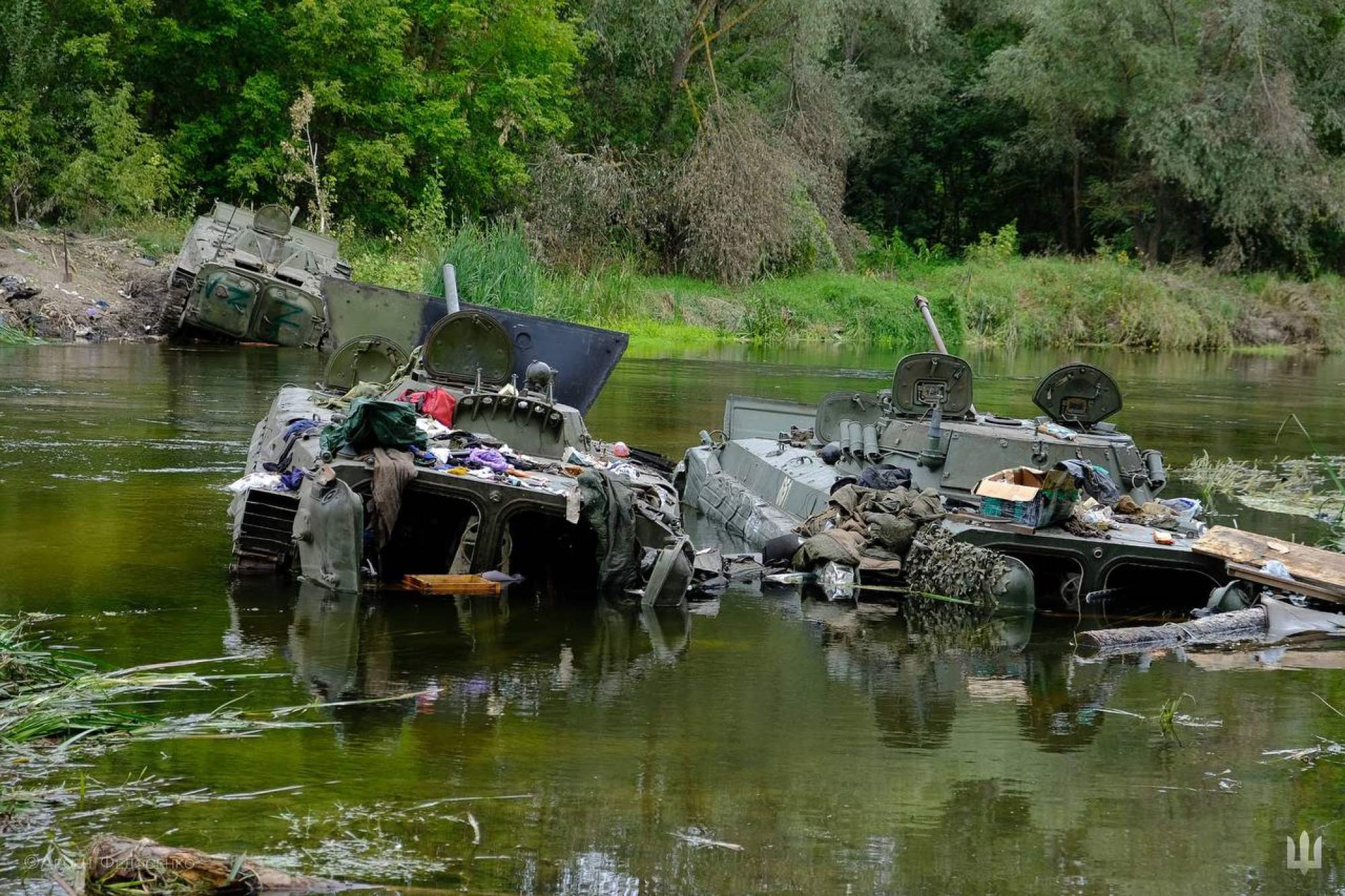 "We should watch for some unexpected reaction from Putin," said Mick Ryan, a retired Australian army general who tweets about military strategy under the handle @WarintheFuture. "He (unlike some of his senior military officers) has shown no signs of believing the invasion is in trouble."
Moscow's almost total silence on the defeat – or any explanation for what had taken place in northeastern Ukraine – provoked significant anger among some pro-war commentators and Russian nationalists on social media.
Russia's suggestion that its retreat had been planned also raised eyebrows from staunch Kremlin backers.
Chechen strongman Ramzan Kadyrov, who's sent thousands of his fighters to the front, criticised Russian authorities for failing to prepare the public for the sudden apparent reversal. "Mistakes were made," he said in a rambling late-night Telegram post on Saturday.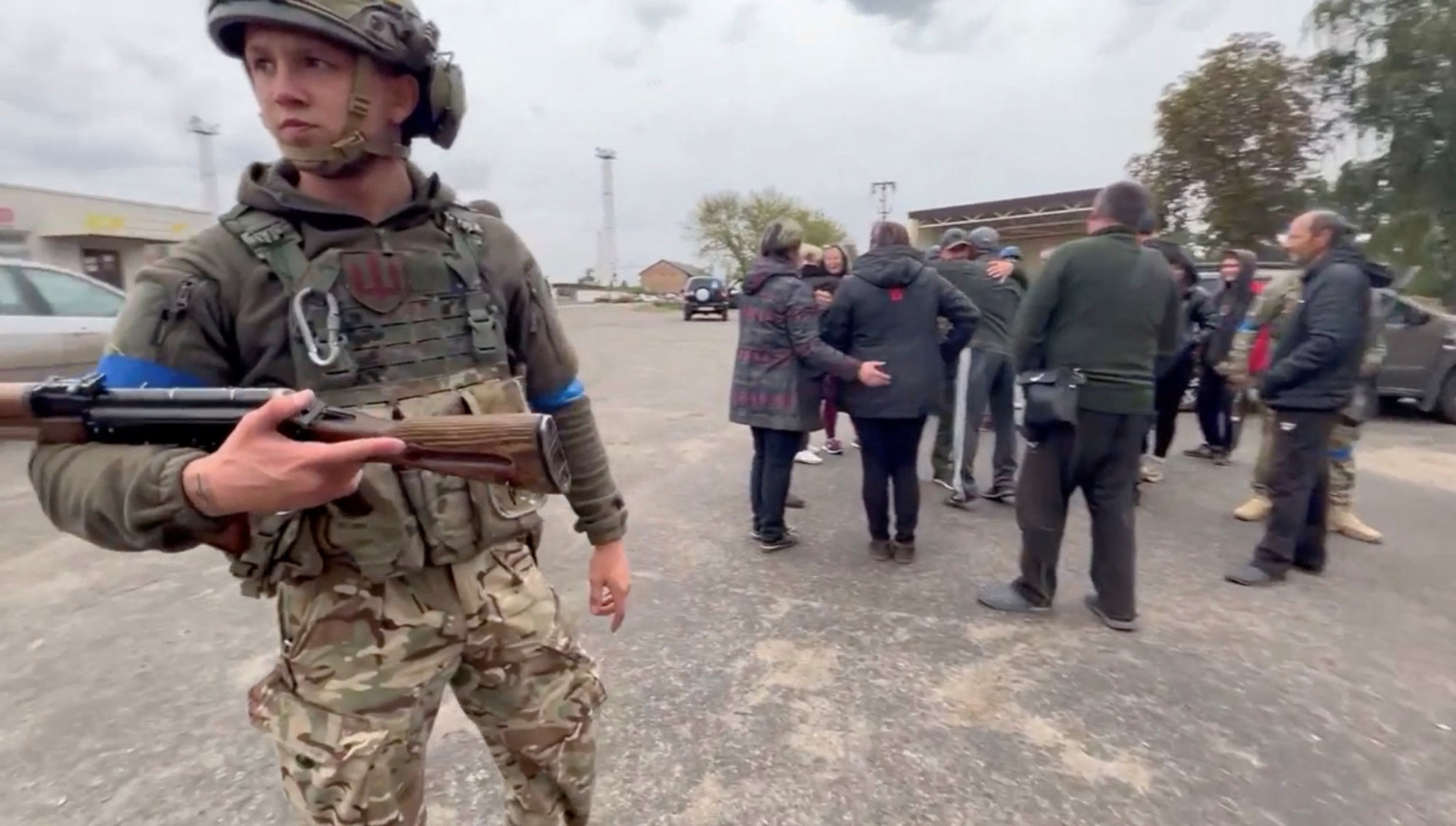 "If today or tomorrow changes aren't made to the strategy of the special military operation, I will be forced to contact the leadership of the defence ministry and the leadership of the country and explain the real situation on the ground," Kadyrov said.
Ukraine's foreign minister used the momentum to appeal to Western allies for more stockpiles of sophisticated weapons.
"Weapons, weapons, weapons have been on our agenda since spring. I am grateful to partners who have answered our call: Ukraine's battlefield successes are our shared ones," Dmytro Kuleba said.
"Prompt supplies bring victory and peace closer," his statement on social media read.
Reuters, Agence France-Presse and Bloomberg