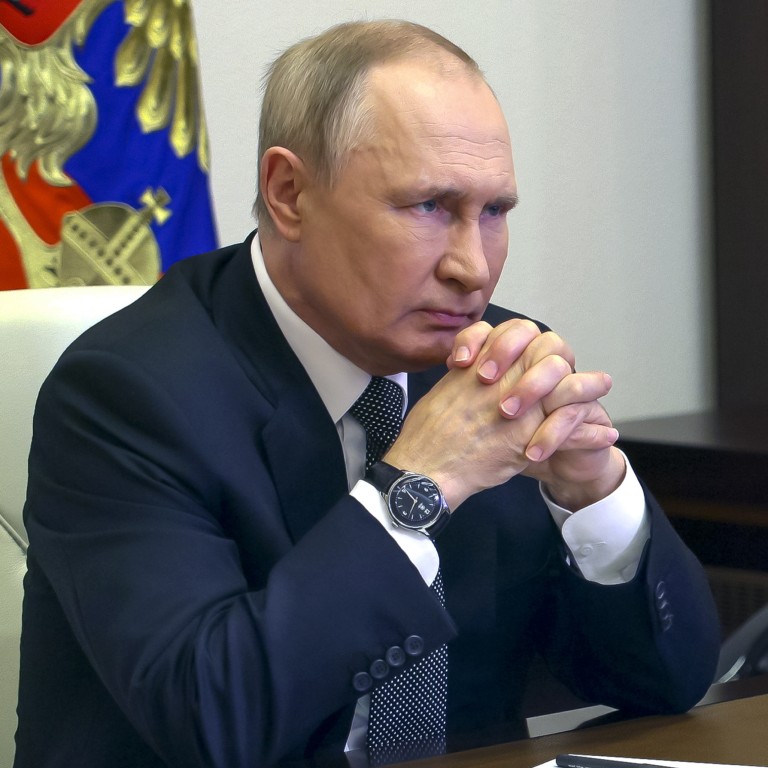 Putin declares martial law in illegally annexed regions of Ukraine
Declaration could involve restrictions on travel and public gatherings, tighter censorship and broader authority for law enforcement agencies
A Russian security official said five million people, from the parts of Ukraine that Moscow has claimed to have annexed, have left for Russia
Russian President Vladimir Putin declared martial law on Wednesday in the four regions of Ukraine that Moscow annexed, and gave additional emergency powers to the heads of all regions of Russia.
Putin didn't immediately spell out the steps that would be taken under martial law, but said his order would be effective from Thursday. His decree gave law enforcement agencies three days to submit specific proposals and orders in the creation of territorial defence forces in the annexed regions.
The upper house of Russia's parliament quickly endorsed Putin's decision to impose martial law in the annexed Donetsk, Kherson, Luhansk and Zaporizhzhia regions.
The approved legislation indicated the declaration may involve restrictions on travel and public gatherings, tighter censorship and broader authority for law enforcement agencies.
"We are working to solve very difficult large-scale tasks to ensure Russia's security and safe future, to protect our people", Putin said in televised remarks at the start of a Security Council meeting.
"Those who are on the front lines or undergoing training at firing ranges and training centres should feel our support and know that they have our big, great country and unified people behind their back".
On Saturday, the Russian Defence Ministry said two men fired at soldiers on a military firing range near Ukraine, killing 11 and wounding 15. The ministry said two men from an unnamed former Soviet republic fired on volunteer soldiers during target practice before they were killed by return fire.
In addition to targeting the annexed regions, Putin's broad decree could open the door to restrictions across Western Russia, including Moscow, St Petersburg and other big cities.
Putin also didn't provide details of the extra powers the heads of Russian regions will have under his decree.
In a signal his moves could have broad restrictions for people living in Russia, his decree states that the types of measures envisaged by martial law could be introduced in Russia.
The Russian leader also ordered the establishment of a Coordination Committee to increase interactions between government agencies in dealing with the fighting in Ukraine that he continued to call a "special military operation".
Kremlin spokesman Dmitry Peskov said Putin's order is on not in anticipation of the closure of Russia's borders, state news agency RIA-Novosti reported.
Around five million people, from the parts of Ukraine that Moscow has claimed to have annexed, have left for Russia, a security official said on Wednesday according to Russian state news agencies.
"Around five million residents of Donbas and southeastern regions of Ukraine have found shelter in Russia," said the secretary of Russia's National Security Council, Nikolai Patrushev, referring to the Donetsk, Luhansk, Kherson and Zaporizhzhia regions.
He gave no details of how they arrived in the country or within what time frame.
Patrushev said that those arriving from the Moscow-held territories will "continue to receive special attention". He also said that Moscow plans to help them return to their homes after "safe conditions are created in these regions".
He spoke as Ukrainian forces advanced into areas held by Russia for months.
In a separate military update, Russia's defence ministry said on Wednesday that 4.6 million Ukrainians – including 700,000 children – have arrived in Russia since the start of Moscow's offensive on February 24.
According to the army, 4,000 of those arrived within the last 24 hours.
Since the start of the offensive, Kyiv has accused Moscow of deportations of its citizens, echoing a Soviet-era practice.