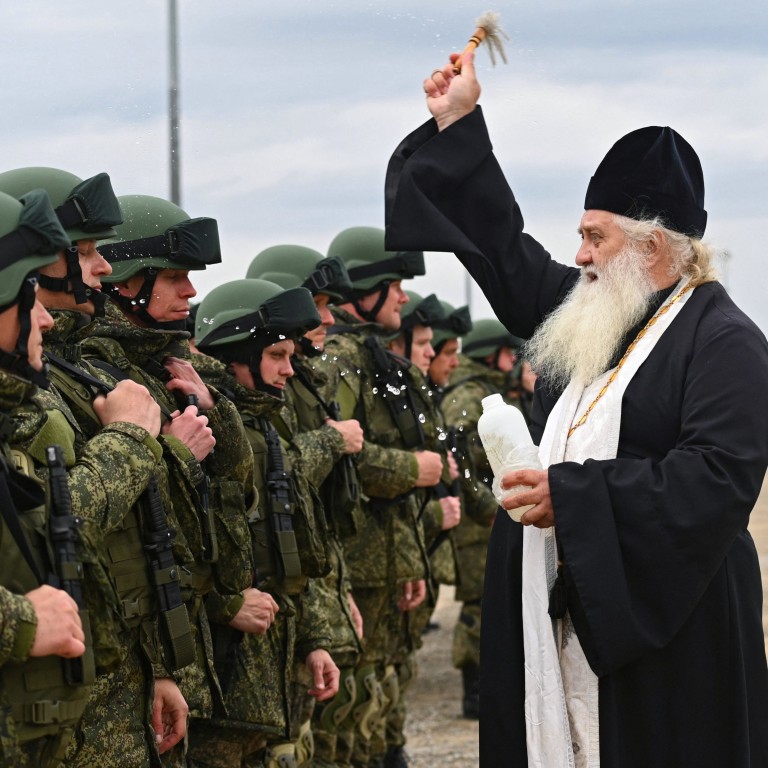 Ukraine says hundreds of Russian recruits killed by strike on Donetsk region barracks
New Year's Eve attack happened in Russian-controlled part of the province; there are conflicting reports on the number of Russians killed
The building hit is said to have been a college converted to a barracks; Russia has mobilised at least 300,000 soldiers to bolster its faltering military campaign
Dozens of Russian recruits were killed in a Ukrainian New Year's Eve attack on their quarters in the Russian-controlled part of Ukraine's Donetsk province, a source close to the Russian-appointed leadership said on Monday, while Ukraine said hundreds had died.
Footage posted online, which Reuters could not immediately verify, showed a building purported to be a vocational college converted to a barracks in occupied Ukraine, in the mining town of Makiivka, reduced to smouldering rubble.
There were reports that ammunition had been stored in the same building.
Russia's Defence Ministry said that 63 Russian servicemen had been killed, while Ukraine's defence ministry, without claiming the strike, said as many as 400 Russians had died. The strike is one of the deadliest losses acknowledged by Moscow.
The Donetsk source, who declined to be named, said: "According to my information, there are fewer than 100 killed so far."
Reuters was unable to verify the battlefield account.
The Russian Defence Ministry did not immediately respond to a request for a comment. In its daily report on Sunday, it said it had destroyed seven HIMARS rockets fired by Ukrainian forces, including near Makiivka.
Russia has mobilised since September at least 300,000 soldiers and has been sending them to bolster its faltering military campaign in Ukraine.
Daniil Bezsonov, a senior Russian-backed regional official in the Moscow-controlled parts of the Donetsk region, said the vocational school had been hit by US-made HIMARS rockets at around midnight, as people in the region would have been celebrating the start of the New Year.
"There was a massive strike on the vocational school from American MLRS HIMARS," Bezsonov said on the Telegram messaging app. "There were dead and wounded, the exact number is still unknown. The building itself was badly damaged."
Igor Girkin, a nationalist and former Federal Security Service (FSB) officer who helped Russia annex Crimea in 2014 and then organise pro-Russian militias in eastern Ukraine, said in a Telegram post on Monday that "the number of dead and wounded runs into many hundreds".
Girkin, who has bitterly criticised Russia's military failures in Ukraine, said ammunition had been stored in the same building where the recruits had been accommodated.
"This is not the only such (extremely dense) deployment of personnel and equipment in the destruction zone of HIMARS missiles," he wrote. "And – yes – this is not the first such case."
Additional reporting by Bloomberg