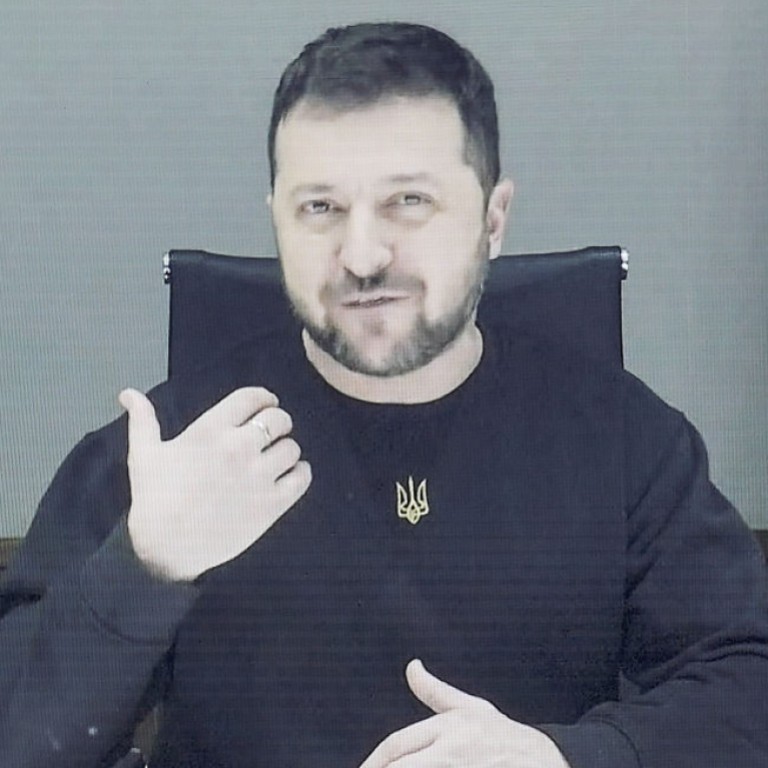 Ukraine's Zelensky writes letter to China's Xi Jinping, calls for speed from allies
The president warned world leaders in Davos that 'tyranny is outpacing democracies', even as Germany hesitates over supplying Kyiv with Leopard tanks
He also sought to make contact with Xi in the hope that Beijing would use its influence over Russia's Putin
Ukrainian President Volodymyr Zelensky urged his Western allies to take quicker decisions to help his war-struck country on Wednesday, warning that "tyranny is outpacing democracies".
In an address to the World Economic Forum in Davos by video link, the Ukrainian leader issued a "call for speed" in a barely veiled reference to hesitations in Germany about whether to supply heavy Leopard tanks to the country.
"The time the Free World uses to think is used by the terrorist state to kill," Zelensky said ahead of a meeting of Ukraine's Western arms suppliers in Germany on Friday.
"The world must not hesitate today or ever," he added. "The mobilisation of the world must outpace the next military mobilisation of our joint enemy."
Leaders and ministers from Finland, Lithuania, Poland and Britain have added their voices in recent days to a growing clamour for Berlin to approve the export of German-made Leopards to Ukraine.
Polish President Andrzej Duda, whose country has offered to send its Leopards, called it a "very, very, very good idea" on Tuesday.
Ukraine's backers are set to meet at the US-run Ramstein military base in Germany on Friday.
"I hope it will be very positive for Ukraine. Unofficially, I have very good and positive signals," Kyiv mayor Vitali Klitschko said on Wednesday.
Zelensky, meanwhile, has written to invite China's President Xi Jinping for talks, according to his wife, Olena Zelenska, who said that the letter had been handed over in Davos to the Chinese delegation.
Zelensky has repeatedly sought to make contact with Xi since Russia's invasion of Ukraine in February last year in the hope that Beijing will use its influence over Russian leader Vladimir Putin.
During her speech in Davos on Tuesday, Zelenska said she had a letter for Xi but she gave new details during a press conference on Wednesday.
"It was a gesture and invitation to dialogue and I hope very much that there will be a response to this invitation," she told reporters.