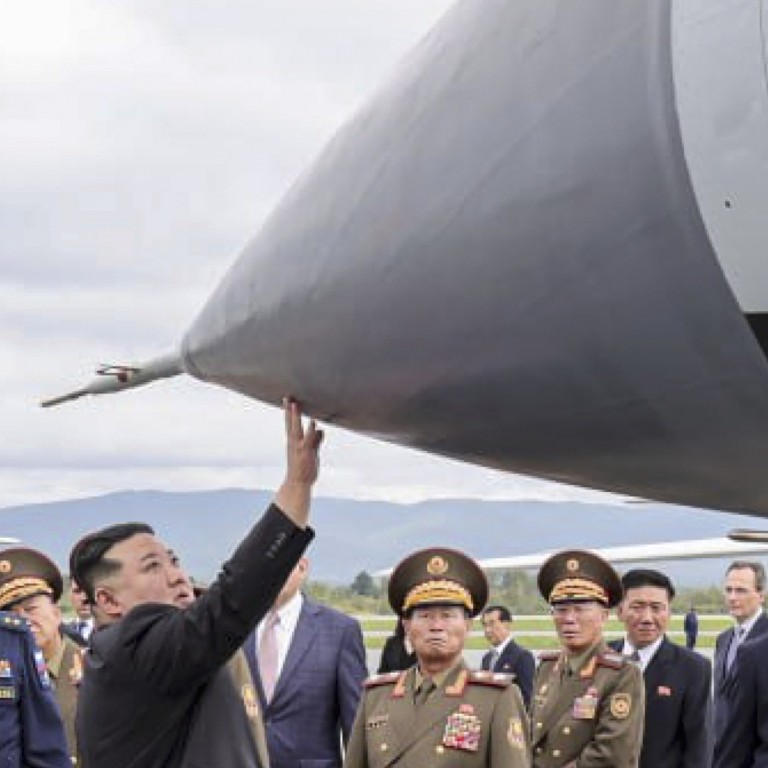 North Korean arms for Russia unlikely to make big difference in Ukraine war, top US general says
US Joint Chiefs of Staff chair Mark Milley expects Pyongyang to provide Soviet-era 152mm artillery rounds to Moscow after the recent Putin-Kim meeting
Ukraine's leaders, meanwhile, are lobbying allies for a new round of advanced weapons, including longer range missiles
North Korea may be able to boost Russia's supply of artillery munitions for the war in Ukraine, but that is not likely to make a big difference, the top American military officer said as he arrived in Norway for Nato meetings that began on Saturday and will focus in part on the conflict.
US Army General Mark Milley, chairman of the Joint Chiefs of Staff, said the recent meeting in Russia between North Korean leader Kim Jong-un and Russian President Vladimir Putin will probably lead North Korea to provide Soviet-era 152mm artillery rounds to Moscow. But he said it was not yet clear how many or how soon.
"Would it have a huge difference? I'm sceptical of that," Milley told reporters travelling with him. He said that while he does not want to play down the weapons aid too much, "I doubt that it would be decisive."
Foreign governments and experts have speculated that Kim is likely to supply ammunition to Russia in exchange for receiving advanced weapons or technology from Russia.
Milley and the other defence chiefs from Nato countries are meeting at the Holmenkollen ski area on the edge of Oslo over the next several days to discuss support for Ukraine and other regional defence issues.
From there, Milley will attend the monthly meeting of the Ukraine Defence Contact Group in Germany on Tuesday. That group, led by US Defence Secretary Lloyd Austin, is the main international forum for drumming up military support for Ukraine.
The Nato meetings come as Ukraine forces are making slow progress breaking through Russian battle lines in a counteroffensive that has not moved as quickly or as well as initially hoped. Kyiv's leaders are lobbying for a new round of advanced weapons, including longer range missiles.
Admiral Rob Bauer of the Netherlands, the chair of the Nato Military Committee, said Saturday at the opening of the meeting that history will show "Ukraine has transformed modern warfare and they are moving forward every day. Every success is one step closer to victory".
He said Russian forces "keep losing more and more ground, and the whole of Russia is suffering under the impact of economic sanctions and diplomatic isolation".
Milley said there is a continued need for more weapons and equipment in Ukraine and that allies and partners will be discussing how to address that. He said he believes there continues to be broad, bipartisan support in the United States and the US Congress for the aid.
Later in the day, Bauer acknowledge that strains on military weapons production are increasing prices and decreasing the amount of ammunition and other stocks that countries have on hand. He said that while Nato is not organising the donations, it is an issue that concerns alliance members.
"When they think about giving away weapons or ammunition, they have to think … what is the risk that I take against my own readiness?" he told reporters.
Most nations began the war with fuller warehouses of arms, but "the volume of the weapons and the ammunition that Ukraine requires is huge," Bauer said. As a result, the amounts going to Ukraine and the amounts that industry can expand to provide are not in balance. He said he cannot say whether the problem has begun to hamper donations, but it is something for allies to consider.
American lawmakers are increasingly divided over providing additional aid for Ukraine as the war is well into its second year.
US President Joe Biden has proposed a package of US$13.1 billion more in military aid and US$8.5 billion for humanitarian support. Conservative Republicans are pushing for broad federal spending cuts and some of those allied with former president Donald Trump are specifically looking to stop money to Ukraine.
The issue will be a prime topic in Washington in the coming week when Ukrainian President Volodymyr Zelensky visits the White House and Capitol Hill during his stop in the United States to attend the UN General Assembly.
Since last year, the US has accused North Korea of sending ammunition, artillery shells and rockets to Russia, many of them likely copies of Soviet-era munitions. South Korean officials said North Korean weapons provided to Moscow were used as part of the Kremlin's invasion of Ukraine.
Russian attacks against Ukraine have continued throughout the North Korean leader's visit, with two people killed and two more wounded during shelling on villages in Ukraine's northeastern Kherson region on Saturday, Ukrainian officials said.
Five more people were hurt in a separate rocket attack later in the day on an industrial region in Kharkiv city, Ukraine's prosecutor's office announced.
Meanwhile, the Moscow-installed head of the annexed Donetsk People's Republic, Denis Pushilin, said that five civilians were killed Saturday as artillery hit the residential buildings and infrastructure in the region.
A 30-year-old man also died during shelling on the Russian village of Plekhovo close to the Ukrainian border, the governor of Russia's Kursk region wrote on social media.