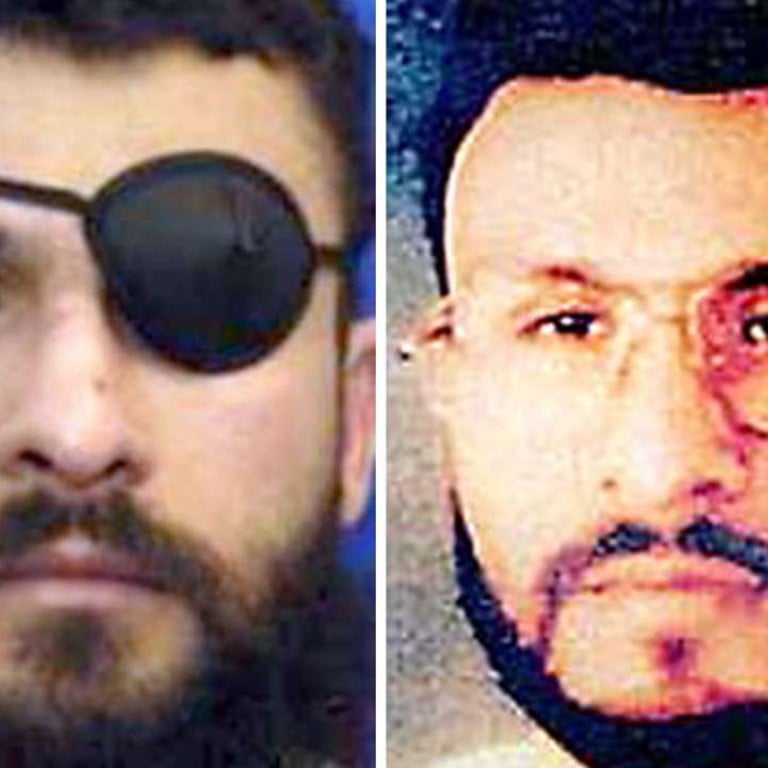 Abu Zubaydah, waterboarded 83 times by CIA then hidden from view for 14 years, pleads for freedom
Alleged al-Qaeda operative was subjected to sleep deprivation, kept nude, confined in coffin-like boxes, and forced to crouch in a cage during his detention
Abu Zubaydah, a terror detainee who was the first to undergo torture by waterboarding in secret CIA custody after 9/11, appeared before a Pentagon panel on Tuesday to plead for his release — the first time he's been seen by any member of the public since being captured in 2002 during a shootout in Pakistan.
The video link that beamed his image from Guantanamo to the Pentagon hearing, which was witnessed in part by more than a dozen journalists and monitors from nonprofit groups, revealed no signs of the torture or other abuse Abu Zubaydah suffered during the four years he was in CIA custody. He wore a white formal tunic, and his beard and moustache were neatly trimmed. His dark hair was closely cropped. An eye patch hung from a cord around his neck. How he lost his left eye is not publicly known.
"The focus of this hearing is on the threat you may pose to the United States," an unnamed member of the Parole Review Board told Abu Zubaydah, whose real name is Zayn al Abdeen Mohammed al Hussein. "It is not on the lawfulness of your detention."
The US government says Abu Zubaydah, who was born in Saudi Arabia in 1971, was a senior al-Qaeda communications operative who "was generally aware of the impending 9/11 attacks" and may have coordinated the training of two hijackers at a militant camp in Afghanistan. It says he also plotted attacks against Israeli, Jordanian and Western targets, though the government's unclassified profile also acknowledges that he has been a cooperative prisoner at Guantanamo.
Abu Zubaydah, through an unnamed personal representative, said he's no threat to American security and ought to be released.
"Zayn al Abdeen has stated that he has no desire or intent to harm the United States or any other country, and he has repeatedly said that the Islamic State is out of control and has gone too far," the representative said.
Abu Zubaydah was silent throughout the hearing.
At times placing a finger on his cheek or resting his chin on a hand, Abu Zubaydah appeared to listen intently to an interpreter's translation of the board members' questions and comments from English into Arabic.
There was no mention of Abu Zubaydah's treatment during his years in CIA custody. US records show he was waterboarded at least 83 times, the last session administered at the insistence of CIA headquarters, even though interrogators on the ground had judged him compliant.
Katherine Cosgrove, a national security analyst who witnessed the hearing for Human Rights First, an advocacy group with offices in Washington, New York and Houston, criticized the omission.
"Torture played such a huge part in his case," she said. "To not discuss it is an intentional oversight on the part of the government. It should have at least been noted."
"We feel that being held as long as he has without being charged is a problem," Cosgrove said after the hearing.
The government's unclassified profile of Abu Zubaydah, which served as its core report to the Parole Review Board, painted a mixed picture.
Calling him by his Detainee Internment Serial Number GZ-10016, the government acknowledged that Abu Zubaydah "has condemned ISIL atrocities and the killing of innocent people," using a popular acronym for the Islamic State.
The government also said: "GZ-10016 has shown a high level of cooperation with the staff at Guantanamo Bay and has served as a cell block leader, assuming responsibility for communicating detainees' messages and grievances to the staff and maintaining order among the detainees."
The government added: "He readily and consistently responded to most if not all lines of questioning by the debriefers, including providing detailed information on his terrorist activities and those of his associates."
At the same time, Abu Zubaydah "withheld information, which might have been to protect historical or current activities," and he "probably retains an extremist mindset," the government said.
The review board included representatives of the Pentagon, the State Department, the Justice Department, the Homeland Security Department and other agencies.
The hearing was conducted via video conference. Abu Zubaydah, two personal representatives and a translator were in a courtroom at Guantanamo courtroom, while the parole board members were at undisclosed other locations.
The reporters and monitors were allowed to watch the unclassified start of the hearing but were escorted out before a classified portion of the hearing began.
The Pentagon later reported that it had not posted an online transcript of the hearing's unclassified part or Abu Zubaydah's written submission, both at his request.
His lawyers say the CIA held him at "black sites" in Pakistan, Thailand, the British territory of Diego Garcia, Poland and likely Morocco.
In addition to waterboarding, a process by which a person is strapped face up to a board while water is poured over his face to simulate drowning, Abu Zubaydah was subjected to sleep deprivation, kept nude, confined in coffin-like boxes, and forced to crouch in a cage, according to now declassified government documents.
Abu Zubaydah was held secretly until 2006, when President George W. Bush ordered the transfer of CIA detainees to Guantanamo.
With Obama making it a priority of his final months in office to transfer most of the remaining 61 detainees, the pace of the review hearings has intensified. They are now being conducted twice a week, instead of twice a month.
Among the 50 most recent hearings, 33 detainees were cleared for release to a foreign country and 17 were denied parole.
A decision on whether Abu Zubaydah is eligible for transfer is expected next month.