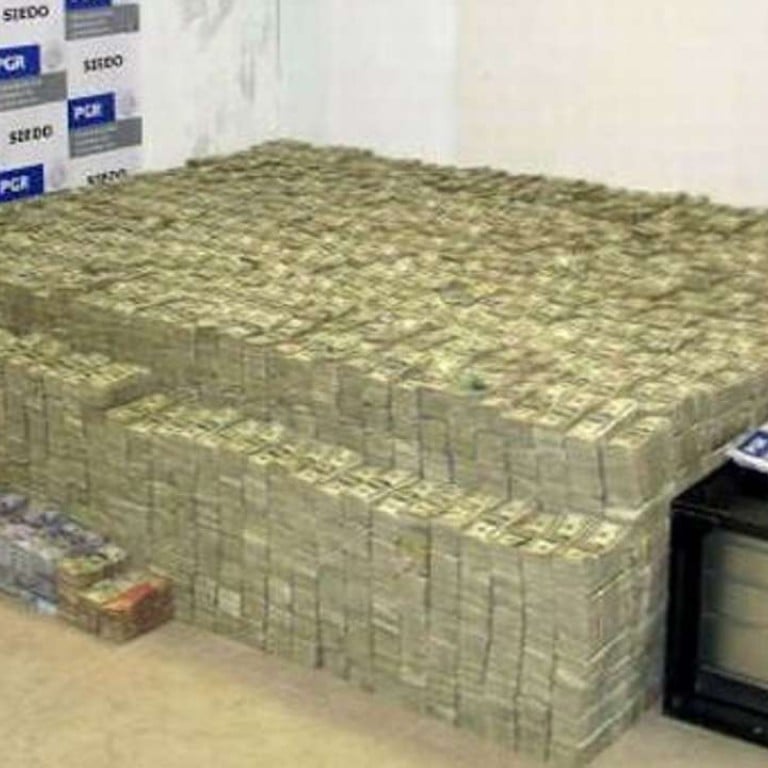 New

|
Zhenli Ye Gon, who had 2 tonnes of US$100 bills in his home, faces extradition to Mexico on drug charges
A Chinese-Mexican businessman accused of drug trafficking, whose house infamously contained a mountain of cash weighing 2 tonnes, could be handed over by US authorities to Mexican authorities as early as next week as he has nearly exhausted his legal options, ending a years-long extradition battle, his lawyer told Reuters.
Zhenli Ye Gon's July 2007 arrest in the United States and the seizure of US$205 million in cash at his Mexico City home several months earlier, played a role in high-profile money laundering investigations by US authorities at the British banking giant HSBC and the Las Vegas Sands Corp. casino company. The discovery of the money, almost entirely consisting of US$100 bills, along with a few pesos and Hong Kong dollars, was hailed as the biggest cash seizure in drug enforcement history.
US prosecutors charged Ye Gon, the former owner of the now defunct Mexican pharmaceutical wholesaler Unimed Pharm Chem, with importing chemicals that cartels allegedly used to produce the illegal drug methamphetamine. Ye Gon's attorney, Gregory Smith, says his client was a legitimate businessman.
The case collapsed in 2009 after key witnesses recanted or refused to testify, according to court records. Since then, Ye Gon has been imprisoned in a Virginia jail, held on the basis of an extradition request from Mexico, where he faces charges of drug trafficking and money laundering.
Ye Gon's attorney Gregory Smith, has fought extradition, arguing in court that Ye Gon would likely be tortured or killed if he returns to Mexico. Earlier this month, Ye Gon, 53, all but exhausted his legal options when a federal appeals court in Richmond, Virginia rejected a bid to have his extradition reconsidered.
The court ruled that it could not interfere with the decision of the US State Department, which decided last year that Ye Gon should be handed over to Mexico.
John Kirby, a State Department spokesman, declined to comment on the case, but said that before deciding to extradite someone, the US government must be satisfied an individual would not be tortured and would receive a fair trial.
In a last ditch effort, Smith said in an interview he will ask the US Supreme Court for an emergency stay of the extradition next week. But unless the Supreme Court immediately intervenes, US authorities could put Ye Gon on a plane to Mexico, Smith said.
A Justice Department spokesman said that if there is no further court mandated delay, the United States can move forward with the extradition. Ye Gon is a Chinese national born in Shanghai with Mexican citizenship.
Mexico's foreign ministry declined to comment.
Smith has argued that media accounts of Ye Gon cooperating with US authorities, which his previous attorneys have denied, as well as his claims that the US$205 million found in his house belonged to Mexican politicians, will make him a target of violence in Mexico.
In court papers, Smith also cites two co-defendants of Ye Gon's who have both said in sworn statements that they were tortured in Mexican custody.
"There is a very serious risk he will be tortured or killed in prison to the point where I'm losing sleep over it," Smith said in an interview.
Ye Gon, in jail in Virginia, could not be reached for comment.
Court documents said that in 2004 his company, Unimed Pharm Chem, had become the third largest importer in Mexico of pseudoephedrine. The chemical is commonly used as a nasal decongestant and can be used to manufacture methamphetamine.
The March 2007 raid of Ye Gon's mansion led to a money laundering investigation of the Las Vegas Sands Corp. where Ye Gon was a high-stakes baccarat player, according to court papers. The Sands admitted it should have recognised Ye Gon's suspicious transactions. The casino company paid US$47 million to the government as part of a 2013 settlement with the US Department of Justice.
Ye Gon's accounts at HSBC were the subject of a broader US federal money laundering investigation of the bank, according to court papers. In 2012 HSBC agreed to a US$1.9 billion settlement with US authorities after admitting that its poor controls had allowed drug cartels to launder at least US$881 million.