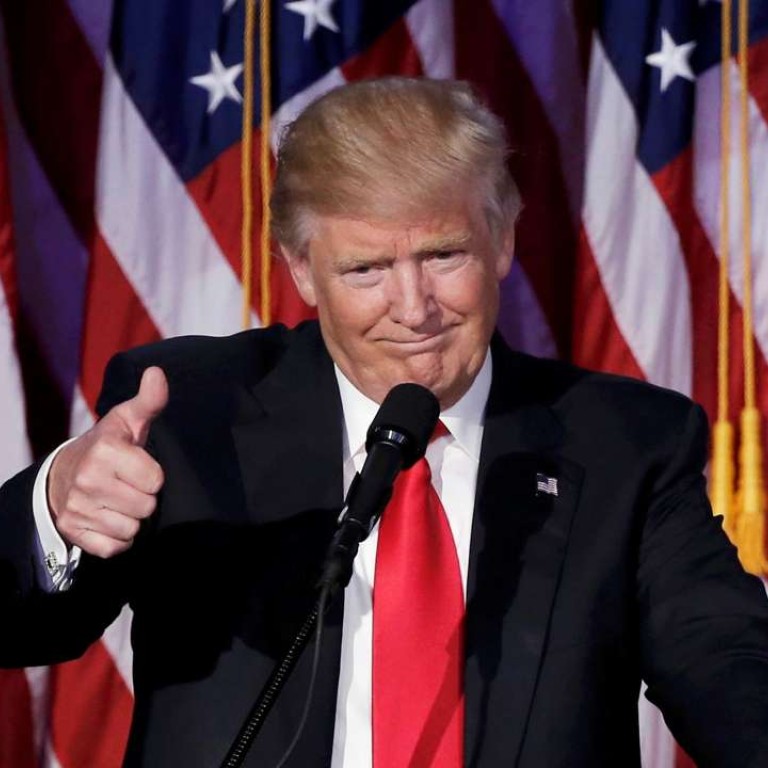 Defying pundits and pollsters, Donald Trump is the next US president. Here's how he did it
The billionaire populist tapped into an angry electorate fed up with Washington insiders - and he did it using far less cash than his rival Hillary Clinton
When Donald Trump glided down an escalator in Trump Tower in June 2015 with his wife Melania and announced his bid for the White House, he was probably the only one in the room who thought he could win.
Seventeen months later, the 70-year-old Republican billionaire tycoon and former reality TV star who has never held public office has, against all odds, been elected the 45th US president.
He surged to victory over Hillary Clinton on the back of acute anger among part of the electorate: those Americans who feel abandoned and betrayed by establishment politicians, and worried over free trade accords they see as threatening or having already stolen their jobs.
In his final campaign rallies on Monday, Trump promised a Brexit-style win - an allusion to the unexpected win of the 'leave' camp in the British referendum in June in favour of quitting the European Union.
Trump has kept his word. And in defying polls that made Clinton the favourite, American voters have decided to give him a chance. He won 290 electoral college votes out of the required 270, even though two-thirds of voters think he does not have the temperament to be president.
After her campaign team told supporters the race was too close to call and to go home, Clinton phoned Trump to concede defeat.
In his victory speech, Trump pledged to be a president "for all Americans". Addressing supporters at his victory party in New York City, he asked that the nation come together and promised to "represent every citizen of our land".
He added that it was "time for America to bind the wounds of division" and "time for us to come together as one".
He also declared that "America will no longer settle for anything but the best" and said that the nation will "dream big and bold and daring".
He tweeted another call for unity hours later: "We will all come together as never before".
Trump's victory is seen as a threat to many of US President Barack Obama's major achievements. The Republican has vowed to repeal Obama's landmark health care law, revoke the nuclear agreement with Iran and rewrite important trade deals with other countries, particularly Mexico and Canada.
A New York real estate developer who lives in a gold-plated Manhattan penthouse, Trump forged a striking connection with white, working class Americans who feel left behind in a changing economy and diversifying country. He cast immigration, both from Latin America and the Middle East, as the root of the problems plaguing many Americans.
Relying heavily on an unorthodox mix of social media, unfiltered rhetoric, and a knack for winning free TV time, he likely paid less than $5 per vote during his insurgent presidential bid, about half what Clinton paid, according to a Reuters analysis of campaign finance records and voting data. Those figures assume the candidates spent all the funds they raised.
Political strategists and academics tend to agree, however, that Trump's performance would be tough to repeat. A household name for his luxury brand resorts, reality TV stardom, and ability to surround himself with non-stop controversy, Trump held advantages that many political candidates lack.
"I think this is a case where Trump had unique characteristics as a candidate that allowed him to pursue a different type of strategy," said Tony Corrado, a professor of government at Colby College in Maine.
In total, Trump raised at least $270 million since launching his campaign in June 2015, a little more than a third of the money that Barack Obama's re-election campaign spent in 2012, according to the most recent filings with the Federal Elections Commission.
With vote counting wrapping up in the early hours of Wednesday, Trump had won some 57 million votes nationwide in the general election. That amounts to less than $5 per vote for the $270 million he spent.
According to data analytics firm mediaQuant, Trump garnered about $5 billion worth of free media coverage during the election campaign, more than twice the amount earned by Clinton, a lifelong politician who served as secretary of state, senator, and first lady at different times in her career.
Clinton raised at least $521 million, according to filings.
The former secretary of state stuck to the more traditional campaigning model of launching expensive television ads and funding hundreds of staffers who fanned across the country to work to increase voter turnout on Election Day.
She spent more than $237 million on television ads and more than $42 million on hundreds of staffers.
Clinton's stunned advisers went silent for long stretches Tuesday night. As the results rolled in, the candidate tweeted to supporters, "Whatever happens tonight, thank you for everything", a message possibly lacking in confidence as she saw her opponent take the lead.
Top Trump adviser Kellyanne Conway touted the campaign's achievements, writing on Twitter that "rally crowds matter" and "we expanded the map".
Exit polls underscored the deep divisions that have defined the 2016 contest. Women nationwide supported Clinton by a double-digit margin, while men were significantly more likely to back Trump. More than half of white voters backed the Republican, while nearly nine out of 10 blacks and two-thirds of Hispanics voted for the Democrat.
Trump's stunning upset means he'll govern a Congress under full Republican control. The party fended off a Democratic challenge in the Senate, winning key races in North Carolina, Pennsylvania and Wisconsin, and the party also extended its grip on the House.
Democrats, as well as some Republicans, expected Trump's unconventional candidacy would damage down-ballot races and even flip some reliably red states in the presidential race. But Trump held on to Republican territory, including in Georgia and Utah, where Clinton's campaign confidently invested resources.
The 45th president will inherit an anxious nation, deeply divided by economic and educational opportunities, race and culture. The economy has rebounded from the depths of recession, though many Americans have yet to benefit.
New terror threats from home and abroad have raised security fears.
Clinton asked voters to keep the White House in her party's hands for a third straight term. She cast herself as heir to President Barack Obama's legacy and pledged to make good on his unfinished agenda, including passing immigration legislation, tightening restrictions on guns and tweaking his signature health care law. But she struggled throughout the race with persistent questions about her honesty and trustworthiness. Those troubles flared anew late in the race, when FBI Director James Comey announced a review of new emails from her tenure at the State Department. On Sunday, just two days before Election Day, Comey said there was nothing in the material to warrant criminal charges against Clinton.
The Republican Party's tortured relationship with its nominee was evident right up to the end. Former President George W. Bush and wife Laura Bush declined to back Trump, instead selecting "none of the above" when they voted for president, according to spokesman Freddy Ford.
House Speaker Paul Ryan, a reluctant Trump supporter, called the businessman earlier in the evening to congratulate him, according to a Ryan spokeswoman.
Trump set both parties on edge when he refused to say in the third and final debate whether he would accept the election's results, citing the possibility of a rigged outcome. His statement threatened to undermine a fundamental pillar of American democracy and raised the prospect that his fervent supporters would not view Clinton as a legitimate president if she won.
Asked on Tuesday in an interview with Fox News if he would accept the election results, Trump continued to demur, saying "We're going to see how things play out."
Most problems that did pop up at polling places on Tuesday appeared to be routine – the kinds of snags that come every four years, including long lines, machines not working properly and issues with ballots or voter rolls.
Even before Tuesday, almost 45 million people had cast ballots for president. Many expressed relief the end was in sight after an election season in which personal attacks often drowned out the issues.
Clinton has denounced Trump for calling Mexican immigrants "rapists" and promoting a ban on Muslims entering the US, and for his long line of remarks about women that culminated in an audio in which he bragged about grabbing their genitals. Her campaign was hoping high turnout among Hispanics push her over the top in states like Florida and Nevada.
"I grew up in a Hispanic family, and the way that Donald Trump has referred to illegal immigrants – being from illegal immigrants, I took that to heart," said Angel Salazar, a 22-year-old sanitation associate from Oklahoma City. "I don't like anything that he said. I don't like his views. So I voted for Hillary Clinton because she supports us."
Additional reporting by Reuters and Agence France-Presse