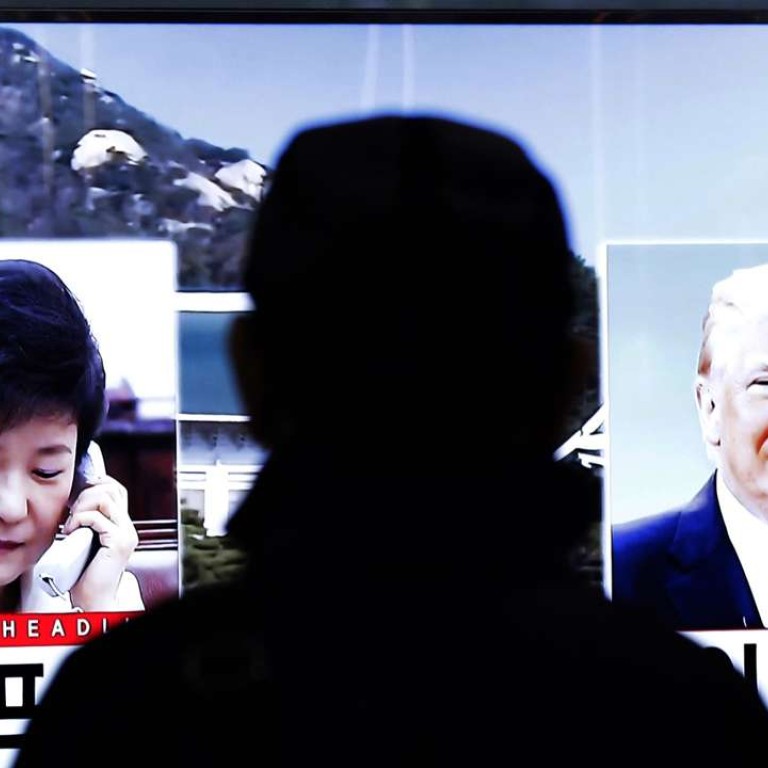 Trump told South Korea's president 'we are with you all the way', and agreed '100 per cent' on alliance
US President-elect also praised the quality of Korean products, according to new details of his conversation with Park Geun-hye
US President-elect Donald Trump told South Korea's President Park Geun-hye "we are with you all the way" as he pledged to protect the country against North Korea, as fresh details emerged of their post-election conversation.
According to supposedly verbatim quotes from Trump released by South Korea's presidential office, he said he agreed "100 per cent" with Park on the need to preserve a security alliance that has for decades acted as a deterrent to the regime in North Korea.
Trump's comments were made Thursday during a previously reported 10-minute phone conversation, Park's office said in a statement Friday.
"We are with you all the way and we will not waver," Trump was quoted as saying in the statement. "We will be steadfast and strong with respect to working with you to protect against the instability in North Korea."
Trump said during his campaign he was open to inviting North Korean leader Kim Jong-un to the US for negotiations over his nuclear arms programme. The current US administration has a policy of no talks unless Kim shelves his nuclear ambitions and starts dismantling his arsenal. Trump also said before the election he believed South Korea should pay more for the cost of housing US troops - the US has 28,500 soldiers stationed there and plans to soon deploy a missile shield in the country.
North Korea has conducted five nuclear tests since 2006, including two this year alone. South Korea is leading international efforts to impose tighter sanctions on Pyongyang.
Park told Trump that North Korea may attempt a provocation during the political transition period in the US and that the US and South Korea should be ready to "sternly" respond if needed, according to the statement.
Park said she hoped Trump would visit South Korea at an early date, her office said.
During their conversation, Trump said he thought highly of South Korean-made products he purchased as a real-estate developer, according to the statement.  South Korea's trade ministry said Wednesday it would prepare for the possibility of the US raising trade barriers given Trump's prior calls for protectionism.
This article appeared in the South China Morning Post print edition as: staying strong