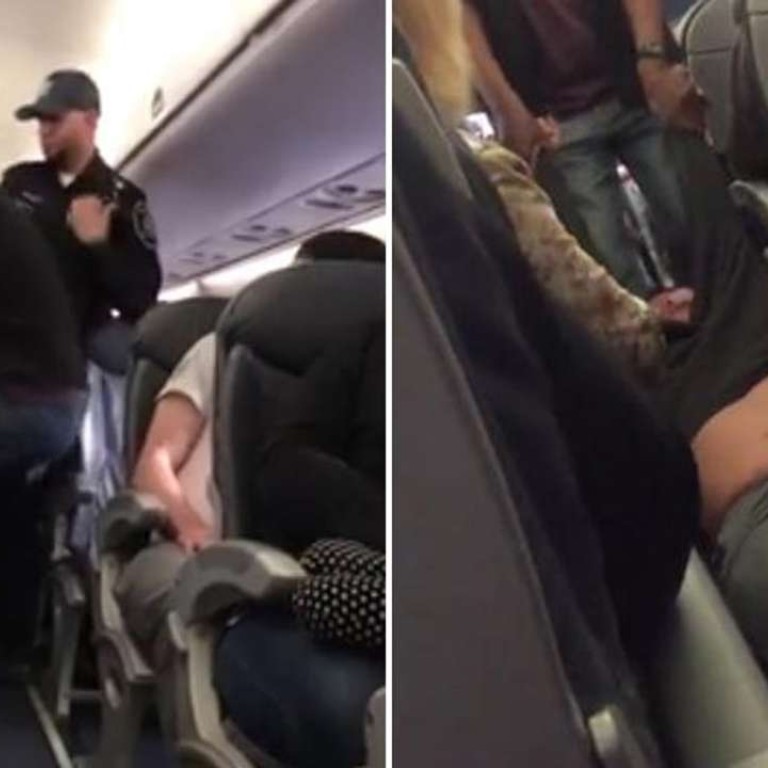 Update

|
Watch as United Airlines passenger, picked at random, is dragged off overbooked flight to make room for staff
Passenger, reportedly a Chinese-American doctor scheduled to see patients, is violently removed from plane to the horror of fellow travellers
United Airlines is under fire for the violent handling of a seated passenger, who was dragged off a flight by police after the airline mistakenly overbooked the flight and randomly chose him to leave to make room for airline employees who wanted seats.
Officers pulled him from his window seat and then dragged the bleeding man down the aisle as other passengers yelled at them to stop. A recording of the incident posted on social media sent people into an apoplectic rage over the carrier's heavy-handed response.
The swift social media condemnation was because the man wasn't being ejected for misbehaviour or a security threat. It was because United overbooked the flight, its staff chose him at random, and he didn't want to get bumped.
Video posted to Facebook and Twitter showed the man being dragged out of his seat and down the aisle of Flight 3411 Sunday night.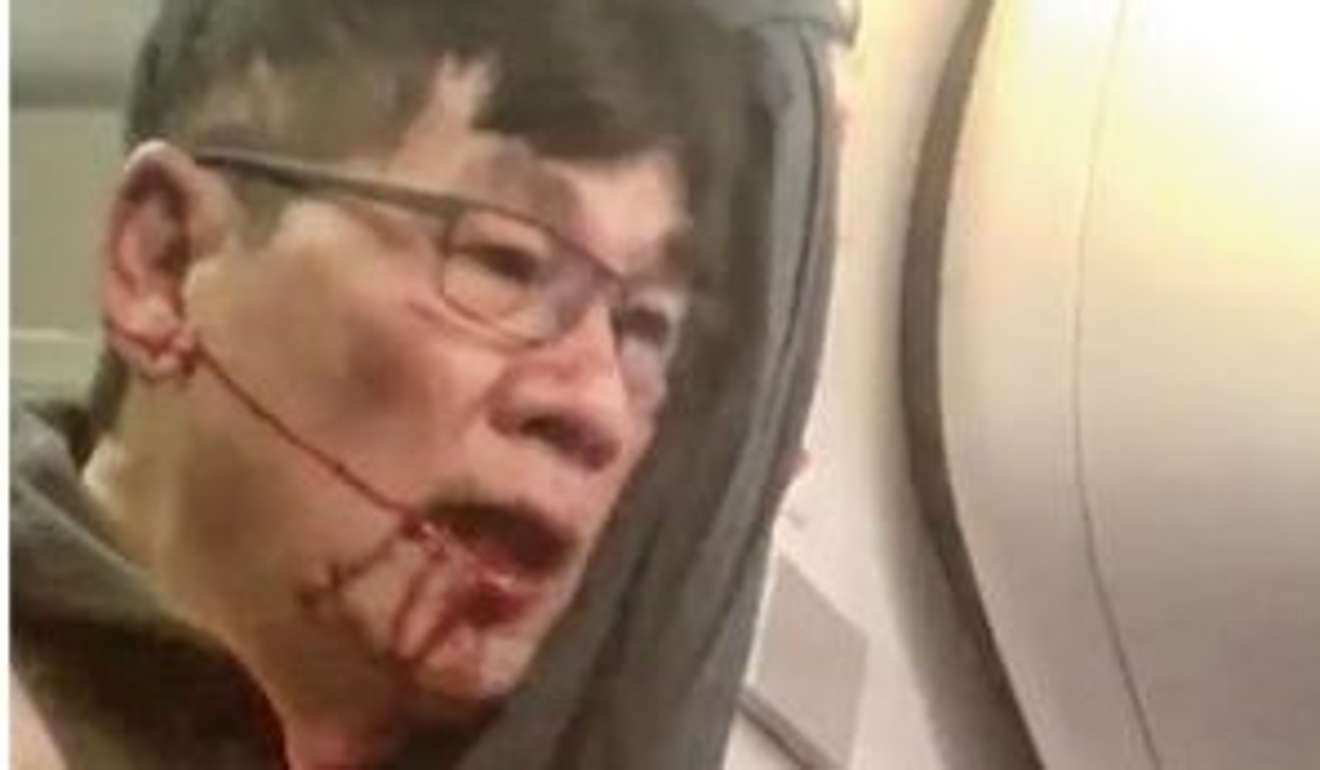 He was reportedly a Chinese American doctor who said he had to be in Louisville Monday to see patients and would not relinquish his seat, according to a Twitter account by a passenger who said he was on the flight.
"After our team looked for volunteers, one customer refused to leave the aircraft voluntarily and law enforcement was asked to come to the gate," United said Sunday night. "We apologise for the overbook situation."
The airline didn't address the man's forcible removal or the visceral reaction.
The flight from Chicago O'Hare International Airport arrived in Louisville, Kentucky, at 10.01pm, almost two hours late "due to operational difficulties," according to United's website.
Other passengers on Flight 3411 are on video heard saying, "Please, my God,", "What are you doing?" ''This is wrong", "Look at what you did to him" and "Busted his lip".
Passenger Audra D. Bridges posted the video on Facebook. Her husband, Tyler Bridges, said United offered US$400 and then US$800 vouchers and a hotel stay for volunteers to give up their seats. When no one volunteered, a United manager came on the plane and announced that passengers would be chosen at random.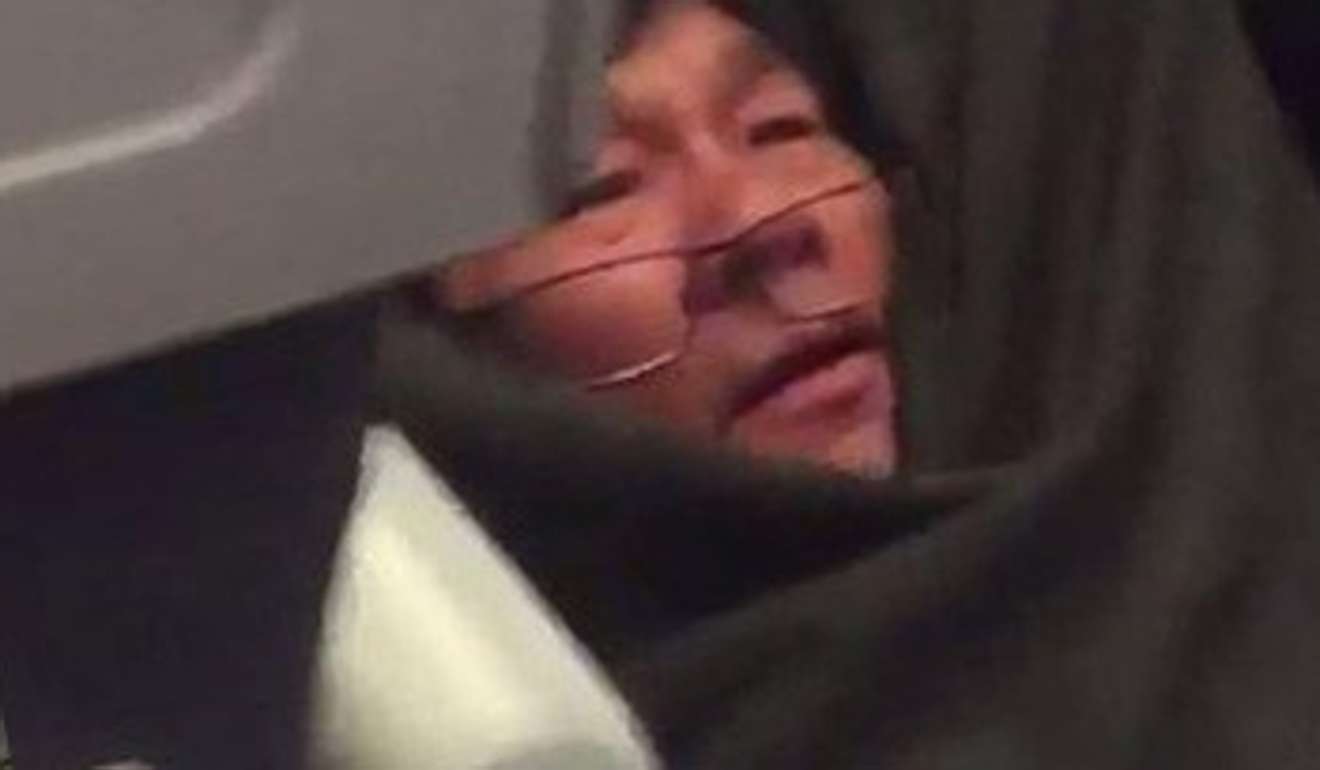 "We almost felt like we were being taken hostage," Tyler Bridges said. "We were stuck there. You can't do anything as a traveller. You're relying on the airline."
When airline employees named four customers who had to leave the plane, three of them did so. The fourth person refused to move, and police were called, United spokesman Charlie Hobart said.
"We followed the right procedures," Hobart said in a phone interview. "That plane had to depart. We wanted to get our customers to their destinations."
Oscar Munoz, CEO of United Airlines' parent company, described the event as "upsetting" and apologized for "having to re-accommodate these customers." He said the airline was conducting a review and reaching out to the passenger to "further address and resolve this situation."
The passenger told the manager that he was a doctor who needed to see patients in the morning, Bridges said.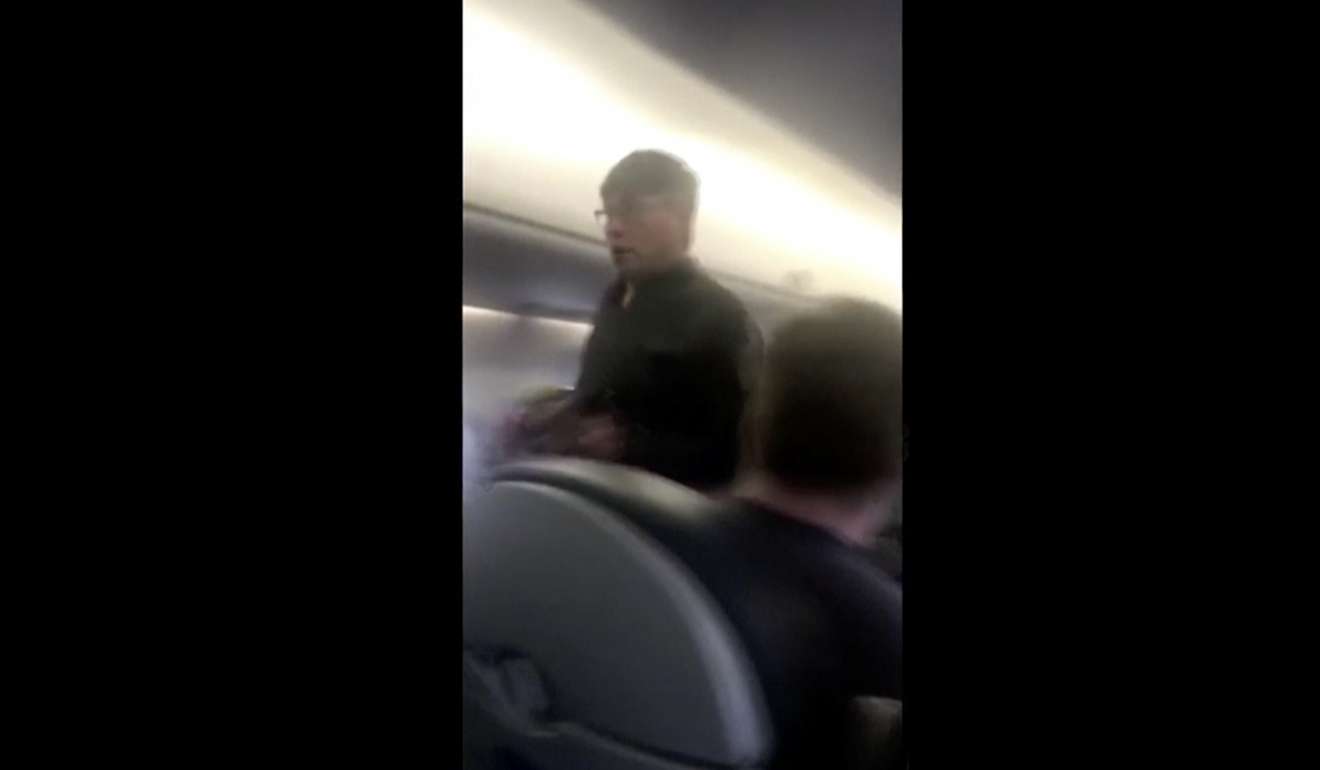 "He was kind of saying that he was being singled out because he's a Chinese man" when speaking to the manager, who was African-American, Bridges said.
"You should know what this is like," the man said, according to Bridges.
Two officers tried to convince the man before a third came aboard and pointed at the man "basically saying, 'Sir, you have to get off the plane,'" Bridges said. That's when the altercation happened.
One officer involved has been placed on leave, the Chicago Aviation Department said Monday.
After the passenger was removed, the four airline employees boarded the plane.
"People on the plane were letting them have it," Bridges said. "They were saying, 'You should be ashamed to work for this company.'"
Hobart said the employees worked for Republic Airline, which United hires to operate United Express flights, and needed to get to Kentucky or their later flights would be cancelled for lack of crew members. He could not explain why gate agents allowed passengers to board the plane before seeking volunteers to give up seats or bumping passengers.
A few minutes after the employees boarded, the man who was removed returned, looking dazed and saying he had to get home, Bridges said.
In a video, the man can be seen standing in the aisle near what appears to be the rear of the aircraft. Blood is on his mouth, chin and cheek as he said, "I want to go home."
Officers followed him to the back of the plane. Another man travelling with high school students stood up at that point and said they were getting off the plane, Bridges said.
About half of the passengers followed before United told everyone to get off, he said.
The man who was originally dragged down the aisle was removed from the plane again, and United employees made an announcement saying they had to "tidy up" the aircraft, Bridges said.
Bridges' wife told him she saw the man taken away on a stretcher, he said.
Airlines are allowed to sell more tickets than there are seats on the plane, and they routinely overbook flights because some people do not show up.
In its contract of carriage , United Continental Holdings Inc says it chooses those to be bumped based on a fare class, an itinerary, status in its frequent flyer programme, "and the time in which the passenger presents him/herself for check-in without advanced seat assignment." That means those who paid more for a ticket and those who fly the airline frequently are less likely to be selected as an involuntary bump, criteria that are not unique to the Chicago-based carrier.
Volunteers are paid for their seat and booked on another flight. But if there are not enough volunteers, an airline resorts to the involuntary method. And when it goes wrong, it can get very ugly. That's one reason at least two US airlines—JetBlue Airways and Virgin America—don't do it.
United should have increased the compensation offered to passengers to entice volunteers, CFRA Research analyst Jim Corridore wrote in a client note Monday.
"We think this situation was handled in a deplorable fashion, but note that United has the right to refuse boarding to any passenger for any reason," he said, adding that "demand for UAL flights are unlikely to be affected by this poor customer service incident."
The incident comes two weeks after United drew social media scorn for enforcing its dress code for those who fly as non-revenue passengers. A girl flying from Denver was told to change her leggings before boarding. In response, the airline then took efforts to tell "our regular customers" that "leggings are welcome."
Additional reporting by Bloomberg
This article appeared in the South China Morning Post print edition as: 'Just kill me' says man dragged off plane