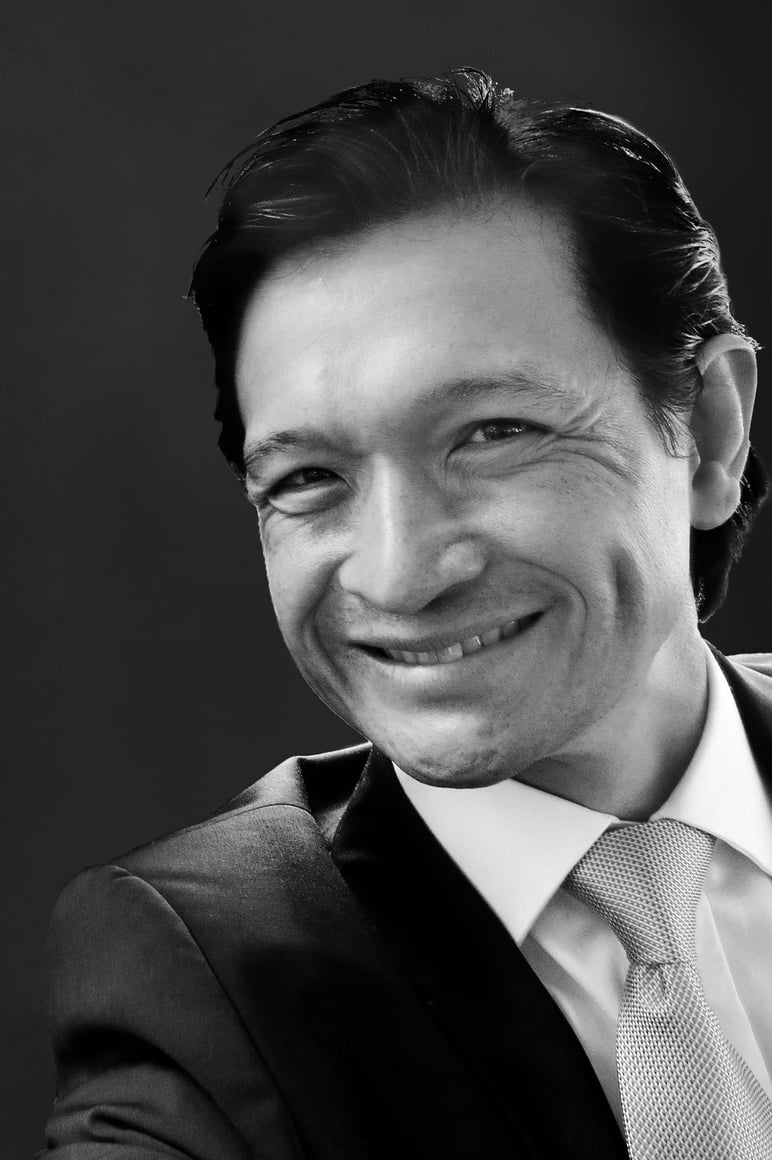 SCMP Columnist
The Hongcouver
by Ian Young
The Hongcouver
by Ian Young
China now links graft suspects to investor migration, but alarms have been ringing in Canada for years
Investor migrants may not be inherently corrupt – but such visa schemes appeal to those who are, from a Hong Kong drug boss to a murderous Taiwan tycoon
When Chinese corruption fighters last week published the street-level addresses of suspects living overseas, including five in British Columbia, the accompanying statement was filled with the usual guff about "flies" and "tigers" (low and high-ranking suspects respectively) and shout outs to Comrade Xi Jinping for his leadership of the anti-graft struggle.
But embedded deep in the boilerplate was a different kind of shout-out, the kind that should have the ears of Canadian immigration authorities burning.
The Central Commission for Discipline Inspection lambasted "certain countries" for turning a blind eye to suspects using investor migration schemes to flee China, and bring their allegedly dirty money with them.
"We urge specific countries not to pursue their own economic interests by issuing passports and visas through investment immigration schemes when applicants are suspected of corruption," the statement said. "Passports and visas that have already been issued should be revoked as soon as possible."
The point was emphasised the next day by Feng Jingyou of the CCDI's international co-operation unit, in an interview with state-run
China Daily
.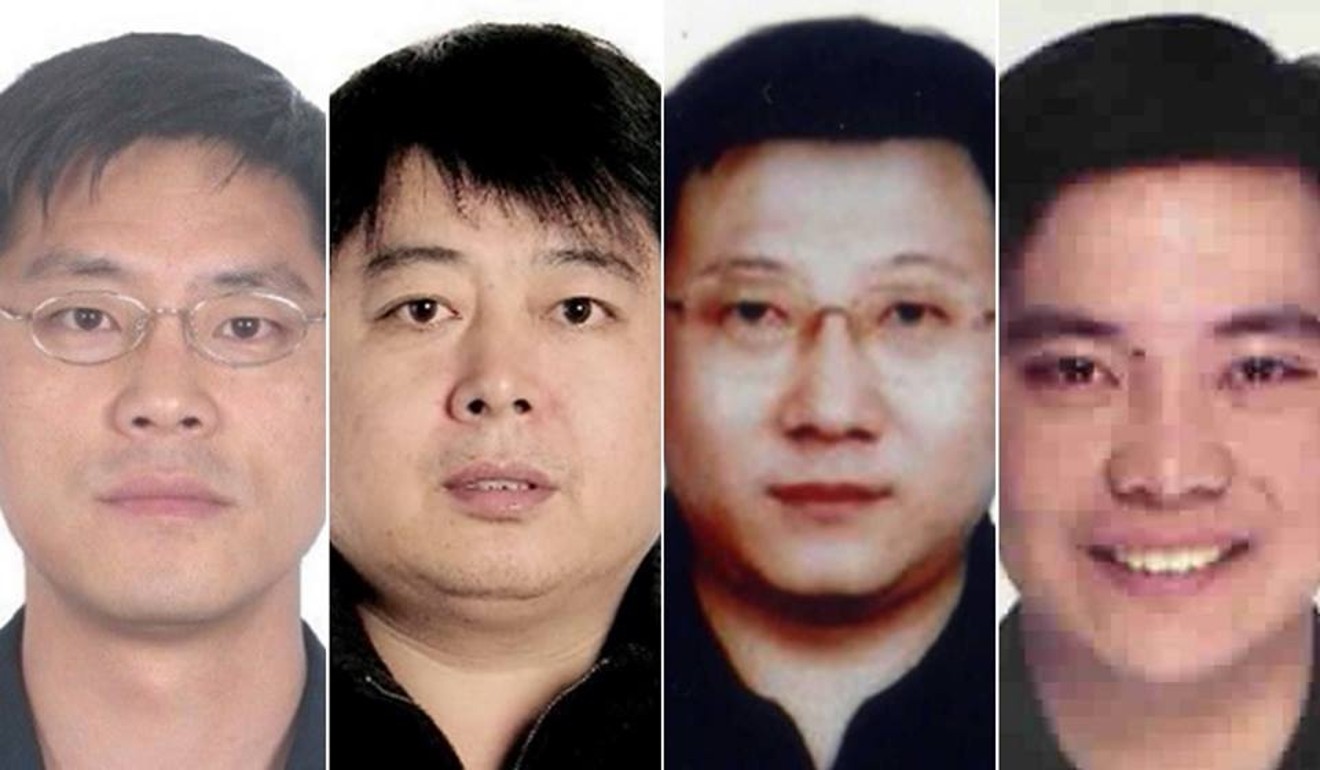 Feng said "some individual countries" had "ignored the suspects' corruption crimes and issued them visas under investment immigration policies in return for economic benefits".
The 22 suspects whose addresses were outed last week all live in countries with investor migration schemes. Not co-incidentally, none has an extradition treaty with China.
Canada has its Immigrant Investor Program (price: C$800,000 as a refundable five-year interest-free loan) and entrepreneur scheme (price: C$100,000 in business equity). These were shut down federally in 2014 but still operate via Quebec, pumping thousands of mainly-Chinese millionaires into Vancouver and Toronto. The IIP and QIIP were for years the world's most popular millionaire migration vehicles, but recently they have been surpassed by the US EB-5 scheme (price: US$500,000 investment); 10 of the suspects are living in the US, mostly in California and New York, which have a proliferation of EB-5-related real estate projects. Meanwhile, New Zealand, home to four of the suspects, has its popular investor scheme (price: NZ$1.5 million) and investor plus scheme (price: NZ$10 million).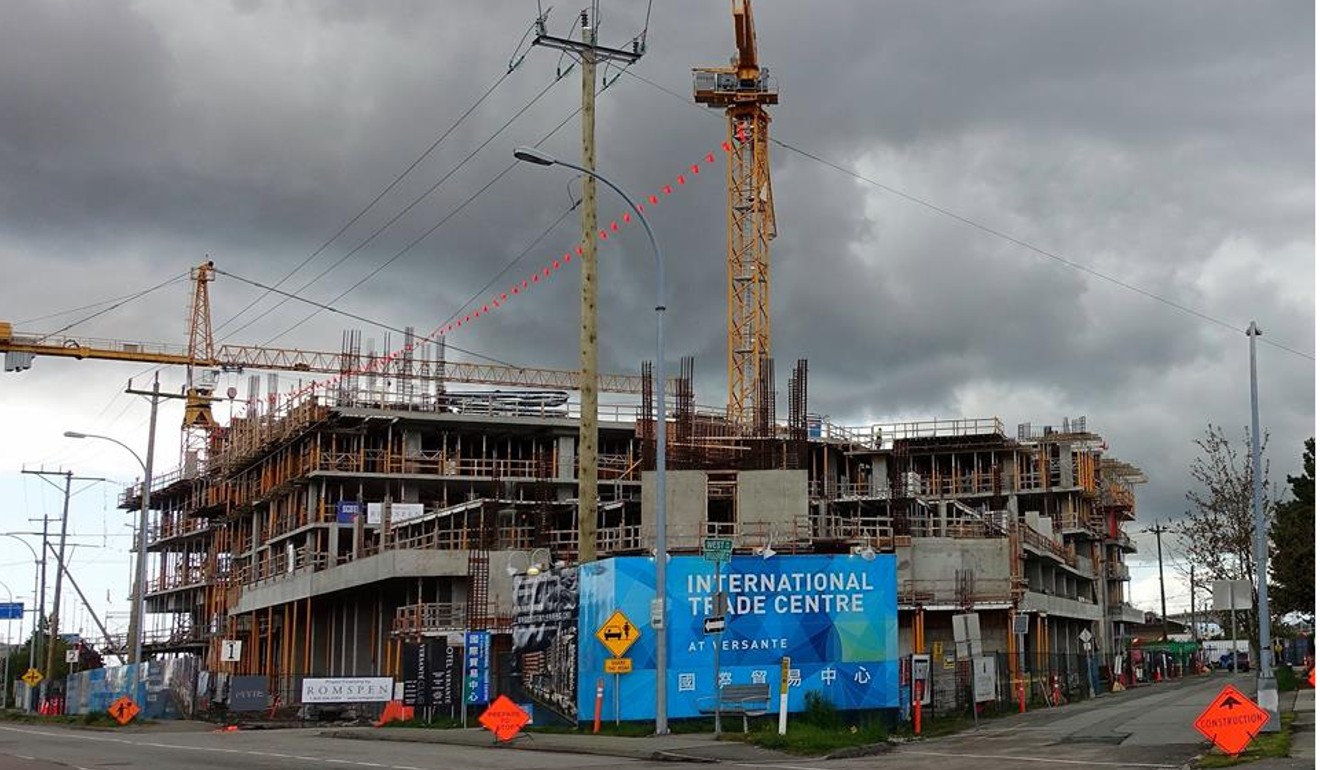 Of the five BC-based suspects, four could not be reached for comment. David Matas, an immigration and human rights lawyer who has represented the fifth suspect, Vancouver real estate developer Michael Ching Mo Yeung, said he could not comment on whether Ching arrived in Canada as an investor migrant. Nor could he provide an update on Ching's subsequent application for refugee status, which he said was confidential (another of Ching's lawyers previously told the SCMP to make no further attempts to contact his client). The SCMP draws no conclusions about the guilt or innocence of Ching, or any of the other suspects identified by the CCDI.
The vast majority of Canada's millionaire migrants are not, of course, corruption suspects. But there have long been concerns in Canada and beyond that not enough attention is paid of the background of applicants and the source of their funds.
The hunt for Hong Kong's 'Ice Queen'
In 2014, Sandy Boucher, now with accounting firm Grant Thornton LLP, testified before Canadian senators on the standing committee for security and defence.
Boucher is no accountant – he will be familiar to SCMP readers of a certain vintage as a high-profile triad buster with the pre-handover Royal Hong Kong Police. The former superintendent now lives in Toronto, where his work for Grant Thornton includes investigating the wealth and income of applicants to the nascent Immigrant Investor Venture Capital scheme.
In his testimony, Boucher said that in the previous decade he had seen numerous cases of foreign criminals entering Canada, including "corrupt Chinese officials and criminals with their illicit proceeds, crooked Middle Eastern and Asian businessmen and their families and many other undesirable characters".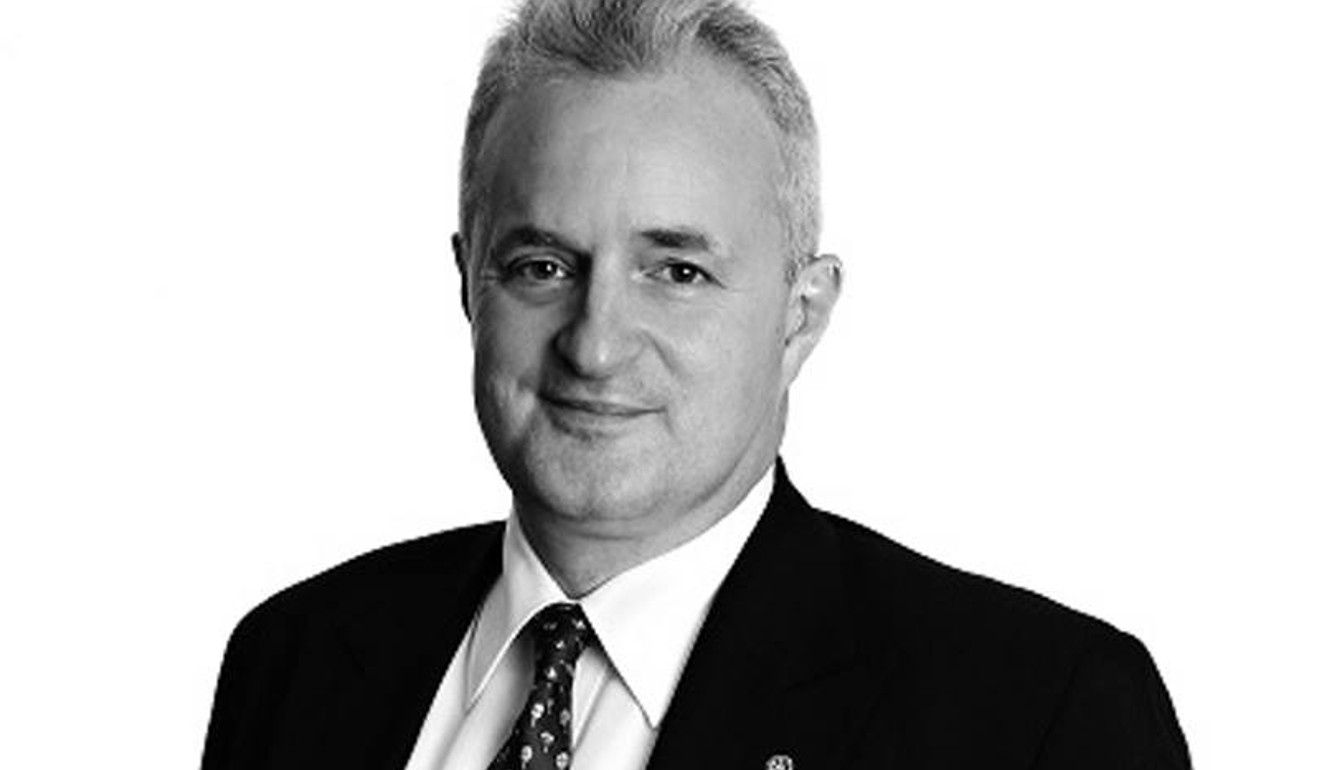 He recounted how he had first encountered Canada's immigration-by-investment programs in Hong Kong.
Boucher told senators of the hunt for the colony's infamous "Ice Queen" Lee Chau-ping, head of the largest crystal methamphetamine syndicate in the world in 1992. But as Boucher and his officers closed in, raiding her Hong Kong home, it was discovered "to our surprise" that Lee had fled with her family to Canada. "When she arrived here [in Canada], again to our surprise, we found that she had become a landed immigrant," said Boucher. "She continued to run her global syndicate from her home in British Columbia until her syndicate was dismantled."
Lee had gained entry via Canada's entrepreneur immigration scheme on May 22, 1992, pledging to invest C$170,000 to build a fast-food chicken restaurant in La Ronge, Saskatchewan. But she never got past Vancouver, buying luxury real estate including an C$800,000 home in Kerrisdale on West 45th Avenue, and enrolling her two children in local schools.
"I knew that Lee had a criminal record. I also knew that she was known to Canadian police and immigration authorities," Boucher told the senators. "You can imagine my surprise that she was given landed immigrant status."
In an interview on Tuesday, Boucher said the current problem of the corrupt finding their way into Canada was not that wealthy immigrants were now more likely to be so. Instead, it was a problem of scale.
"The days of Lee Chau-ping are long gone... But the problem is different now. Look at how many millionaires there are in China, and the outflow of capital and people. Now, we aren't facing a small exodus of select criminals - we're talking about a tidal wave of people and understanding where their wealth came from is not easy.
"So there is bad money and bad people in there, even though the significant portion is probably quite legal. We're not trying to tar everyone with the same brush. But the process by which they get vetted is not perfect."
The property magnate turned murderer
Alarm bells about immigration-by-investment schemes had also been rung in the Canadian House of Commons, long ago.
In 1996, Vancouver region MP Val Meredith warned that "if there is one thing this government should be concerned about it is its investors program and the likelihood that it will be used as a money-laundering scheme".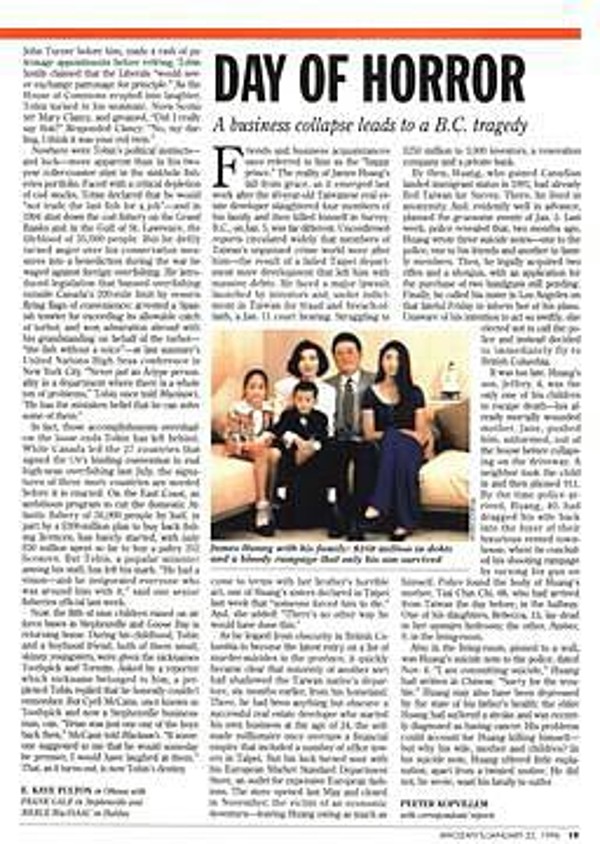 Meredith, the Reform MP for Surrey-White Rock-South Langley, recounted the tragic tale of
James Huang
. The real estate magnate was admitted as an investor migrant despite owing hundreds of millions of dollars in a financial scandal well-documented in his native Taiwan. In January 1996, having come under indictment in Taiwan for fraud, Huang shot dead his wife, their three daughters, and his elderly mother in their Surrey home before killing himself.
"Despite the fact that this individual's financial woes were publicly known throughout Taiwan, he was able to immigrate to Canada on the basis of a US$350,000 investment. Immigration officials apparently were unconcerned about the other financial situation," Meredith told the House.
She said RCMP investigators had told her "the investor immigrant program is an absolutely wonderful way for organised crime to launder money, for once these investors cash in their investment no bank in the world is going to question large deposits that came from the Canadian government.
"I hope that this government is not so desperate for money that it would close its eyes to funds earned by criminal activity," she said - more than 20 years before her words would echo in the CCDI's statement last week.
'Look at the property market. Where is this money coming from?'
Overall, scrutiny now is much better than it was in the days of Lee Chau-ping and James Huang, said Boucher.
But he said that some programs and provinces do a better job than others, without singling out any specific immigration-by-investment vehicle.
"I'm not comfortable contrasting the levels of due diligence, but we've no doubt seen cases where the level of scrutiny in some provincial programs is not as good as it should have been. Some people have been able to manipulate that process."
China had seen an uptick in the amount of money flowing out of the country as part of the outward migration process. "Within that, an unknown percentage is 'black money', funds that are being taken out of China illegally or that represent the proceeds of corruption or fraud or theft," said Boucher.
"It's potentially problematic. With more scrutiny a higher level would be identified that is problematic."
It's not possible to say with certainty how much money entering Canada via wealth migration is dubious in origin. Nor is it possible to be sure of its wider impact.
"A number of people in my profession, and others such as TI [Transparency International], are saying to just look at the property market. Where is this money coming from? We don't want Canada to become a haven for people who have made their money through corruption," he said.
"But actually proving it's money from corruption is not easy."
As Boucher repeatedly emphasised, none of this is to say that most, or many, of the thousands of people to have arrived in Canada under investment migration schemes are fugitives from justice.
Nor is it to dismiss well-founded concerns about rule of law in China, which underpin Canada's reluctance to strike an extradition deal.
The likely problem isn't that investor migrants are inherently corrupt; it is that the corrupt will inherently gravitate towards wealth-oriented migration schemes. The reason is simple: these schemes allow them to sidestep skill-based or compassionate immigration criteria with cold, hard cash. And that is something the corrupt typically have in abundance.
The Hongcouver blog is devoted to the hybrid culture of its namesake cities: Hong Kong and Vancouver. All story ideas and comments are welcome. Connect with me by email [email protected] or on Twitter, @ianjamesyoung70 .