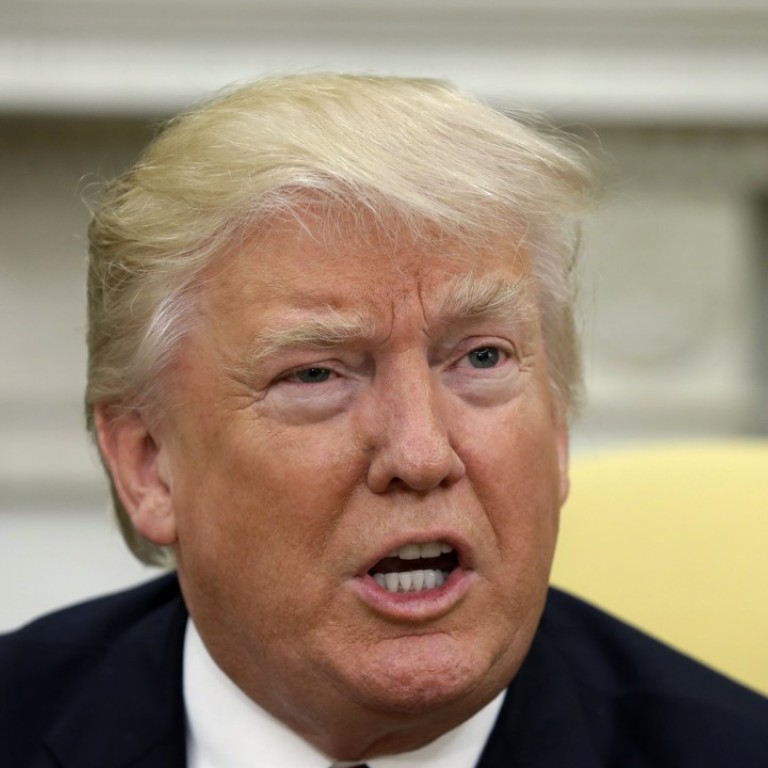 Trump warns Comey over leaks after threatening to cancel media briefings
Amid a worsening row with the media, the US president tweets that fired FBI director James Comey 'better hope there are no tapes' of their conversations 'before leaking to the press'
US President Donald Trump warned his former FBI director against speaking to the media and held out the possibility that his White House will halt regular press briefings amid a worsening row between the president's administration and reporters.
"James Comey better hope that there are no 'tapes' of our conversations before he starts leaking to the press!" Trump said in a tweet, which immediately followed another aimed at the media: "Maybe the best thing to do would be to cancel all future 'press briefings' and hand out written responses for the sake of accuracy???"
Trump's latest series of tweets comes a day after media outlets made contradictions about Trump's reasons for firing ex-FBI Director James Comey top news.
Questions about the "tapes" referenced in Trump's tweet, particularly whether or not the president recorded conversations he had with Comey, dominated a White House press briefing with Press Secretary Sean Spicer later on Friday.
"I've talked to the president, and the president has nothing further to add on that," Spicer said numerous times throughout his 35-minute briefing.
As he's done regularly in recent weeks, Trump denied in his tweets on Friday that there was any collusion between his associates and Russian officials during the 2016 presidential election, an issue the FBI had been investigating under Comey's direction before Trump abruptly dismissed him.
Trump released a letter dated March 8 from Sheri Dillon and William Nelson, partners at Washington DC-based Morgan, Lewis & Bockius, in which the tax lawyers claimed to have reviewed 10 years of the president's most recent tax returns to identify financial exposure to Russian interests. Dillon and Nelson said they found little evidence of income from, or debt owed to, Russian parties "with a few exceptions".
The exceptions included the sale of an estate in Florida to Russian billionaire Dmitry Rybolovlev for US$95 million and a US$12 million payment for the staging of the Miss Universe Pageant in Moscow in 2013.
Trump said in an NBC interview on Thursday that he had planned to fire Comey, regardless of what recommendations he received from the Justice Department – an account that differs from an earlier White House statement announcing that Trump acted "on the clear recommendations of both Deputy Attorney General Rod Rosenstein and Attorney General Jeff Sessions".
Reporters focused on the contradiction in yesterday's White House briefing conducted by Deputy Press Secretary Sarah Huckabee Sanders.
In testy exchanges, Sanders shot back at one reporter: "Nobody was 'in the dark'.  You want to create this false narrative.  If you want to talk about contradicting statements and people that were maybe in the dark, how about the Democrats?"
Sanders then recited past statements made by lawmakers in the Democratic Party about their dissatisfaction with Comey and calls to fire the former FBI director.
Spicer didn't respond directly when asked whether Trump will cancel the daily White House briefing.
"I think he's a little dismayed, as well as a lot of people, that we come here and try to do everything we can to provide you and the American people with what he's doing on their behalf ... We see time and time again an attempt to parse every little word and make it more of a game of gotcha."
The current press briefing format dates back to 1970, after the president at the time Richard Nixon ordered the construction of a space for media briefings over the White House pool, a structure that's physically separate from the main residence, according to a recent article in Time.
Nixon's move ended reporters' access to press secretaries in the White House's west wing, according to the Time report.