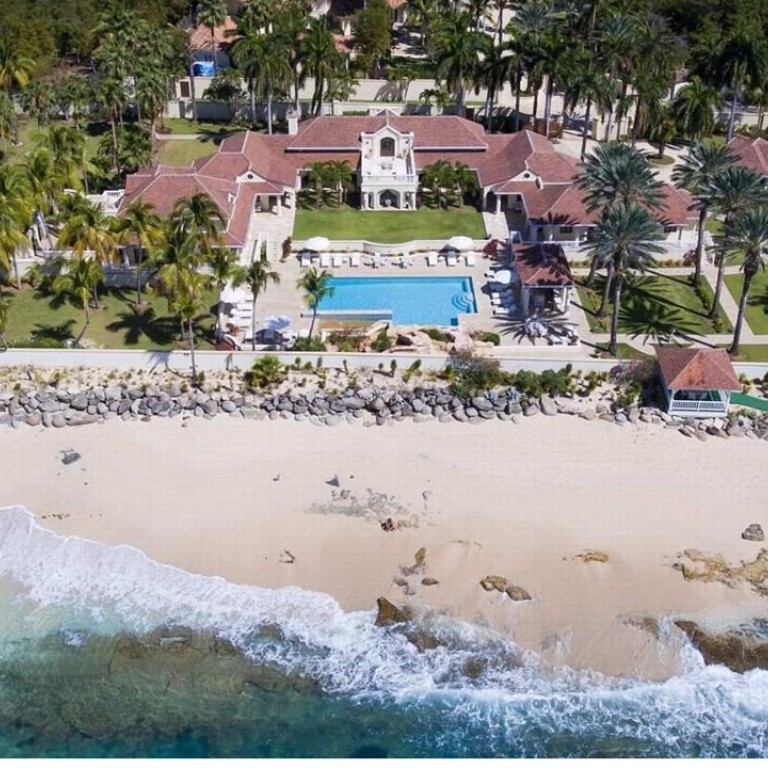 Video

|
Take a look inside Trump's Caribbean estate, quietly put on sale for US$28m. Yes, it's huge
The opulent gold interior is not for everyone, and realtors suggest it may be overpriced by about US$10m
The opulent beachfront estate that recently went on the market on the Caribbean island of St Martin has a number of appealing factors, including two elaborately adorned villas and an expansive pool overlooking the crystalline waters of Plum Bay.
And there's another unique aspect that nearby properties can't claim: it is owned by the president of the United States.
Le Chateau des Palmiers, which President Donald Trump described as "one of the greatest mansions in the world" when he bought it in 2013, was quietly listed for sale last month on the website of Sotheby's International Realty, whose St Martin office noted coyly in an Instagram post, "It's huuuuuge!" The price, according to a person familiar with the listing: US$28 million.
It's unclear why the property is for sale. It earned Trump between US$200,000 and US$2 million in rental fees between 2014 and mid-2016, according to financial disclosures. Officials with the White House and the Trump Organisation did not respond to repeated requests for comment.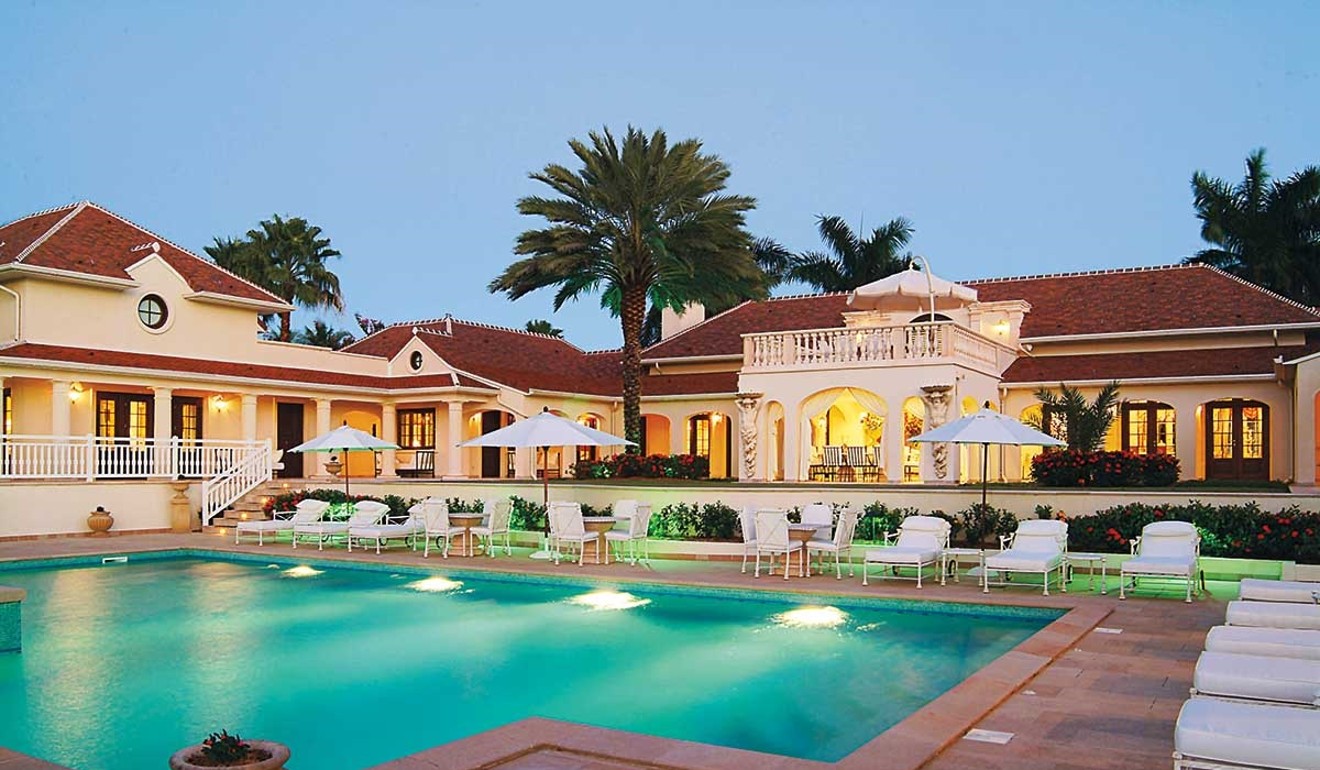 The effort to sell the high-priced estate in the midst of Trump's tenure could present a similar ethical problem to the one his lawyer cited in defending his decision not to sell off his company after the election: that a buyer could overpay as a way to gain currency with the president.
If the estate is sold, the public probably would learn little, if anything, about who has purchased it.
Public records in the French territory do not always show details of private property transactions. Trump would eventually have to disclose the sales price on his financial disclosure form - a report detailing 2017 transactions must be filed in the spring of 2018 - but he would not be required to reveal the identity of the buyer.
In January, before his inauguration, Trump placed his business holdings in a revocable trust overseen by his son Donald Jr and longtime Trump Organisation executive Allen Weisselberg. He said he was turning over management of the Trump Organisation to his two eldest sons, who Trump said are "not going to discuss it with me."
However, experts said Trump did not give up control of his assets under the trust agreement.
The trust appears to be seeking substantially more for the St Martin residence than Trump paid the previous owners, Steve Hilbert and his wife, Tomisue Hilbert, an Indiana businessman who had licensed a caviar-based skin-care line developed by Melania Trump, sold Donald Trump the house in 2013. At the time, the Hilberts were seeking US$19.7 million for the oceanfront compound, although the final sales price was never disclosed.
Lesley Reed, the Sotheby's agent who is representing the property, declined to comment on the current listing, citing a nondisclosure agreement.
The palm tree-ringed estate - whose name translates as "Castle of the Palms" - covers nearly 2 hectares and includes a tennis court and a fitness centre. There are nine bedrooms between the oceanside villa and garden villa, including a two-story master suite, as well as a commercial-size catering kitchen and media room. Chandeliers, marble floors, gold-hued wallpaper and heavy gold curtains dominate the interior, according to photos accompanying the listing - decor that dates to the Hilbert's ownership, say people who toured it then.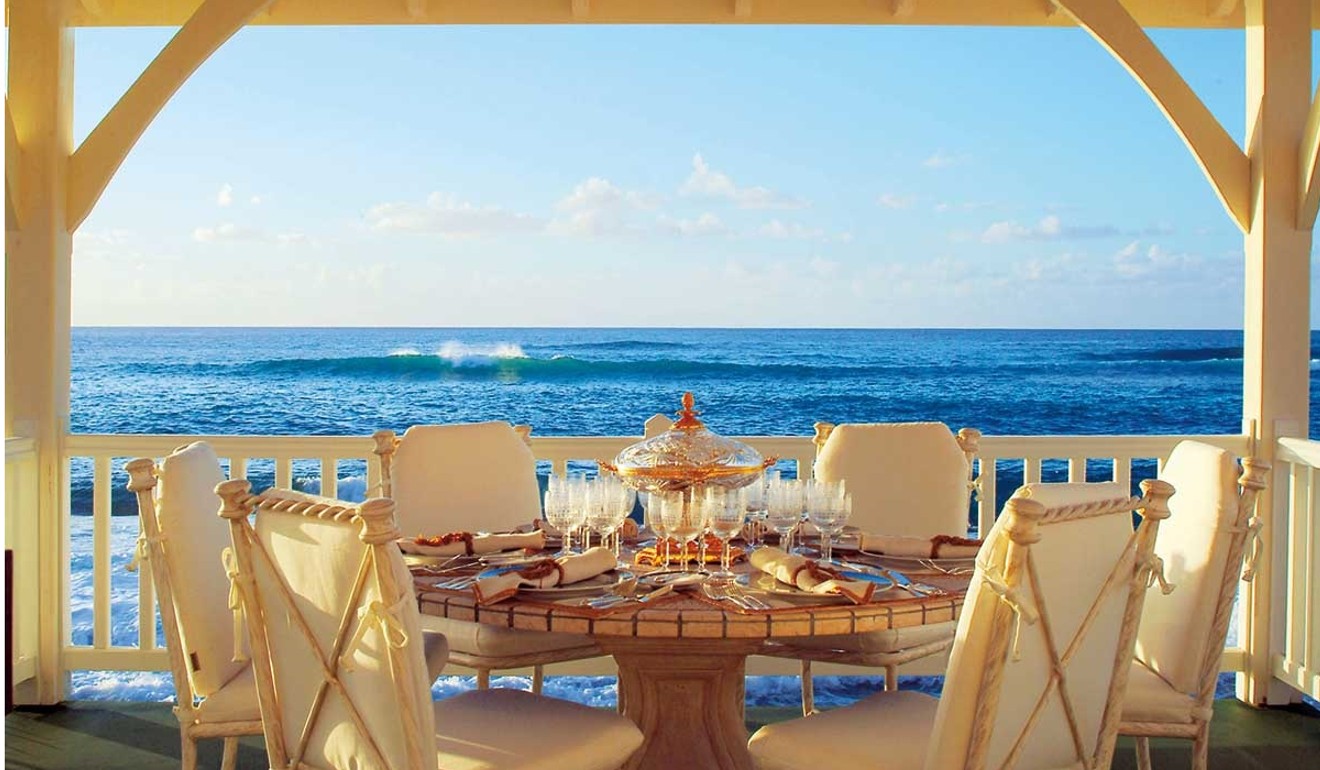 A website that aggregates luxury properties, 7th Heaven Properties, initially listed Chateau des Palmiers with an asking price of US$28 million, although it subsequently changed it to "price on application," per the Sotheby's request, according to a 7th Heaven representative.
Four St Martin real estate agents told The Washington Post that the $28 million price tag far outstrips the amount that sellers are getting for the most exclusive properties on the Caribbean island, where the market is still rebounding from the 2008 banking crisis.
Owners of the most luxurious homes on the market are asking US$15 million to US$17 million, agents said. A 10-bedroom hillside estate on a lot adjacent to Chateau des Palmiers is for sale for US$4.75 million.
"It's a lot of money," Hanneke Snow, the owner of Re/Max Island Properties, said of the price for the president's property. "If it were in St Barts, you would have a bigger chance. But if the name Trump is attached to it, people may want to see it."
Arun Jagtiani, the owner of Island Real Estate Team, said he thinks the property is "overpriced by about US$10 million."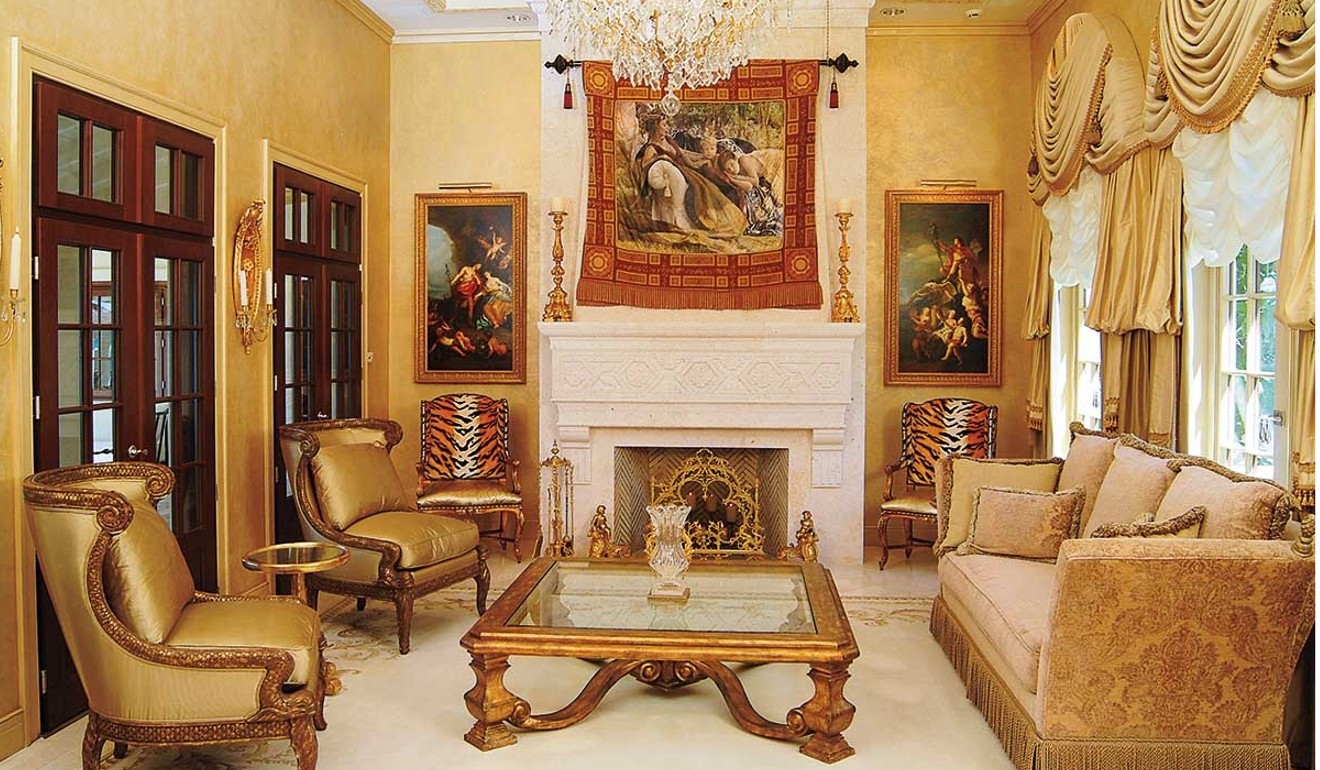 "If someone does pay anything close to the asking price, it will be because they are paying a premium to say they own a property that was once owned by President Trump," Jagtiani said.
Jagtiani has had at least one client whose interest was piqued by the estate's lineage. In February 2016, as Trump's profile in the Republican presidential primaries was rising, Jagtiani said he was showing estates in the area to a Russian investor and mentioned that Chateau des Palmiers was owned by the New York developer.
"He seemed to light up when we mentioned the name 'Trump,' " said Jagtiani, who declined to share his client's name. "He seemed very excited and asked to see it. He wasn't clear if he was looking for himself or a friend. But he was intrigued."
Even though the property was not on the market, the Russian investor arranged to tour the estate but never followed up after viewing it, he said.
The sale of the St. Martin estate would be one of the biggest transactions involving Trump's assets since he took office.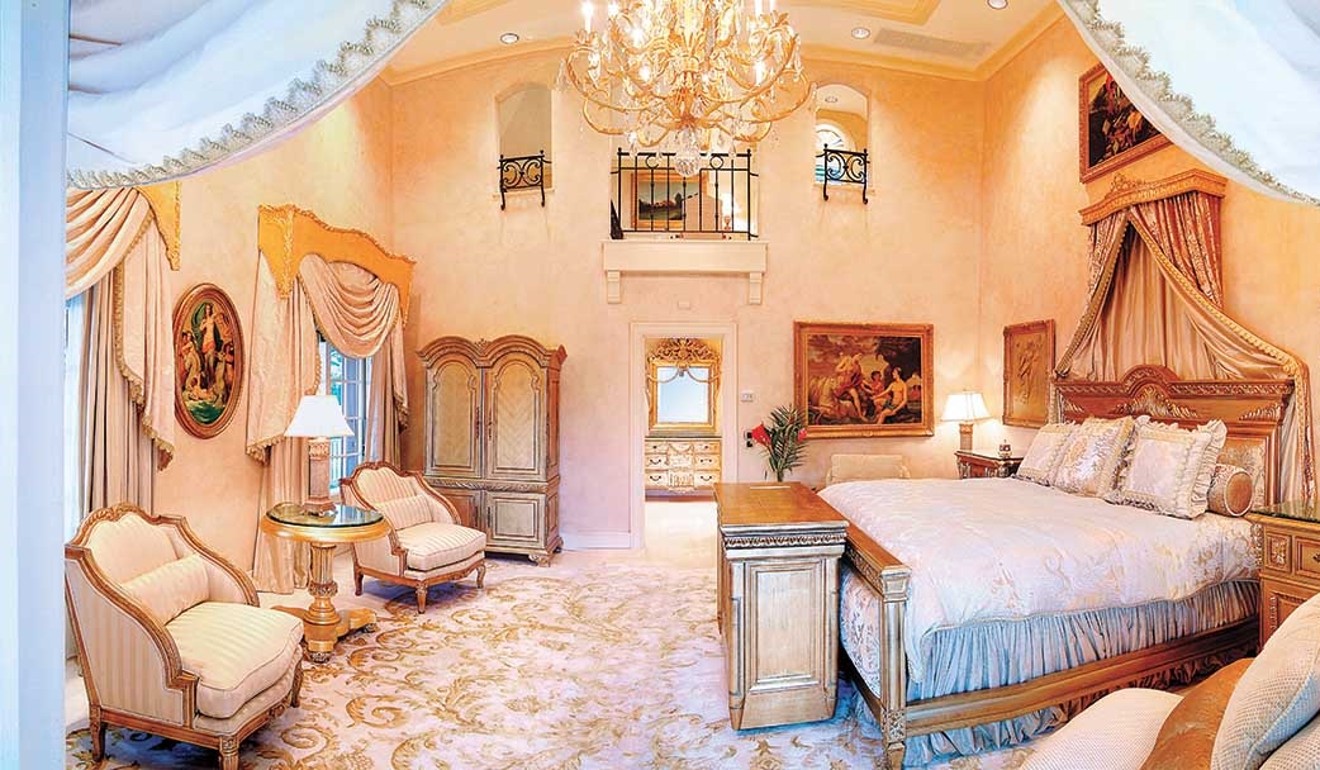 In January, in response to calls for him to divest his real estate empire, Trump attorney Sheri Dillon said that selling all his holdings could actually "exacerbate" possible conflicts of interest.
"Whatever price was paid would be subject to criticism and scrutiny," Dillon said at a news conference. "'Was it too high, is there pay-for-play, was it too much pay to curry favor with the president-elect?'"
Dillon declined to comment for this story.
Trump had been a regular guest at Chateau des Palmiers when it was owned by Hilbert, who headed the Indiana-based insurance company Conseco, according to court documents and the property's website at the time. In 1998, the two joined forces to purchase the General Motors Building on New York's Fifth Avenue and soon were vacationing together in St Martin and other locales.
On a now-defunct website that advertised rentals of Chateau des Palmiers, Tomisue Hilbert noted that guests included "many of the NBA's greatest stars and some of the world's most powerful people, including Donald Trump" and "many Hollywood celebrities."
Around 2010, the Hilberts began trying to sell the St. Martin retreat, initially seeking US$29 million, according to court records. Three years later, it was still on the market, and the asking price was down to US$19.7 million.
Donald Trump proudly announced he had bought it in an email to Trump Organisation clients, calling it "the jewel in St Martin's crown" and offering it for weekly rentals, according to a copy of his message included in legal filings.
"By all accounts Le Chateau des Palmiers is considered to be one of the greatest mansions in the world," he wrote.
He or his family appeared to visit the island frequently in 2014. Trump-owned aircraft flew into the St Martin airport at least six times that year, according to Federal Aviation Administration records.
The flights tapered off in 2015, the year Trump launched his presidential bid. Since then, the property appears to have been used largely for rentals. It costs US$6,000-US$20,000 per night, according to a Luxury Retreats listing.
"You'll feel almost presidential when you stay in Chateau Des Palmiers," read a Sotheby's Instagram post promoting the estate around Election Day last fall. "This place is huge."
The home's gilded style might appeal to a relatively narrow market, agents said.
"There is certainly a lot of 'wow' factor to the property," Jagtiani said. "The location is stunning. But I've seen mixed reviews for the decor. There is a lot of gold in there. It's rather gaudy, if you will."
Maayke de Haan, the owner of Antilles Realty, described the look as "very old-fashioned."
"It's a style that does not appeal to everybody," she said, but added, "the finishings are stunning for the right clients."
This article appeared in the South China Morning Post print edition as: 'Huuuuuge' Caribbean estate sale raises questions