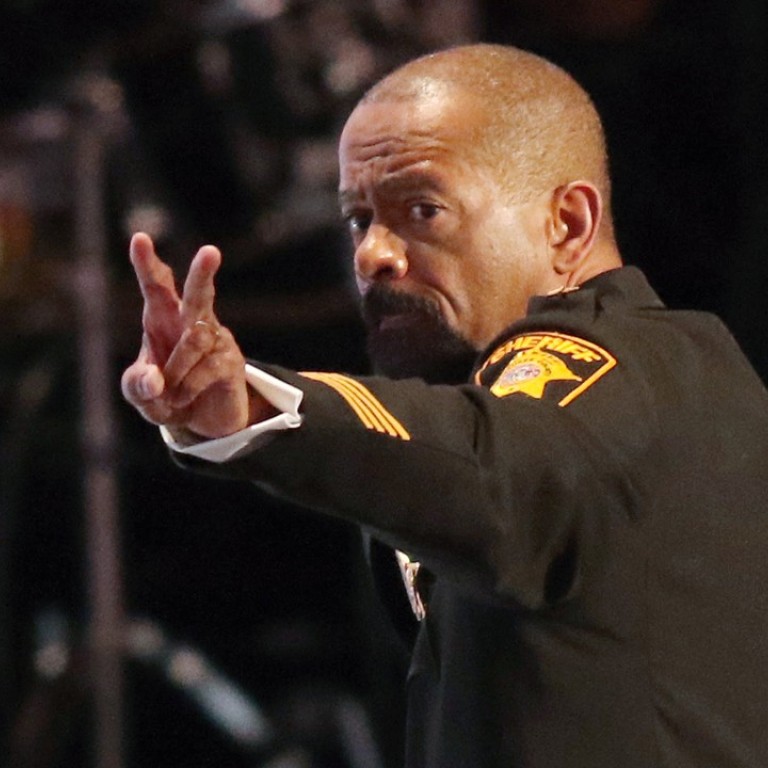 US Homeland Security's David Clarke denies that he plagiarised parts of thesis, calls reporter a 'sleaze bag'
The controversial Milwaukee sheriff David Clarke, who this week said he had been appointed an assistant secretary in the Department of Homeland Security, has denied plagiarising portions of his master's degree thesis.
CNN reported on Saturday that in "Making US security and privacy rights compatible", a thesis submitted in 2013 at the Naval Postgraduate School in Monterey, California, Clarke "failed to properly attribute his sources at least 47 times".
On Twitter on Saturday night, Clarke responded with criticism of the CNN reporter, Andrew Kaczynski. "This @CNN hack @KFILE oppo research MO is to accuse plagiarism," he wrote. "I'm next. Did it to Rand Paul, Monica Crowley et al."
He added: "Guy is a sleaze bag. I'm on to him folks."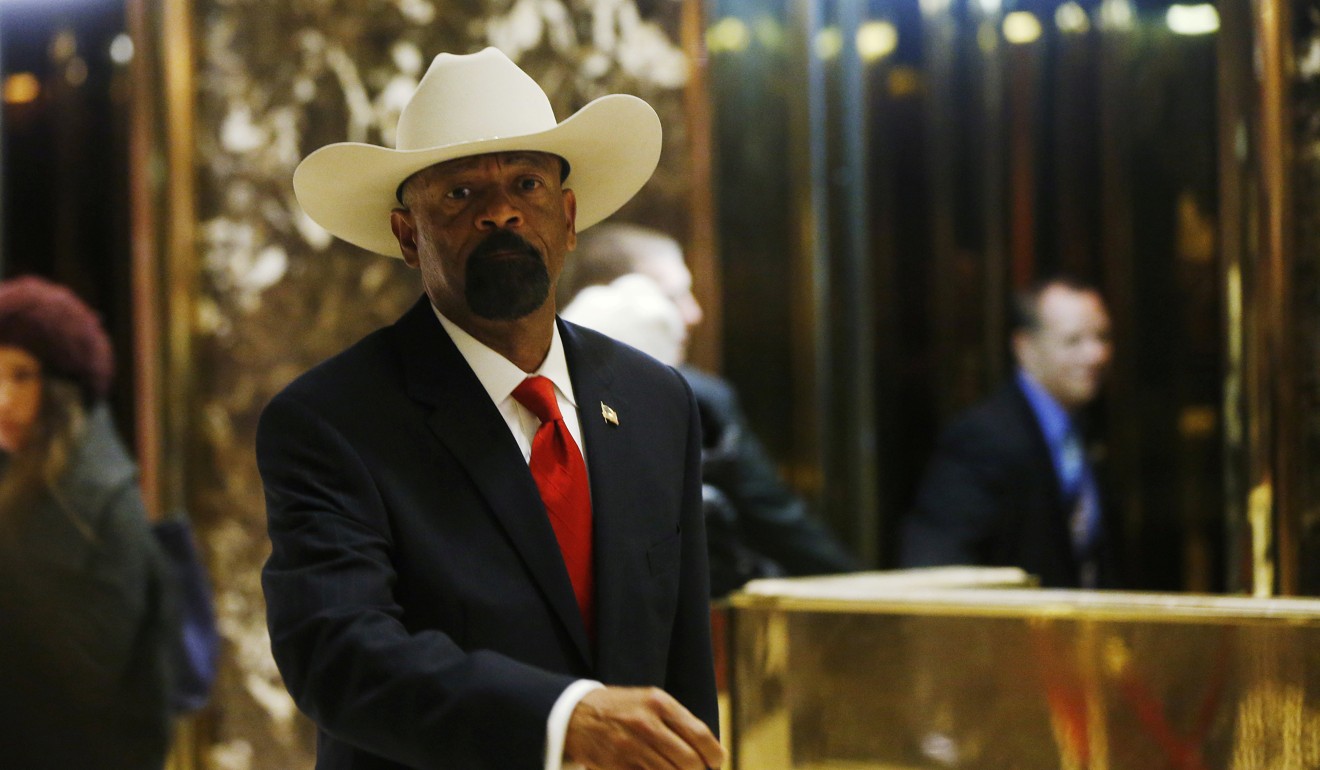 In an email sent to the Milwaukee Journal Sentinel, Clarke said: "Only someone with a political agenda would say this is plagiarism." A spokeswoman for the sheriff told the Journal Sentinel that CNN was biased. In an email to the Associated Press on Sunday, the spokeswoman said: "The sheriff said to follow national media for his response to this smear."
The spokeswoman also told the Journal Sentinel Clarke had followed the school's system for completing academic papers.
The Naval Postgraduate School removed Clarke's thesis from its website on Friday according to "standard operating procedure" when validity is questioned, a spokesman told the Associated Press. A message on the school's online archive directed viewers to its policies page, which listed several reasons for taking an item down, including not meeting "the school's guidelines for plagiarism, research methodology or integrity of research".
Monica Crowley, a radio host, columnist and Fox News contributor, was picked by Donald Trump for a communications post with the national security council. In January she withdrew from consideration, after Politico and Kaczynski reported that she allegedly plagiarised parts of a PhD thesis and a 2012 book.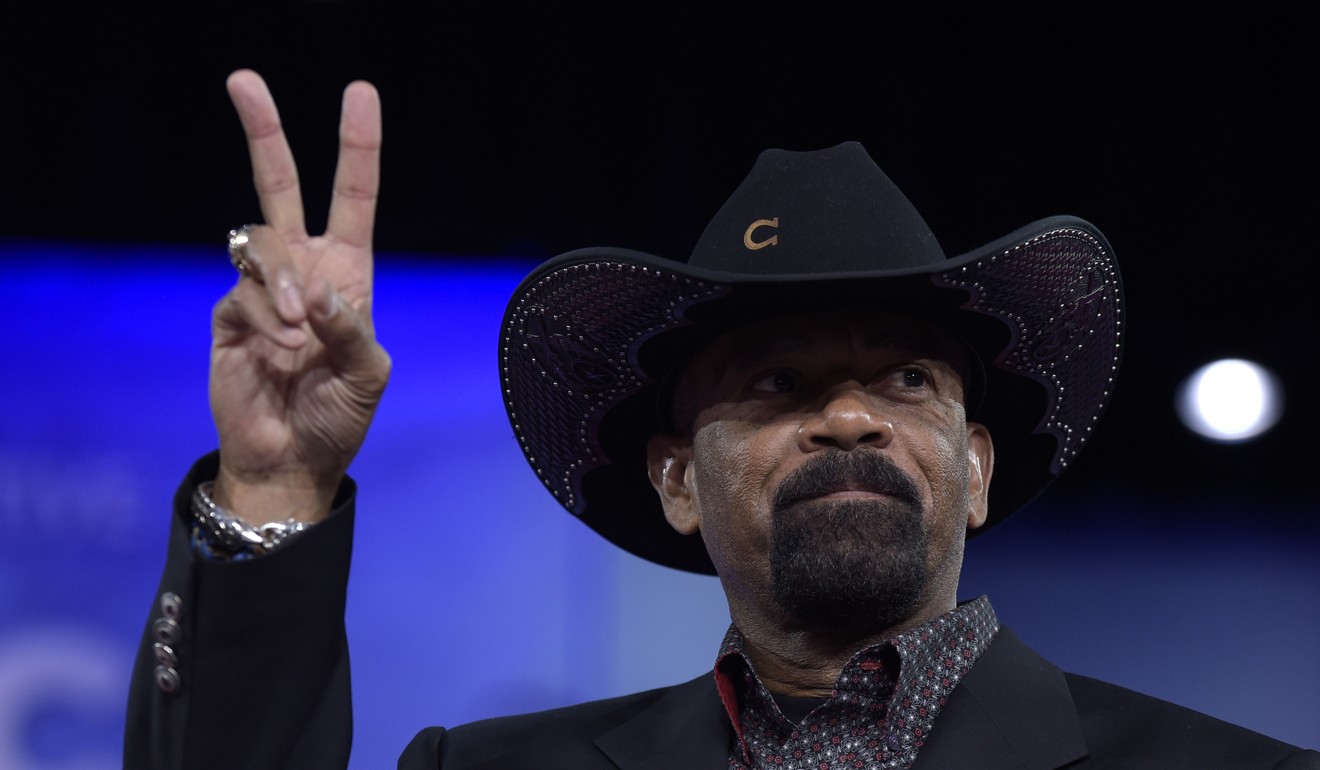 In 2013, Kaczynski, then at Buzzfeed, reported that Rand Paul, a US senator from Kentucky and a contender for the Republican presidential nomination, had plagiarised portions of books, articles and speeches. Paul told CNN: "Ultimately, I'm the boss, and things go out under my name, so it is my fault. I never had intentionally presented anyone's ideas as my own."
Clarke's claim to have been appointed to a role at the Department of Homeland Security, led by retired general John Kelly, has not been confirmed. A statement on Wednesday said: "[Senior] positions are announced when made official by the Sec[retary]. No such announcement [with] regard to the Office of Public Engagement has been made."
A strong conservative who runs for office as a Democrat, Clarke rose to prominence last year with vocal support for the Trump presidential campaign. A law enforcement and immigration hardliner, he has been harshly critical of the Black Lives Matter movement.
He has also attracted national attention regarding the death in Milwaukee County jail of a 38-year-old man with bipolar disorder, of dehydration after his water supply was shut off for seven days. In September, the death of Terrill Thomas – one of four at the jail in one year – was ruled a homicide.
In a March interview, Clarke told The Guardian that criticism over the deaths was a "manufactured issue" and a "disguised political attack".
"Four deaths in a jail, yeah, OK, there were four deaths in a jail, not connected in any way," he said. "People die in hospitals, people die in nursing homes, people die – doesn't mean we had anything to do with it."
This article appeared in the South China Morning Post print edition as: Sheriff Clarke denies he plagiarised parts of his thesis