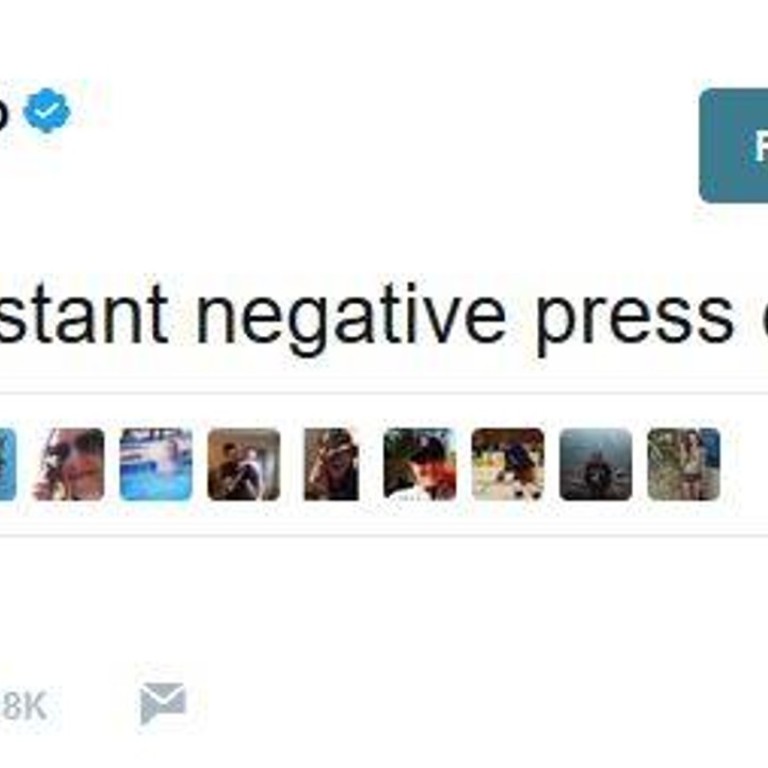 Confusion as Trump sends out garbled late-night tweet about 'negative press covfefe'
Trump's unrestrained Twitter habits have been under close scrutiny since he took office
US President Donald Trump has sent out a bizarre late-night tweet that trailed off into gibberish, prompting a confused response from his followers and critics.
The nonsensical tweet, from his @realDonaldTrump personal account said: "Despite the constant negative press covfefe".
The tweet was posted at 12.06pm yesterday (Hong Kong time). It was online, sitting at the top of Trump's busy Twitter ­profile, for six hours before being deleted.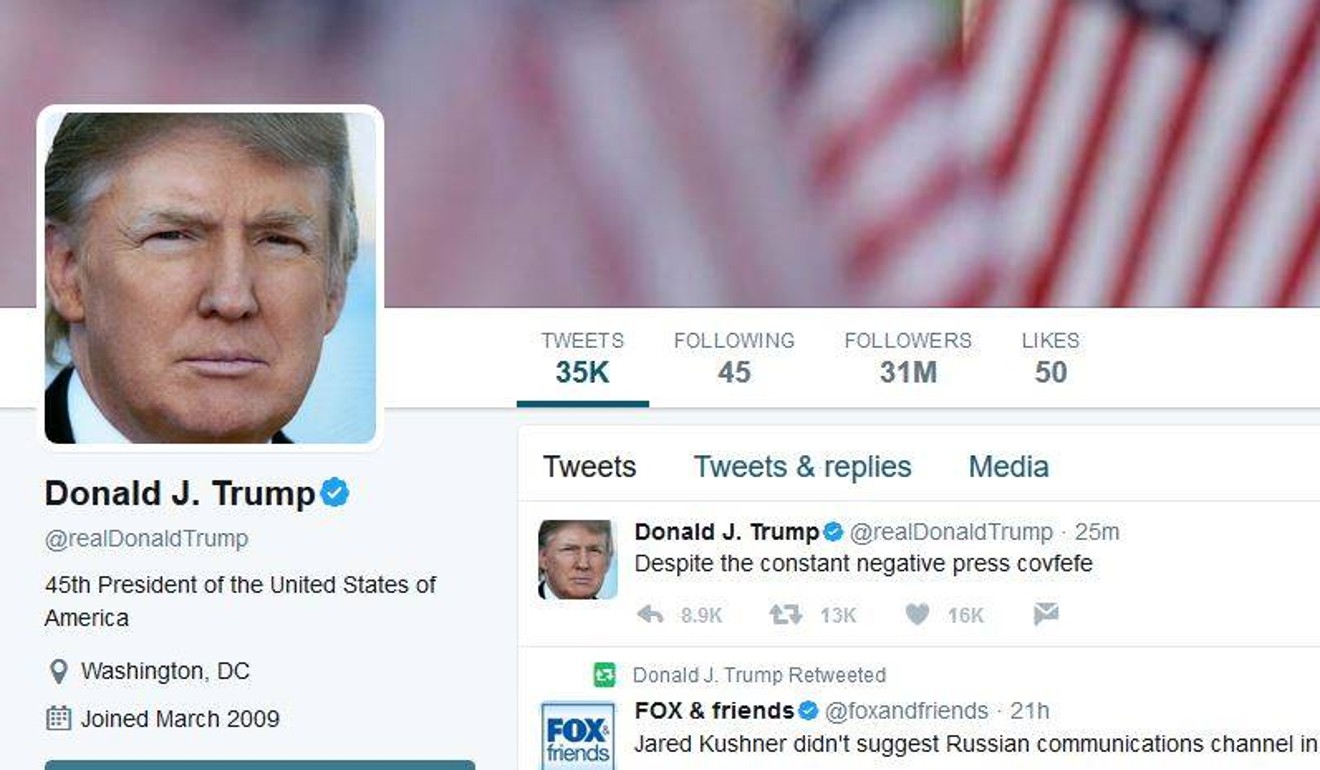 Despite its ambiguity, the tweet swiftly generated well over 100,000 likes and retweets and more than 30,000 replies.
"You OK, Donald?" responded user @Fusion, a blog news website. Others took the chance to mock Trump. "And you wonder why you get negative press covfefe," @MarkPygas wrote.
Wags around the world weighed in with biting sarcasm, and #covfefe quickly became the top trending item on Twitter.
Comments included a mock Google translation of "covfefe" from Russian into English as "I resign", and comments like "Drain the covfefe" – a play on Trump's promise to "drain the swamp" in Washington.
"Covfefe is a great word, period! – Sean Spicer tomorrow," read one tweet, mentioning the president's spokesman.
To avoid confusion, the Regent's English Language Centre in London wrote: "To all of our ­English language students, we can confirm that 'covfefe' is not an English word. Yet."
Kristina Wong, a US comedian, noted that the domain covefefe.com had promptly been snapped up.
The news site Axios reported last Thursday that Trump's iPhone has only one app: Twitter.
It cited anonymous White House officials who said that ­limiting screen time was key to "forcing a more disciplined President Trump", as witnessed on his overseas tour.
"In Trump's case, it's curtailing his time watching TV and banging out tweets on his iPhone. Trump himself has been pushing staff to give him more free time ... [They] load up his schedule to keep him from getting worked up watching cable coverage, which often precipitates his tweets. It has worked well overseas so far."
However, on Tuesday, Trump appeared to be making up for lost time, with a string of messages.
In less than four hours, the president lashed out at Germany, brushed off accusations that Russia interfered in the election, called for blowing up a filibuster, retweeted a photo of a crowd that gathered to hear him speak at Arlington cemetery and retweeted a Fox News article. Then came the 'covfefe' tweet, which was online until 6pm last night.
Ten minutes after it was removed, Trump tweeted: "Who can figure out the true meaning of "covfefe" ??? Enjoy!"
Additional reporting by the Guardian, Washington Post, Agence France-Presse
This article appeared in the South China Morning Post print edition as: 'Covfefe' tweet confounds social media