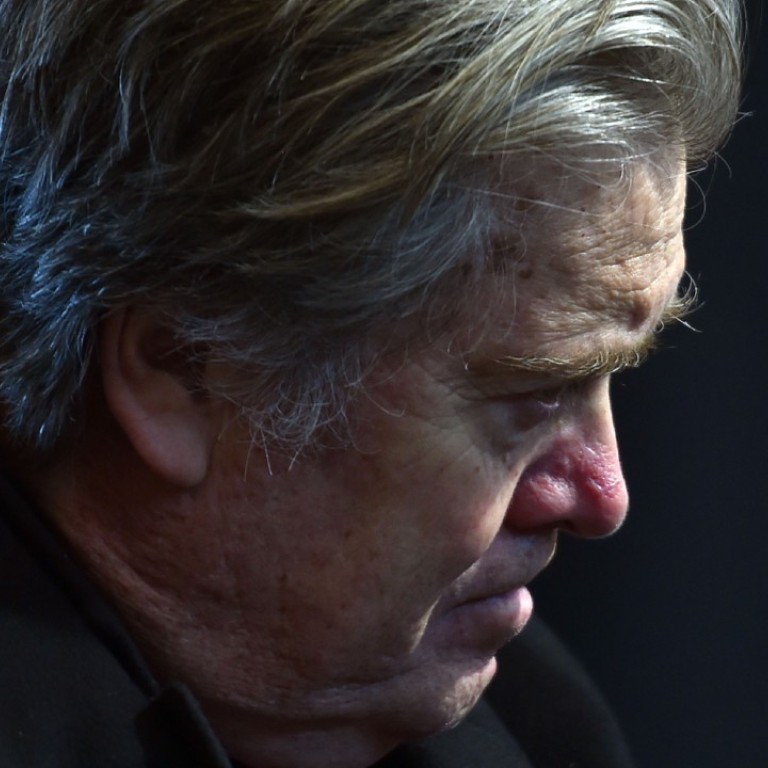 Steve Bannon quits Breitbart News after breaking with Trump over explosive book
The exit of US President's former chief strategist, who was abandoned by his conservative financial backers, represents a seismic shift for a website that he billed as 'the platform for the alt-right'
Steve Bannon has stepped down as executive chairman of Breitbart News, the right-wing news organisation said on its website on Tuesday.

The announcement came after the former White House chief strategist was quoted in a book criticising President Donald Trump.
"Steve is a valued part of our legacy, and we will always be grateful for his contributions, and what he has helped us to accomplish," Breitbart Chief Executive Larry Solov said in a statement on the website.
Bannon was a co-founder of Breitbart website, and corralled voters for Trump using it before the 2016 elections, during which he declared it "the platform for the alt-right".
His departure from the site is the latest instalment in a saga that began when remarks attributed to Bannon were leaked during promotions for Michael Wolff's book Fire and Fury: Inside the Trump White House.
Bannon derided Donald Trump Jnr and the president's son-in-law-turned-adviser, Jared Kushner, as "treasonous" and "unpatriotic" for their meeting with Russian representatives claims Wolff, who says he has tapes of the conversations.
That didn't sit well with Trump – who threatened Bannon with a lawsuit and claimed on Twitter that Bannon had "lost his mind".
White House press secretary Sarah Huckabee Sanders also suggested that Breitbart "should look at and consider" firing Bannon in the wake of the comments.
Perhaps even more importantly to Bannon – who had expressed his own presidential hopes for 2020, and had reportedly been trying to court conservative backers – the comments upset some whom he might have hoped to get money from.
Among them was Trump's primary backer in the election, Rebekah Mercer. She and father Robert were originally responsible for bringing Bannon onto Trump's campaign team.
Mercer, a billionaire conservative backer who usually remains in the shadows, issued a rare public statement soon after the quotes emerged, saying neither she nor her father were behind any of Bannon's own projects, nor did they "support his recent actions or statements".
On Monday, Bannon tried to back-pedal from his comments.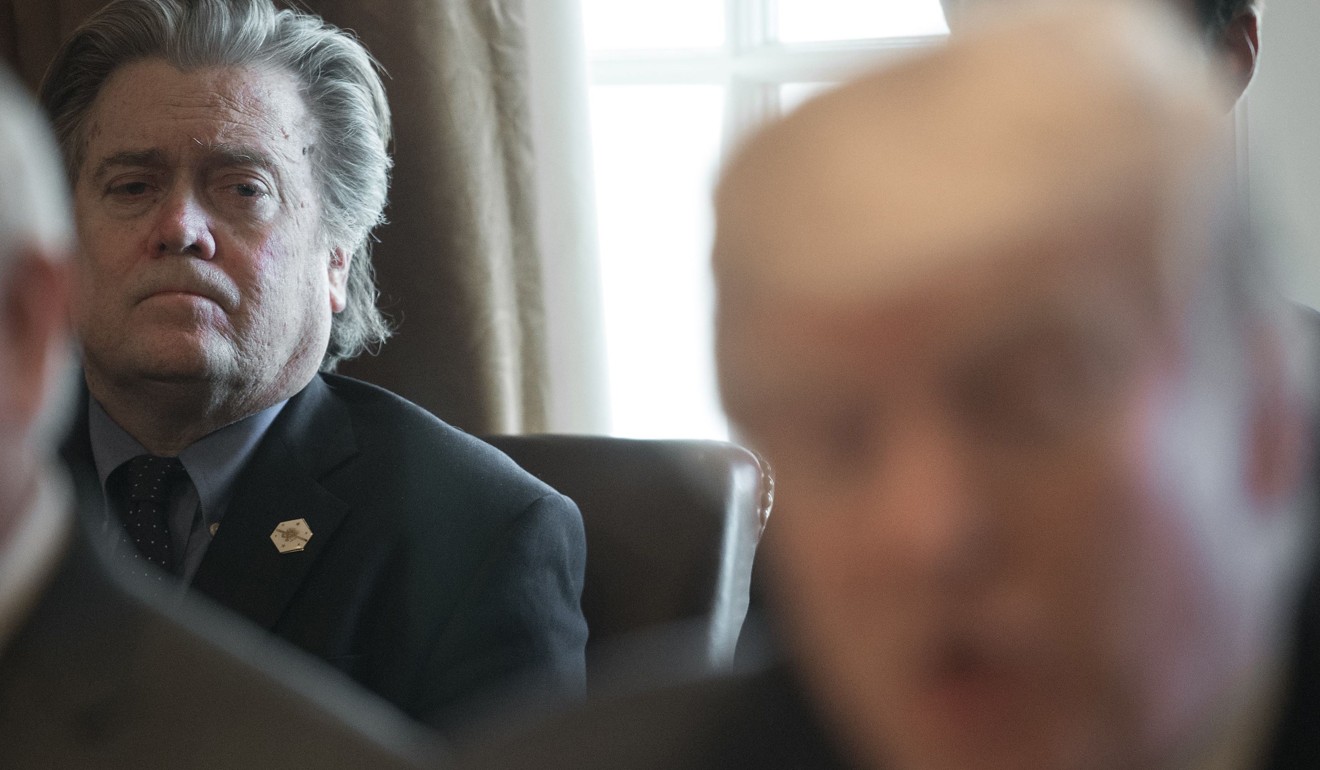 "I regret that my delay in responding to the inaccurate reporting regarding Don Jnr has diverted attention from the president's historical accomplishments in the first year of his presidency," he said in a statement.
He went on to call Donald Jnr "both a patriot and a good man" and said that his remarks were aimed not at him but at then-campaign chair Paul Manafort, who was reportedly present with Donald Jnr and Kushner in the meeting.
He added that his support of President Trump was "unwavering".
But Wolff told MSNBC's Morning Joe on Monday that was a lie, saying: "it was not directed at Manafort, it was directed directly at Don Jnr."
Wolff's book quotes Bannon as deriding Trump's team – including Donald Jnr and Kushner – for their meeting with Russian representatives in Trump Tower.
"The three senior guys in the campaign thought it was a good idea to meet with a foreign government inside Trump Tower in the conference room on the 25th floor – with no lawyers. They didn't have any lawyers," he told Wolff.
"Even if you thought that this was not treasonous, or unpatriotic, or bad s***, and I happen to think it's all of that, you should have called the FBI immediately."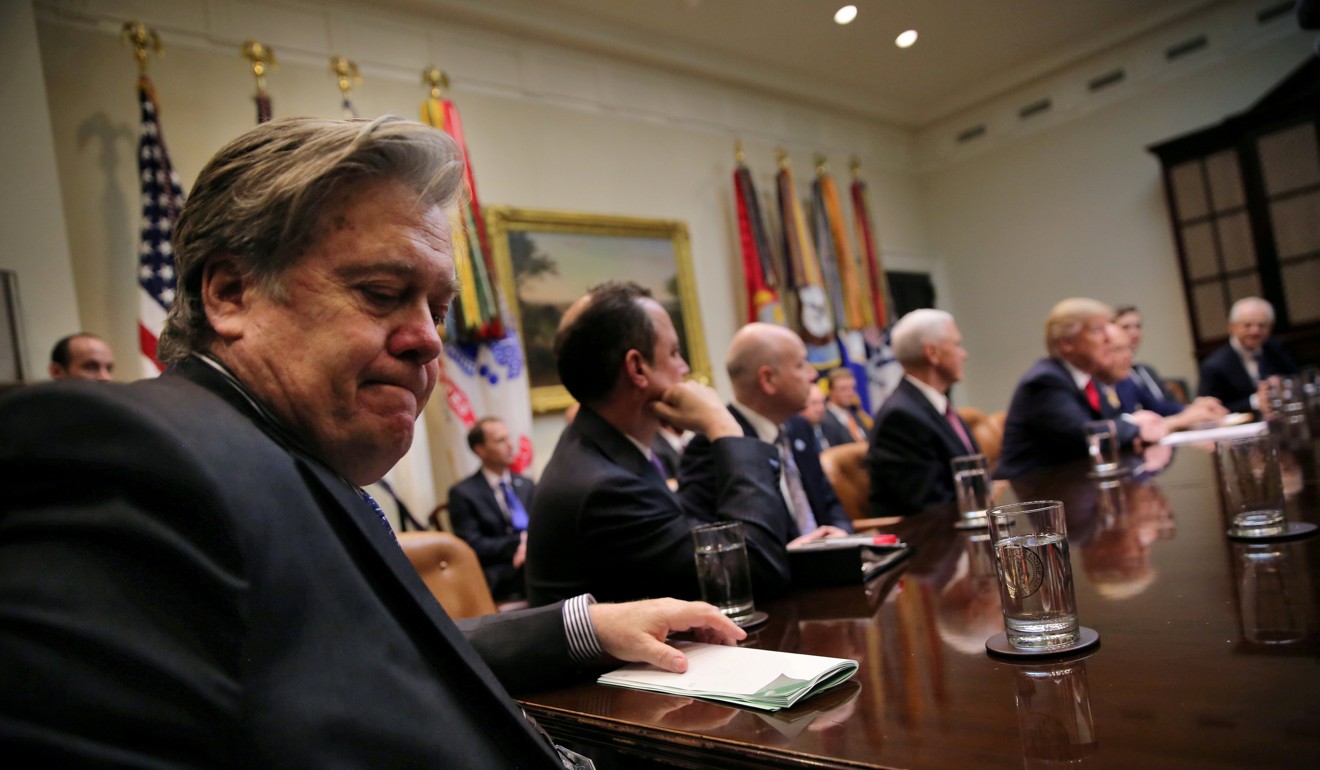 He also said that the investigation by Robert Mueller would look into money laundering that he said was connected with those in the campaign.
"Mueller chose [senior prosecutor Andrew] Weissmann first and he is a money-laundering guy," he said. "Their path to f****** Trump goes right through Paul Manafort, Don Jnr and Jared Kushner … It's as plain as a hair on your face."
He added: "It goes through Deutsche Bank and all the Kushner s***. The Kushner s*** is greasy. They're going to go right through that. They're going to roll those two guys up and say play me or trade me."
He also suggested that Mueller's investigators would crack Donald Jnr "like an egg".
Trump responded to those remarks by threatening Bannon and the book's publishers with legal action, although several legal experts doubted that it would be actionable.
This article appeared in the South China Morning Post print edition as: Bannon quits Breitbart in wake of rumpus over book