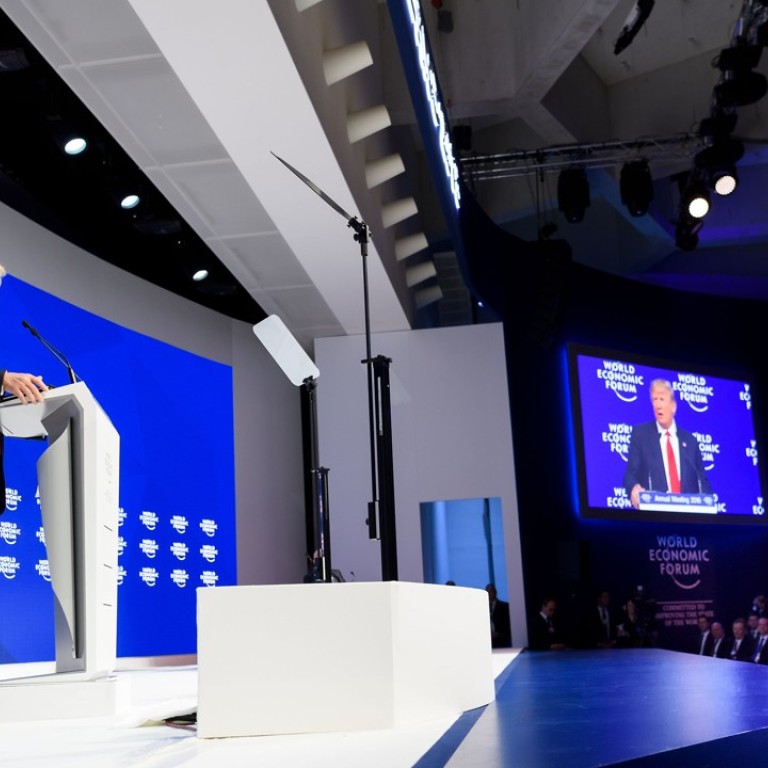 Putting 'America first' will benefit the world, Trump claims in Davos speech
Trump tried to assure attendees that 'America First' does not preclude free trade – only that it demands reciprocal exchanges
In the first speech by a US president at the World Economic Forum in 18 years, Donald Trump told the conference that economic growth promoted by his policies would help the world, in an attempt to square his "America First" agenda with globalism.
"When the United States grows, so does the world," Trump said at the forum in Davos, Switzerland. "American prosperity has created countless jobs around the globe and the drive for excellence, creativity and innovation in the United States has led to important discoveries that help people everywhere live more prosperous and healthier lives."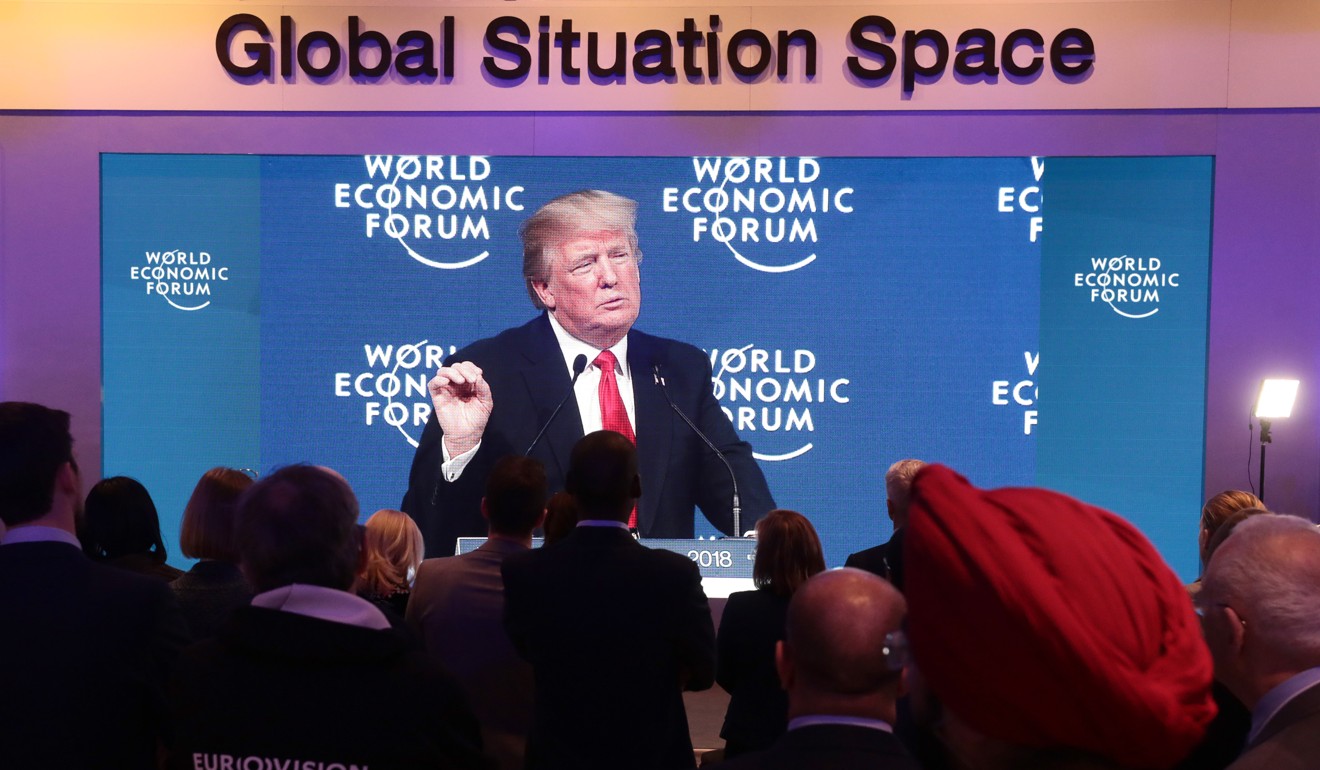 Trump boasted of US economic performance under his leadership and urged cooperation with his effort to curb North Korea's nuclear and missile programmes and combat terrorism – routine themes of his speeches, especially to international audiences.
He told delegates that the US still supports free trade as long as it is "fair and reciprocal".
"The United States is prepared to negotiate mutually beneficial, bilateral trade agreements with all countries," he said. But he then suggested an exception for Pacific Rim countries that were part of the
Trans-Pacific Partnership he abandoned last year.
The US already has trade agreements with some of those 11 countries, he said, and "we would consider negotiating with the rest, either individually or perhaps as a group if it is in the interests of all".
He drew boos from the audience when he attacked the media, branding them "vicious" and accusing them of reporting "fake" news, when answering a question from WEF Chairman Klaus Schwab.
"It wasn't until I became a politician that I realised how nasty, how mean, how vicious and how fake the press can be," Trump said, triggering boos from the hall where hundreds of delegates were seated.
As he does regularly, Trump claimed credit for the run-up in stocks and economic growth that has occurred in his first year in office.
"After years of stagnation the United States is once again experiencing strong economic growth," Trump said. "Consumer confidence, business confidence and manufacturing confidence are the highest they have ever been in many decades."
The International Monetary Fund this week acknowledged Trump's recent tax cuts were a reason it had lifted its forecast for US economic growth this year to 2.7 per cent. Still, it warned the short-term effect would wear off by 2022 as budget deficits materialised and individual tax cuts expired.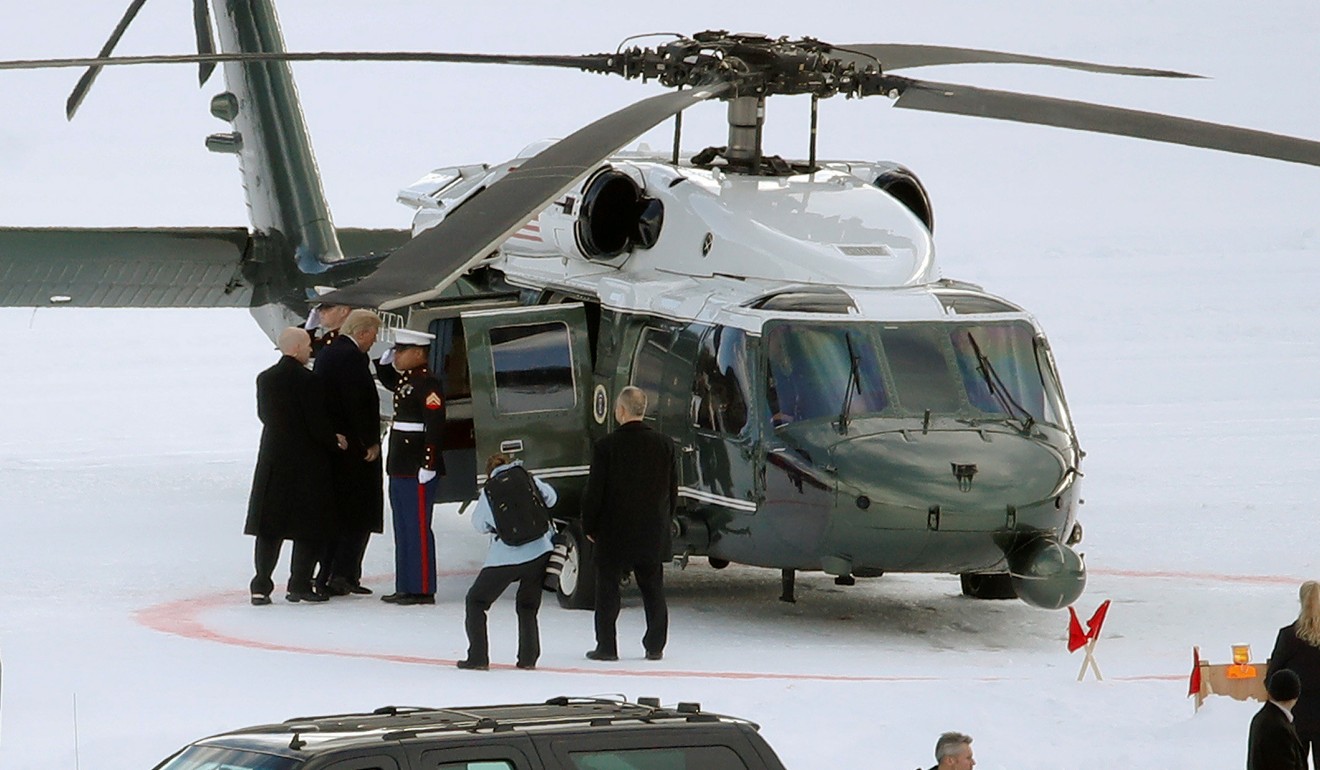 The president was in Davos for less than 36 hours. He met the leaders of the UK, Israel, Rwanda and Switzerland.
Trump's meeting with Rwandan President Paul Kagame came soon after Trump drew widespread condemnation for allegedly referring to African nations as "s***hole countries" in dismissing a bipartisan immigration proposal, according to those at the meeting.
The president has denied using that language. Others present insist he did.
"Like all nations represented at this forum, America hopes for a future in which everyone can prosper, and every child can grow up free from violence, poverty, and fear," Trump said. "The world is witnessing the resurgence of a strong and prosperous America."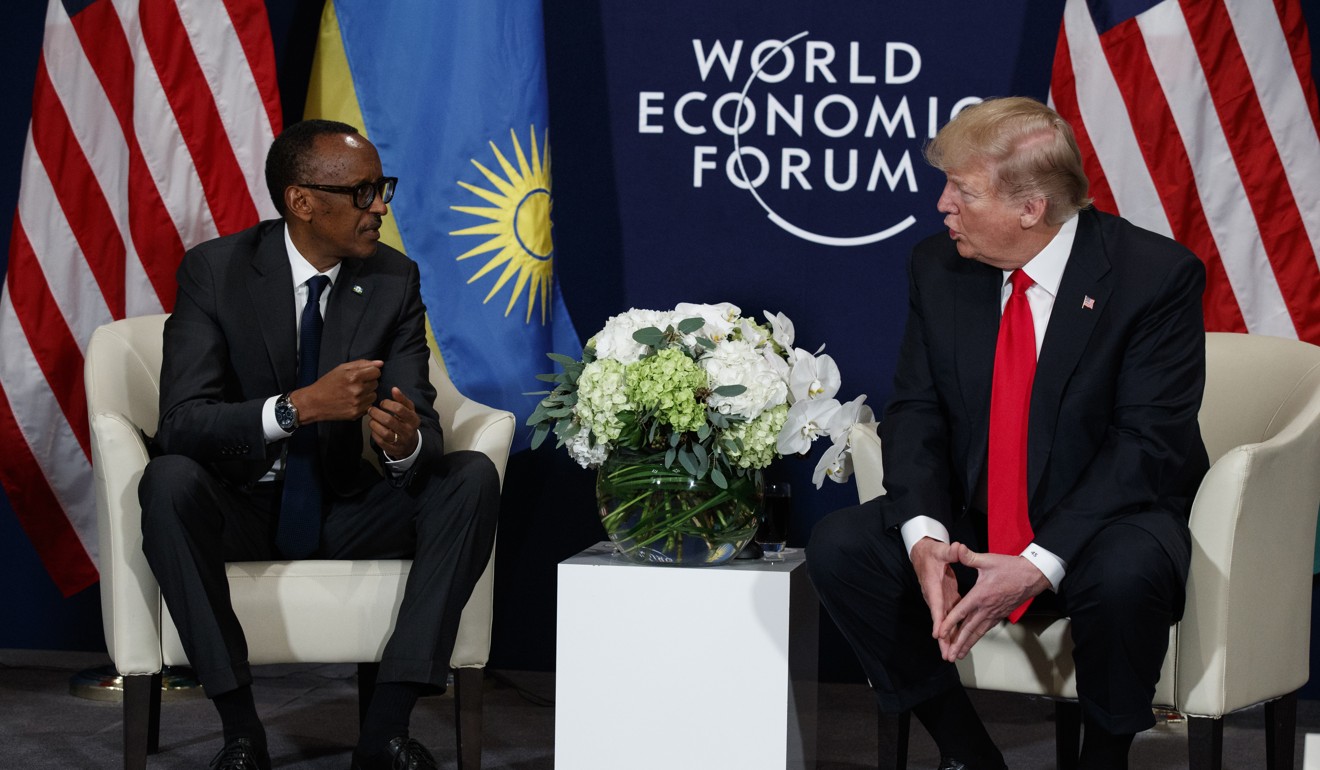 Trump invited business leaders in the audience to invest in the US
"There has never been a better time to hire, to build, to invest and to grow in the United States," he said. "America is open for business and we are competitive once again."
But some signalled concern with Trump's protectionist instincts, which were underscored at the start of the week when his government slapped tariffs on imported solar panels and washing machines. European leaders including French President Emmanuel Macron and German Chancellor Angela Merkel promoted multilateralism from the Davos stage; neither of them intersected with Trump at the conference.
Bloomberg, Agence France-Presse, Associated Press
This article appeared in the South China Morning Post print edition as: 'America First' benefits world: Trump