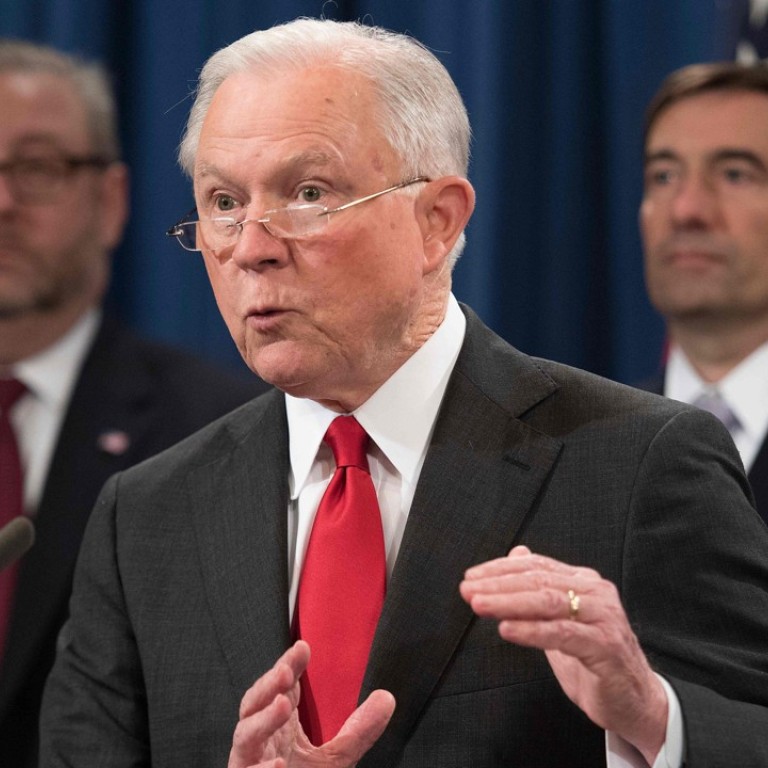 'Enough is enough': US indicts Chinese and Taiwanese firms for stealing trade secrets from Micron, in defence of tech companies
'The department will aggressively pursue trade-secret theft cases,' said US Attorney General Jeff Sessions
He unveiled charges against Fujian Jinhua Integrated Circuit Co and United Microelectronics Corp
The US Justice Department has charged companies in China and Taiwan with stealing trade secrets from a US semiconductor company, as the government steps up efforts to combat what it contends is Chinese technology theft.
The Justice Department accused the defendants – the Chinese state-owned Fujian Jinhua Integrated Circuit Co, its Taiwanese partner United Microelectronics and three individuals – of stealing trade secrets from Micron Technology, America's largest memory-chip maker, according to an indictment unsealed on Thursday.
The trade secrets at stake are valued at up to US$8.75 billion, according to the indictment.
The charges come as the administration of President Donald Trump pursues what it says is the threat of Chinese economic and technology espionage. On Monday, the US Commerce Department said it would block Jinhua from buying American components because it posed a risk to national security.
A similar move was carried out in April, when Commerce blocked sales of American components to the Chinese telecommunications equipment maker ZTE Corp. The penalty caused the company to close the majority of its operations within weeks.
In what Trump called a "favour" to Chinese President Xi Jinping, the US lifted the ban in exchange for US$1.4 billion in penalties paid by ZTE.
On Thursday, Attorney General Jeff Sessions criticised China for violating an accord reached with the Obama administration, under which both governments agreed not to support cyberattacks to steal corporate secrets.
Micron, based in Boise, Idaho, is worth an estimated US$100 billion and controls about 20 to 25 per cent of the dynamic random-access memory (DRAM) industry, "a technology not possessed by the Chinese until very recently", Sessions said.
"Chinese economic espionage against the United States has been increasing – and it has been increasing rapidly," he said. "Enough is enough. We're not going to take it any more."
"The department will aggressively pursue trade-secret theft cases, and develop a strategy to identify researchers and defence industry employees who've been 'co-opted' by Chinese agents to transfer technology to China," said Sessions.
The three individuals charged in the indictments are all former employees of Micron's Taiwan unit.
"Micron has invested billions of dollars over decades to develop its intellectual property," said Joel Poppen, Micron's general counsel. "The actions announced today reinforce that criminal misappropriation will be appropriately addressed."

The US has been ramping up efforts to prevent China from stealing its cutting-edge technologies ever since China expressed its ambition to dominate global technology through its "Made in China 2025" initiative.
The US has since restricted visas for Chinese students in the related fields, stepping up export controls of US technology companies and tightening on scrutiny of Chinese investments.
Congress in August passed laws to expand the government's power to review foreign investments in the country. The law will take full effect in another 18 months, but a pilot program comes into effect this month.
The new regulations broadened the range of investments for review, including a joint-venture structure that was widely used to bypass the oversight before the changes were made. Previously, Chinese buyers could elude government review if the purchases did not surmount to a controlling stake.
Jinhua has been on the US government's radar for months. Micron accused the company of stealing its intellectual property last year. In July, Micron was barred from selling some products in China after Jinhua accused it of violating their patents.
The action also follows heightened trade tensions between the US and China, as the Trump administration has imposed tariffs on about US$250 billion of Chinese exports since July.