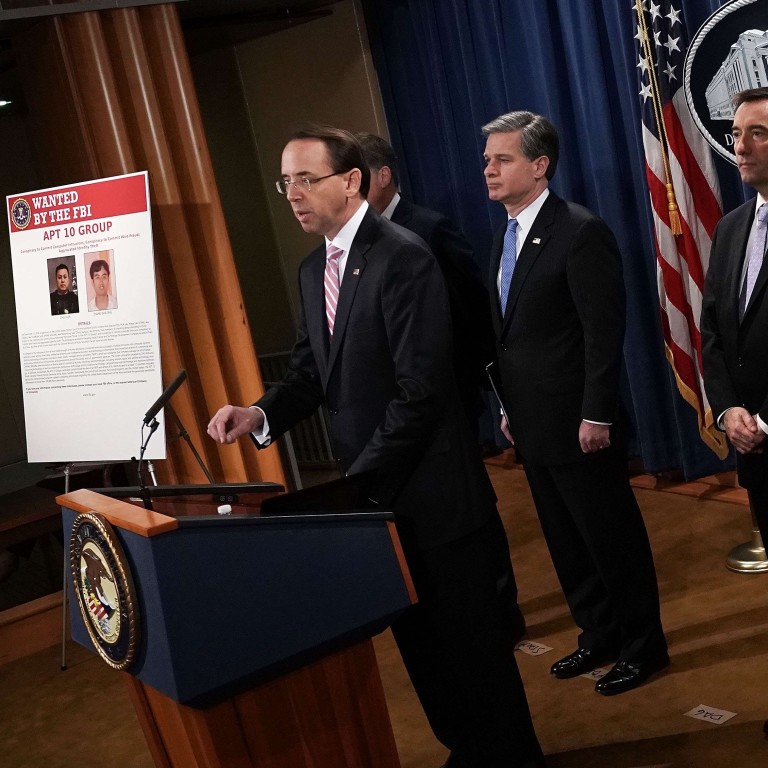 China accused by US and allies of 'massive hacking campaign to steal trade secrets and technologies'
The US claims the alleged massive hacking efforts violate the terms of agreements reached with China in late 2015
Beijing accused Washington of 'fabricating facts' and urged US to 'stop smearing Chinese on cybersecurity issues'
The United States accused China on Thursday of sustained efforts to steal trade secrets and technologies from at least 12 countries in an enormous hacking campaign – a move that deals a blow to Beijing during negotiations to ease the trade war.
The US Justice Department announced criminal indictments against two accused hackers associated with the Chinese government. Zhu Hua and Zhang Shilong, who the US say acted on behalf of the Chinese Ministry of State Security (MSS), were charged with conspiracy to hack into a dozen companies and government agencies in the US and around the world.
According to
the indictment
, filed in federal court in the Southern District of New York, a group of hackers known as APT10, for Advanced Persistent Threat 10, conducted extensive campaigns of global intrusions into computer systems since at least 2006.
The defendants worked for Huaying Haitai Science and Technology Development Company in Tianjin, China, and acted on behalf of the MSS's Tianjin bureau, Deputy Attorney General Rod Rosenstein said on Thursday.
The indictment said the defendants stole data from companies in the US, Brazil, Canada, Finland, France, Germany, India, Japan, Sweden, Switzerland, the United Arab Emirates and the United Kingdom.
The hackers attacked industries such as banking and finance, telecommunications, consumer electronics, medical equipment and packaging, as well as government agencies, Rosenstein said.
"The list of victim companies reads like a who's who of the global economy," FBI Director Christopher Wray said at Thursday's press conference.
While the indictment did not identify specific companies, hackers were said to have breached the networks of Hewlett Packard Enterprise and IBM, then used the access to hack into their clients' computers for data, Reuters reported on Thursday, citing five unnamed sources with knowledge of the alleged attacks.
On Friday, China accused Washington of "fabricating facts" and urged the US to "stop smearing the Chinese side on cybersecurity issues", the foreign ministry in Beijing said in statement, adding that it had lodged an official protest.
China said the US should drop the prosecution "to avoid serious damage to the relations between the two countries", accusing Washington of "blame-shifting" and of carrying out hacking attacks against other countries.
"It has long been an open secret for the relevant departments of the United States to conduct large-scale and organised network theft and monitoring activities against foreign governments, enterprises and individuals," said the Ministry of Foreign Affairs statement, attributed to spokeswoman Hua Chunying.
Beijing described the latest claims as "purely made out of thin air", warning other countries to "stop deliberate defamation of China, so as not to damage … bilateral relations".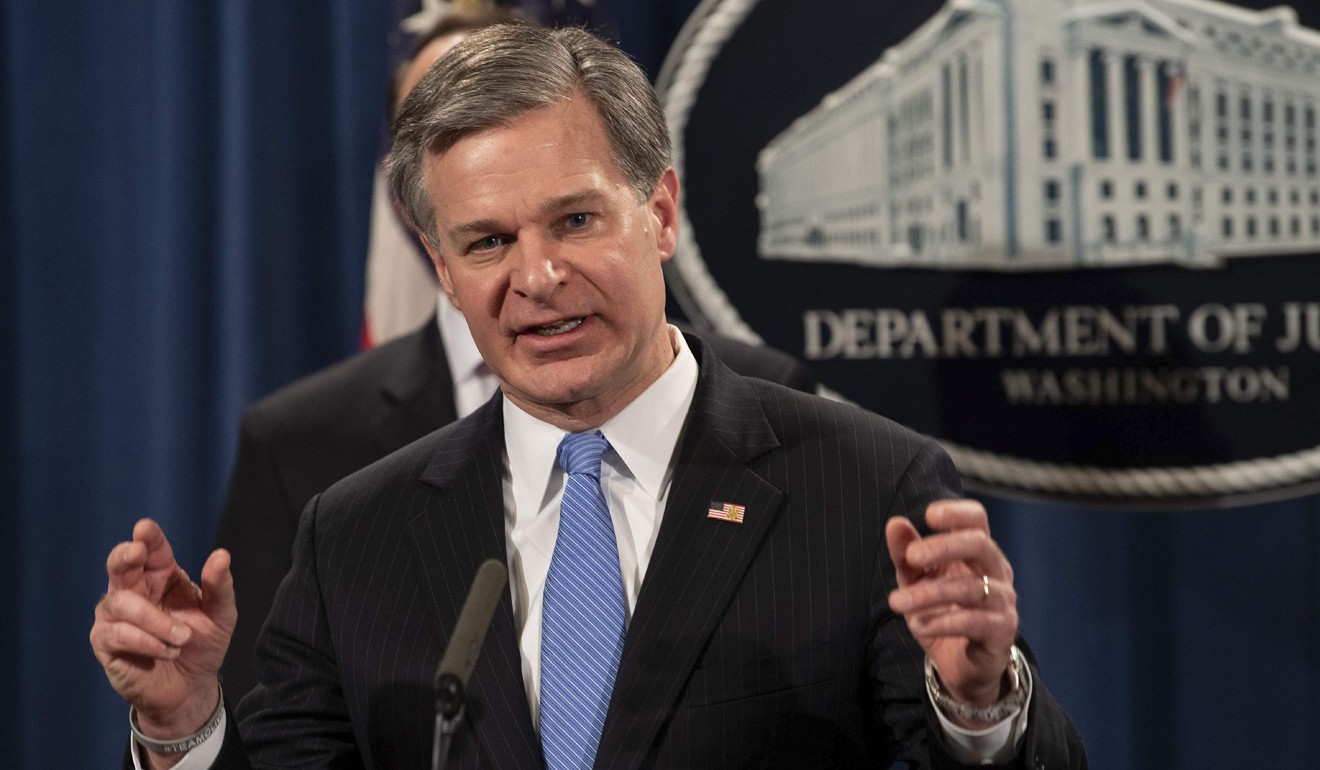 This is not the first time the US has accused China of stealing commercial information. Since the US indicted five members of the Chinese military on computer hacking charges in 2014, it has repeatedly said Chinese hackers have been targeting American corporations.
"More than 90 per cent of the department's cases alleging against espionage in the past seven years involved China," Rosenstein said. "More than two-thirds of the cases involving theft of trade secrets are connected to China."
In the last several months alone, the US has pressed charges in three China-related cases.
In October, the Justice Department charged a group of Chinese agents with trying to steal aviation technology from US companies.
A group allegedly led by agents of the Jiangsu provincial arm of the MSS tried to hack into the computer systems of a US company and a French company with an office in Suzhou, China, both manufacturers of a turbofan engine used in commercial aeroplanes.
Two weeks before that, the Justice Department publicised an "unprecedented" extradition of another Jiangsu division MSS intelligence official for allegedly trying to steal trade secrets from GE Aviation and other US aerospace companies after luring the suspect to Belgium.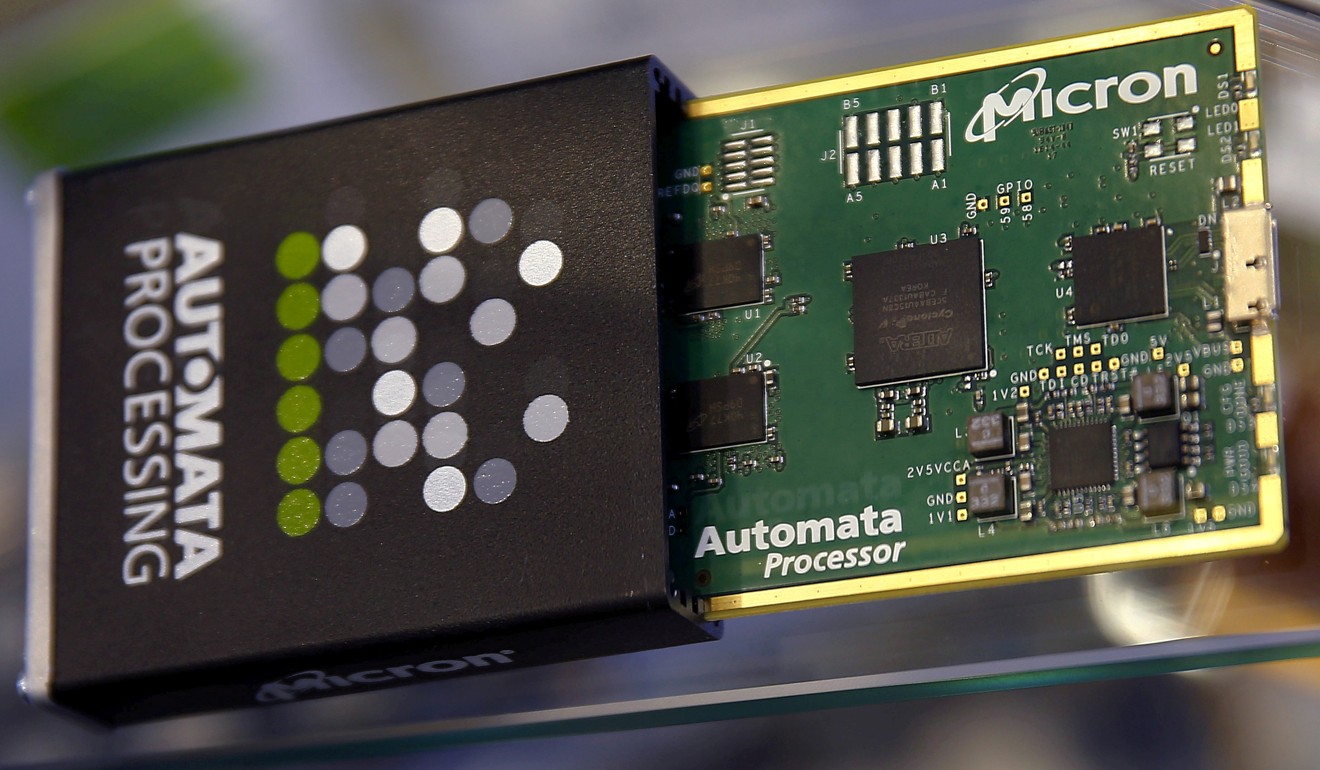 In November, the department charged Chinese state-owned Fujian Jinhua Integrated Circuit Co, its Taiwanese partner United Microelectronics and three individuals with stealing trade secrets from Micron Technology, America's largest memory-chip maker.
Jeff Sessions, the US attorney general at the time, announced a new initiative to crack down on the theft of trade secrets by China, saying the department would aggressively pursue the cases. He also said the agency would use the Foreign Agents Registration Act to identify unregistered agents working on behalf of China.

Thursday's charges "mark an important step in revealing to the world China's continued practice of stealing commercial data", Rosenstein said. "It is unacceptable that we continue to uncover cybercrime committed by China against other nations."
He said the goal of the hacks was "to dominate production in strategically important industries by stealing ideas from other nations", and said the targeted industries matched those in Beijing's "Made in China 2025" road map to becoming a global industrial superpower.
In doing so, Beijing has "violated the commitment China made" in 2015 when it agreed to stop stealing trade secrets through computer hacking, Rosenstein said.
"We want China to cease the illegal cyber activity in honour of the international community. But the evidence suggests that China may not intend to abide by its promises," he said.
In a joint statement on Thursday, Secretary of State Mike Pompeo and Homeland Security Secretary Kirstjen Nielsen said China's actions to target intellectual property and sensitive business information presented "a very real threat to the economic competitiveness of companies in the United States and around the globe".
"We strongly urge China to abide by its commitment to act responsibly in cyberspace and reiterate that the United States will take appropriate measures to defend our interests," they said.
The US was joined by Australia and New Zealand, which were not listed in Thursday's indictment, as well as Britain in its condemnation of Beijing. Officials of the countries denounced the alleged cyberattacks and called on China to stop its global hacking campaign.
Mark Wu, a professor at Harvard Law School who studies international trade issues, questioned whether the condemnations would have any effect.
"Although several allies are joining the US in denouncing Chinese cyberespionage, words matter much less than actions when it comes to applying sustained pressure," Wu said. "It remains to be seen how much this new wave of allegations will push other countries toward taking a harder line against Chinese economic crimes."
Watch: Why the US and other Western countries are concerned about Huawei
The indictments came at a delicate time in the US-China relationship. The nations have only recently resumed negotiations in an effort to de-escalate a trade war that is hurting not just growth in both countries but the rest of the world.
Thursday's announcement by the US and its allies also came as Washington tries to extradite a top Chinese businesswoman at tech giant Huawei for allegedly violating American sanctions by doing business with Iran.
The indictment and the potential extradition could impede on the goal of reaching a trade deal before a 90-day countdown ends at the beginning of March.
However, US Treasury Secretary Steven Mnuchin was cautiously optimistic that the indictments of the suspected hackers would not derail the trade talks. Speaking on the Fox Business Network, he said: "The DOJ action is separate from the trade discussions, just as the Huawei action is separate, but as an administration, we are clearly very focused on making sure that we protect American technology."
President Xi Jinping has kept some promises made to US President Donald Trump at their G20 meeting in Argentina on December 1, including lowering auto tariffs and further opening the banking sector to foreign investment, in an apparent act of good faith.
Additional reporting by Jun Mai in Washington and Agence France-Presse