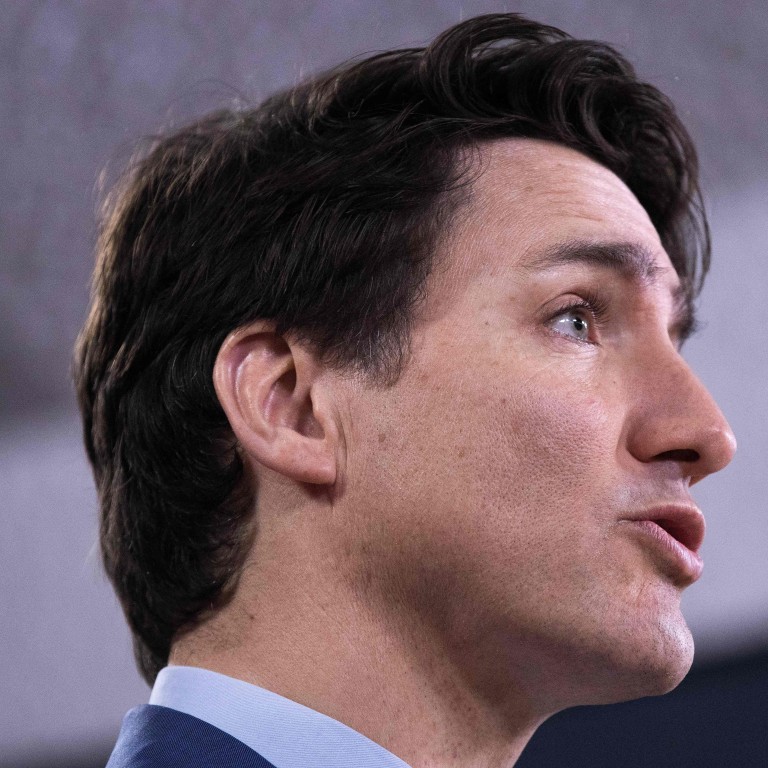 Canadian Prime Minister Justin Trudeau speaks to the media at the national press gallery in Ottawa. Photo: AFP
Canadian Prime Minister Justin Trudeau regrets 'erosion of trust' over political scandal, but insists no laws were broken
Trudeau has been accused of pressuring the country's former attorney general to abandon the prosecution of an engineering company
SNC-Lavalin is alleged to have bribed the Libyan government to secure lucrative construction contracts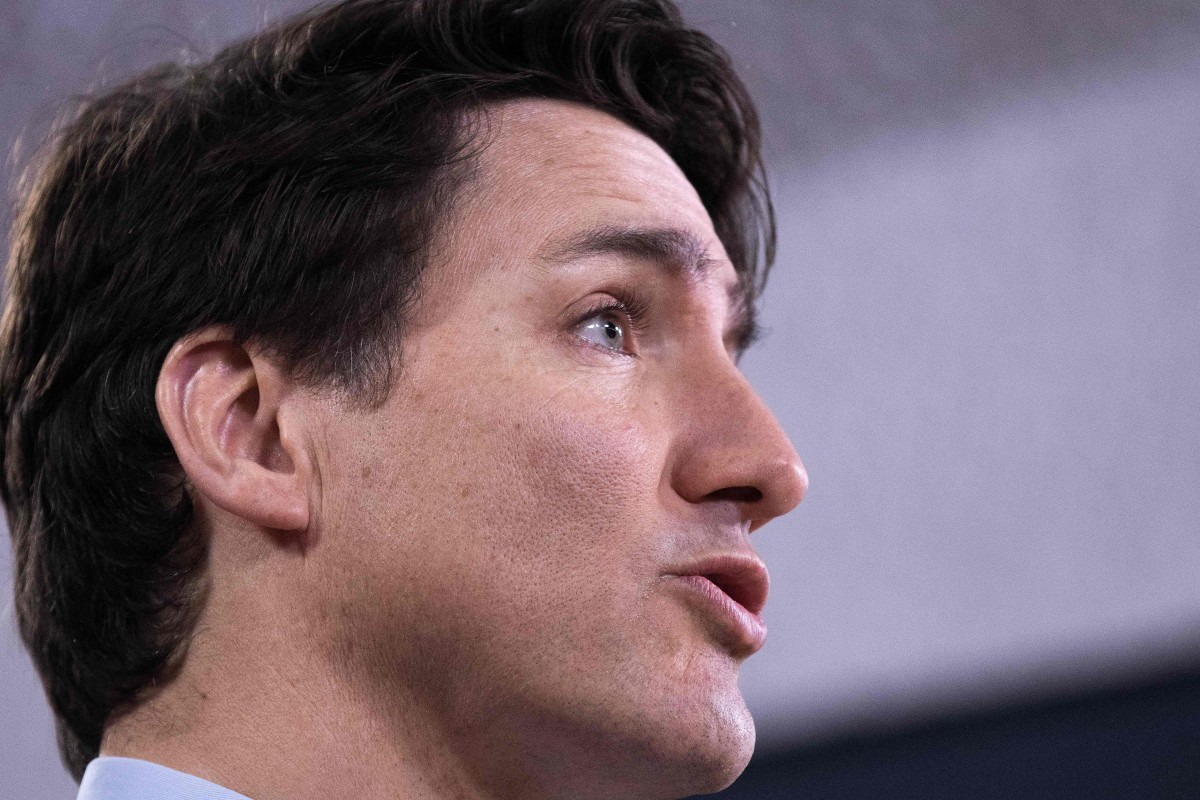 Canadian Prime Minister Justin Trudeau speaks to the media at the national press gallery in Ottawa. Photo: AFP
Justin Trudeau has expressed regret for his handling of a political scandal that has cost him two cabinet ministers and a close adviser – but stopped short of apologising and insisted that no laws had been broken and that no unethical actions had been taken by him or his staff.
"This has been a tough few weeks," the Canadian prime minister said. "Canadians expect and deserve to have faith in their institutions and the people who act within them … I have taken – and will continue to take – many lessons from these recent days and few weeks."
Trudeau and his close aides are accused of improperly pressuring the country's former attorney general Jody Wilson-Raybould to abandon the prosecution of the engineering company SNC-Lavalin, which is alleged to have bribed the Libyan government to secure lucrative construction contracts.
The firm, which employs 9,000 people in Canada, is based in the province of Quebec, where Trudeau's Liberals need to pick up seats to win a federal election set for October. The scandal has cast a shadow over Trudeau's domestic image of commitment to transparent government, potentially harming his electoral prospects.
His conciliatory remarks in front of reporters on Thursday were intended to shift public attention away from the scandal.
I have taken – and will continue to take – many lessons from these recent days and few weeks
Trudeau denied that his involvement in the case was for partisan or political reasons, instead stating that it was his responsibility to protect jobs for Canadians.
The prime minister said he had made mistakes and acknowledged an "erosion of trust" between his office and Wilson-Raybould, who was removed from her attorney general post in January and resigned from the cabinet in mid-February.
His comments also marked the first time the prime minister had directly spoken about the allegations, following the testimony of Wilson-Raybould and the surprise resignation of the Treasury Board president Jane Philpott, who said she no longer had confidence in the government. Trudeau, typically eager to speak with reporters, cancelled media availability at two events, instead returning to Ottawa for private meetings on how to navigate the troubles facing his government.
On Wednesday, Gerald Butts, the former principal secretary to the prime minister, testified in front of the parliamentary justice committee and rejected the idea that anyone within Trudeau's office pressured the attorney general – suggesting he and Wilson-Raybould had divergent interpretations of the same events. Butts, a close friend of Trudeau, resigned from his post shortly after Wilson-Raybould exited the cabinet.
While the government is eager to move forward from the crisis, Wilson-Raybould has expressed interest in returning to the justice committee to testify further, saying in a statement that her testimony "was not a complete account but only a detailed summary".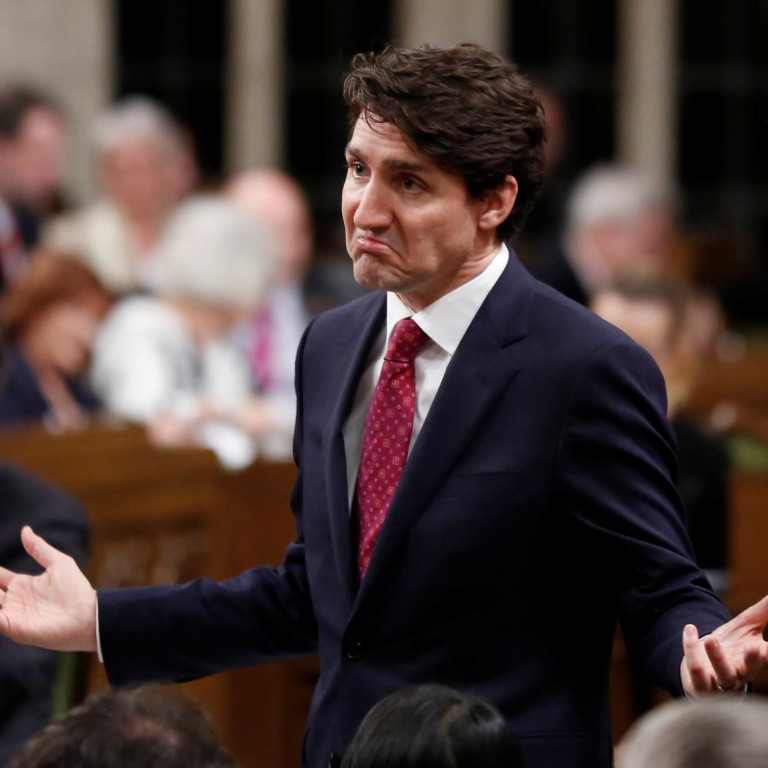 Canada's Prime Minister Justin Trudeau has had some ups and downs. File photo: Reuters
Five (other) times Canada's PM Justin Trudeau made bad headlines
Trudeau's Liberal government has been rocked by a snowballing scandal, which has triggered the resignation of two ministers and badly tarnished the image of the golden boy premier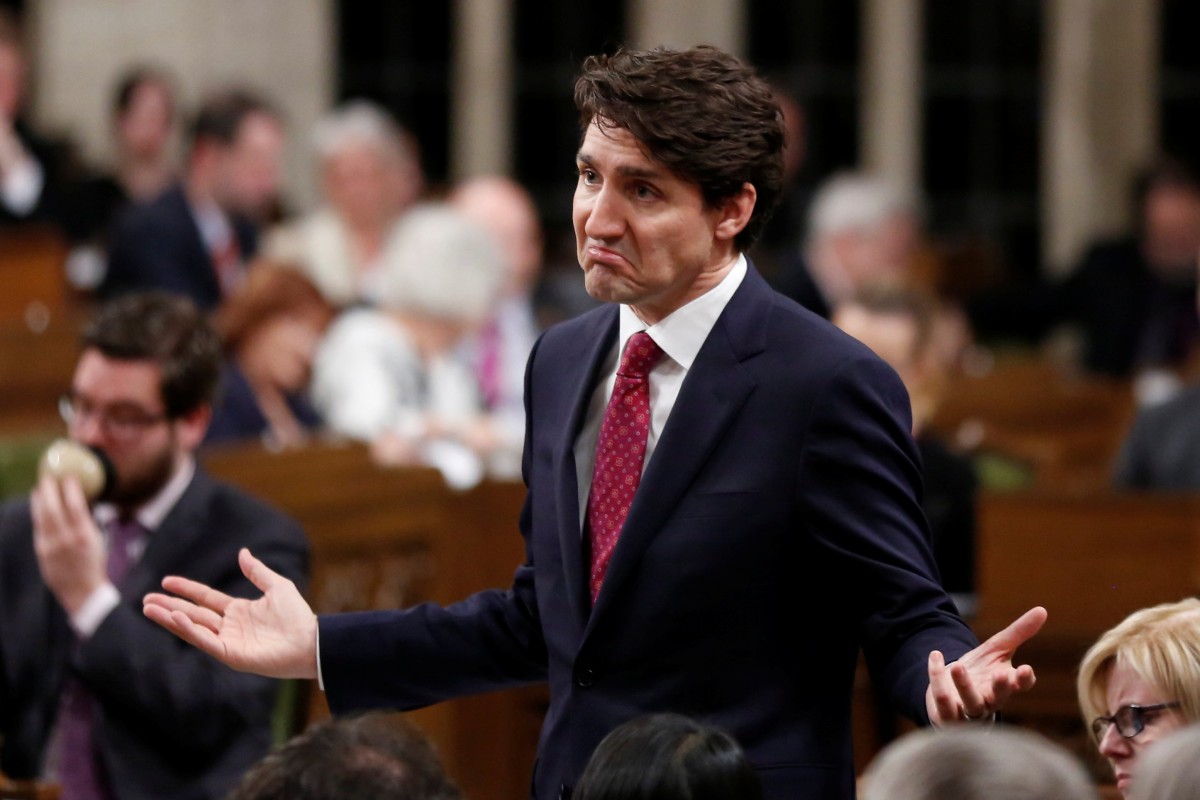 Canada's Prime Minister Justin Trudeau has had some ups and downs. File photo: Reuters
Canadian Prime Minister Justin Trudeau is in a
The firm, SNC-Lavalin, was accused of paying bribes to get Libyan government contracts. The deal would have allowed the firm to avoid criminal conviction. If convicted, the firm would have been banned from receiving federal contracts for a decade.
SNC-Lavalin employs thousands in Quebec, Trudeau's home province, and Wilson-Raybould said Trudeau worried about people losing those jobs.
Jane Philpott, another senior member of team Trudeau, resigned Monday. Gerald Butts, a top Trudeau aide, resigned last week, and
The whole story is particularly scandalous because Trudeau, elected in 2015, was a media darling for years, perceived as a champion of women and indigenous rights.
Though this is arguably the first time Trudeau's golden boy status has been tarnished, the shine had faded a few times before. Below, a look at Trudeau's previous – albeit far lower stakes – scandals.
Trudeau explained quantum computing
In spring 2016, Trudeau was at a news conference at the Perimeter Institute for Theoretical Physics in Waterloo, Ontario. A reporter half-jokingly asked the prime minister to explain quantum computing. He did. The moment went viral.
It then turned out that, earlier that day, he said that he'd hoped someone would ask him about quantum computing. It was staged.
Trudeau broke an ethics law
In December 2017, Canada's ethics commissioner ruled that Trudeau had violated Canadian ethics laws with two all-expenses-paid trips to the Bahamas.
The island was owned by the aga khan, spiritual leader of Ismaili Muslims (and a billionaire). Trudeau and his family took an undisclosed trip to the island at the end of 2016, and his wife took another in March of that same year.
Trudeau tried to say that taking trips on a private helicopter to the island wasn't a violation of the Conflict of Interest Act because he and Aga Khan Shah Karim al-Husseini were friends, and public officeholders can accept gifts from friends. The ethics commissioner, Mary Dawson, wasn't buying it; Trudeau and the aga khan had spoken once in 30 years before Trudeau became party leader.
Her report said Trudeau violated four sections of the act – the first time a sitting prime minister had done so since it became law in 2006.
Trudeau told a woman to say 'peoplekind'
"Maternal love is the love that's going to change the future of mankind," said a woman asking about laws on the charitable status of religious organisations at a February 2018 event.
People had a field day. Trudeau and his political correctness had gone too far this time! Trudeau corrected a woman! Fox News was on the case!
Trudeau later apologised and said he made a "dumb joke".
Trudeau went to India
Going to India is not, in and of itself, scandalous. But Trudeau made a few missteps when he went there in February 2018 (a big month for Trudeau scandals).
First, there were the Trudeau family outfits, which were made fun of by locals, who said the Trudeau clan was playing "fancy dress".
Then, there was the fact that a Sikh man convicted of attempted murder of an Indian politician was invited to dine with Trudeau in New Delhi (the invitation was rescinded, but the man, Jaspal Atwal, was also seen with Trudeau's wife at a reception in Mumbai).
A security report found "gaps" in the process of vetting events. And the whole thing cost more than the government initially disclosed.
Trudeau addressed groping allegations
Last summer, a reporter asked Trudeau to address allegations that he'd