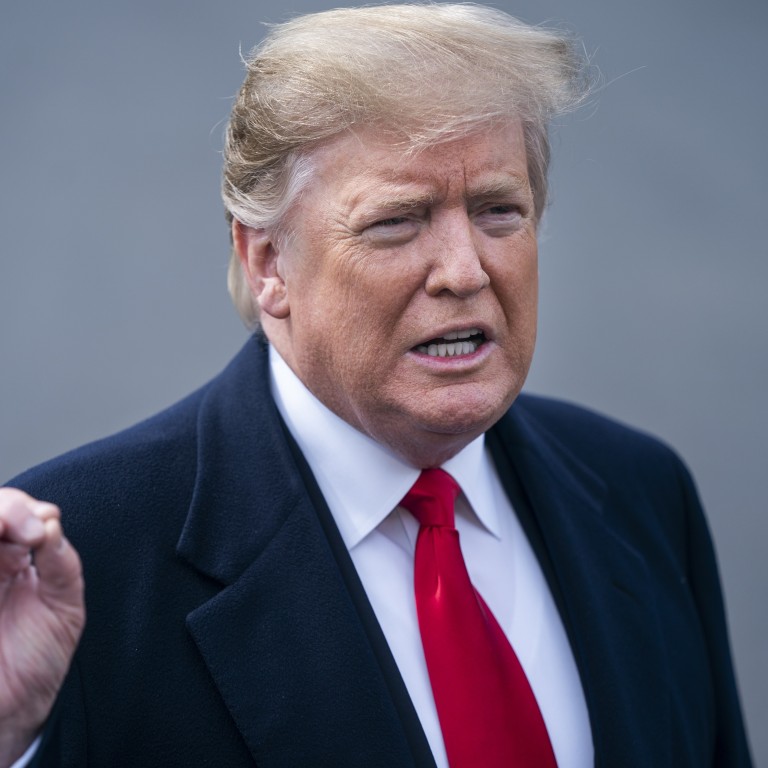 US President Donald Trump says tariffs on Chinese imports may remain in place for a 'substantial period of time'
As the trade war between the US and China continues, Trump says tariffs will be kept in place to ensure China 'lives by the deal'
Trade war is now in its ninth month, with US$250 billion of Chinese goods entering the US and US$110 billion of imports from the US hit by punitive duties
US tariffs on Chinese imports could remain in place for a "substantial period of time", even extending beyond the reaching of a trade deal between Washington and Beijing, US President Donald Trump said on Wednesday.
"We're talking about leaving [the tariffs] for a substantial period of time because we have to make sure that if we do the deal with China, that China lives by the deal," Trump told reporters outside the White House.
In a trade war now in its ninth month, the US has imposed duties ranging from 10 to 25 per cent on around US$250 billion of Chinese goods entering the US. In retaliation, Beijing has put tariffs on around US$110 billion of imports from the US.
Trump's remarks came as his chief trade negotiator, Robert Lighthizer, prepares to head to Beijing next week for the latest round of high-level talks, after a weeks-long hiatus in face-to-face meetings between the two sides.
Lighthizer, the US trade representative, will travel to China with Treasury Secretary Steven Mnuchin, Politico reported on Tuesday.
Washington is pursuing commitments from Beijing to change its trade practices and economic policies, including better protection of intellectual property, ending the alleged forced transfer of foreign technology through joint ventures, increasing access to China's markets, and augmenting purchases of US goods, particularly in agriculture.
One particularly sticky aspect of the negotiations has been enforcement, the verification mechanism by which the US can monitor China's adherence to – or deviation from – the promised changes and enact commensurate punitive measures.
Beijing has resisted implementing a verification mechanism that would allow the US to act unilaterally, for instance with more tariffs.
Trump suggested on Wednesday that prolonging the tariffs could be a way to hold Beijing accountable.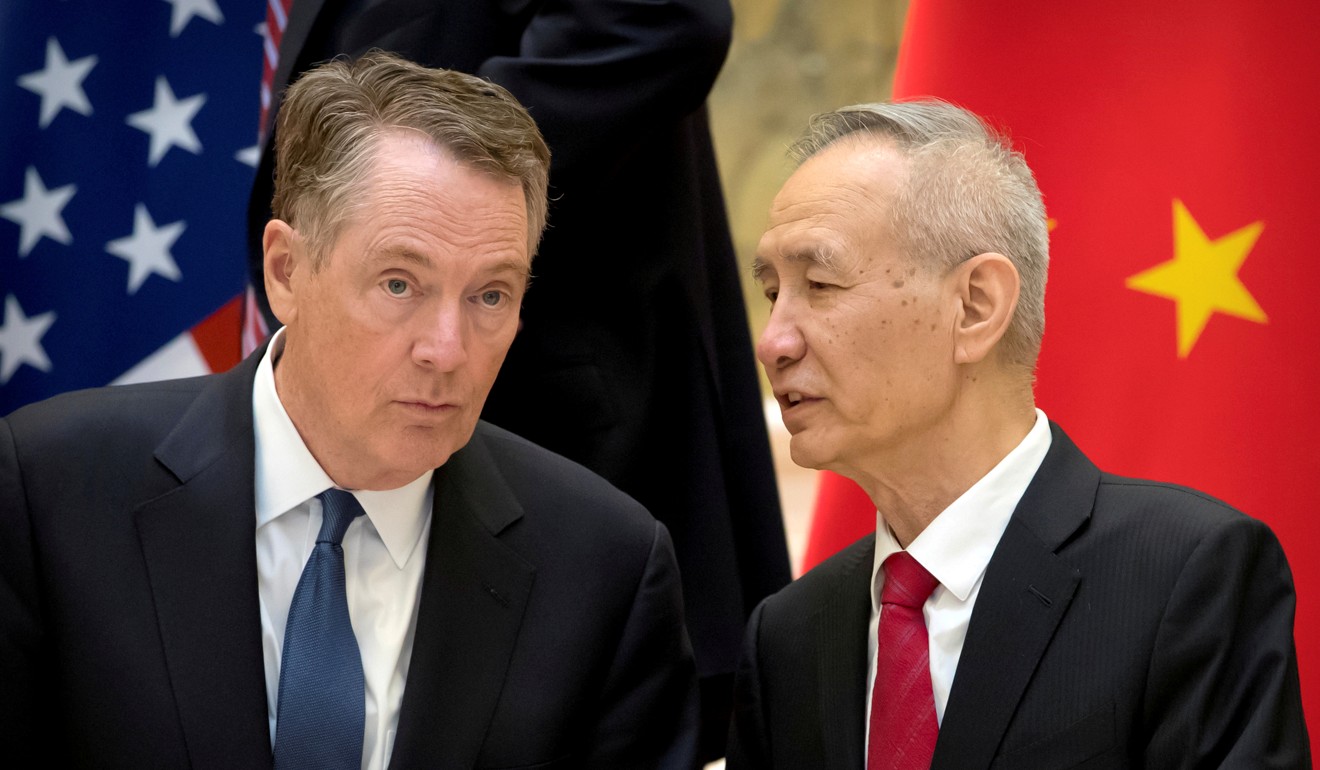 China has had "a lot of problems living by certain deals, and we have to make sure", Trump said.
In what he presented as a goodwill gesture earlier this month, Trump held off on a planned 10 to 25 per cent increase in tariffs on US$200 billion of Chinese imports, citing "substantial progress" in negotiations.
A US Chamber of Commerce official, who had been briefed on the progress of the talks, said recent conversations between Lighthizer and Liu He, the Chinese vice-premier, focused heavily on a verification mechanism. The two spoke twice last week over the phone.
"On enforcement, they spent a lot of time on that," the chamber official told reporters in a background briefing on Friday, adding that the issues of tariffs and enforcement were closely linked.
Trump administration officials were concerned that Beijing was backing away from pledges it had made on certain issues because of a lack of assurance the US would lift the tariffs, Bloomberg reported on Tuesday, citing multiple unnamed sources familiar with the negotiations.
At a recent Senate hearing, Lighthizer said the US had "to maintain the right to be able to – whatever happens to the current tariffs – to raise tariffs in situations where there's violations of the agreement".
Trump's comments on Wednesday suggesting a "substantial" extension of tariffs were met with dismay by US retail industry figures who have lobbied for the removal of import taxes, which recent studies show have a far greater impact on US consumers than Chinese exporters.
"American families have already paid $14.4 billion worth of tariffs in 2018," said Hun Quach of the Retail Industry Leaders Association (RILA), citing White House data released this week by the Council of Economic Advisers (CEA). "How much more substantial can we get?"
The CEA figures referred to revenue from newly imposed tariffs on imports from all countries. Contrary to Trump's repeated insistence that China is footing the bill for his import tariffs, two recent studies – one by economists at several US universities, the other by the Centre for Economic Policy Research – found that increases in US consumer prices have overwhelmingly covered the costs of the duties.
"We need to resolve this issue quickly and remove tariffs on everyday products for the sake of American businesses, workers and families," said Quach, a former US trade official and current vice-president of international trade at RILA, whose clients include Walmart, Target and Apple.
Trump's comments were "deeply concerning to the American farmers, businesses and consumers that are actually paying for this trade war", said Tariffs Hurt the Heartland, a coalition of more than 80 trade associations. "Every second [the tariffs] remain in place, they drain money from the pockets of hardworking Americans."
Despite the threat of sustained tariffs, Trump said prospects for a deal were "coming along nicely".
Lighthizer has repeatedly sought to temper optimism about a consensus, telling lawmakers at a US House hearing in late February that much work remained to be done "both before an agreement is reached and, more importantly, after it is reached, if one is reached".
Additional reporting by Wendy Wu