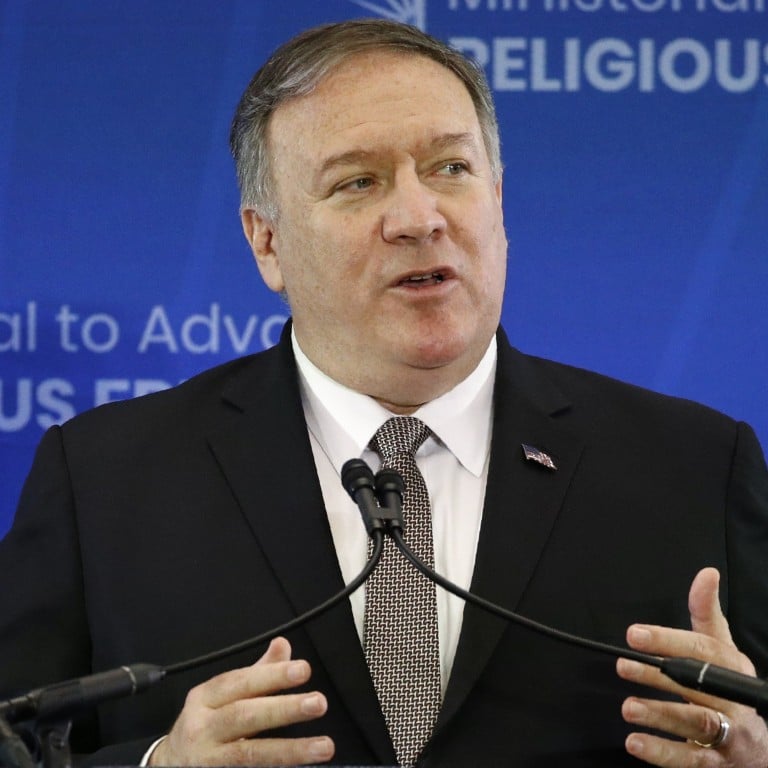 'Stain of the century': top US diplomat Mike Pompeo lashes out at China over treatment of Uygurs
US secretary of state insists Beijing pressured countries into not attending a conference on religious freedom in Washington, but does not say which ones
He accuses China's government of demanding control 'over the lives of the Chinese people and their souls'
China's mass internment of Uygurs and other Muslim ethnic minorities is "the stain of the century", US Secretary of State Mike Pompeo said on Thursday.
Speaking in Washington at a government-hosted conference on global religious freedom, Pompeo accused Beijing of demanding control "over the lives of the Chinese people and their souls" and said its policies in the country's northwest had resulted in "one of the worst human rights crises of our time".
More than 1 million Uygurs and other Turkic Muslim ethnic groups are reported to be held in a network of extrajudicial camps in the Xinjiang Uygur autonomous region, a programme that began in early 2017.
Beijing maintains the institutions are vocational centres where attendees receive classes in Chinese language and law – a claim challenged by a growing body of research that indicates the camps are high-security facilities where inmates are held against their will.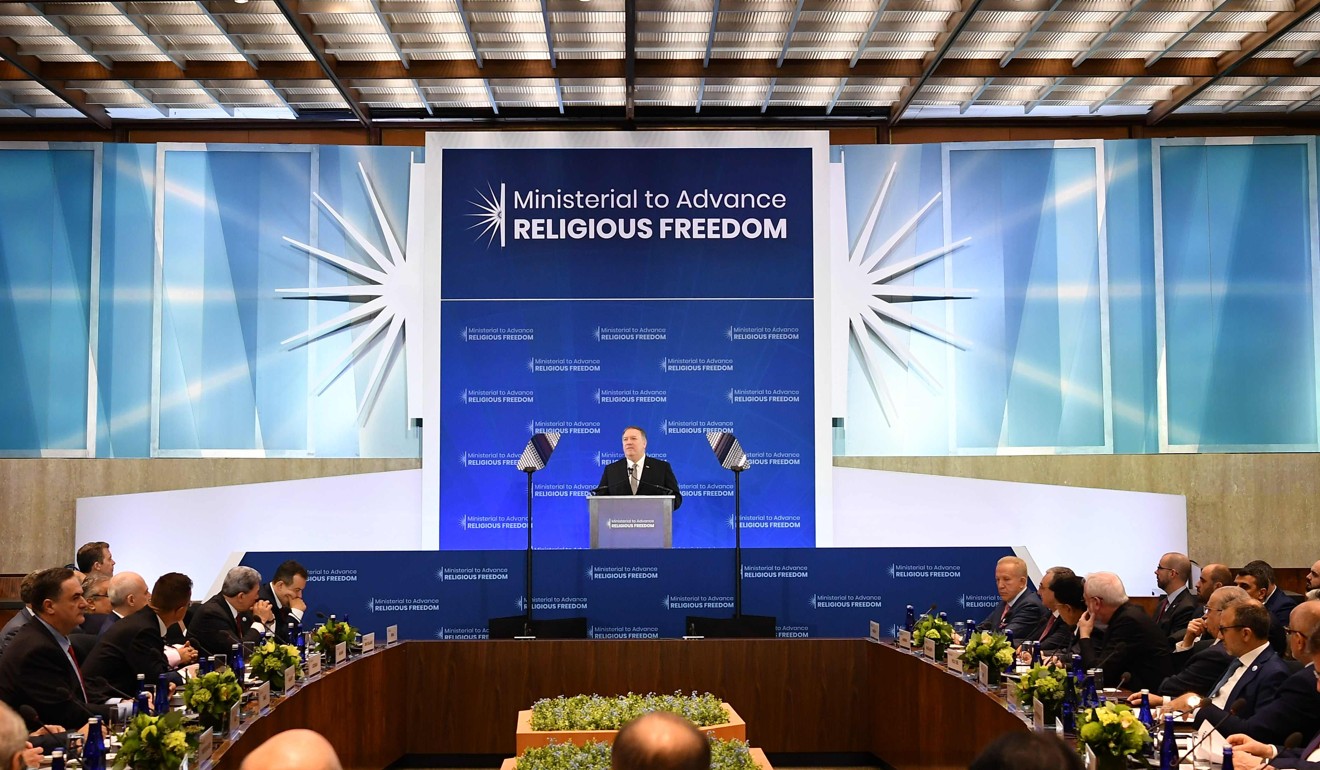 Pompeo's condemnation of the camps at the Ministerial to Advance Religious Freedom was buttressed by Vice-President Mike Pence, who said the detainees were subject to "around-the-clock brainwashing" and echoed survivors' accounts that the institutions were designed to "strangle Uygur culture and stamp out the Muslim faith".
Countering reports that the US has put off taking punitive action against Beijing over its human rights practices to avoid putting ongoing trade negotiations into jeopardy, Pence said US pressure on China over religious freedom would continue, regardless of the outcome of those talks.
"You can be assured the American people will stand in solidarity with the people of all faiths in the People's Republic of China," he said.
Freedom of religious belief is enshrined in China's constitution, yet central and local governments are public about campaigns to "sinicise" all religious practice in the country.
Addressing attendees at the state department-hosted gathering, Pompeo said Chinese officials had pressured some governments not to send delegates to the annual conference, at which government representatives, spiritual leaders and victims of religious persecution from around the world gather for three days of meetings, speeches and sideline activities.
"If you're here today and you're a country which has defied the Chinese pressure to come here, we salute you and we thank you," Pompeo said. "And if you have declined to attend for the same reason, we took note."
This year's event was attended by 105 official delegations, according to the state department.
A state department official declined to specify which countries were believed to have been pressured by Beijing not to send representatives to the conference, but said: "We know the Chinese government called countries specifically to discourage participation. We cannot prove the exact number they successfully impacted."
Thursday's castigation of Beijing by senior US officials came a day after US President Donald Trump hosted about 30 survivors of religious persecution at the White House, including one Uygur woman and three other people from China.
At the Oval Office meeting, Jewher Ilham, the daughter of imprisoned Uygur scholar Ilham Tohti, described the situation facing Muslim minorities in Xinjiang to Trump, who responded by terming the state of affairs "tough stuff".
Wednesday's meeting marked the first time in Trump's tenure that he had publicly met anyone from the Uygur community or delivered remarks on the mass internment programmes in Xinjiang.
On Thursday, Beijing shot back at the White House over the gathering, which was also attended by a practitioner of the Falun Gong spiritual movement, a Tibetan Buddhist and a Chinese Christian.
"Some remarks delivered by those people [during the meeting] were gravely mistaken," Chinese foreign ministry spokesman Lu Kang said at a regular press briefing. "So-called religious persecution does not exist in China."
Inviting those who "vilify China's religious policies" to attend the state department's religious conference and meet the US leader was tantamount to interfering in China's internal affairs, he said.
China was not invited by the US to attend the conference, according to a list of invitees seen by the South China Morning Post.
Speaking last week to reporters about the event, Sam Brownback, the Trump administration's envoy for religious freedom, said the conference was built around "like-minded and aspirational countries".
"But sadly, we don't have a lot of countries like that, that are trying to be different in this space," he said.
The administration's embrace of religious freedoms comes as Trump himself is under fire for remarks he made on Sunday about four congresswomen belonging to ethnic minorities, whom he told to "go back" to the "places from which they came".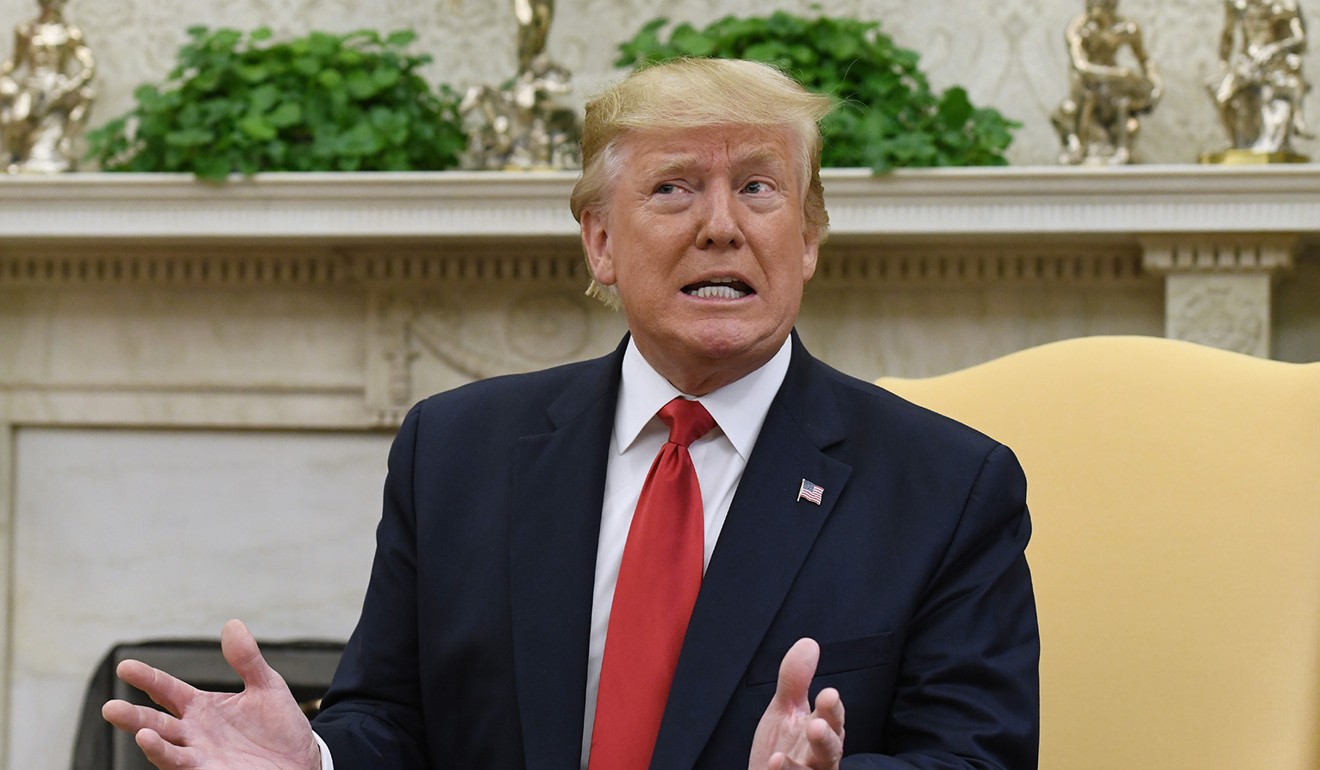 Among the barrage of criticism launched at Trump after his inflammatory remarks were concerns from human rights advocates that the president's comments would affect the US government's defence of marginalised groups globally, including Muslims in China.
The US' ability to advocate for the persecuted in Xinjiang was "profoundly compromised by having a president who is a racist", said Human Rights Watch's Sophie Richardson at a panel event in Washington on Tuesday.
This article appeared in the South China Morning Post print edition as: Xinjiang camps 'stain of century', blasts Pompeo as Pence pledges solidarity