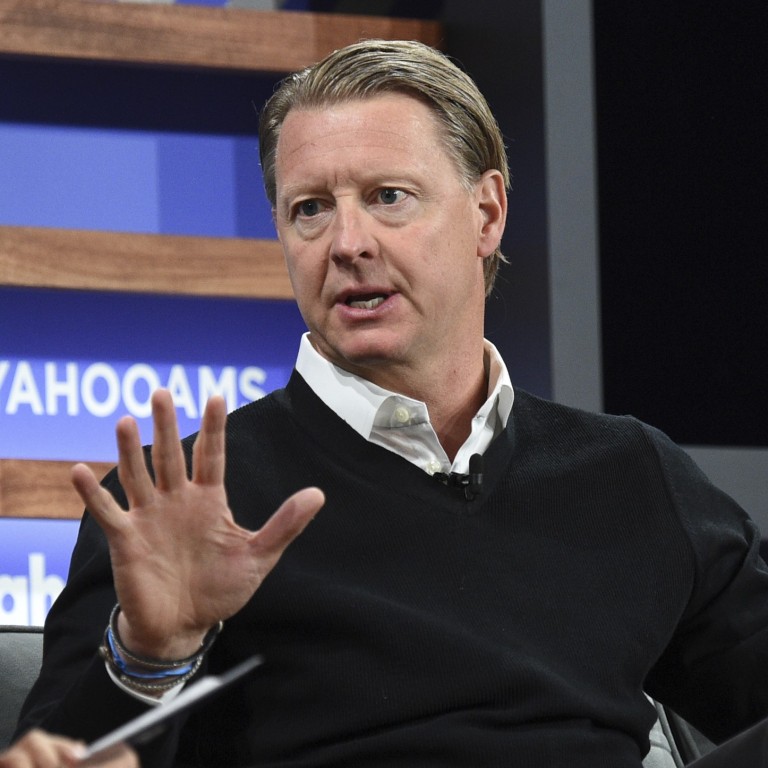 Verizon CEO warns against separate 5G standards, saying the world would suffer
Hans Vestberg says the technology 'is ultimately one of the most important infrastructures for the 21st century'
He avoided taking a stand on the US ban of Huawei, but said any split in 5G standards would affect all sectors
Hans Vestberg, the chief executive of Verizon Communications, said on Thursday that the consequence of building separate standards for the next generation of mobile wireless technologies would be bad for global communications.
Vestberg's comment came at Yahoo Finance All Markets Summit in New York, in a response to a question about whether US security concerns about China's telecommunications giant Huawei Technologies were justified, as the company emerges as the leader in 5G technologies.
Vestberg declined to comment directly about that concern. But he said that if trust – among the various technologies' developers, and the nations that would use them – is lost, the consequence might be that different 5G providers would devise different standards.
"The technology is ultimately one of the most important infrastructures for the 21st century," said Vestberg. "If we go back to – some of you might remember – the CDMA and GSM age, that really is not good."
Vestberg was referring to two different mobile phone technologies that until recent years split the market. Such a diffusion of standards in 5G would affect everybody and in all sectors, including education and health care, he said.
Verizon Wireless, the second-largest wireless telecoms provider in the US, has businesses in about 150 countries. But Verizon does not use Huawei equipment, Vestberg said.
As for Verizon's 5G plans, Vestberg said the company has been focusing on building its own 5G technology.
"The tech development is moving fast, software improvements are quick," he said. "We are going to see an extraordinary impact by 5G in the next couple years."
Huawei has been caught in the trade dispute between Washington and Beijing, as the two nations compete for 5G wireless global market. 
Contending that Huawei products, if embedded into US infrastructure, could potentially provide access for the Chinese government to gain sensitive information, the Trump administration in May put the company and dozens of its affiliates on a so-called entity list, effectively banning Huawei from purchasing any components from American suppliers.
The US has also pressured its allies not to sign up for Huawei 5G networks.
Huawei has consistently denied wrongdoing and has sued the US over the ban, calling it unfair.
In a move largely seen as a goodwill gesture to help restart trade negotiations with China, US President Donald Trump partly relented in June. Huawei was allowed to purchase some US commercial products – but only after its US suppliers had applied for temporary waivers to do business with the company.
Those applications have been moving forward slowly as lawmakers debate how extensive a list of products should be included.
Vestberg's comments on Thursday followed up on a strategic decision he discussed in July at the annual media conference in Sun Valley, Idaho. "We are executing our strategy with our Western European vendors," Vestberg told CNBC's Julia Boorstin then.
"It seems that you can do that without Huawei."
This article appeared in the South China Morning Post print edition as: Verizon boss warns over separate 5G standards