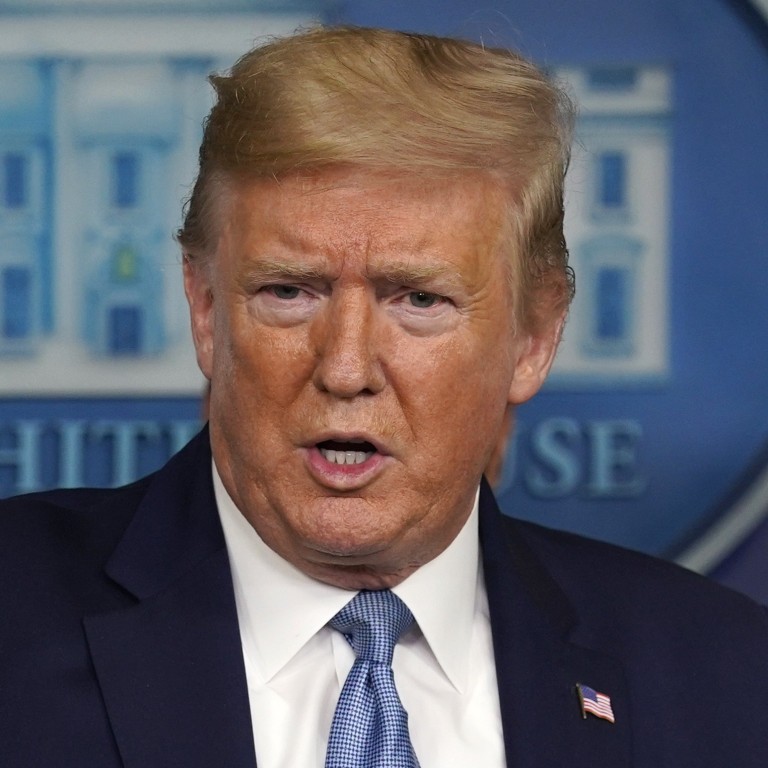 Donald Trump advises against social gatherings of more than 10 people, has no plans for a national lockdown
The US president said he expected the coronavirus outbreak to last until July, August or even longer
Multiple state governors have ordered the shuttering of restaurants, bars and other non-essential businesses to 'flatten' the epidemic curve
US President Donald Trump said on Monday that he expected the coronavirus outbreak to last until July, August or even longer, as he urged Americans to avoid gatherings of more than 10 people to curb the nationwide surge in infections.
"It could be July, August, something like that," Trump said. "It could be right in that period of time [when] I say it washes through."
The president said, however, that he had no plans for now to impose a nationwide lockdown similar to restrictions imposed in recent days by European nations like France and Italy.
Shortly after Trump's remarks, San Francisco's mayor, London Breed, declared a partial shutdown of the city, with most businesses apart from grocery stores, pharmacies, banks and gas stations ordered closed from midnight. Restaurants are allowed to stay open for takeout or delivery orders.
When asked about the possibility of a national lockdown during the White House briefing of his Covid-19 task force, Trump said it would be "At this point not nationwide," and that "We may look at certain areas, at certain hotspots."
Trump also announced his administration was advising Americans to avoid gatherings of more than 10 people. The new guideline comes on the back of the Centres for Disease Control and Prevention's advisory on Sunday that recommended the cancellation of in-person events that consist of 50 people or more for the next eight weeks.
Multiple state governors across the country have ordered the shuttering of restaurants, bars and other non-essential businesses as part of measures to "flatten" the epidemic curve, with the governors of New York, New Jersey and Connecticut on Monday ordering such lockdowns.
Trump and New York Governor Andrew Cuomo on Monday sparred on Twitter after the president said the governor needed to "do more".
Cuomo immediately shot back: "I have to do more? No – YOU have to do something! You're supposed to be the President."
When asked to rate his administration's response to the outbreak amid the criticism from local officials, Trump said "I would rate it at 10."
"If everyone makes this change or these critical changes and sacrifices now we will rally together as one nation and we will defeat the virus and we're going to have a big celebration all together," he said. "With several weeks of focused action, we can turn the corner and turn it quickly."
The New York Times reported earlier on Monday that Trump said in a conference call that states should source for essential medical supplies like respirators and ventilators on their own.
"We will be backing you, but try getting it yourselves. Point of sale, much better, much more direct if you can get it yourself," the report quoted Trump as saying.
Asked about the availability of such items, Trump said during the White House press briefing that state governments may be able to procure them faster without having to go through the "longer process" of the federal government.
"We have tremendous numbers of ventilators, respirators, and masks," Trump said. "We've ordered, and they are coming, and at this point I think we have a lot, but if they can get them directly it's always going to be faster."
Asked about a severe rout in equity markets on Monday – the Dow Jones Industrial Average dropped 12.9 per cent – and whether the Covid-19 might tip the US economy into recession, Trump said: "Well, it may be."
"The market will take care of itself," he added. "The market will be very strong as soon as we get rid of the virus."