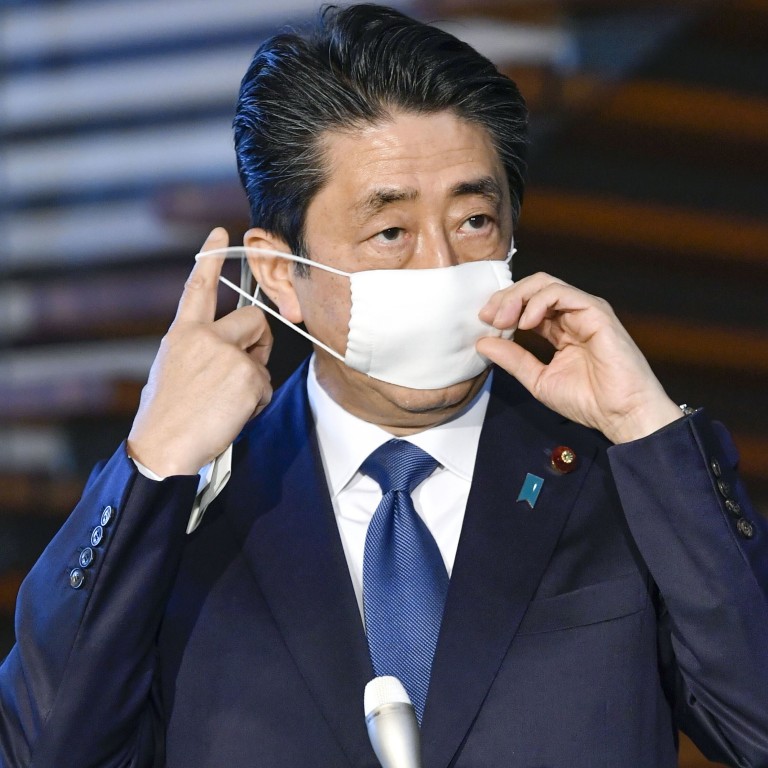 Coronavirus latest: Japan readies for state of emergency, Boris Johnson in 'good spirits' in hospital
Japanese Prime Minister Shinzo Abe has proposed a state of emergency and announced a US$1 trillion stimulus package
UK PM Boris Johnson admitted to hospital for tests, 10 days after testing positive for Covid-19
The
United States
and
Britain
braced for one of their bleakest weeks in living memory on Monday as the social and financial toll of the coronavirus pandemic deepened.
Japan
is set to declare an emergency on Tuesday and new infections in Italy and especially Spain showed signs of slowing, with emergency rooms in the hard-hit Madrid region returning almost to normal a week after scenes of patients sleeping on floors and in chairs.
British Prime Minister Boris Johnson, who was infected last month, was
hospitalised overnight
in what his office described as a "precautionary step" after persistent symptoms. The 55-year-old Conservative leader, who had a fever for days, is the first known head of government to fall ill with the disease.
"On the advice of my doctor, I went into hospital for some routine tests as I'm still experiencing coronavirus symptoms," Johnson said on Twitter. "I'm in good spirits and keeping in touch with my team as we work together to fight this virus and keep everyone safe."
World shares rose after some hard-hit European areas saw glimmers of hope, with rates of infections and deaths slowing. Leaders cautioned, however, that any gains could easily be reversed if people did not continue to adhere to strict social distancing measures and national lockdowns. Benchmarks were up about 3 per cent in Paris and Frankfurt and Tokyo jumped more than 4 per cent.
In Washington, US Surgeon General Jerome Adams offered a stark warning about the surge of coronavirus deaths the nation is facing.
"This is going to be our Pearl Harbour moment, our 9/11 moment,'' he said.
More than 9,600 people have died of the virus in the United States, and it leads the world in confirmed infections at more than 337,000.
The new coronavirus has so far infected more than 1.2 million people worldwide and claimed nearly 70,000 lives.
Here are the developments:
Japan PM to declare state of emergency as early as Tuesday
Japanese Prime Minister Shinzo Abe said he will propose
declaring a month-long state of emergency
in seven prefectures including Tokyo and Osaka, after a renewed surge of coronavirus cases in some of the nation's biggest cities.
He also announced a much larger-than-expected stimulus package of 108 trillion yen (US$988 billion) to support households and businesses struggling from the impact of the pandemic.
The declaration, which will also include Kanagawa, Saitama, Chiba, Hyogo and Fukuoka prefectures, will be made as soon as Tuesday, Abe said in Tokyo. The move hands powers to local governments to try to contain the spread of the virus that causes Covid-19, including by urging residents to stay at home.
More than 3,500 people have tested positive and 85 have died from the new coronavirus in Japan, according to public broadcaster NHK.
British Open cancelled
The British Open has been cancelled for the first time since World War II due to the coronavirus.
The 149th Open was scheduled to take place at Royal St George's Golf Club in Kent in July. But with the pandemic ripping the 2020 sporting schedule to shreds, the event has became the first of the sport's four majors to be cancelled this year.
Golf's oldest major will now be hosted at the same Sandwich venue in July 2021. "The Open was due to be played in Kent from 12-19 July but it has been necessary to cancel the championship based on guidance from the UK Government, the health authorities, public services and the R&A's advisers," organisers R&A said in a statement on Monday.
St Andrews will still host the 150th British Open, but a year later than scheduled in 2022.
The British Open is the latest high-profile tournament to be axed because of the virus. Wimbledon was cancelled for the first time since World War II last week, while Euro 2020 and the Olympics have been pushed back a year until 2021.
Spain says coronavirus down for 4th day
Coronavirus-related fatalities and recorded infections continued to drop on Monday in Spain, although authorities warned of possible distortions by a slower reporting of figures over the weekend.
The country's health ministry reported 637 new deaths for the previous 24 hours, the lowest fatality toll in 13 days, for a total of over 13,000 since the pandemic hit the country. New recorded infections were also the lowest in two weeks: 4,273 bringing the total of confirmed cases over 135,000.
Hospitals are also reporting that the pace of incoming patients to their emergency wards is slowing down, giving a much needed respite to overburdened medical workers.
Over 80 on Australian ship off Uruguay have coronavirus
More than 80 passengers and crew aboard an Australian cruise ship off South America have tested positive for the coronavirus, the cruise company and officials in Uruguay announced on Monday.
Uruguay's public health ministry said six passengers with "life-threatening" illness had been taken off the Greg Mortimer for treatment in Montevideo, but the rest of more than 200 passengers and crew remain stranded on the vessel anchored some 15 miles off the coast.
The vessel was on a voyage to Antarctica and South Georgia with Australian tour company Aurora Expeditions, leaving the Argentine port of Ushuaia on March 15.
Aurora said 81 passengers and crew had tested positive for Covid-19 after being assessed by a team of Uruguayan infectious disease specialists who were brought aboard at the weekend. Some 90 results are still pending, and 45 others have tested negative, the company said.
Singapore's Changi Airport to close one terminal
Changi Airport, one of Asia's busiest transport hubs, will close one of its four terminals to save costs and expedite upgrading works while air travel remains severely limited due to the Covid-19 pandemic.
All flights operating from the airport's Terminal 2 will be consolidated in Terminal 3 starting May 1, Transport Minister Khaw Boon Wan told parliament on Monday. "We will save on running costs – for the airport operator, retail tenants, airlines and ground handlers," Khaw said.
Terminal 2 had already been scheduled for an extensive makeover before the pandemic broke out, with the completion date set for 2024. With the suspension of operations, the works can now be completed a year earlier, Khaw said.
"We can close down one or two terminals, but we must think about post pandemic recovery," the minister said. "While full recovery this year is unlikely, partial recovery next year is probable. We must be ready to lead and to ride the recovery when it happens."
The upgraded Terminal 2 will increase the airport's capacity to 90 million passengers a year from around 80 million currently.
Malaysia unveils 3rd stimulus package, bans beer brewing
Malaysia on Monday unveiled a 10 billion ringgit (US$2.29 billion) stimulus package targeted at small and medium enterprises, with a 7.9 billion ringgit increase in wage subsidy to 13.8 billion ringgit, for companies with workers earning 4,000 ringgit and below, aimed at minimising job losses.
"I know the SMEs are the backbone of the country's economy. The sector employs two-third of the country's workforce and contributes 40 per cent to the economy," Prime Minister Muhyiddin Yassin said in a televised speech. "Thus, it is important to ensure the SMEs remain resilient to face the pressure and economic challenges affecting us at the moment."
This came as Malaysia reported 131 new Covid-19 infections on Monday, taking its total to 3,793 cases, and 62 deaths.
Heineken and Carlsberg will have to close their Malaysia-based breweries to comply with an ongoing lockdown, after the government was widely criticised for allowing the factories to operate.
Many questioned whether the breweries should be listed among the "essential" businesses allowed operate during the country's lockdown. PAS, which forms part of the governing coalition, said breweries should not be permitted to operate while "denying the importance of other industries that is more reasonable to be preferred than alcoholic drinks".
Heineken Malaysia stated that it has "an obligation to ensure continuous supply" of its products and "maintain the employment" of its people.
Indonesia could see 95,000 coronavirus cases by next month
The deadly coronavirus may infect as many as 95,000 people in Indonesia by next month before easing, a minister said on Monday, as authorities ordered people to wear face masks to contain the pandemic.
The dire forecast is based on a projection by the nation's intelligence agency, University of Indonesia and Bandung Institute of Technology, Finance Minister Sri Mulyani Indrawati told lawmakers in Jakarta. The estimate was discussed at a cabinet meeting held by President Joko Widodo earlier on Monday, she said.
Indonesia has seen a surge in infections in recent weeks after reporting its first cases only in early March. While the death toll from the pandemic at 198 is the highest in Asia after China, confirmed cases at 2,273 in a country of almost 270 million people is fewer than those reported in smaller countries such as Malaysia and the Philippines.
At least 25 Indonesian doctors have died after contracting the disease, the country's medical association said on Monday, raising alarm about the toll the disease is taking on health workers.
"At least 19 doctors and six dentists have succumbed to Covid-19," said Halik Malik, spokesman for the Indonesian Medical Association. No figures are available for casualties among other health workers, including nurses, he said.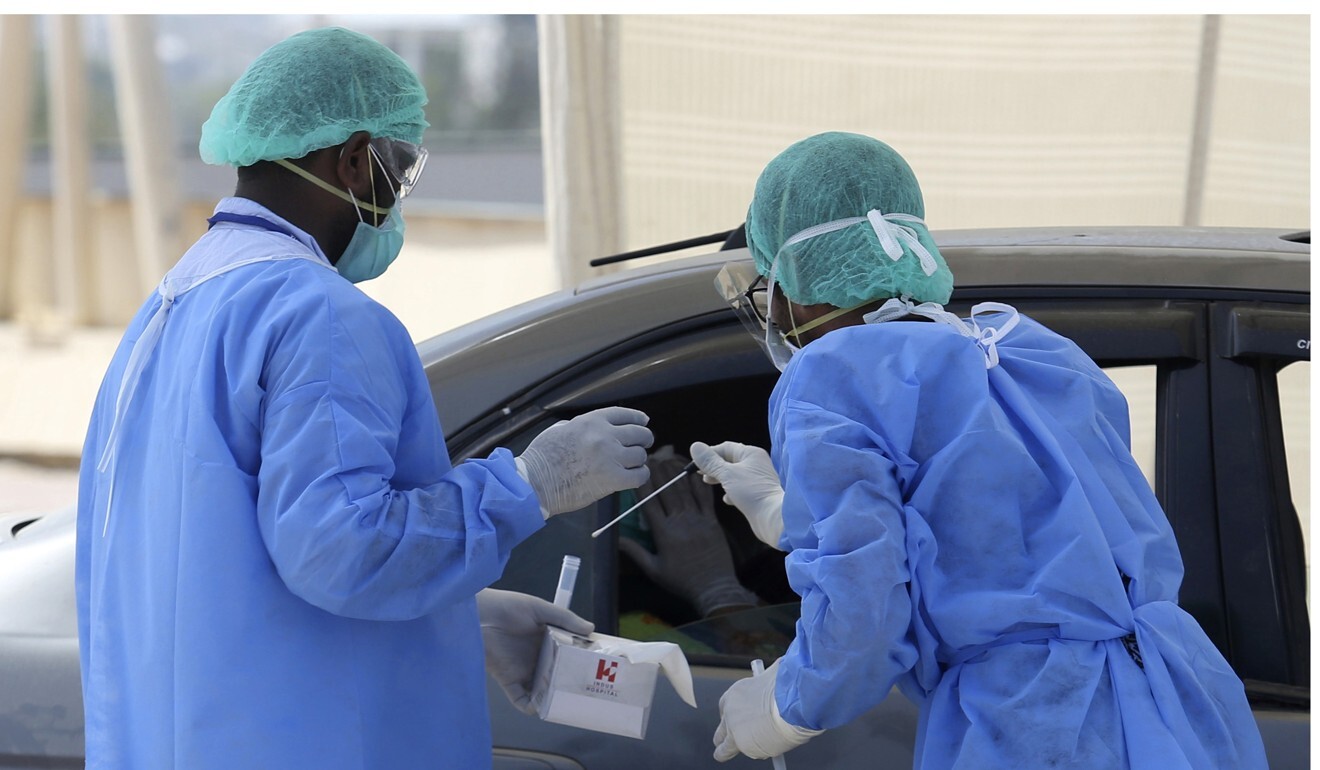 Surge in new infections in India, hospital shuts
A total of 109 people have died of Covid-19 in India, with 32 fatalities and 693 fresh cases in the past 24 hours alone, government data released on Monday showed. This takes the total number of cases in the country to 4,067.
India has registered an increase of 500-plus cases in the four days since Friday, with more than 1,000 cases connected to a religious gathering organised by Tablighi Jamaat, an Islamic missionary movement in New Delhi, last month.
Senior health ministry official Lav Agarwal said the number of Covid-19 cases in India was doubling every 4.1 days and that rate could have been slower at 7.1 days had the Delhi mosque event – attended by thousands from India and abroad – not taken place.
Prime Minister Narendra Modi said India has been proactive in combating the pandemic including declaring a nationwide lockdown, but the battle against the virus would be a long one. "It is going to be a long haul, we do not have to tire, our resolve and mission are to merge victorious in the fight against the pandemic," Modi said.
A major private hospital in Mumbai was shut to new patients and declared a coronavirus containment zone on Monday after 26 nurses and three doctors tested positive.
Help for sex workers
Sex workers in France on Monday asked the government for an emergency fund to compensate them for lost income, after their work was especially hard-hit by social distancing and confinement measures to combat the coronavirus.
"An emergency fund should be created to provide replacement income for the duration of confinement," the Red Umbrella Federation of sex workers' organisations said in a letter addressed to President Emmanuel Macron. France has announced a special aid of 1,500 euros (US$1,618) for independent workers who lose income due to the coronavirus lockdown that entered into force on March 17, but prostitutes are not among the beneficiaries.
The Japanese government will consider making bar hostesses and sex workers also eligible to receive compensation for parents unable to work due to school closures in the wake of the spread of the new coronavirus, a senior official said on Monday.
Backtracking from its earlier decision, Chief Cabinet Secretary Yoshihide Suga said that the government will "review the main points", when asked about the compensation programme in association with more vulnerable members of society.
Meanwhile, Bangladesh vowed on Monday to provide emergency food supplies for "as long as needed" to thousands of sex workers left destitute by the sudden closure of brothels due to the coronavirus pandemic.
The government on March 20 announced it was shutting about 12 officially sanctioned brothels in Bangladesh until at least April 5, including one of the world's largest brothels, Daulatdia, which houses about 1,500 female sex workers. The closures prompted sex workers to appeal to the government for help and authorities promised to give them all a package of 30kgs of rice, a freeze on rent, and US$25.
Tesla unveils prototype ventilator
Tesla engineers showed footage of a prototype ventilator the company is trying to make with auto parts amid a shortage of the machines for coronavirus patients.
According to the video on Tesla's YouTube channel, the design includes a touch screen, computer and control system from a Model 3 electric car. Tesla is taking advantage of components that are familiar, reliable and available, an engineer says in the video.
New York Governor Andrew Cuomo, among those urgently trying to source more ventilators, said on Sunday that supply-chain disruption is the biggest hurdle for every manufacturer, including Tesla.
"Their time frame frankly doesn't work for our immediate apex," he said at a press conference. "Nobody can make you a ventilator right now in two weeks. You can't make ventilators that fast because there are parts that have to come from other countries."
PPAP star Piko Taro releases handwashing song
Comedian Piko Taro, best known for his viral hit song Pen-Pineapple-Apple-Pen, has released a song encouraging people to wash their hands amid the coronavirus pandemic.
"I have a hand, I have a soap. Uh! Wash! Wash! Wash! Wash …" Piko Taro repeats, adopting the same tone, manner and wardrobe that propelled him to international stardom in his 45-second hit PPAP in 2016.
Uploaded on his official YouTube channel Sunday, the new video, titled "PPAP-2020", is trending on the social media platform.
Comments have flooded in, including one in English that reads, "PPAP joined the chat Corona left the chat".
Piko Taro, whose real name is Kazuhito Kosaka, ends the roughly one-and-a-half minute video with the slogan, "Pray for People And Peace," matching the original PPAP acronym, followed by the rallying cry, "We will win!"
China sees rises in asymptomatic patients
Mainland China reported 39 new coronavirus cases as of Sunday, up from 30 a day earlier, and the number of asymptomatic cases also surged, as Beijing continued to struggle to extinguish the outbreak despite drastic containment efforts.
The National Health Commission said on Monday that 78 new asymptomatic cases had been identified as of the end of the day on Sunday, compared with 47 the day before.
Imported cases and asymptomatic patients, who have the virus and can give it to others but show no symptoms, have become China's chief concern in recent weeks after draconian containment measures succeeded in slashing the infection rate.
Of the new cases showing symptoms, 38 were people who had entered China from abroad, compared with 25 a day earlier. One new locally transmitted infection was reported, in the southern province of Guangdong, down from five a day earlier in the same province.
The new locally transmitted case, in Shenzhen, was a person who had travelled from Hubei province, the original epicentre of China's outbreak, Guangdong provincial authorities said.
Mainland China has now reported a total of 81,708 cases, with 3,331 deaths.
Tiger tests positive for Covid-19 at Bronx Zoo
A tiger at New York's Bronx Zoo has
tested positive for Covid-19
, the institution said, and is believed to have contracted the virus from a caretaker who was asymptomatic at the time.
The four-year-old Malayan tiger named Nadia along with her sister Azul, two Amur tigers and three African lions all developed dry coughs and are expected to fully recover, the Wildlife Conservation Society that runs the city's zoos said in a statement.
"We tested the cat out of an abundance of caution and will ensure any knowledge we gain about Covid-19 will contribute to the world's continuing understanding of this novel coronavirus," a statement said. "Though they have experienced some decrease in appetite, the cats at the Bronx Zoo are otherwise doing well under veterinary care and are bright, alert, and interactive with their keepers."
UK PM in hospital as queen addresses nation
British Prime Minister Boris Johnson was
taken to hospital
on Sunday after failing to shake off coronavirus symptoms, as Queen Elizabeth said a united effort would defeat the outbreak.
The government announced within an hour of the monarch's rare special address to the country and Commonwealth nations that Johnson had been admitted for further tests as a precaution.
Johnson, 55, had been due to re-emerge from seven days of self-isolation on Friday, a week after announcing he had tested positive for Covid-19 and had mild symptoms.
But he said in a video message on Friday that he would continue to stay at home because of a persistent high temperature.
Downing Street called it a "precautionary step" and it is understood his admission was not an emergency and he was taken to hospital on medical advice.
On Monday, Housing and Communities Secretary Robert Jenrick told the BBC that Johnson remains in charge of the government and is awaiting the results of hospital tests.
Jenrick said he was "sure this is very frustrating for him" but that "nonetheless he's still very much in charge". Jenrick did not rule out a more prolonged stay.
On Sunday, the 93-year-old queen offered a message of hope to everyone affected by the global pandemic.
South Korea's new cases at lowest level for five weeks
South Korea reported fewer than 50 new coronavirus cases on Monday for the first time since February 29 as daily infections in Asia's largest outbreak outside China continued to trend downward.
The Korea Centres for Disease Control and Prevention reported 47 new infections, compared with 81 recorded a day earlier, taking the national cumulative tally to 10,284.
The death toll rose by three to 186, while another 135 people have recovered from the virus for a total of 6,598.
South Korea has largely managed to bring the epidemic under control for now, with around 100 or fewer new daily cases, but it was the first time the rate of daily cases dropped below 50.
Smaller outbreaks in churches, hospitals and nursing homes, as well as infections among travellers, continue to emerge, prompting the government on Saturday to extend an intensive social distancing campaign that was expected to end on Monday by two weeks.
Australia launches criminal probe into cruise ship
A cruise ship that has been the single biggest source of Australia's 5,687 Covid-19 cases and is now the target of a criminal investigation was allowed to dock on Monday to help remove crew members who need urgent medical treatment.
Carnival Corporation's troubled Ruby Princess cruise liner is docked at Port Kembla in northern New South Wales with the remaining 1,040 crew from 50 different countries to stay in isolation on board for 10 days, New South Wales Police Commissioner Mick Fuller said on Monday. Two crew members were taken off for medical help on Sunday, and more would be taken off if necessary for health reasons, he said.
Cruise ships have accounted for around one-fifth of Australia's 5,687 confirmed cases of Covid-19. The government banned such vessels from docking except for emergencies as of mid-March and has sent off most of the cruise ships that remained in Australian waters over the past week.
There have been at least 360 Covid-19 cases, including crew members, associated with the Ruby Princess. At least six of them are reported to have died, making up more than one-sixth of Australia's total death toll of 36 as of Monday, the Australian government said.
The criminal investigation into the ship, being led by New South Wales' homicide squad, will focus on communications and actions that led to the docking and disembarking of its 2,700 passengers on March 19 at Sydney Harbour to see whether national biosecurity laws or state laws were broken, Fuller said.
New York daily death toll drops for first time
The coronavirus death toll in New York state rose to 4,159, the governor said on Sunday, up from 3,565 a day prior. The spike by 594 deaths showed a slight decrease in the day-to-day number of lives lost compared to the previous day.
It was the first time the day-over-day toll had dropped – on Saturday it hit a record of 630 deaths in 24 hours – but Governor Andrew Cuomo told journalists it was too early to tell whether that was a "blip".
The peak of the pandemic in New York – the US area hardest hit thus far by the fast-spreading virus – could arrive over the next week, Cuomo said, though he cautioned it was still unclear if the apex would be a point or a plateau.
"We could be on that plateau right now," Cuomo said at his daily briefing. "We won't know for the next few days, does it go up, does it go down."
The state has now reported 122,031 positive cases of Covid-19, which has much of the United States under stay-at-home orders.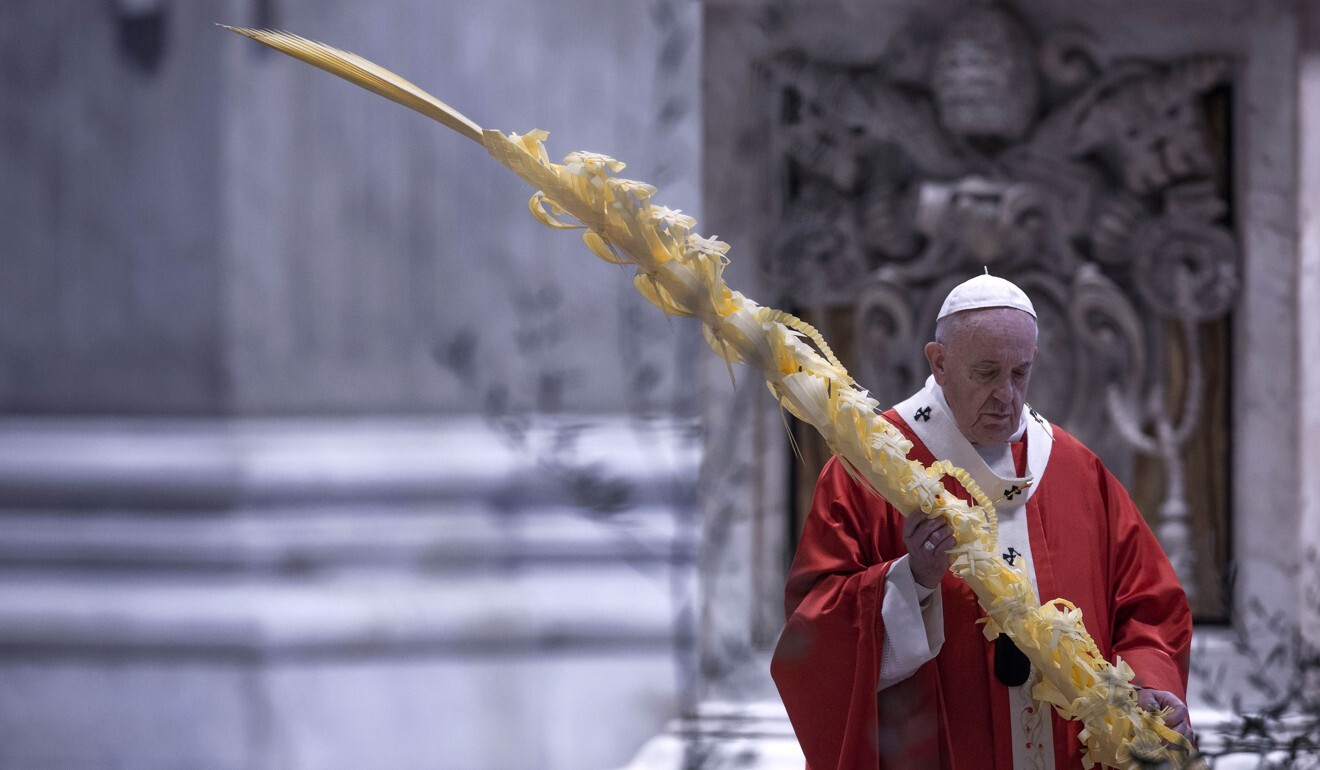 US Democrats may have to hold 'virtual' convention
Former US vice-president Joe Biden, the front-runner for the Democratic presidential nomination, said on Sunday the party may be forced to host a "virtual" nominating convention in August due to concerns about the coronavirus pandemic.
The Democratic Party already postponed its convention from July to August last week, citing worries over the outbreak that has prompted a majority of US states to order their residents to stay at home to contain the disease's spread.
Biden and rival Senator Bernie Sanders have been forced off the campaign trail, and more than a dozen states have postponed their primary elections. Wisconsin, however, plans to hold in-person voting on Tuesday despite calls for a delay.
After a series of victories in March, Biden has opened up a commanding lead in the number of delegates needed to secure the party's nomination to take on Republican President Donald Trump in November's general election.
Easter Bunny, tooth fairy 'essential workers'
The Easter Bunny and the tooth fairy will remain on duty in New Zealand, despite the country being in a month-long lockdown, Prime Minister Jacinda Ardern said addressing the nation's children during her media conference on Monday.
At present, only businesses deemed essential to health and well-being are allowed to operate in the country, as part of its measures to stop the spread of Covid-19, the potentially fatal respiratory illness caused by the virus.
Ardern said she had received questions from upset children about whether the Easter Bunny and tooth fairy could work during the lockdown. "You'll be pleased to know that we do consider both the tooth fairy and the Easter Bunny to be essential workers, but as you can imagine at this time of course they are going to be potentially quite busy at home with their family as well."
She urged children to understand that the Easter Bunny may not make it to every household and suggested an alternative Easter egg hunt instead. "So if you are one of those homes that's had a teddy in your front window, maybe draw an Easter egg and pop it into your front window and help children in your neighbourhood with their own Easter egg hunt, because the Easter Bunny might not get everywhere this year."
Associated Press, Agence France-Presse, Reuters and dpa