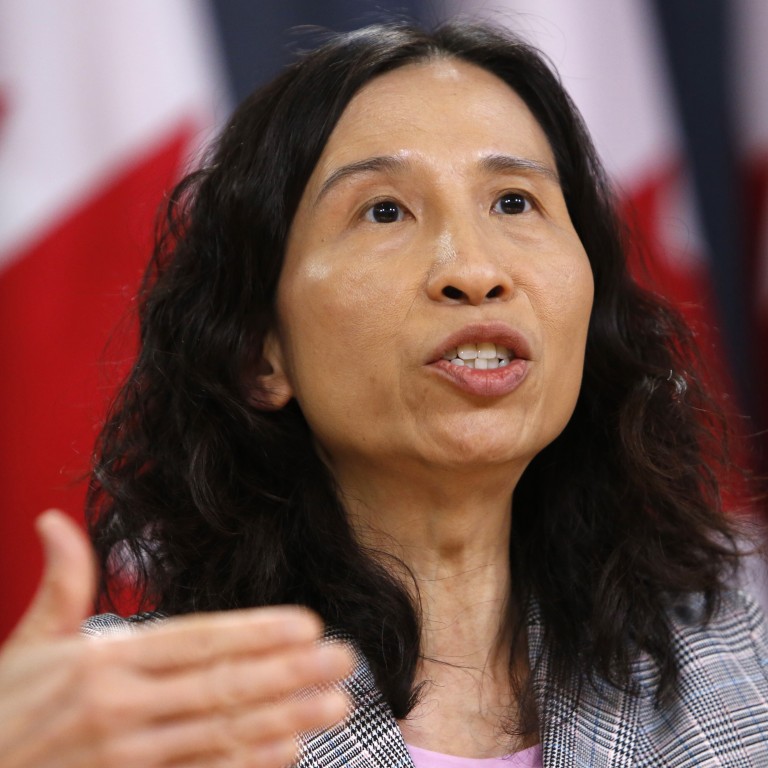 Coronavirus: Canada's medical chief finally tells public that masks can help prevent Covid-19 spreading
Dr Theresa Tam now says non-medical masks can be used by the general public to reduce the risk of infecting others
Previously reluctant to suggest masks for the general public, Tam says new evidence about asymptomatic transmission prompted the latest advice
Canada's chief health officer has told the public they can help prevent the spread of Covid-19 by wearing face masks, even if they show no symptoms of the disease, in a departure from her previous reluctance to suggest masks for the general population.
Dr Theresa Tam said the new guidance applied only to "non-medical masks" and should be considered an "additional step" and not a substitute for physical distancing and hand washing. Medical masks needed to be reserved for health workers, she said.
As recently as March 30, Tam had said that "putting a mask on an asymptomatic person is not beneficial, obviously, if you're not infected".
But on Monday, Tam said new research about the risk of Covid-19 being spread by non-symptomatic and pre-symptomatic people had led to the updated advice.
"The special advisory committee on Covid-19 has come to a consensus that wearing a non-medical mask even if you have no symptoms is an additional measure that you can take to protect others around you, in situations where physical distancing is difficult," said Tam.
She said these circumstances could include catching public transport, or shopping for groceries.
"A non-medical mask can reduce the chance of your respiratory droplets coming into contact with others, or [landing] on surfaces."
Tam said "we must keep medical masks for those managing patients", and that home-made masks "haven't been proven to prevent you from getting the virus".
But wearing non-medical or home-made masks could protect others. "It's like covering your cough," she said.
She also said it was "important to learn how to use a mask", by not touching it and washing hands before and after putting it on and removing it.
"We're all learning – particularly in Western societies that are not used to wearing masks in public – [as] we go along. Some of this information, in real time, is undergoing evolution."
Tam had softened her stance on mask wearing last Wednesday, with a Twitter thread saying that home-made face masks "may stop you from touching your nose and mouth [and] could help maintain #coughetiquette".
New studies about mask usage could result in more guidance, both in the community and hospitals, she said on Monday.
Tam's move came three days after the US Centres for Disease Control shifted its stance on masks, recommending that the public wear face coverings to prevent the spread of the disease. It has also released instructions on how to make face masks.
But like Tam, the US CDC says medical masks, including high-specification N95 respirator masks, should be reserved for health workers and other frontline pandemic staff.
Health authorities in places including Hong Kong and mainland China have been recommending or forcing the public to wear masks in various circumstances for months. Some non-Asian nations, including Israel, Austria and the Czech Republic have recently obliged mask wearing in various public settings.
The World Health Organisation continues to advise that "if you are healthy, you only need to wear a mask if you are taking care of a person with suspected 2019-nCoV infection".
But it also says it supports government initiatives that require or encourage the public wearing of cloth or home-made masks.
This article appeared in the South China Morning Post print edition as: Top doctor finally recommends face masks for all