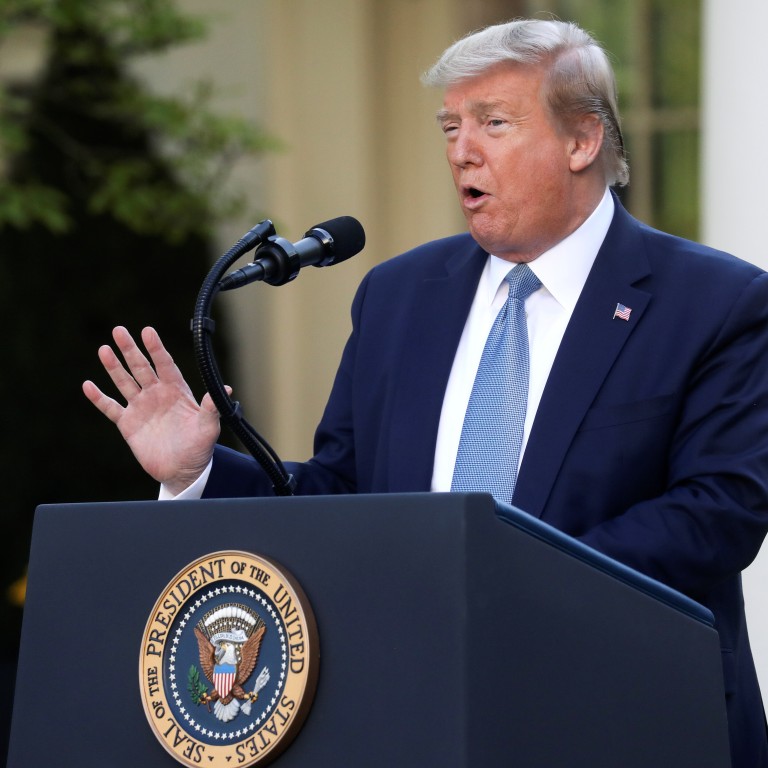 Coronavirus: Donald Trump says he discussed Wuhan laboratory connection with Xi Jinping
Trump said the US was 'doing a thorough investigation' on the matter and declined to divulge details of his conversation with Xi
Comments follow Washington Post report that US science diplomats raised alarm about Wuhan lab in 2018
US President Donald Trump said on Wednesday that he discussed an alleged connection between a virology lab in Wuhan and the coronavirus outbreak that led to the
Covid-19 pandemic
with China's President Xi Jinping during a phone call.
Responding to a question in a White House coronavirus press briefing about "lax safety protocols that had been reported to the State Department from the [US] embassy in Beijing", Trump said that he did not want to discuss what he talked to Xi about regarding the laboratory.
"I will tell you more and more we're hearing the story, and we'll see. When you say multiple sources, now there's a case where we can use the word sources, but we are doing a very thorough examination of this horrible situation that happened," Trump added.
The outbreak of the novel coronavirus that causes the Covid-19 respiratory illness,
now a pandemic that has killed more than 130,000 people worldwide
, was first reported in Wuhan. However, evidence has emerged challenging an earlier assumption that the virus originated from the mixing of species at a live animal market in the city.
According to a Washington Post report on Tuesday, US officials who had visited the Wuhan Institute of Virology (WIV) sent diplomatic cables in January 2018 back to Washington warning about safety and management weaknesses at the lab, and also that the facility's work on bat coronaviruses created a pandemic risk.
The US embassy in Beijing sent American science diplomats to the Wuhan lab, which had in 2015 become China's first laboratory designated as having the highest level of international bioresearch safety, also known as BSL-4, the report said.
"We've had a lot of intelligence take a hard look at that," Joint Chiefs Chairman General Mark Milley
told reporters in Washington
after the newspaper published the report. "At this point it's inconclusive, although the weight of the evidence seems to indicate natural. But we don't know for certain."
A study published by a team of Chinese scientists in February found that the new coronavirus
did not originate in the market
, but was instead imported from elsewhere.
Analysis by the researchers at Xishuangbanna Tropical Botanical Garden, under the Chinese Academy of Sciences and the Chinese Institute for Brain Research, suggested that the coronavirus was introduced from outside the market.
Trump did not say when he spoke with Xi about the matter.