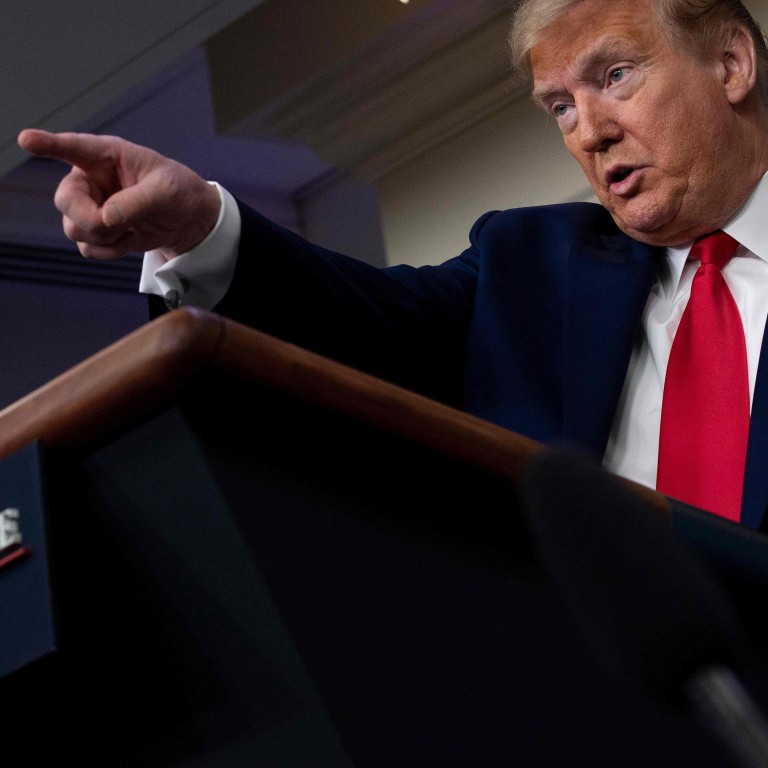 Trump says China could face 'consequences' for coronavirus pandemic
Trump focused much of his ire on China: its 'weak' economy, 'questionable' statistics on Covid-19 and 'slow' response to the virus
US president described his performance as incredible and repeated his call to open the US economy
US President Donald Trump on Saturday criticised China on several fronts, saying that Beijing should face consequences if it was "knowingly responsible" for the coronavirus pandemic.
"If it was a mistake, a mistake is a mistake," Trump said. "But if they were knowingly responsible, yeah, I mean, then sure there should be consequences," he told reporters at a news briefing at the White House. He did not specify what actions the US might take.
In what has become a common theme during his daily news conferences, Trump heaped blame for Covid-19 on the Democrats, the news media, governors of US states, the World Health Organisation (WHO) and all who do not appreciate what he described as his "incredible" performance.
Trump focused much of his ire on Saturday on China, touching on its currency policy, its "weak" economy, its "questionable" statistics on Covid-19 and its "slow" response to the virus.
Within a couple of minutes of striding into the room, Trump said it was necessary to look at per capita figures when evaluating the impact of Covid-19, in an apparent bid to blunt criticism of his administration's response to the crisis.
"You hear we have more deaths. But we're a much larger country than any of those countries by far," Trump said, citing the United Kingdom, Italy and Spain, among others. "So, when the fake news gets out there and they start talking about the United States is more, but we're not number one. China is number one, just so you understand."
"China's number one by a lot. It's not even close. They're way ahead of us in terms of death," he added.
According to
Realclearpolitics
, a polling data aggregator, the US has 119 deaths per 1 million population, compared with 232 for the United Kingdom, 394 for Italy and 441 for Spain. China has 3.3 deaths per million.
Trump also blamed China for what he described as its lack of transparency and its delayed response to the pandemic, although his administration has faced the same criticism. "It could've been stopped in China, could've been stopped before it started, and it wasn't, and the whole world is suffering because of it," he said.
Trump has frequently blamed others when his poll numbers or stock market indices are declining. This week, separate polls by USA Today-Ipsos, Rasmussen and Gallup found his approval rating was slipping after an initial early crisis bump. The latest Gallup poll released on Thursday saw his approval rating slip 6 percentage points over the past month, the largest drop Gallup has recorded during Trump's presidency.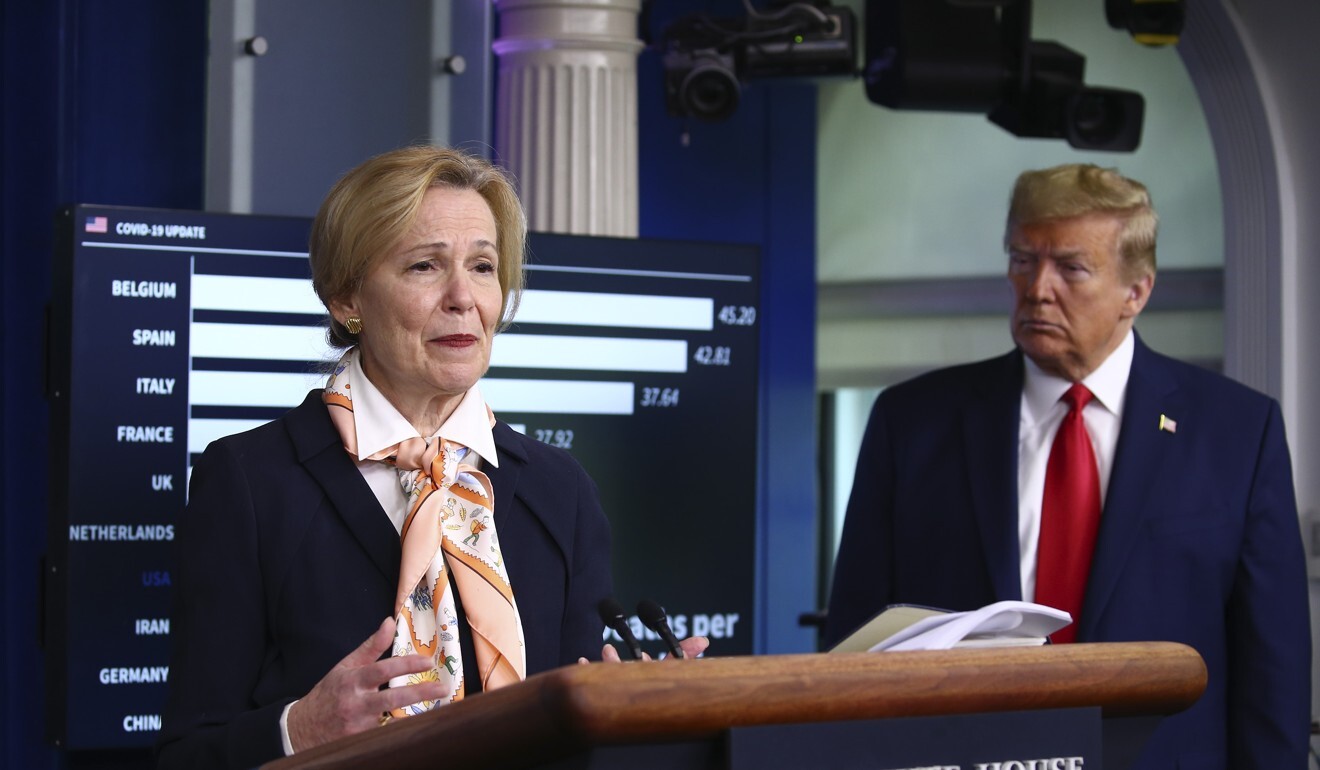 Trump's recent slippage compares with double-digit increases for the leaders of Italy, Germany and France, according to local polls in those countries. "How to explain why the very same crisis – a pandemic, bear market and deep economic troubles – has resulted in sharply higher ratings for other world leaders?" business information site MarketWatch said. "The president has very publicly insisted that he's not responsible … and has said the blame lies elsewhere."
Trump repeated his call to open the US economy as soon as it can be done safely to help the economy recovery.
"We have the greatest economy in the history of the world, better than China's, better than any country," he said.
China's economy had been on track to surpass the US as the largest in the world by 2019, but it stumbled. Trump mentioned Beijing's announcement on Friday that China's output contracted 6.4 per cent in the first quarter, its worst showing in decades.
"For years I've heard by 2019 China will catch us. There's only one problem. Trump got elected in 2016. That was a big difference. And we're going leaps and bounds above China," he said.
The administration this week suspended aid to the World Health Organisation accusing it of being "China-centric".Trump has alternately praised and condemned China's response to the outbreak, referring to it at times as the "Chinese virus". In recent days have ratcheted back up their rhetoric.
Trump said one key concern was whether the coronavirus outbreak in China was "a mistake that got out of control, or was it done deliberately?"
"There's a big difference between those two," he added.
Trump also raised questions about a Wuhan virology laboratory that Fox News has reported at one point developed the coronavirus as part of China's effort to demonstrate its capacity to identify and combat diseases.
"We're looking at that very closely," he said, adding that his administration regrets some past grants given to labs in China.
Asked by reporters about the accuracy of Chinese data, Trump said it depended on intent. China on Friday said that 1,300 people who died from the virus in Wuhan, some half of the total number, were not counted. But it denied a cover-up.
"Would you be angry at China? Well the answer might very well be a very resounding yes but it depends. Was it a mistake that got out of control. Or was it done deliberately," Trump said, adding that they resisted initial offers of US help and were probably embarrassed. "I think they knew it was something bad," he added.
But he also praised China for keeping its border closed to North Korea during the pandemic, although Pyongyang initiated the closure as early as January. "Look if I wasn't elected, you would right now be at war with North Korea," he said. "If you remember, when I first came in, we didn't have ammunition. It's not a good way to fight a war. President [Barack] Obama left us no ammunition."
"Beijing and its representatives in Hong Kong continue to take actions inconsistent with commitments made under the Sino-British Joint Declaration that include transparency, the rule of law, and guarantees that Hong Kong will continue to enjoy a high degree of autonomy," he said.