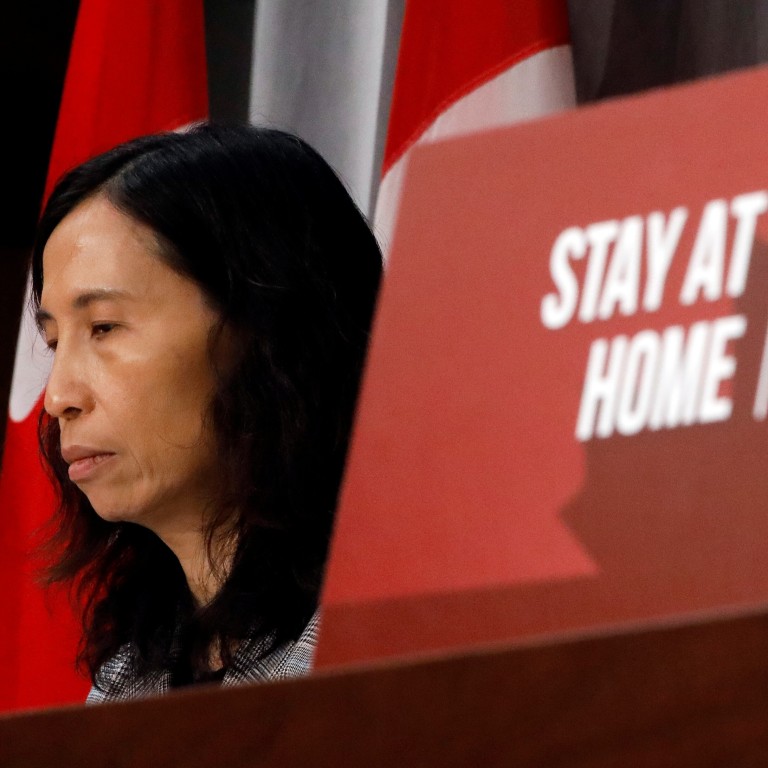 Coronavirus: Canada's top doctor is a Hong Kong-born success story. What do some Chinese Canadians have against Theresa Tam?
Policy doubts, links to the WHO and a racialised discourse have made Chief Public Health Officer Tam a lightning rod for critics of Canada's Covid-19 tactics
Clashes between her advice and Chinese-language information out of Hong Kong, Taiwan and the mainland may also have fuelled criticism among Chinese Canadians
Once a little-known official, Canada's Hong Kong-born Chief Public Health Officer Dr Theresa Tam has been transformed by the Covid-19 pandemic into the nation's most prominent ethnic Chinese person.
Educated in Britain and Canada, with dozens of research articles to her name, Tam is a specialist in immunisation and infectious disease control, a veteran of Canada's 2003 battle against Sars and the first woman to head the nation's Public Health Agency.
So why do many in Canada's Chinese communities scorn Tam or her Covid-19 strategies?
A complicated mix of policy and politics, tinged with a racialised discourse, have turned Tam into a lightning rod for discontent with her and Canada's approach to the pandemic.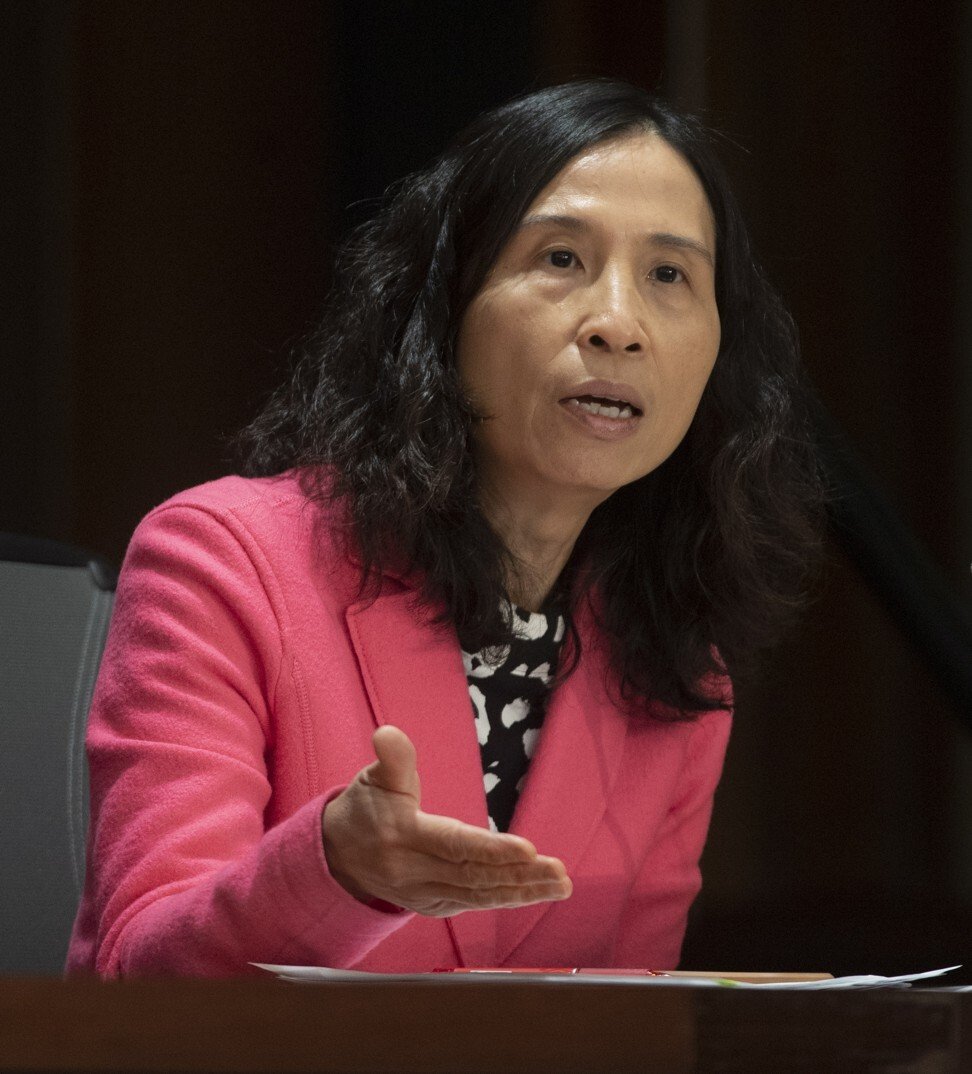 She is criticised by some for describing the risk to Canadians as low until March 15, and for her long-time dismissal of the need for the general public to wear face masks. She changed that stance about two weeks ago.
"Hong Kong Canadians? I'd say the vast majority don't trust Theresa Tam," said Albert Chan Wai-yip, a former Hong Kong pan-democratic legislator and now Vancouver resident.
Victor Feng, a finance worker involved in Vancouver demonstrations last year supporting Beijing amid unrest in Hong Kong – putting him on the other side of that divide from Chan – said that some fellow mainland immigrants were unfairly critical of Tam and Canadian officials because the "low risk" advice had conflicted with the situation in China at the height of the pandemic there.
"People have this huge clash in their minds: 'what's going on here, are they [Canadian officials] being incompetent?'," Feng said, stressing that he personally viewed Tam as highly qualified, and her advice reasonable.
"A lot of people see two lots of different advice from two different officials [in Canada and China] so they think one must be wrong," said Feng. But this was not necessarily true, he said, because circumstances differed.
According to her Canadian government profile, Tam obtained her medical degree from the University of Nottingham, before completing paediatric residency at the University of Alberta and obtaining a fellowship in paediatric infectious diseases at the University of British Columbia. She is also a Fellow of the Royal College of Physicians and Surgeons of Canada and has at least 55 peer-reviewed journal articles to her name, her profile says.
She was named assistant deputy minister for infectious disease prevention and control and deputy chief public health officer in 2015 by the former Conservative government of Stephen Harper, before being promoted by Liberal Prime Minister Justin Trudeau to the chief's chair, to little fanfare, in 2017, after the incumbent retired.
The Public Health Agency of Canada did not respond to a request to interview Tam for this story.
Despite holding what is typically an apolitical public service position, Tam is faulted by some who see her as part of a supposedly pro-Beijing Liberal administration, whose ministers front press conferences with her.
But perhaps no issue has inflamed Tam's critics among Canada's Chinese communities more than her varying assertions about face masks.
WHO blowback
On March 30, Tam told a daily briefing: "Putting a mask on an asymptomatic person is not beneficial, obviously, if you're not infected," she said – even as she argued that masks were "absolutely" needed, and "critically important" for protecting health workers.
Within a week, Tam appeared to have changed course, along with the US Centres for Disease Control and Prevention, calling non-medical masks for the non-symptomatic public "an additional measure that you can take to protect others around you".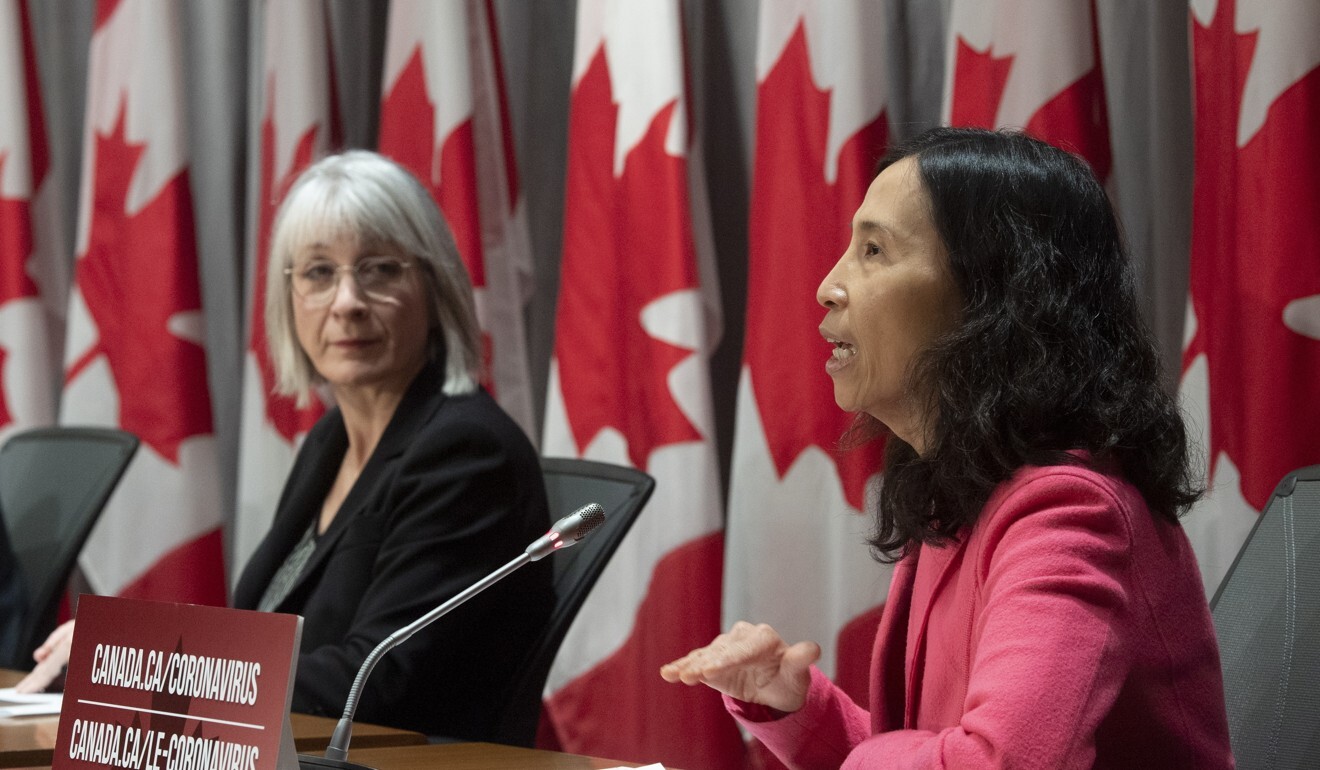 "This morning Theresa Tam keep saying stupid excuses for not wearing mask," starts a March 30 thread on the popular Canada Hongkonger Facebook group. Like other Canadian social media groups that once focused on the Hong Kong protest movement, it has largely morphed into a Covid-19 discussion group.
Such groups are littered with negative assessments of Tam: "She's just like [Hong Kong Chief Executive] Carrie Lam, won't listen to other advice"; "No need to listen to her, we need to protect [ourselves] and our family"; "She is ****** Pro China".
Elsewhere, Tam has plenty of admirers, with some sharing fan art online, painting murals with her likeness and defending her against calls to resign with the "IStandWithDrTam" hashtag on Twitter.
When right-wing media outlet Rebel News launched a petition to have Tam fired – a measure vocally supported by at least one Conservative MP – her supporters responded with a counterpetition backing her.
Fenella Sung, convenor of the Canadian Friends of Hong Kong group – which has also supported the Hong Kong protest movement – said: "The views I hear are not negative impressions about her as a person … people are commenting more on the mask thing and blindly following the WHO instructions."
Tam has served as an expert on a number of World Health Organisation committees, and taken part in its international missions. That has magnified blowback from some Hong Kong and Taiwanese Canadians who criticise the WHO, the United Nations health agency, viewing it as having kowtowed to Beijing even before the pandemic.
Suspicion of the WHO's handling of Covid-19 was "very prevalent" in parts of the Canadian Chinese community, said Sung. "That the WHO has not been professional, instead listening more to China than other countries," Sung said.
There were concerns Canadian authorities in general were slow to react and too willing to follow WHO guidelines, derived in part from Chinese data, she said.
"The Trudeau government has always given this impression [of being pro-Beijing]," she said. "When our government takes these numbers, that data, out of China as absolute truth, then you have a problem."
Sung cited an April 2 news conference where Health Minister Patty Hajdu, sitting with Tam, criticised a question about the veracity of WHO and Chinese statistics, by saying the reporter was "feeding into conspiracy theories". Two weeks later, Wuhan officials increased their Covid-19 death count by exactly 50 per cent.
Sung said she personally had no particular problem with Tam. But she said that Chinese speakers were scrutinising Canadian policies and Tam's actions in the context of conflicting information and advice in Hong Kong and Taiwan.
Chan, meanwhile, said Tam's "close association" with the WHO amounted to a "dual role … that affects her professional judgment", faulting the agency for being "manipulated" by Beijing, and "speaking for the interests of China, not the interests of the public".
Suspicion about the WHO was highlighted on March 28 by an incident in which Canadian epidemiologist Bruce Aylward – co-leader of the WHO-China Joint Mission on Coronavirus – appeared to hang up on a Hong Kong RTHK reporter when she asked him about the WHO's stance towards Taiwan. The moment was widely shared on Chinese-language and other social media.
In the broader Canadian community, criticism of Tam has sometimes been heavily laced with racist and sexist language. A frequent claim is that she is a "diversity hire" by a politically correct Liberal government, something at odds with her qualifications and her appointments under Harper's Conservative administration.
Other women health officers in Canada have been similarly targeted during the pandemic, while Tam has even been faulted for having a deep, English-accented voice, or appearing too calm.
Chan agreed that racist language had been used against Tam. "But did that develop just because she was Chinese? I don't think so. It's her performance, even though sometimes they use racist words."
"For people from Hong Kong, [the] phrase that really annoys us is that 'the risk was low' … she kept saying that for more than a month. It felt like she misled the public. That's one thing," he said.
"The second thing is not wearing masks, that the detrimental effects [of mask wearing] will be more … when I heard her say that on TV, my gut reaction is that she's repeating the same mistakes of the Hong Kong government back in 2003 with Sars."
As of Thursday, Canada was reporting 40,824 confirmed cases of Covid-19, and 2,028 deaths.