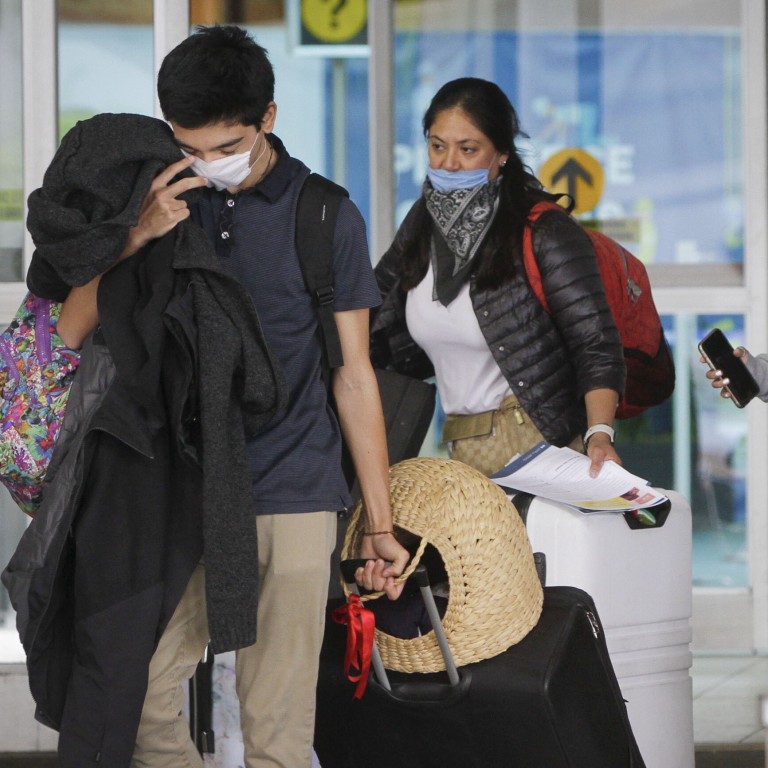 The secret Covid-19 rate in Richmond, Canada's most Chinese city, isn't what racists might expect. It's dwarfed by the rest of the nation
The prevalence of Covid-19 in Richmond, the world's most Chinese city outside Asia, appears to be about one-third that of Canada and half that of Vancouver
British Columbia authorities had tried to conceal municipal infection rates, fearing stigma, but they were cited by an official in a Facebook Live session
Amid a spike in anti-Asian incidents in British Columbia during the coronavirus pandemic – from slurs to the assault of a 92-year-old man – Canada's most Chinese city is defying racist stereotypes conflating ethnicity with the illness.
In Richmond, where 54 per cent of the population claims Chinese heritage, the rate of confirmed Covid-19 cases appears to be less than one-third the rate in the rest of Canada, and only about half that in neighbouring Vancouver.
BC health officials have tried to keep secret the Covid-19 prevalence in municipalities, citing the risk of stigmatisation in hard-hit places, or a false sense of security in others.
But in a Facebook Live appearance last Thursday, Dr Mark Lysyshyn of the Vancouver Coastal Health (VCH) authority revealed a partial breakdown of cases, saying that about 10 per cent of the 755 cases in the VCH catchment at that time had occurred in Richmond.
"The greatest number of cases are in the Vancouver area," said Lysyshyn, deputy chief medical health officer with VCH, responding to a question from a viewer. "About 60 per cent of our cases are there. We've also seen a high number of cases on the North Shore, about 30 per cent of our cases there. And then about 10 per cent of our cases in Richmond."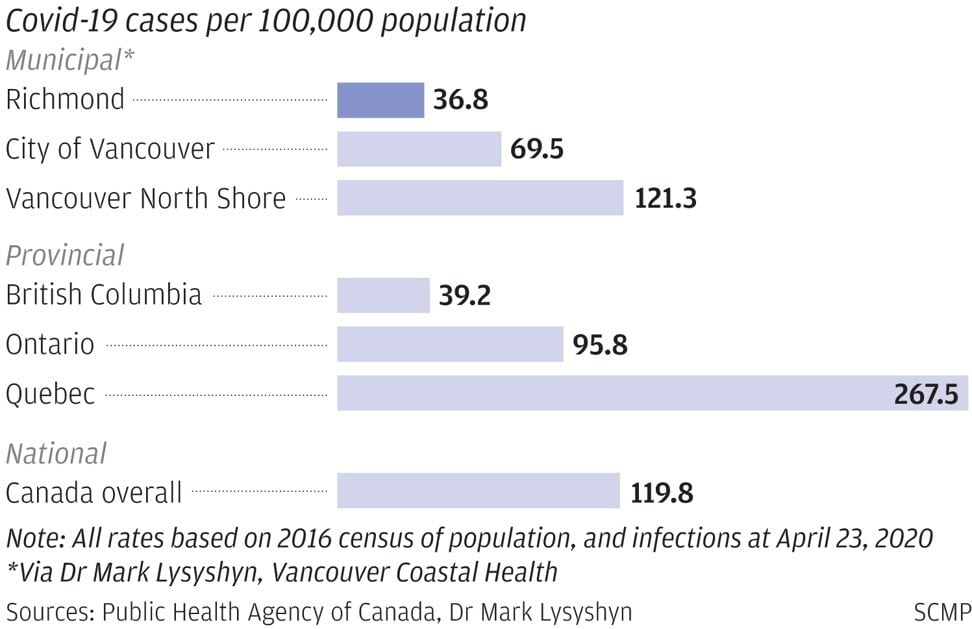 He said a small number – about 3 per cent – were in rural locations outside the greater Vancouver area, although he did not explain this pushing the total above 100 per cent.
On a population basis, and taking that disparity into account, Lysyshyn's assessment translates into a confirmed Covid-19 prevalence of about 37 per 100,000 people in Richmond (with a population of 198,000 according to the 2016 census).
By comparison, the city of Vancouver's confirmed prevalence is about 70 per 100,000, while the Vancouver North Shore is by far the hardest hit area in the VCH catchment, with an estimated prevalence of 121 cases per 100,000. The North Shore, made up of three municipalities, has suffered the deadliest outbreak in BC, at the Lynn Valley Care Centre where at least 20 people died.
All of Canada, meanwhile, had a rate of 120 per 100,000, based on the 42,110 confirmed cases last Thursday. That rate has since risen to about 143, as of Wednesday.
British Columbia's provincial health officer, Dr Bonnie Henry, has refused to give municipal figures for Covid-19 cases, instead providing breakdowns for BC's large health regions.
The 2.5 million strong metro Vancouver area – which includes the city of Vancouver, Richmond and 21 other municipalities – is divided between two health regions, Vancouver Coastal Health and Fraser Health. Both health regions also encompass rural communities beyond Metro Vancouver.
Vancouver Coastal Health declined to elaborate on Lysyshyn's assessment.
"Dr Lysyshyn was providing approximate numbers during his Q&A. To date, we have only provided case numbers for VCH as a whole, or in relation to specific declared outbreaks and have not released detailed statistics on a more local level, so we're not able to clarify any further," said Matt Kieltyka a public affairs officer with Vancouver Coastal Health.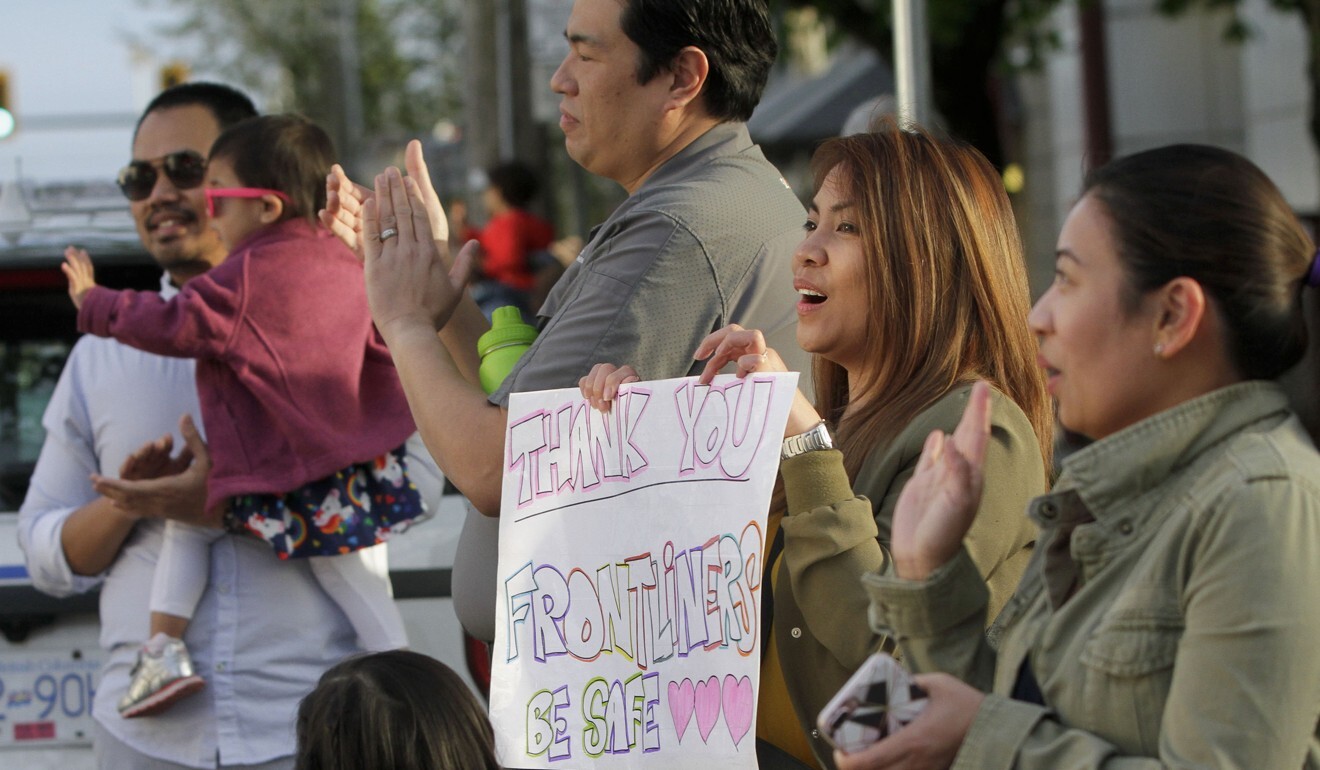 Henry responded to persistent calls that she release municipal data on Covid-19 cases in an April 6 statement.
"Simply put, the risk is everywhere," she said. "It would be irresponsible to mention only a few communities and give people outside those areas a false sense that they are not susceptible or at lower risk. Every health region in British Columbia has people with Covid-19. Every community and hometown – no matter how large or small – is at risk.
"As we notify the public about Covid-19 cases, we have been careful about how much we disclose [about] the specific location of confirmed cases … there is still very much of a stigma associated with infection."
Richmond's medical health officer Dr Meena Dawar has similarly declined to provide case counts since March 19, when she told city officials there were only 10 confirmed cases in the city, the Richmond News reported.
There were early fears that Richmond – the most ethnically Chinese city in the world outside Asia – could have been a potential hotspot for the disease because of a large population of frequent travellers to and from China. The city is also home to Vancouver International Airport.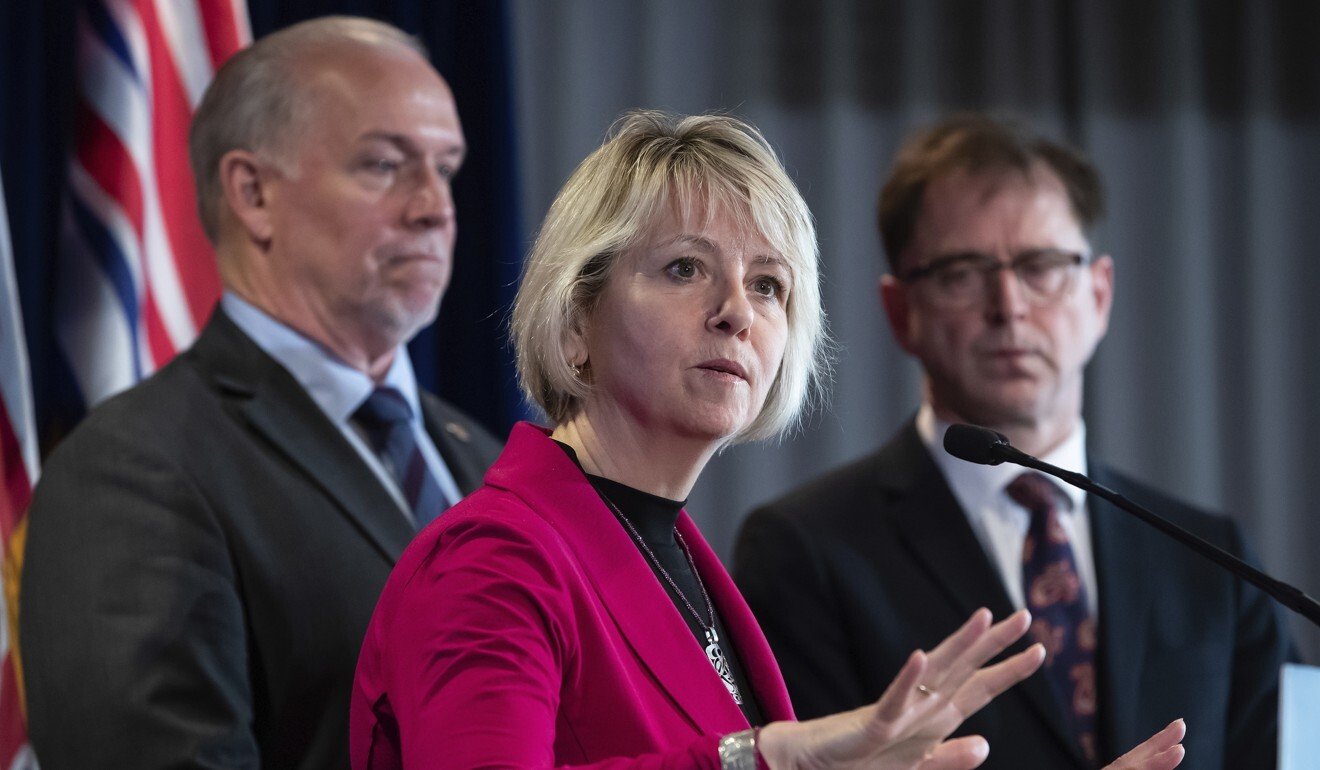 But Richmond residents were also early to take Covid-19 seriously and adopted social distancing measures long before being advised by authorities to do so.
By late January, many residents were wearing face masks and many of Richmond's Chinese shopping malls and restaurants were largely deserted, which even prompted a short-lived government campaign encouraging people to return. Some Lunar New Year events were cancelled and by February 11, Richmond's Lingyen Mountain Buddhist Temple had closed its doors, citing coronavirus concerns.
It would not be until mid-March that BC authorities ordered residents to stay at home and socially distance themselves from others.
Virologist Dr Jason Kindrachuk, Canada research chair in new and re-emerging viruses at the University of Manitoba, said he "absolutely" believed the early adoption of social distancing by BC's Chinese community could have helped suppress the disease in the province.
Such behaviour was "fantastic, it needs to be applauded and recognised", he said.
About 27 per cent of people in the city of Vancouver have Chinese heritage, compared with about 11 per cent in BC and 4.6 per cent in all of Canada.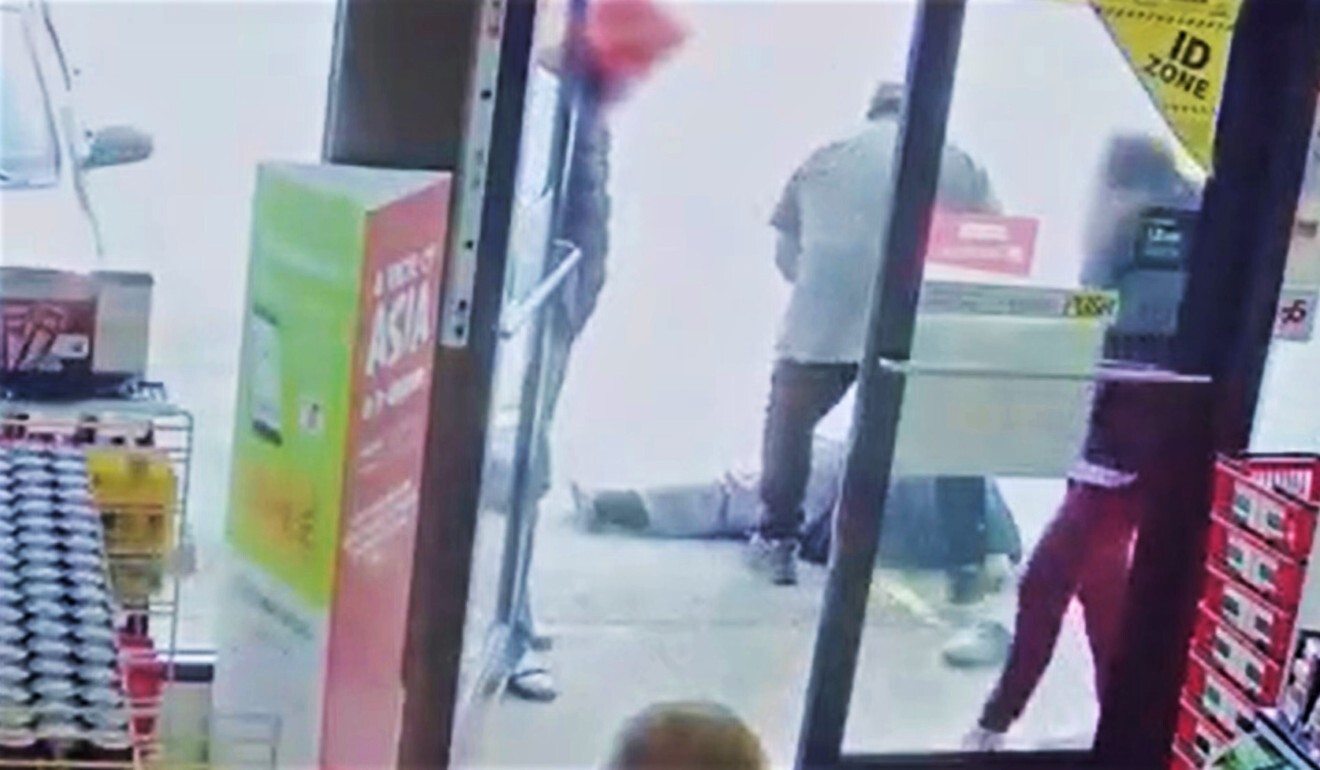 BC currently has 2,053 confirmed Covid-19 cases, at a rate of 44 per 100,000. That rate is far lower than the larger provinces of Ontario (117) and Quebec (315), while BC's similar-sized neighbour Alberta has a rate of 119 per 100,000.
Vancouver police last week warned that a spate of hate crimes had been reported, including five anti-Asian incidents in March. In the only one involving violence, a 92-year-old man with dementia surnamed Kwong was thrown out of a convenience store by a much larger man shouting anti-Asian statements about Covid-19 on March 13.
"Xenophobia is on the rise and we hope that as a community we can stand together to help protect the next person this may happen to," the Kwong family said in a statement. A suspect has been identified but no charges filed; police said they were still investigating.
Other incidents conflating Covid-19 with people of Asian appearance have involved abusive language, although the Vancouver Police Department declined to elaborate.
On Wednesday, Vancouver Mayor Kennedy Stewart said that "hate of any kind has no place in our city".
According to a survey conducted on April 24 by Corbett Communications for a group called the Chinese Canadian National Council for Social Justice, 12 per cent of respondents in Vancouver agreed (4 per cent) or said they did not know (8 per cent) when asked whether "all Chinese or Asian people carry the Covid-19 virus".
Canada's chief public health officer Dr Theresa Tam said on Twitter on January 29 that she was "concerned about the growing number of reports of racism and stigmatising comments on social media directed to people of Chinese and Asian descent related to #2019nCOV #coronavirus."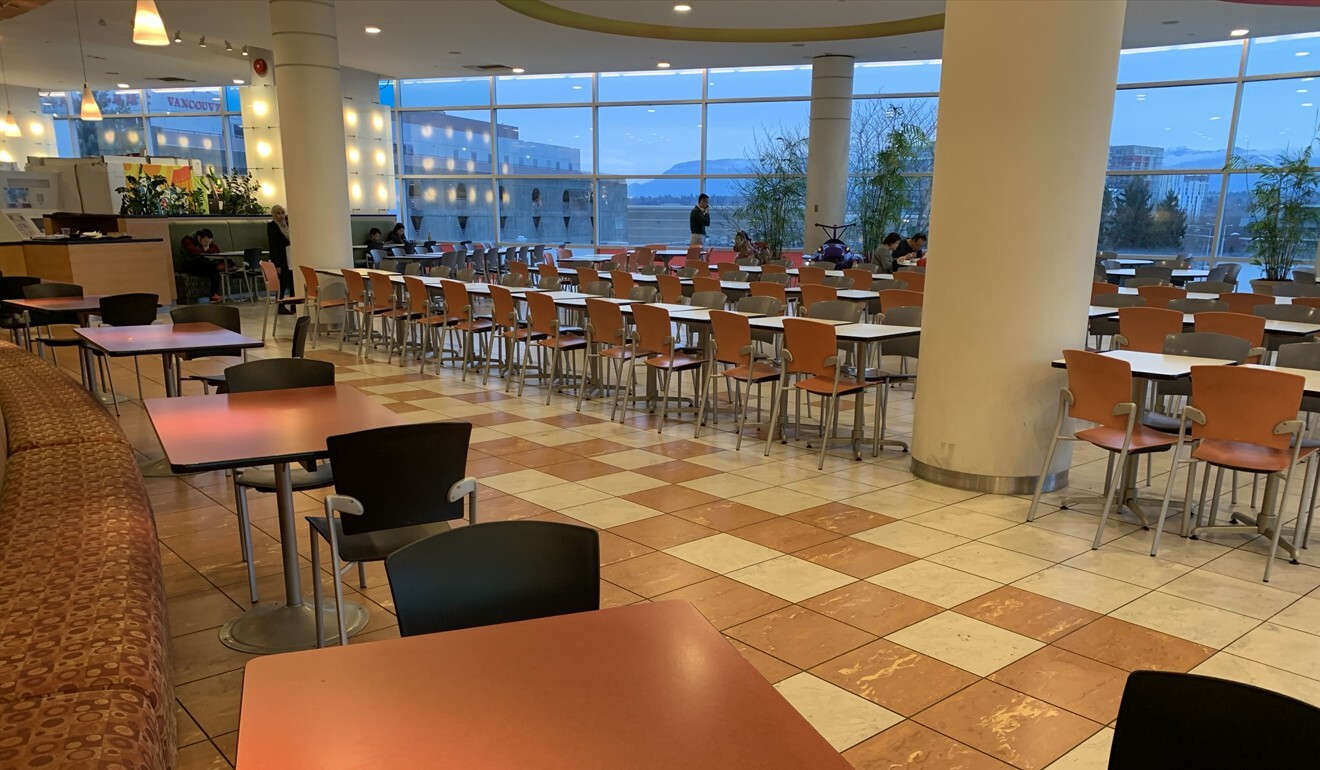 BC's Bonnie Henry said on April 6 that the key to avoiding Covid-19 was not staying away from areas with high rates of infection but adopting personal practices like social distancing and good hand hygiene.
"So, while I understand the desire to know and understand what the Covid-19 situation is in your community, I need to emphasise that knowing where the positive cases are does not protect you, your family or your community," said Henry. "The actions you take will do that."
This article appeared in the South China Morning Post print edition as: Chinese-dominated city defies racial stereotypes