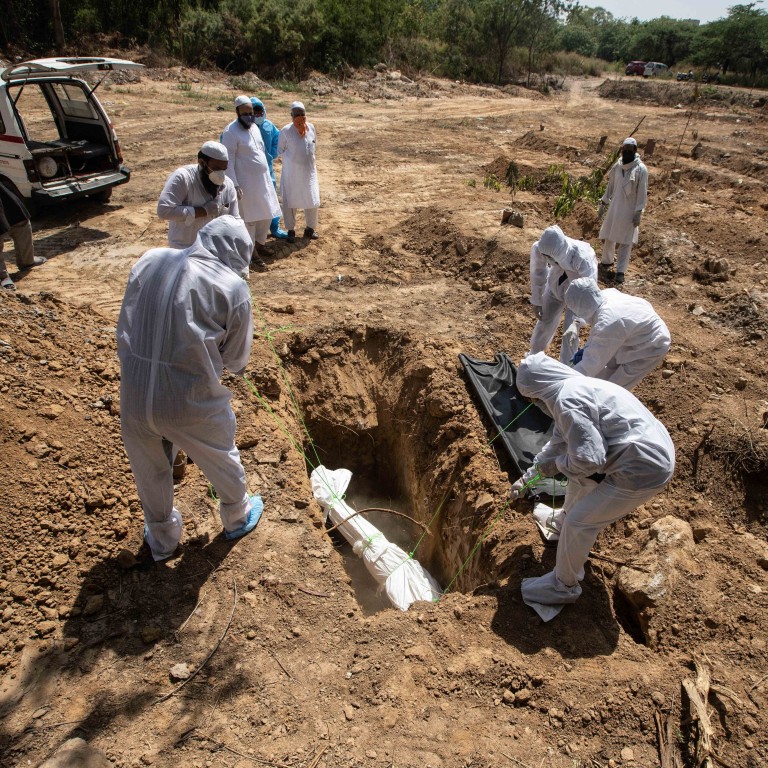 Coronavirus latest: worldwide deaths pass 250,000, with US fatalities predicted to hit 3,000 a day
China reports one new case; world leaders pledge US$8 billion in vaccine cash
WHO says US has given no proof on Wuhan lab claims; survey finds health fears outweigh concern for global economy
Lockdowns imposed on half of the planet have derailed economies, and politicians are now grappling with how to get the wheels turning again without sparking a second wave of infections.
Many other European countries are also relaxing lockdowns, even as they continue to advocate social distancing, masks and more testing to try to track infections.
Spain
has made face masks mandatory on public transport, two days after finally allowing people out to exercise freely after a 48-day lockdown. Slovenia,
Poland
and
Hungary
joined
Germany
in allowing public spaces and businesses to partially reopen.
The pressure to reopen business is also being felt across the Atlantic, where the previously booming US economy was supposed to be the centrepiece of President
Donald Trump
's November re-election bid. Weeks of lockdown have left 30 million Americans out of work and businesses in trouble, with US clothing retailer J. Crew filing for bankruptcy on Monday.
The United States has the most coronavirus deaths in the world at more than 68,000.
Here are the developments:
China reports one new case
China reported one new coronavirus case for May 4, down from three the day before, data from the national health authority showed on Tuesday.
The new case was imported, the National Health Commission said.
The commission also reported 15 new asymptomatic cases for May 4, an increase of two from the previous day.
The number of confirmed cases in China has reached 82,881. With no new deaths reported, the death toll remained at 4,633.
Cinemas, theatres may not reopen until 2021
To reopen, or not to reopen with social distancing? That is the question haunting theatres and cinemas that were shut down overnight by coronavirus lockdowns.
Theatrical impresario Cameron Mackintosh, the legendary British producer behind a half-century of hit shows from Cats to Hamilton, said it could be next year before the lights go back on in New York's Broadway and London's West End.
With British actor Stephen Fry warning that it could be as long as next April, Mackintosh said it was impossible for theatres to open their doors again while social distancing measures were still in force.
With some out-of-work actors and musicians on Broadway saying they were considering changing careers, French star Isabelle Adjani said on Tuesday it would be curtains unless governments "declare a cultural emergency".
"We are going to be the last to go back," Mackintosh told BBC radio. "The truth is until social distancing doesn't exist any more, we can't even plan to reopen."
Commercial theatre depends on shows being at least two-thirds full as a rule of thumb to keep ticking over.
With people meant to sit up to two metres (6.5 feet) apart, that would mean at least two empty seats around each masked audience member, official French official guidelines recommended on Monday.
Such restrictions were socially and economically impossible, producers insisted.
US death toll predicted to jump
An internal US government document projects a
surge in coronavirus cases
and a sharp rise in daily deaths by June 1,
The New York Times
reported on Monday, even as President Trump urged states to lift restrictions to quell the pandemic.
The document, based on modelling by the Centres for Disease Control and Prevention, projects that Covid-19, the respiratory disease caused by the virus, will kill 3,000 Americans a day by the end of May, the Times said, up from a current daily toll of around 2,000.
The news came even as several US states on Monday planned to ease more restrictions on businesses. About half of all US states have lifted shutdowns, at least partially, as the number of new cases of the Covid-19 illness has begun to decline or level off in many places, though infections are still rising in others.
Health experts have warned of a possible resurgence of the virus if states rushed to restart their battered economies too early and without a widespread testing and tracing network in place.
In Ohio, Governor Mike DeWine was allowing construction and manufacturing to reopen on Monday, and letting office workers return. Retail shops and many consumer services were due to resume operations on May 12.
New York Governor Andrew Cuomo on Monday outlined a phased reopening of business activity in the state hardest hit by the Covid-19 pandemic, starting with select industries like construction and the least affected regions.
Cuomo did not give a timeline, but the state's stay-at-home order is due to expire on May 15. The governor said construction, manufacturing and select retail shops could open in a first phase of reopening, followed by a second phase that would include finance, administrative support and real estate and rental leasing industries.
Phase three will see restaurants and the food service and hotel industries reopen, Cuomo said, followed by arts, entertainment and recreation facilities as well as schools in the fourth and final phase.
Coronavirus may have been in France in December
French scientists say they may have identified a possible case of the new coronavirus dating back to December – about a month before the first cases were officially confirmed in Europe.
In a study published in the International Journal of Microbial Agents, doctors at a hospital north of Paris reviewed retrospective samples of 14 patients treated for atypical pneumonia between early December and mid-January. Among those were the records of Amirouche Hammar, a fishmonger in his 40s from Algeria who has lived in France for years and had no recent travel history.
Hammar told French broadcaster BFM-TV on Tuesday that he drove himself to a hospital emergency unit at 5am one morning in late December because he felt very sick, with chest pains and breathing difficulties.
"They said, 'Perhaps you have an infection, a pulmonary infection, although it's not certain. But what you have is very serious, very serious, because you are coughing blood. It's not normal flu,'" he said.
Hammar was admitted to the hospital with symptoms doctors say were consistent with Covid-19 patients in China and Italy. One of his children had also gotten sick with an unusual pneumonia shortly before Hammar fell ill. When doctors retested Hammar's old sample, they found it was positive for the coronavirus.
WHO says US gave no proof on Wuhan lab claims
The World Health Organisation said on Monday that Washington had
provided no evidence
to support "speculative" claims by the US president that the new coronavirus originated in a Chinese lab.
"We have not received any data or specific evidence from the United States government relating to the purported origin of the virus – so from our perspective, this remains speculative," WHO emergencies director Michael Ryan told a virtual briefing.
Scientists believe the killer virus jumped from animals to humans, emerging in China late last year, possibly from a market in Wuhan selling exotic animals for meat.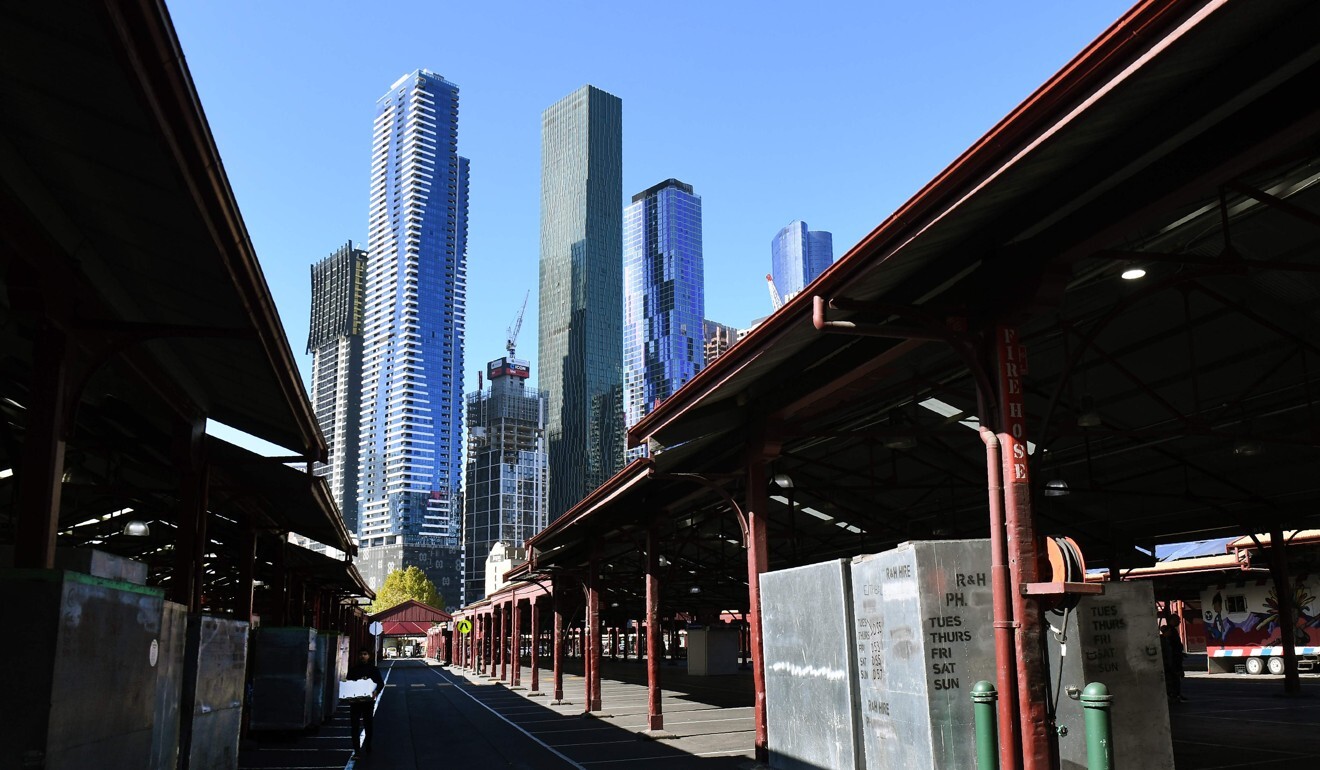 Australian economy losing US$2.6 billion a week
The coronavirus pandemic shutdown is costing
Australia
A$4 billion (US$2.58 billion) a week in lost economic activity, the country's treasurer said on Tuesday.
The broad "economic shock" of the coronavirus downturn has will cause gross domestic product "to fall significantly" between 10 to 15 per cent by June, Treasurer Josh Frydenberg said.
"The economy will take a A$50 billion hit in the June quarter, but things could get a lot worse if restrictions to deal with the coronavirus stay in place," Frydenberg said in an address at the National Press Club in Canberra.
The A$4 billion loss "is equivalent to what around 4 million Australians on the median wage would earn in a week," he said.
The unemployment rate had fallen to 5.1 per cent in February but is now forecast to reach 10 per cent – its highest rate in 26 years – in the June quarter.
Australia has already promised some A$320 billion worth of economic support to tackle the crisis.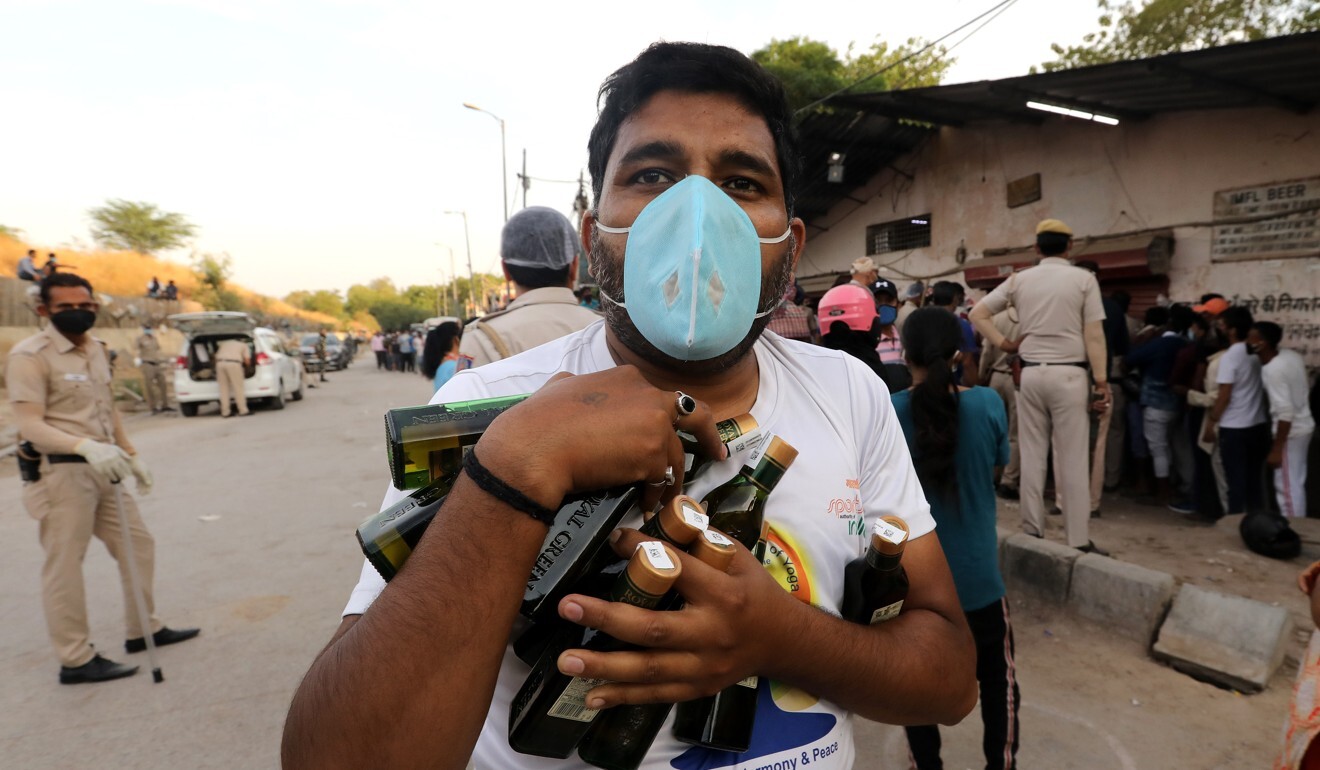 India starts massive repatriation; capital imposes 'corona tax' on alcohol
India
has embarked on a "massive" operation involving naval ships and aircraft to bring back some of the hundreds of thousands of nationals stuck abroad due to coronavirus restrictions, the government said on Tuesday.
A defence spokesman said two ships were steaming towards the Maldives and another to the United Arab Emirates – home to a 3.3 million-strong Indian community, who make up around 30 per cent of the Gulf state's population.
A government statement said the evacuations would begin on Thursday and that Indian embassies and high commissions were preparing lists of "distressed Indian citizens".
The consulate in Dubai said that it alone had almost 200,000 applications, appealing on Twitter for "patience and cooperation" as India undertakes the "massive task" of repatriation.
India had earlier evacuated some 2,500 Indians from China, Japan, Iran and Italy before banning international and domestic travel.
Taxes on alcohol are a key contributor to the revenue of many of India's 36 states and federal territories, most of which are running short of funds because of the lengthy disruption in economic activity caused by the virus.
Police baton-charged hundreds of people who had flocked to liquor shops when they opened on Monday for the first time in a relaxation of the world's biggest lockdown, which is set to run until May 17.
South Korea starts return to normalcy
After 45 days of social distancing restrictions, and two consecutive days of no new locally transmitted infections,
South Korea
is set to reopen its public parks, gyms, museums and art exhibition facilities from Wednesday.
Sports stadiums and welfare centres for the elderly are expected to follow suit soon afterwards.
On Tuesday, the country's professional baseball league started the 2020 season after a month-long delay, albeit playing to empty stadiums. The soccer league will also start on Friday with no fans in the stands.
South Korea on Tuesday reported three more imported cases but no locally transmitted infections, bringing the country's tally to 10,804 – 86 per cent of whom have recovered and been discharged from hospital
The country has reported fewer than 10 new infections per day for the past six days.
Health Minister Park Neung-hoo said it was now up to individuals to stick to hygiene regulations and maintain "routine" social distancing.
"On the basis of what we have achieved through social distancing so far, we've come to the conclusion that it is high time that we resume our normal daily routines and economic activities," he said.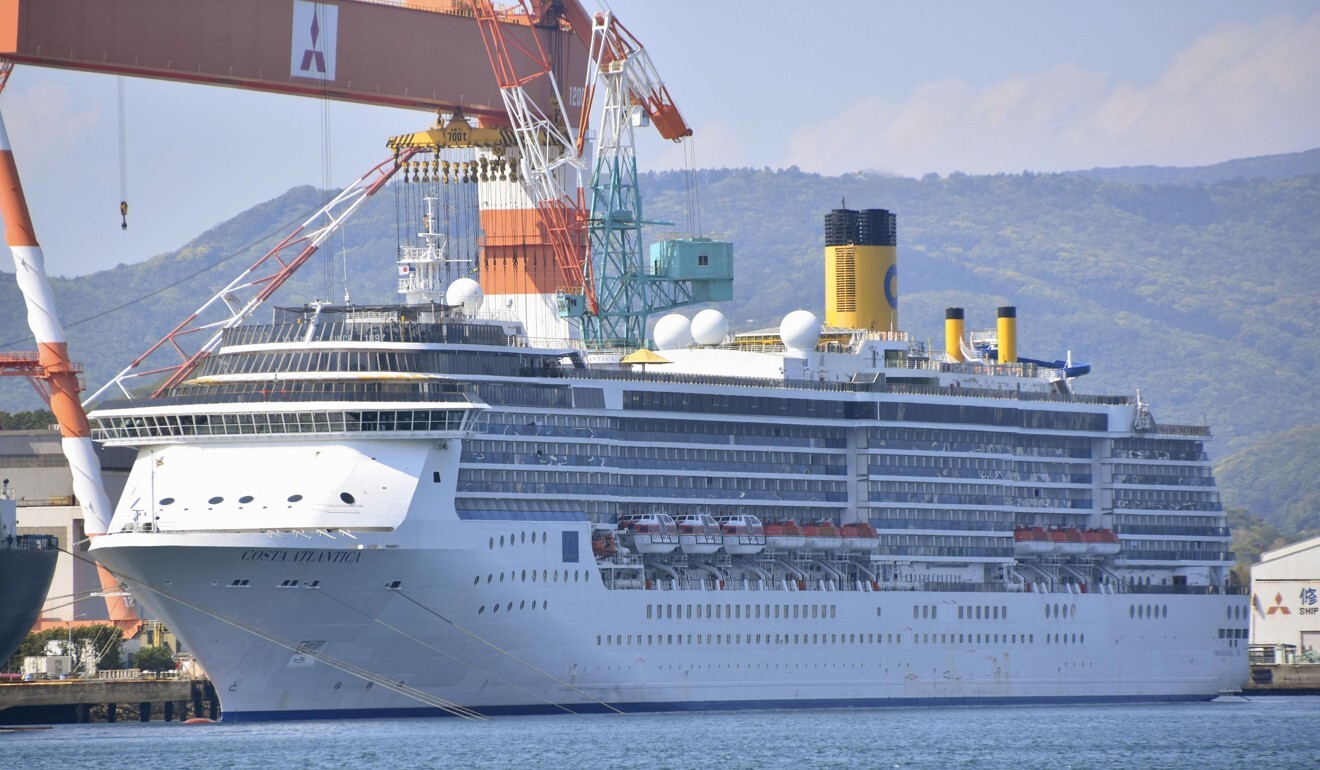 130 crew members leave virus-hit cruise ship in Japan
A group of 130 Filipino and other crew members left a cruise ship docked in southwestern
Japan
for their countries on Tuesday, after they tested negative for coronavirus, Nagasaki's prefectural government said.
The group includes 125 Filipinos, according to the local government, which did not disclose the nationality of the others.
A total 149 out of 623 crew members aboard the Costa Atlantica, docked for repairs at a Mitsubishi Heavy Industries Ltd. plant in Nagasaki city,
have tested positive for the virus
, some of them hospitalised with severe symptoms. The ship has no passengers.
Of the crew members from more than 30 countries, mostly in Asia, those who tested negative began disembarking Sunday, while some 400 remained aboard.
Nigeria eases lockdowns in Lagos and Abuja
Nigeria began easing restrictions on Monday in its capital Abuja and in largest city Lagos, heralding the reopening of Africa's biggest economy after more than four weeks of lockdowns imposed to contain the new coronavirus.
The government has said a 24-hour stay-at-home order in place since March 30 in Abuja and the states of Lagos and Ogun – with exceptions only for food shopping and health-related trips – will be lifted gradually over a six-week period.
These densely populated regions will now come into line with the rest of the country in which slightly looser restrictions introduced last week by President Muhammadu Buhari include an overnight curfew, mandatory face masks in public and a ban on non-essential interstate travel.
Nigeria has confirmed 2,558 infections of the new coronavirus and 87 deaths since recording its first case at the end of February, but the number of confirmed cases has surged in recent days, roughly doubling from 1,273 on April 27.
Experts have not reached a consensus on why Nigeria's case tally has been so relatively low, though many point to a low testing rate. The centre for disease control said only 17,566 samples have been tested in a country of 200 million people.
The decision to begin a phased lifting of the lockdown despite the recent sharp rise in cases was criticised by some medical experts including the Nigerian Medical Association.
Plane carrying virus aid crashes in Somalia
A plane carrying supplies for use in the fight against the coronavirus crashed in Somalia's southern Bay region on Monday, killing seven people on board, a security official and the state-run news agency said.
State-run Somalia News Agency said the plane belonged to African Express Airways and was ferrying supplies for use in the fight against the novel coronavirus. It said there were six crew members on board.
"An African [Express] Airways plane from Mogadishu flew to Baidoa and then continued its flight to Bardale town where it crashed," the news agency said on its website.
"The plane crashed near Bardale airport. It was carrying medicine to prevent Covid-19. It is not clear why it crashed."
Hospitals overwhelmed, mass graves dug in Amazon rainforest
Brazilian Health Minister Nelson Teich on Monday disputed the need to set up a new hospital to fight the coronavirus pandemic in hard-hit Manaus, even as the city's hospitals are overwhelmed and officials have resorted to burying Covid-19 victims in mass graves.
Manaus, located in the heart of the Amazon rainforest, is arguably the worst hit of all major cities in
Brazil
, with more than 105,000 confirmed coronavirus cases and 7,000 deaths as of Monday. While the total number of cases is larger in some cities, public health infrastructure in Manaus is particularly lacking, health officials say.
Teich's popular predecessor, Luiz Henrique Mandetta, who was fired in April amid tensions with President Jair Bolsonaro, had promised the federal government would set up a temporary "campaign hospital" in Manaus in May to deal specifically with cases, but Teich said officials should "optimise" existing infrastructure.
Bolsonaro has repeatedly downplayed the danger of the virus, calling it a "little flu."
The state of Amazonas, where Manaus is located, registered 2,374 natural deaths last month, versus 801 deaths in April 2019.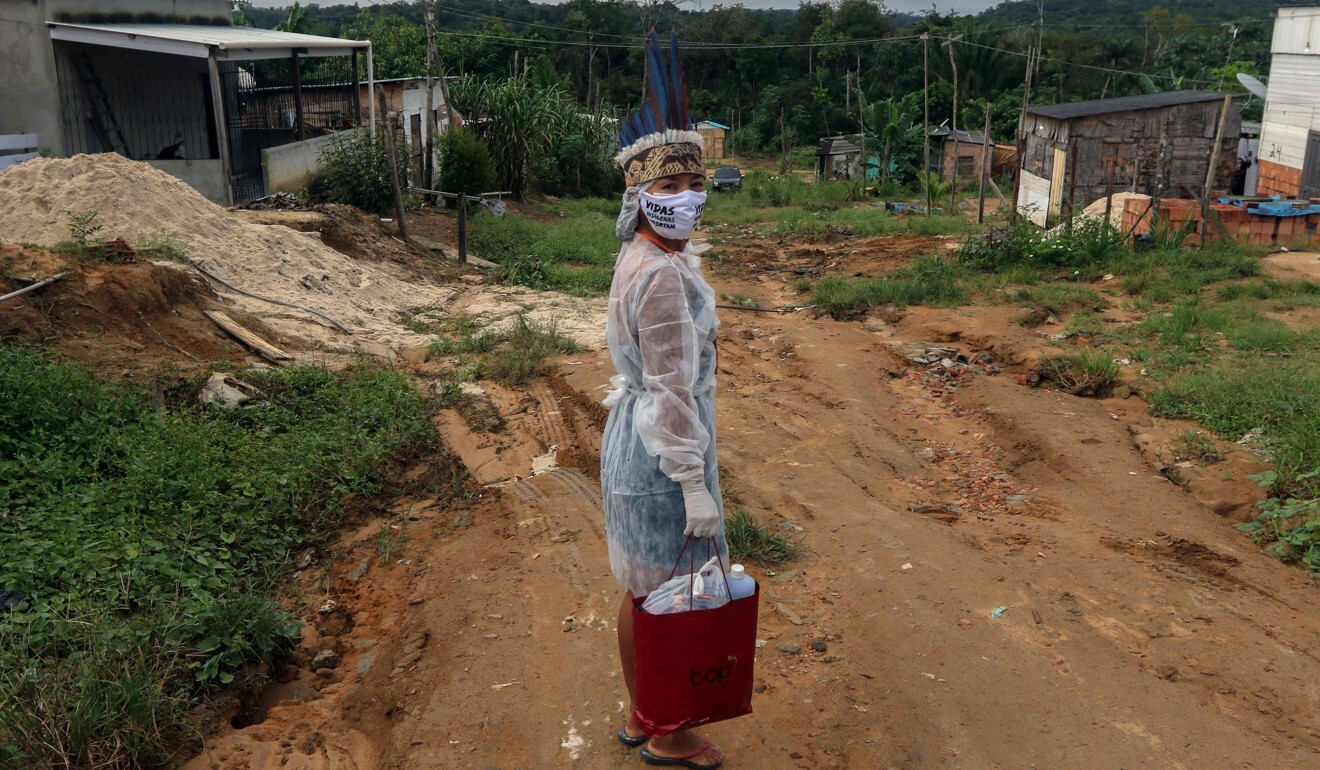 Health fears outweigh concern for economy: global survey
A substantial majority of people around the world want their governments to prioritise saving lives over moves to restart economies being hammered by measures aimed at halting the spread of the new coronavirus, a global survey found.
The latest findings of the "Edelman Trust Barometer", which for two decades has polled tens of thousands of people on their trust in core institutions, challenge the notion that "lockdown fatigue" is rising among populations hit by the pandemic.
Overall, 67 per cent of the 13,200-plus people interviewed between April 15 and April 23 agreed with the statement: "The government's highest priority should be saving as many lives as possible even if it means the economy will recover more slowly."
Just one-third backed the assertion: "It is becoming more important for the government to save jobs and restart the economy than to take every precaution to keep people safe."
The study, produced by US communications company Edelman, was based on fieldwork carried out in Canada, China, France, Germany, India, Japan, Mexico, Saudi Arabia, South Korea, Britain and the United States.
Some 76 per cent of Japanese respondents agreed public health should be prioritised over the economy against just 56 per cent in China, where the outbreak was first detected late last year. China now has only a handful of new cases a day, after imposing a strict lockdown earlier.
In Canada, the UK and France, 70 per cent or more of the respondents were in favour of prioritising health concerns. In the United States, where anti-lockdown protests in some cases were encouraged by President Donald Trump, the figure was 66 per cent.
Agence France-Presse, Reuters, Associated Press, Bloomberg, DPA, Park Chan-kyong