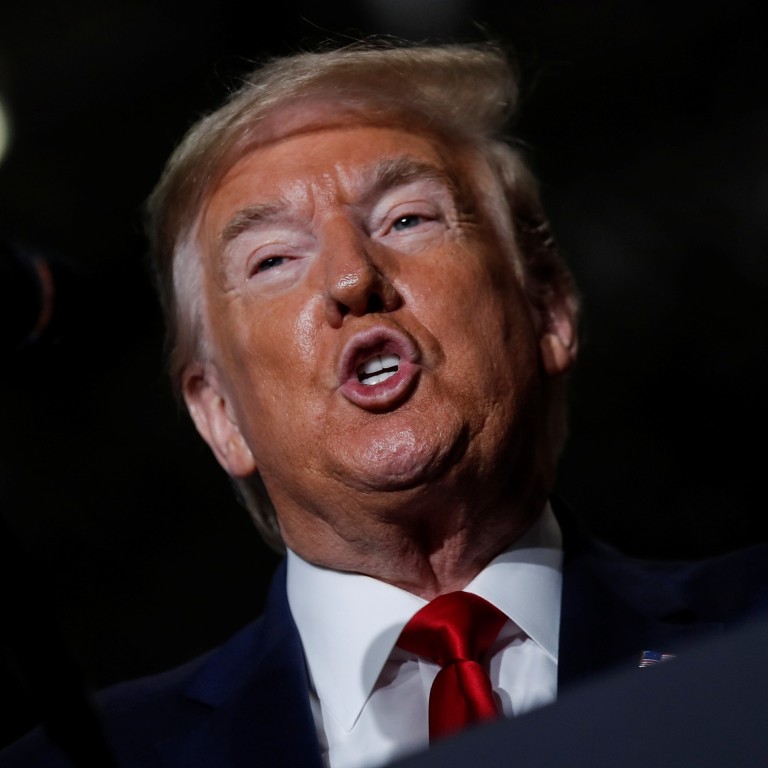 Coronavirus: Donald Trump threatens to 'cut off' China ties, doesn't want to speak to Xi Jinping
US president says 'ink barely dry' on trade deal when 'plague came over'
In interview with Fox Business, Trump focused more on China's response to outbreak than on its origin
US President Donald Trump expressed doubts over his recent trade agreement with Beijing because of the Covid-19 pandemic and suggested that America would save US$500 billion if Washington "cut off" the bilateral relationship.
Speaking about a wide range of grievances with China in a pre-recorded Fox Business Network interview, Trump said: "I have a very good relationship [with China's President Xi Jinping], but I just, right now I don't want to speak to him."
"They should have never let [the pandemic] happen. So I make a great trade deal and now I say this doesn't feel the same to me," Trump said. "I'm very disappointed in China."
"The ink was barely dry and the plague came over, and it doesn't feel the same to me," he said referring to the phase-one trade deal he signed with Chinese Vice-Premier Liu He in January, under which China is committed to buying an additional US$200 billion worth of US goods over two years.
Trump, however, said "they will buy US$250 billion", without accounting for the extra US$50 billion.
Doubts about China's ability to meet the deal's purchasing commitments have escalated for reasons on both sides, most directly or indirectly related to the pandemic.
Exports of pork to China, for example, will be difficult to increase because US production has dropped following Covid-19 outbreaks at processing plants run by companies including Smithfield Foods and Triumph Foods. China's WH Group owns Smithfield.
"Given supply conditions in the United States, even for example with China short on pork right now because of African swine flu, American meat packers are not really in a position because of the virus to be a part of the export boom to meet China's needs," Daniel Rosen, founder of New York-based research consultancy Rhodium Group, said in an online discussion organised by the National Committee on US China Relations on Wednesday.
At the same time, Beijing is limited in the degree to which it can enact stimulus measures, Rosen said.
"China is sort of at the fairly thin end of leading economies in terms of its stimulus," he explained. "The evidence suggests they won't be able to stimulate nearly as much this time as they did last time around", when Beijing took strong fiscal measures to stabilise its economy amid the financial crisis of 2009.
China sustained a first quarter economic contraction of 6.8 per cent, which will likely dent domestic demand.
While the government's official jobless figures do not account for migrant workers – a substantial chunk of the labour market – A research report by brokerage firm Zhongtai Securities in late April put the real jobless rate at 20.5 per cent with 70 million unemployed,
Asked about Republican Senator Tom Cotton's suggestion last month that US visas should be denied to Chinese students applying to study in fields including quantum computing and artificial intelligence in the interest of national security, Trump said: "There are many things we could do ... We could cut off the whole relationship".
"You'd save US$500 billion if you cut off the whole relationship," Trump said, referring to the approximate value of annual US imports from China.
Turning to the origins of the coronavirus pandemic, Trump appeared to discount a suggestion by US Secretary of State Mike Pompeo, which has since been largely debunked by US intelligence, that the contagion might have been created deliberately in a Chinese laboratory.
Weighing in on the matter on April 30, the Office of the Director of National Intelligence issued a statement saying that it "concurs with the wide scientific consensus that the Covid-19 virus was not man-made or genetically modified".
However, the president has not backed off allegations that China is to blame for not controlling the spread of the disease.
"I don't know if they made a decision, but it got out of control," Trump said. "I think more likely it got out of control ... We have a lot of information, and it's not good. Whether it came from the lab or came from the bats, it all came from China, and they should have stopped it."
Meanwhile, Trump sent mixed signals in the Fox interview over whether he would force Chinese companies listed on US equity markets to allow US regulators to audit them, a change that some lawmakers have been pushing for.
Trump that he was looking "very strongly" at forcing the Chinese to comply with American accounting standards, but equivocated when pushed.
"Let's say you want to get tough" by requiring Chinese companies to submit to US audit inspections as a condition for listing. "What do they do? They say, 'OK, well, we'll move to London or we'll go to Hong Kong."
Bipartisan US legislation called the Equitable Act, would trigger a process that would eventually delist foreign companies that do not comply with U.S. accounting and oversight regulations from American exchanges if the companies refused to comply.
The bill is sponsored by Senator Marco Rubio, a Florida Republican known to take a hard line against Beijing, and cosponsored by two Democrats, Robert Menendez of New Jersey and Kirsten Gillibrand of New York.
Commenting on US supply chains, Trump lashed out at "globalists" who have allowed too much manufacturing capacity to gravitate to other countries.
"These stupid supply chains that are all over the world, we have a supply chain where they're made in all different parts of the world and one little piece of the world goes bad and the whole thing is messed up," Trump said.
"I said we shouldn't have supply chains. We should have them all in the United States. We have the companies to do it and if we don't, we can do that," he said.