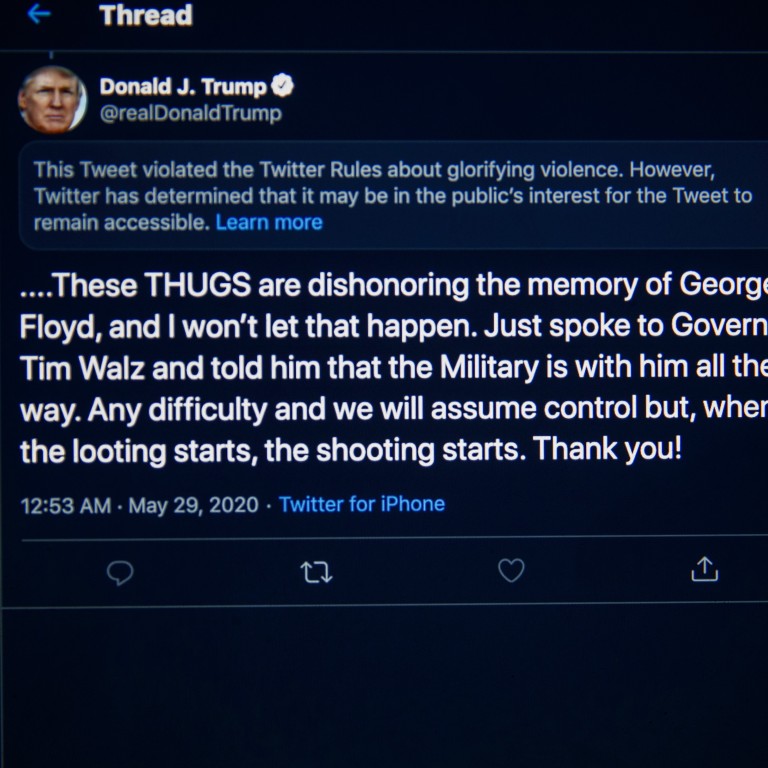 Amid US-China rancour, salvoes are fired in 280 characters
Though reluctant to play referee, Twitter has appended fact-check warnings to posts by President Donald Trump and Foreign Ministry spokesman Zhao Lijian
Much 'wolf warrior' messaging has occurred on Twitter, a platform banned in heavily censored mainland China
As violence and protests over police treatment of African-Americans racks US cities and China accuses the Washington of hypocrisy in decrying its own unrest while supporting protests in Hong Kong, Twitter finds itself playing an increasingly important role in the trans-Pacific sniping.
Historic distrust between the two giants has even seen President Donald Trump and Chinese "wolf warrior" Zhao Lijian, the Foreign Ministry spokesman, share a dubious distinction: both have had fact-check warnings attached to their tweets.
On Friday, Twitter hid from general view and flagged as "glorifying violence" a Trump tweet suggesting that demonstrators could be shot if they looted. The president later claimed his words were misconstrued.
On Twitter over the weekend, the nationalist Global Times upped the volume with accusations of a double standard in the different way Washington viewed protesters in the US and Hong Kong.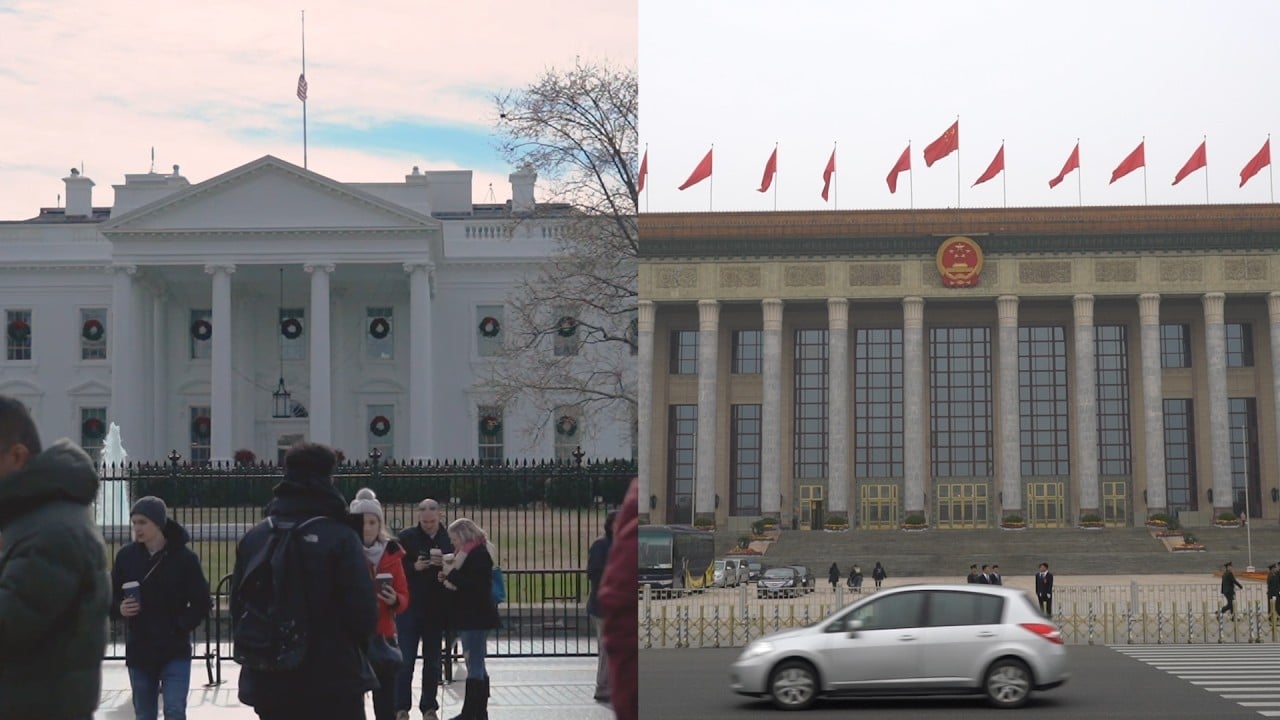 02:06
Coronavirus pandemic creates 'new Cold War' as US-China relations sink to lowest point in decades
Coronavirus pandemic creates 'new Cold War' as US-China relations sink to lowest point in decades
"Their similarities are overwhelming: they all defy the law, subvert order, and are destructive," the state media arm said in a tweet, quoting outspoken editor-in-chief Hu Xijin. "This kind of thinking is intolerable."
Foreign Ministry spokeswoman Hua Chunying weighed in Saturday with a sharp barb aimed at her US counterpart, the State Department's Morgan Ortagus, in a tit-for-tat showdown over their countries' respective national policy.
After retweeting Ortagus' global call to hold accountable "the Chinese Communist Party, which has flagrantly broken its promise to the people of Hong Kong", Hua added: "I can't breathe."
Hua's in-your-face jibe repeated some of the last words of George Floyd, an African-American who died last week after a white police officer in Minneapolis knelt on his neck for nearly nine minutes. The phrase has become a rallying cry for US protesters.
Hua, another member of the unofficial "wolf warrior" club, then doubled down on Monday, saying, "We strongly oppose all forms of racial discrimination and inflammatory expressions of racism and hatred."
She then pointedly added: "All lives matter", echoing a slogan sometimes used by opponents of the Black Lives Matter movement.
Her use of refrains appropriated by or in opposition to the African-American community sparked thousands of sharp rebukes – including critics who pointed to China's own treatment of Uygurs and of Africans in Guangdong – as well as thousands of comments from Chinese supportive of Beijing's Hong Kong policy.
While Trump has garnered most of the attention after attacking Twitter for vetting his posts, the platform also tagged two Zhao tweets from March that inferred the US caused the coronavirus.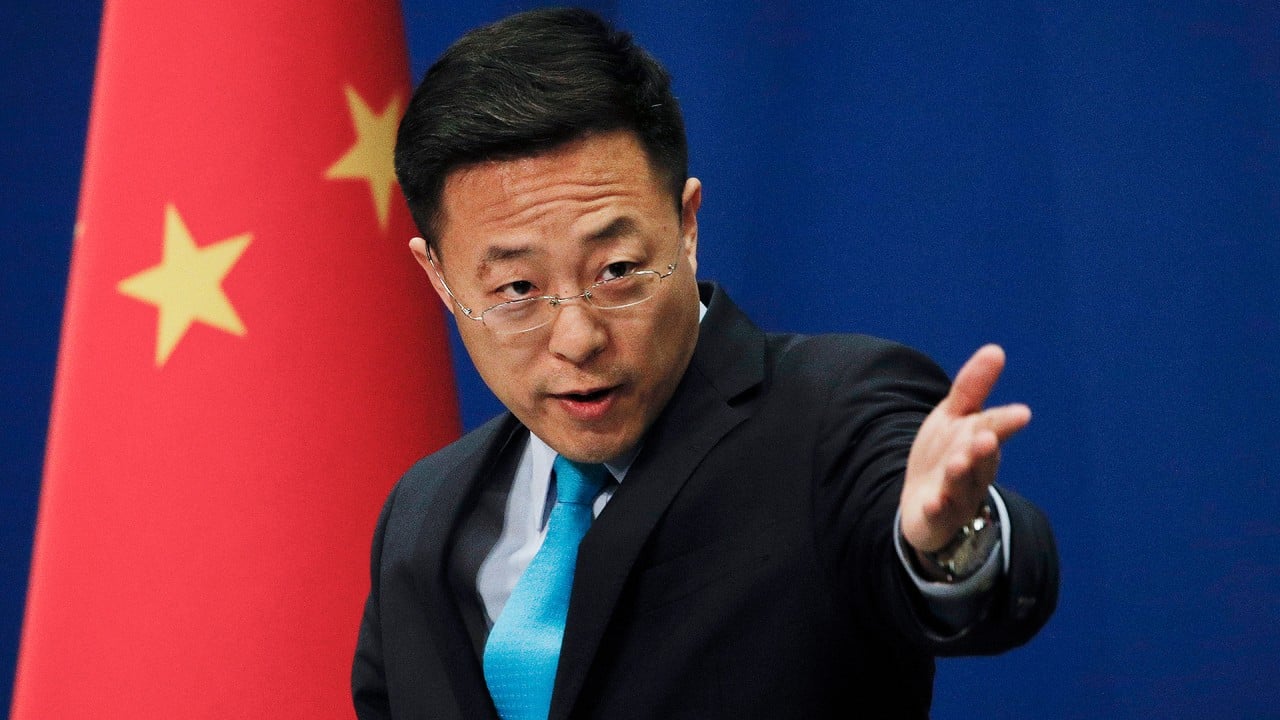 01:55
Chinese foreign ministry spokesman claims US army brought coronavirus to Wuhan
Chinese foreign ministry spokesman claims US army brought coronavirus to Wuhan
In keeping with Trump's tendency to lash out aggressively when criticised, he quickly accused Twitter of bias, interfering in the 2020 election and "completely stifling FREE SPEECH" in – what else – a tweet.
The president who has been dubbed "the world's most powerful social media devotee" also signed an executive order late last week subjecting large social media platforms to greater liability.
Legal experts, however, said the move stretched the boundaries of presidential authority and was unlikely to alter policy. "This order is simply a mugging of the First Amendment," said Senator Ron Wyden, a Democrat from Oregon.
In a further fit of pique, Trump threatened to shut down Twitter altogether as White House press secretary Kayleigh McEnany channelled his thinking over perceived unequal treatment. Conservatives have long accused Twitter, Facebook, Instagram and others of liberal bias.
"For them to single out the president's tweet, which is a very truthful tweet, you've got to ask yourself what kind of political motivation was there," McEnany said. "There was no fact check of Chinese propaganda but they managed to fact check in a wrong way the president of the United States."
Twitter's warning tags consisted of a circle surrounding an exclamation point and links
directing readers to sites containing more credible information
. In Trump's case, these led to CNN and
Washington Post
articles detailing how Trump's mail-in voting claims were unsubstantiated and, in the case of the tweet about unrest, to Twitter's vetting policy.
People reading Zhao's conspiracy theory tweets were directed to World Health Organisation research pointing to animals in China as the source of Covid-19, rather than the US military or a Wuhan virology lab.
Zhao and Hua are among high-profile Chinese diplomats who have taken an increasingly aggressive, nationalistic tone on social media. Much of their "wolf warrior" messaging – a reference to chest-thumping films that aggressively tout China's inevitable rise and the West's bid to keep it down – has occurred on Twitter, a platform banned in China's heavily censored media ecosystem.
"It might be US army who brought the epidemic to Wuhan. Be transparent! Make public your data! US owe us an explanation!" Zhao wrote in the now annotated tweet from March.
The Chinese embassy in Washington did not respond to questions about Twitter's fact checking or Beijing's use of a medium banned in China. Zhao did not respond to a tweeted request.
Twitter's decision to attach warnings to Zhao's tweets appeared driven by the New York Post, which called out the platform for flagging Trump and not the Chinese Communist Party. The Post is a sister organisation of Fox News, a strong supporter, and influencer, of the president's policies.
"Twitter's treatment of Zhao's tweets seemed like a potential double standard," said Post reporter Steven Nelson, who wrote the article. "Twitter agreed."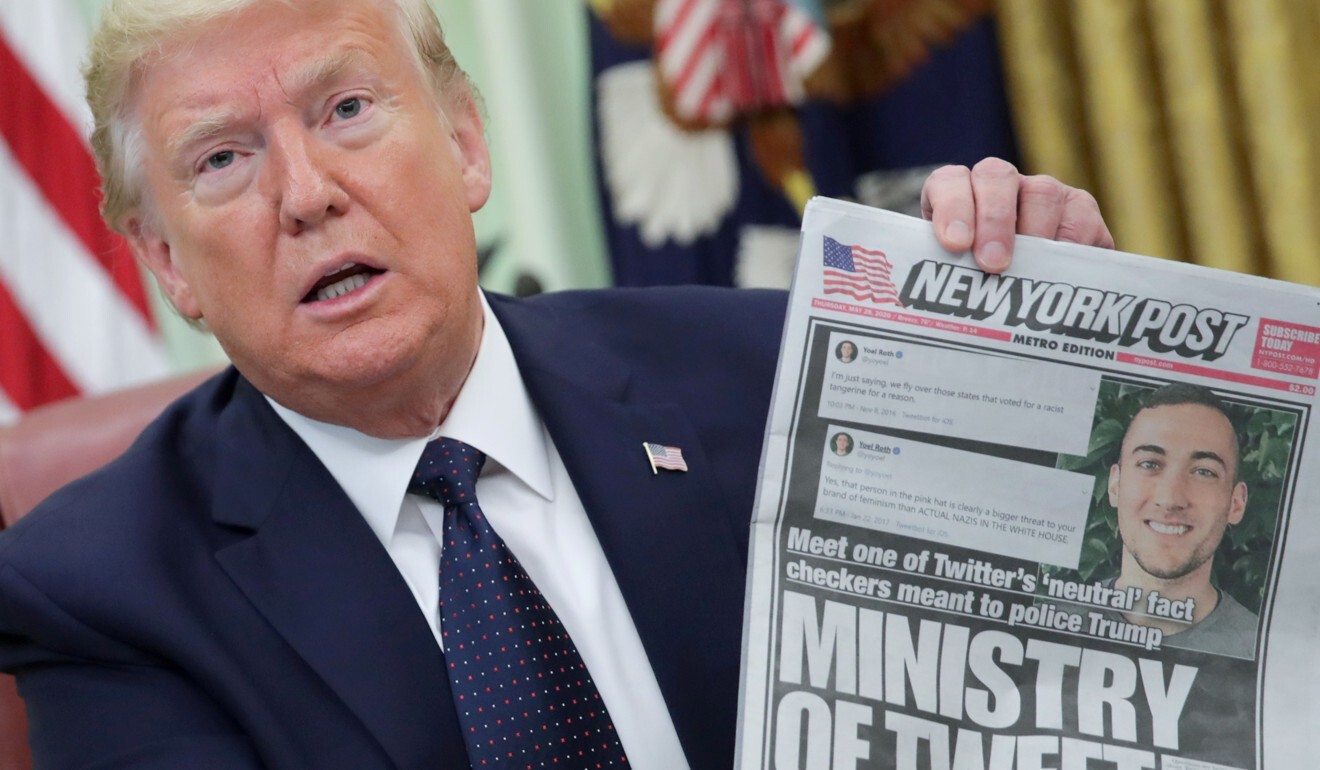 The tit-for-tat warnings are part of a broader US and global debate on the confines of free speech and disinformation. The message duelling also dovetails with a growing ideological battle between Washington and Beijing over the relative merits of authoritarian and democratic systems as relations sour.
"To the extent leaders from both the US and China are less able to promote conspiracy theories, this would be a good move for US-China relations," said Jessica Chen Weiss, a political scientist at Cornell University and author of Powerful Patriots: Nationalist Protest in China's Foreign Relations.
Trump has redefined presidential use of social media in much the way Franklin D. Roosevelt did for radio, John F. Kennedy for television and Barack Obama for online organising. He has used his self-described "beautiful Twitter account", with over 80 million followers, to announce major policy shifts, including multibillion-dollar tariff increases on China.
Trump's tweets have also been riddled with intentional and inadvertent falsehoods, conspiracy theories, smears and rants, often in ALL CAPITALS. The president has made 18,000 false or misleading claims – in tweets and in person – since assuming office, according to The Washington Post's Fact Checker site.
Twitter's reluctance to play referee, and get caught between the US and China, comes as Facebook, Twitter, Instagram and others face growing pressure to vet messages.
So far, the others have tried to remain on the sidelines. But Facebook employees have publicly criticized the company for not taking action against Trump's postings about police brutality. The scrutiny has been fuelled in part by Russia's highly effective campaigns to sow discord and influence elections in Western democracies.
Twitter has also become a digital megaphone for the two sides to highlight claims on why their political system did better handling the Covid-19 crisis and their adversary's fell woefully short.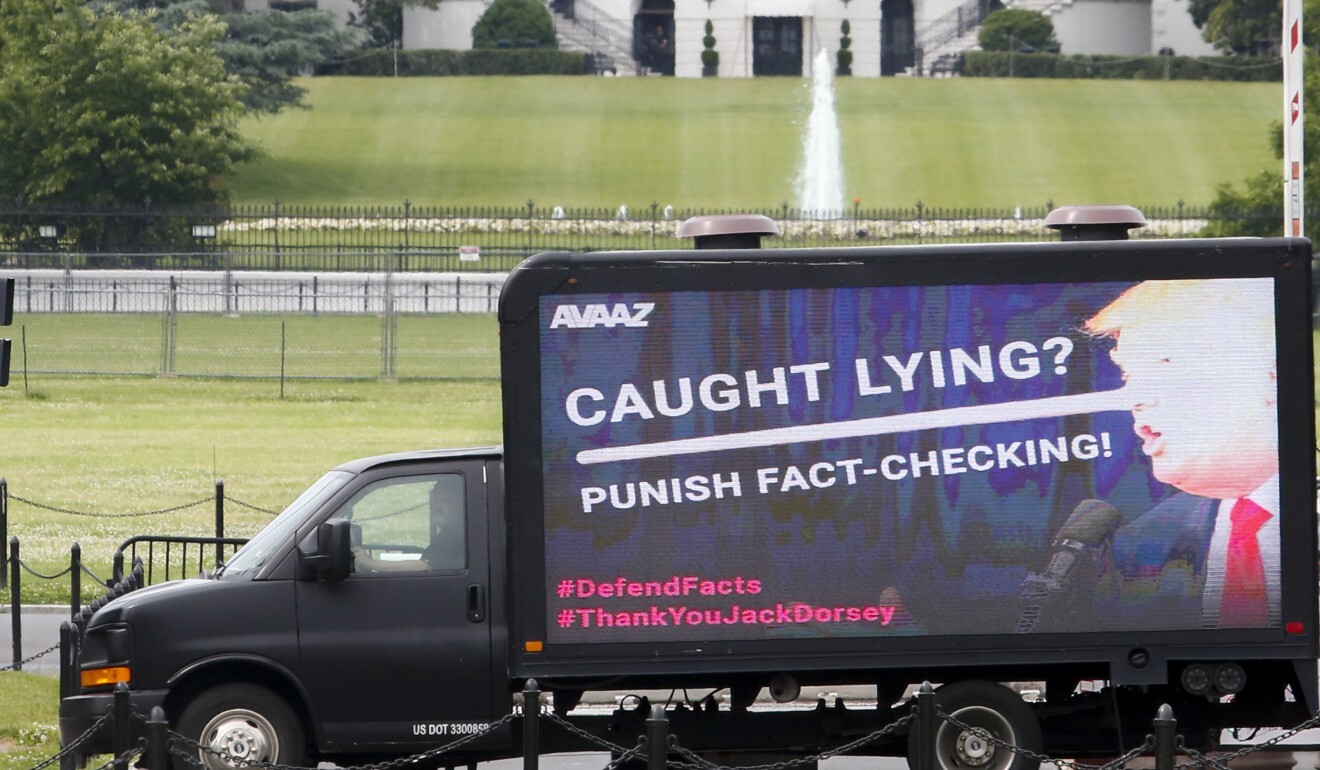 "China's 'wolf warrior' diplomats, such as Zhao Lijian, hail from a newer generation of PRC officials who serve a specific purpose in Beijing's broader campaign to deflect criticism of the origins of the coronavirus," said Kyle Sullivan, head of the China practice with consultancy Crumpton Group, referring to the People's Republic of China.
"It is rather indicative of the state of the bilateral relationship when an independent social media company like Twitter feels compelled to referee the rancour and distrust emanating from both capitals," he added.
The trans-Pacific chest thumping in 280 characters comes as US-China relations deteriorate on fronts ranging from trade and education to defence and health.
"I've been alarmed by the things Trump's saying, as I was by the 'wolf warrior' tweets," said Nick Cull, professor of public diplomacy at the University of Southern California's journalism school. "Both have this fixation with entertaining their domestic audiences, trapped by their populist nationalism."
Some media experts see the in-your-face tweets by Zhao, who has around 640,000 followers, and Hua, with around 500,000, as evidence that China's propaganda is becoming more diverse and targeted at different audiences.
"It could be that China is experimenting with different tactics," said Eric Fish, a researcher and author of China's Millennials: The Want Generation. "The Chinese Communist Party has never been a monolith."
Others see evidence of confusion amid sniping in foreign policy ranks and China's long-standing preference for a single party line. China's ambassador to Washington, Cui Tiankai, called Zhao's spread of conspiracy theories "crazy", while Chinese foreign policy experts have criticised his posts as counterproductive and over the top.
"Who's in the driver's seat?" said Cull. "What is the real China? These are questions people are asking."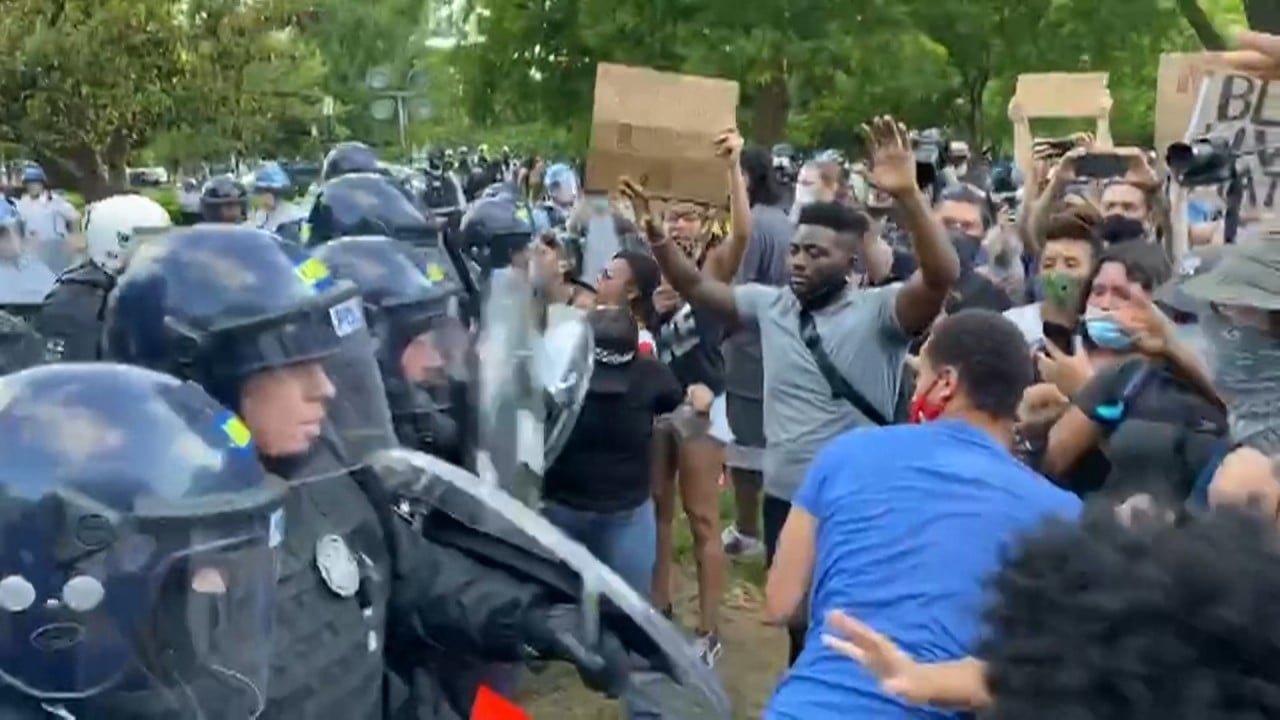 03:56
Unrest spreads across the US fuelled by outrage over police killing of George Floyd
Unrest spreads across the US fuelled by outrage over police killing of George Floyd
In the past few months, a rush of Chinese diplomats have set up Twitter accounts, Fish noted, adding: "It's obviously sanctioned from the top. It obviously reflects a general shift toward a more hard line."
Fish noted the growing divide over policy being echoed online. "On the US side, if there's blatant misinformation on China and you try and correct it, you automatically become a China apologist," he said. "The same in China, if you correct something about the US, you're labelled a traitor."
"It's a mutually exacerbating situation," he added, with Twitter likely to become an even more vicious battlefield given upcoming US election and China's economic downturn. "It's scary because you don't know how its stops."