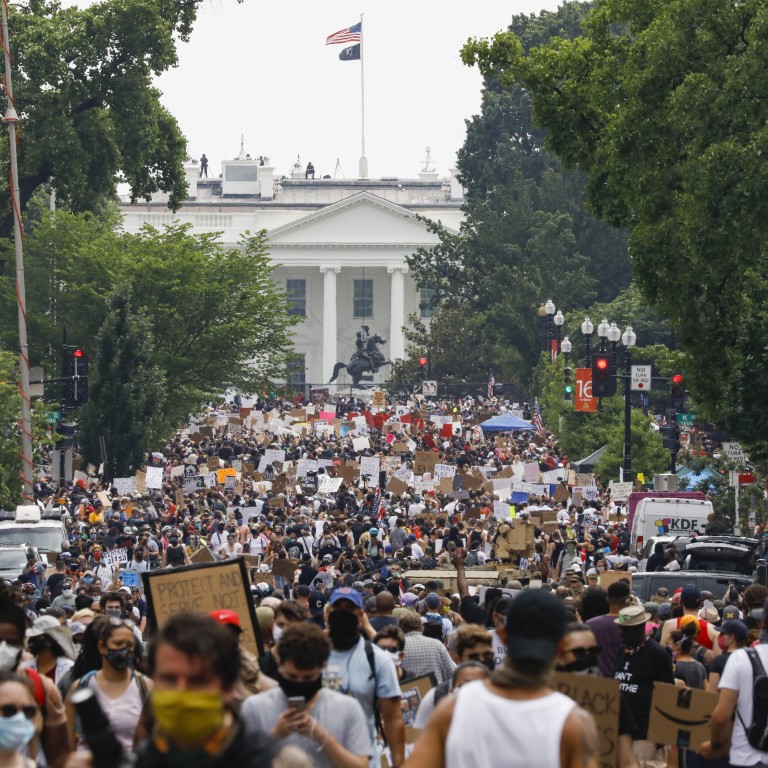 US protests latest: umbrellas, flash bangs used in Seattle clash
Massive, mostly peaceful protests across US demand police reform
Here's the latest on the protests, sparked by the killing of George Floyd
Tens of thousands of peaceful protesters rallied for racial justice Saturday in cities across the United States following the death of George Floyd, as the movement triggered by his killing at police hands entered a second weekend.
Protests stretched from New York to Los Angeles but Washington was at the action's centre, as thousands of people – black, white and brown – flooded downtown streets surrounding the White House, which was barricaded with black metal grates.
Saturday marked the largest demonstration over Floyd's killing to date. Crowds numbering in the tens of thousands converged on the nation's capital, despite health risks still posed by the coronavirus, though official estimates of the turnout were unavailable.
Some protesters attached pictures of Floyd and other black Americans killed by police to the tall barrier surrounding the White House.
The protests were sparked by videos of a police officer kneeling on Floyd's neck for almost nine minutes as he pleaded for his life – the latest case of white law enforcement authorities being blamed for the death of an unarmed black person.
Peaceful protests were held in other US cities: tens of thousands rallied in locations across New York City and Philadelphia; Chicago authorities shut down the iconic Lake Shore Drive to facilitate protests; demonstrators marched in Los Angeles.
Here are the developments:
White House 'sought 10,000 active troops'
The White House wanted to deploy 10,000 active duty troops to quell protests in the capital Washington and elsewhere in the United States earlier this week, broadcaster CBS reported.
But Defence Secretary Mark Esper and the Chairman of the Joint of Chiefs of Staff, General Mark Milley, pushed back at the use of any active duty troops, a senior defence official told CBS on Saturday. Esper did apparently move 1,600 active duty troops into the metropolitan DC region to respond if needed, according to the report.
The approximately 5,000 National Guard troops already there had not required assistance, however, and the active troops began to leave Thursday night.
The White House has not commented.
Umbrellas, 'flash bangs' used in Seattle protests
Police used flash bang devices and pepper spray to disperse a crowd of protesters in Seattle, some of whom used umbrellas as shields.
The mayhem in the city's Capitol Hill neighbourhood followed a large, peaceful demonstration earlier in the day with medical workers demonstrating against racism and police brutality. It also came a day after Mayor Jenny Durkan and Police Chief Carmen Best imposed a 30-day moratorium on the department's use of one kind of tear gas.
KING-TV reported that a small group of protesters started throwing objects at officers about 7:30pm on Saturday. Police ordered the crowd to move, then used incendiary devices.
After police were severely criticised by protesters and public officials alike for using tear gas and pepper spray to disperse largely peaceful crowds, Durkan and Best said Friday outside groups would review and update crowd-control policies, including the use of pepper spray and deadly force techniques such as neck and choke holds. She and the mayor added that the ban on one kind of tear gas known as CS could be extended if groups need more time for policy review.
The use of umbrellas appeared to be a tactic borrowed from Hong Kong's protesters, who have used them as shields in street clashes with police.
K-pop stars BTS donate US$1 million
Popular South Korean band BTS donated US$1 million to Black Lives Matter (BLM) in support of US protests against police brutality, its music label, Big Hit Entertainment, said.
On Thursday, the seven-member BTS wrote on its Twitter account that they are against racism and violence with the hashtag BlackLivesMatter: "We stand against racial discrimination. We condemn violence. You, I and we all have the right to be respected. We will stand together."
The hashtag went viral among the K-pop group's fans and started another wave of donations with a new hashtag, MatchAMillion.
The movement encouraged the BTS fan base, known as ARMY, an acronym for Adorable Representative MC for Youth, to match the US$1 million donation the group made.
One Twitter account said: "ARMYs, let's #MatchAMillion with BTS's donation to #BlackLivesMatter!"
The boyband suspended their world tour over coronavirus concerns in April.
Biden promises to seek police reforms
Joe Biden, the former vice-president who is running against Donald Trump in this November's presidential election, has vowed to battle racism and fight for police reforms.
In an opinion article published in The Los Angeles Times on Saturday, Biden spoke of the need for "long-overdue, concrete policies to reverse systemic racism".
"If elected, I am committed to establishing a national police oversight commission within 100 days of taking office," Biden said.
"We need to implement real community policing and ensure that every police department in the country undertakes a comprehensive review of their hiring, their training, and their de-escalation practices, with the federal government providing the tools and resources needed to implement reforms."
"But, we cannot wait for new leadership to make reforms," he added.
He called on Congress to "take action immediately" to outlaw chokeholds, stop the transfer of weapons of war to local police forces, improve oversight and accountability, and create a model standard on the use of force by police officers.
On Twitter, Biden reiterated his call for change, writing: "We need justice. And we need real police reform to ensure this never occurs again."
"I promised George Floyd's family that he wouldn't just become another hashtag," the 77-year-old added.
Statue of Confederate general toppled
In the former capital of the Confederacy, demonstrators toppled a statue of General Williams Carter Wickham from its pedestal after a day of mostly peaceful demonstrations across the commonwealth.
The Richmond Times-Dispatch reported that most of the demonstrators had already dispersed when a rope was tied around the Confederate statue, which has stood since 1891 in Richmond's Monroe Park, which is surrounded by the Virginia Commonwealth University campus. In 2017, some of Wickham's descendants urged the city to remove the statue.
Confederate monuments are a major flashpoint in Virginia. Last week, Governor Ralph Northam announced that a state-owned statue of former Confederate General Robert E. Lee would be removed from its perch on the famed Monument Avenue "as soon as possible".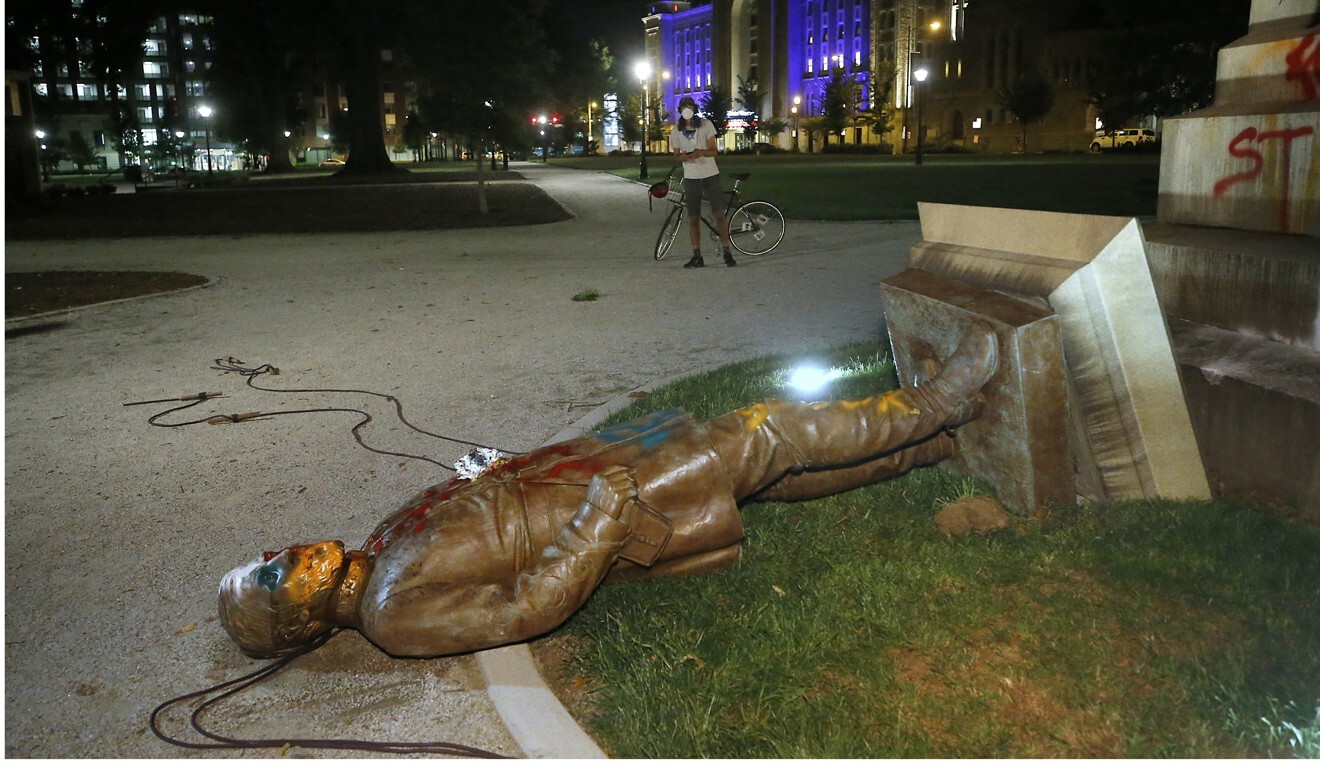 Fox News apologises for racist stock market graphic
One day after Fox News aired a stunning graphic correlating stock market gains following notable tragic events involving black Americans, it offered an apology.
The contrite concession came Saturday after outraged viewers howled over the insensitive chart shown during Friday's broadcast of Special Report With Bret Baier.
The bar graph illustrated the change percentage in the S&P 500 one week after the 2014 police shooting of Missouri teen Michael Brown, the 1992 acquittal of cops charged with beating Rodney King, Martin Luther King Jr's 1968 assassination and George Floyd's recent death in police custody.
"The infograph used on Fox News Channel's 'Special Report' to illustrate market reactions to historic periods of civil unrest should have never aired on television without full context," said a Fox News spokesman. "We apologise for the insensitivity of the image and take this issue seriously."
Many offended viewers excoriated Fox News for seemingly cherry-picking random events to bolster the graphic's veracity.
As an example, on June 20, 1994, one week after the murder of Nicole Brown Simpson, the S&P 500 closed at 456.75 down nearly 1 per cent from the following week, according to analysis charts.
"Dumbest graphic ever. Made to inflame and divide I guess," wrote Twitter user Matt Glantz.
US accuses China of using Floyd death for propaganda
The United States on Saturday accused China of
using the unrest
triggered by the death of George Floyd in police custody to justify denying its own people basic human rights.
"As with dictatorships throughout history, no lie is too obscene, so long as it serves the Party's lust for power," Secretary of State Mike Pompeo said in a statement, referring to the Chinese Communist Party.
"This laughable propaganda should not fool anyone."
China has repeatedly criticised the US over the Floyd case but it was not immediately clear which of its comments Pompeo was referring to.
Beijing has long been infuriated by criticism from Western capitals, especially Washington, over its handling of the pro-democracy protests that shook Hong Kong last year.
Chinese Foreign Ministry spokesman Zhao Lijian on June 1 seized on the anti-racism protests in the US to accuse the US of hypocrisy, calling racism "a chronic disease of American society".
UK protesters clash with mounted police
British anti-racism protesters briefly clashed with mounted police on Saturday after thousands gathered in central London.
After a largely peaceful day, small numbers of protesters near Prime Minister Boris Johnson's Downing Street residence threw bottles at police, and mounted officers charged at protesters to push them back.
Earlier more than a thousand protesters marched past the US embassy on the south bank of the River Thames, blocking traffic and holding placards.
Thousands of protesters had also crowded into the square outside parliament, holding placards saying "Black Lives Matter" and ignoring government advice to avoid large gatherings due to the risk from coronavirus.
Demonstrations also took place in other British cities, and reclusive street artist Banksy published a new artwork online which showed the US flag being set alight by a candle that formed part of a memorial to an anonymous, black, silhouetted figure.
British boxing champ decries racism
British world heavyweight champion Anthony Joshua has decried racism as he joined a Black Lives Matter protest in his hometown of Watford, near London.
Reading from a script in a video posted on social media, Joshua said the "virus has been declared a pandemic" and is "out of control."
Joshua, who was not wearing a face covering and was unable to observe social distancing guidelines given the size of the crowd, said he wasn't talking about Covid-19: "The virus I'm referring to is called racism."
He said people should "speak out in peaceful demonstrations," but they shouldn't use them "for selfish motives" and turn to rioting and looting.
Buffalo police charged after shoving incident
Two Buffalo police officers were charged with assault Saturday, prosecutors said, after a video showed them
shoving a protester
in recent demonstrations. Both pleaded not guilty to second-degree assault.
The officers had been suspended without pay Friday after a TV crew captured the confrontation the night before near the end of protests.
The footage shows a man identified as Martin Gugino approaching a line of helmeted officers holding batons as they clear demonstrators from Niagara Square around the time of an 8pm curfew.
Two officers push Gugino backward, and he hits his head on the pavement. Blood spills as officers walk past. One officer leans down to check on the injured man before another officer urges the colleague to keep walking.
Dozens of police officers stepped down from the department's crowd control unit Friday, in response to their fellow officers' suspensions.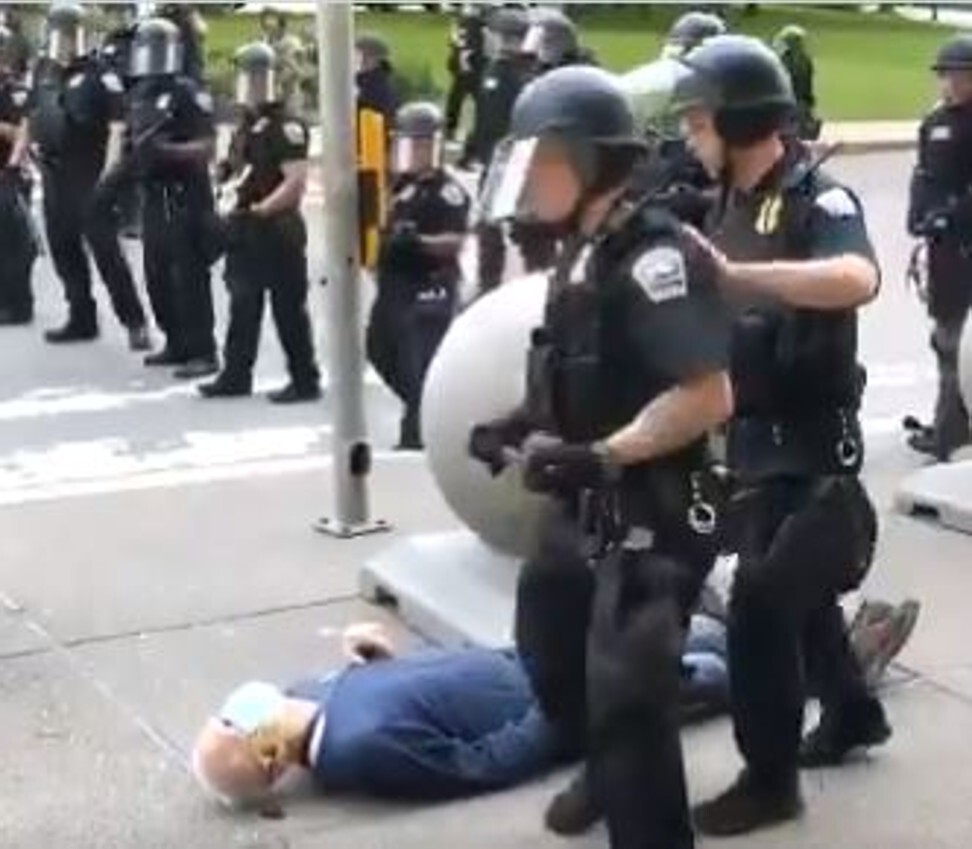 Canadian pilot flew in the shape of a fist as tribute
A pilot in Canada took to the skies in support of ongoing protests rallying against the deaths of George Floyd, Breonna Taylor and other black Americans at the hands of police brutality.
Dimitri Neonakis, a pilot who lives in Nova Scotia, flew a flight path Thursday in the shape of a "raised fist" – a sign that has become a symbol of the Black Lives Matter movement, and has historical roots in the Black Power movement of the 1960s.
The nearly 600km flight, he said in a Facebook post, "took the shape of a movement symbol which I respect and support." He dedicated the flight "for George".
Per FlightAware, the flight lasted for nearly two-and-a-half hours at about 150 miles per hour.
Neonakis often takes to the skies to draw flight path art with personal and social significance. Earlier this year, he is drawn flight paths for his daughter, a friend who survived cancer as well as a path in tribute to the killing of nine people in Nova Scotia.
He said in a previous post that sky art was his "new hobby during Covid-19".
Canada indigenous groups demand probe into killing
Canadian aboriginal groups on Saturday called for an independent probe into the death of an indigenous woman who was shot by a police officer called in for a wellness check.
The Congress of Aboriginal People (CPA), one of five national groups representing indigenous Canadians, called for "a public investigation into the death of Chantel Moore and the ongoing systemic bias and racism that policing services and the justice system displays towards Indigenous peoples".
Moore, 26, was shot dead Thursday by a police officer in Edmundston, in the eastern province of New Brunswick. A relative had called police to check Moore's health.
Edmundston police said the woman had threatened the officer with a knife. According to the family, the officer fired five times to subdue her.
While officials have opened a probe into Moore's death, the national chief of the Assembly of First Nations (AFN), Perry Bellegarde, said the shooting must be investigated by an impartial third party.
Memorial service for George Floyd
A private memorial service for George Floyd was held Saturday at a Baptist church in Raeford, North Carolina.
Several hundred celebrants were in attendance. Worshippers sang along with a choir as a large photo of Floyd and a portrait of him adorned with an angel's wings and halo sat at the front of the chapel.
Hoke County Sheriff Hubert Peterkin, who is African American, told congregants that police officers around the country must be able to admit to themselves, "I am part of the problem."
"We as law enforcement officers don't have the authority to bully, push people around and kill them just because we have a badge and a gun," Peterkin said as the congregation cheered.
Protests at Trump's golf resort
About a 100 protesters gathered Saturday at President Donald Trump's golf resort just outside Miami.
The protest was organised by Latinos for Black Lives Matter. Many carried signs saying such things as "Vote Him Out" and "Don't Be A Bunker Boy", the latter a reference to reports that
Trump went into the White House bunker
when protests in Washington got more violent.
Trump insists he only went there briefly for an inspection.
In Doral, about a dozen police officers were on hand for the protest but did not take any actions.
Several hundred people also gathered in downtown Miami for a march with plans for a bigger rally later in the day. The march was peaceful and led by a pastor who read Bible verses before everyone set out.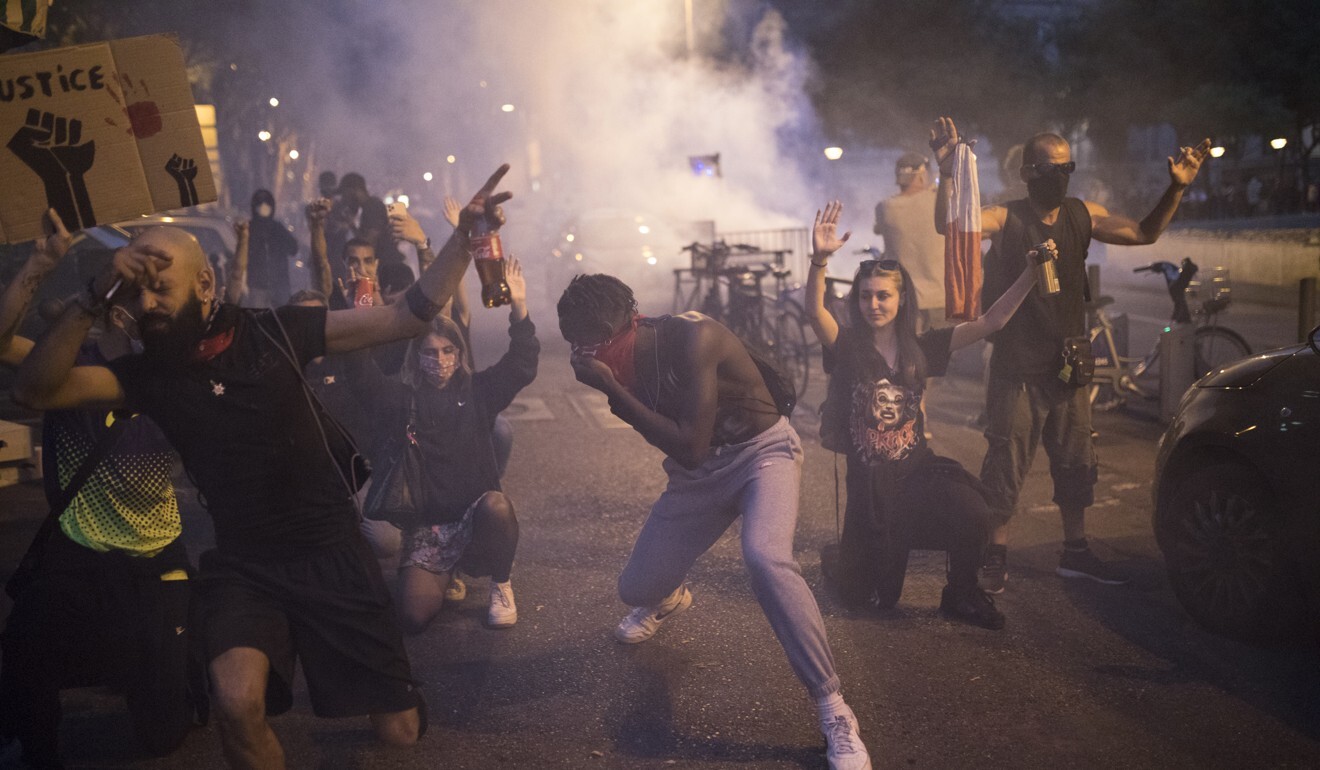 Pepper spray used in France protest
Police have fired tear gas and pepper spray in skirmishes with protesters who hurled bottles and rocks at what had otherwise been an emotional but peaceful demonstration in the French southern port city of Marseille against police abuses and racism.
Protesters took a knee in front of riot officers, gave speeches and chanted before setting off on a march through the city. But the tail end of the march finished in chaos with clashes between police and protesters.
The rally drew more than 2,000 people.
Reno police updates use-of-force policy
The Reno Police Department has updated its use-of-force policy as police departments across the country come under scrutiny for excessive force following the death of George Floyd.
The changes will take effect immediately. They include new guidelines on de-escalation and peer intervention, prohibiting techniques that restrict breathing, increasing supervisor and internal affairs oversight, and providing other warning options before resorting to deadly force, department officials said in a statement.
Acting Police Chief Tom Robinson said the force was committed to transparency.
Jesse Jackson calls on Congress to pass anti-lynching law
The Reverend Jesse Jackson has called for the US Congress to pass an anti-lynching law and eliminate protections for police officers from lawsuits.
Jackson made the plea Saturday during a news conference in Louisville, Kentucky, where he was to meet with Mayor Greg Fischer and the family of the late Breonna Taylor.
The 26-year-old African-American woman, an emergency room technician, was shot at least eight times in her home after a brief confrontation with police who were there to serve a warrant in mid-March.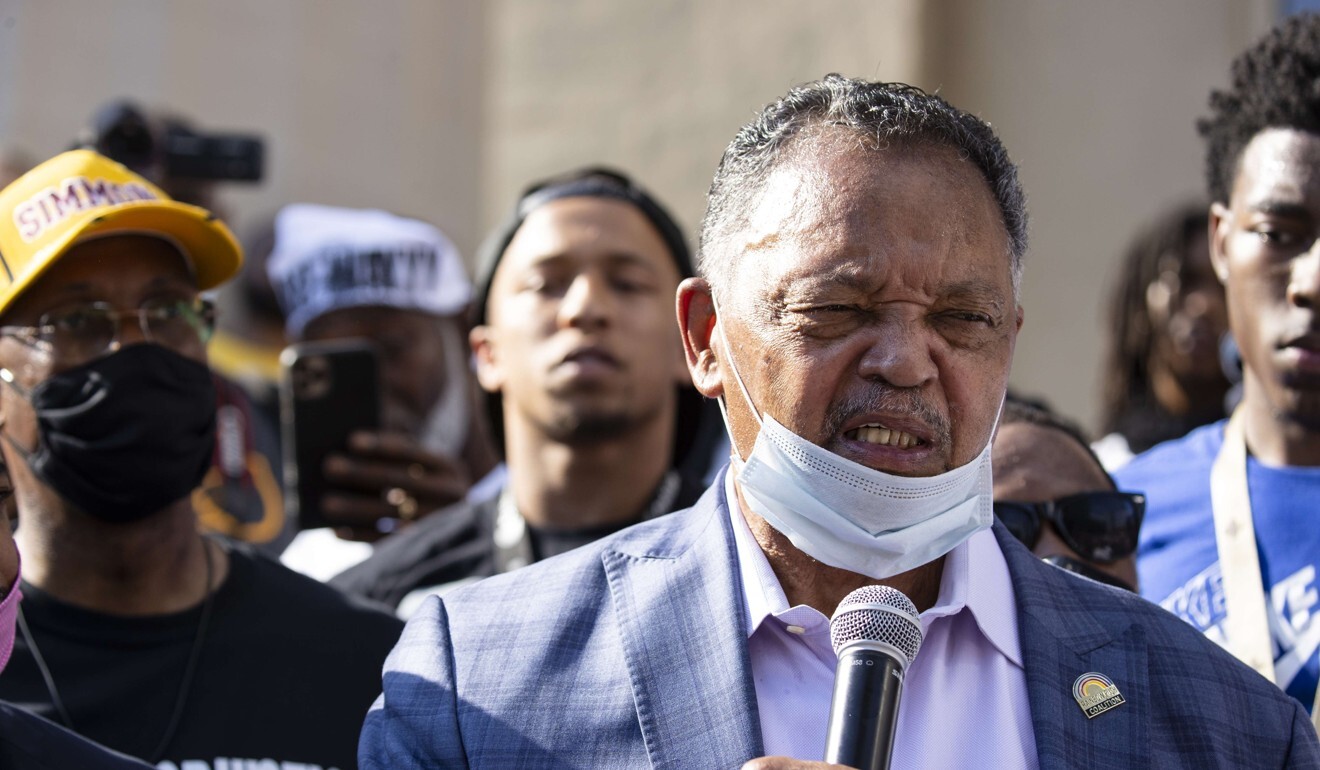 Mayor bans CS gas, except as last resort
Portland Mayor Ted Wheeler has ordered the city's police not to use a type of tear gas except as a last resort in life-threatening situations.
Wheeler issued a statement Saturday saying he shares community concerns about the use of CS gas, especially during a respiratory-illness pandemic.
Critics have called on the Portland Police Bureau to permanently ban the use of CS gas on protesters.
The announcement came a day after the mayor said police would no longer use a "long-range acoustical device", or LRAD, to disperse protesters. The device can emit high-pitched, loud frequencies and can cause hearing damage.
Associated Press, Reuters, Agence France-Presse, Bloomberg, DPA