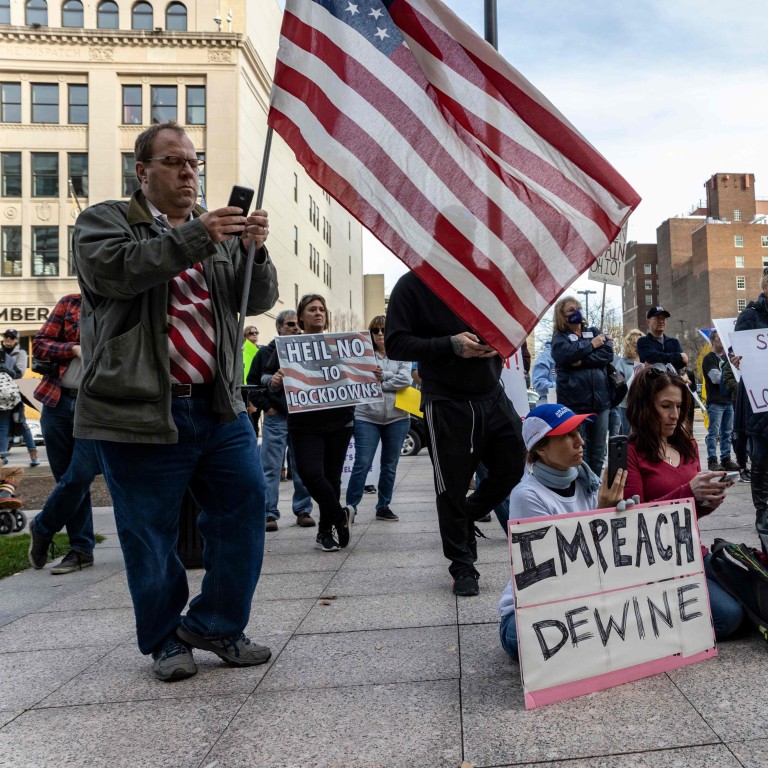 Joe Biden's mission to fix US coronavirus testing problem moves into top gear
Proposals include doubling the number of drive-through testing sites across the country
If successful, the approach would turn the testing system into a tool capable of reducing infections, rather than merely documenting the pandemic's toll
This story is published in a content partnership with POLITICO. It was originally reported by David Lim on politico.com on November 20, 2020.
President-elect
Joe Biden
's advisers are planning a massive expansion of the United States' coronavirus testing capacity to help bring the country's spiralling outbreak under control.
The Biden team is focusing on ways to detect people who are infected but not showing symptoms, to keep those potential superspreaders from passing the virus to others.
The strategies under discussion, according to four experts advising Biden, include increasing the availability of cheap, rapid tests; using the Defence Production Act to ramp up the supply of pipettes, chemicals and other key testing materials; and strengthening federal coordination of testing.
The efforts have got a boost from recent technological advances, such as the FDA's decision this week to green light the first fully at-home test. The Biden team is also talking to groups like The Rockefeller Foundation, said an executive at the non-profit group, which is working with cities, states and tribes to improve access to testing, determine how it can be used to keep schools open, and set up effective contact-tracing programmes.
If successful, Biden's approach would turn the testing system into a tool capable of reducing infections, rather than merely documenting the pandemic's toll. The Trump administration has largely shifted responsibility for testing onto states and commercial labs – supporting the development of new types of tests but shying away from a coordinated federal strategy to screen the public.
Public health experts say a new approach to testing is sorely needed, a year after the virus first emerged. The US recorded more than 1.1 million new cases in the last week, increasing by 26 per cent over the previous week – while the number of tests run grew by just 10 per cent, to 11 million.
Labs are beginning to struggle with the growing demand. One major provider, Quest Diagnostics, warned this week that its turnaround times for test results were slowing and the situation was unlikely to change for "the foreseeable future."
03:14
US coronavirus death toll hits record 250,000 after highest daily fatalities in months
US coronavirus death toll hits record 250,000 after highest daily fatalities in months
The current testing system is not set up to identify people who are infected but don't have symptoms, said Eric Goosby, an infectious disease expert at the University of California, San Francisco, and a Biden adviser. "Until we do that, we're going to chase this thing."
But the ongoing surge in cases could also make it difficult for the Biden team to make quick changes to the country's testing apparatus. An urgent need to ensure the sick are tested quickly could slow the drive for rapid testing to identify asymptomatic cases, for example. And strengthening the supply chain will take time, because manufacturers may need to set up new production lines.
"The Biden administration has a huge task ahead. They have to put the train back on the rails while hurtling down the track," said Scott Becker, CEO of the Association of Public Health Laboratories.
Biden's transition website lays out a number of steps aimed at making testing more plentiful and accessible, and strengthening now-fragmented state contact-tracing programmes.
Proposals include establishing a "Pandemic Testing Board" to increase production and distribution of tests and creating a 100,000 person US Public Health Jobs Corp to help with contact tracing. The plan also suggests doubling the number of drive-through testing sites across the country and investing in the development of new types of Covid-19 tests, such as at-home tests.
New York University epidemiologist
Celine Gounder
, a Biden adviser, told POLITICO the transition team wants to be able to surge testing and other pandemic response bandwidth to areas of the country experiencing acute Covid-19 spread.
"We are very much in the mindset of a dimmer switch, instead of an on and off, where you're able to dial things down based on local data and do things in the most geographic way possible," Gounder said.
Eileen O'Connor, senior vice-president at The Rockefeller Foundation, said the organisation has briefed the Biden team on its work with the federal government to expand and implement widespread testing.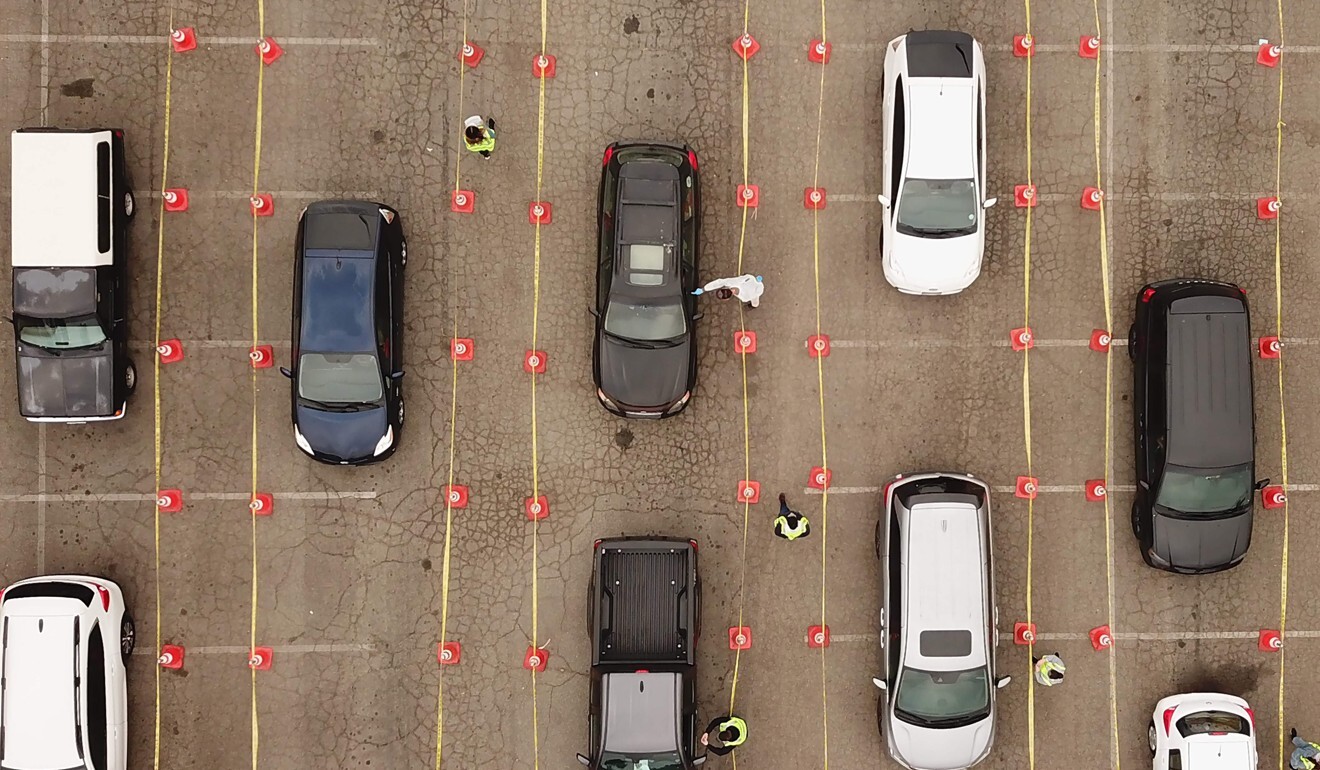 Rockefeller is pushing the incoming administration to immediately use the Defence Production Act to increase the availability of testing materials like pipette tips, which have been in short supply.
"We work with both the federal agencies and experts across the country to help those on the ground resolve these issues, but they would more effectively and quickly resolved with a more robust federal response," O'Connor said.
In September, Rockefeller estimated that 200 million tests a month are needed to safely reopen schools and nursing homes. But the figure was based on infection rates that were far lower than what the US is currently experiencing. Some Biden advisers appear open to such a major increase in testing, which they argue is necessary to help bring the pandemic under control.
"Sports teams have shown us this," Goosby said. "The sports teams that did once-a-week testing strategies broke more often with outbreaks than those who [tested] twice a week."
Screening people more frequently increases the chance of identifying those who are infected earlier in the course of their disease, and reducing the risk they'll pass on the virus, he added.
But Becker said the Biden team's progress on testing will be limited by how difficult it will be to increase access to testing supplies. "Decisions have been made over the last 10 months that make turning this ship quickly a difficult task," he said.
And some of the strategies Biden's team is exploring – like using the Defence Production Act – could run into industry opposition. "We believe DPA should be used carefully and only in a manner that will incentivise the diagnostics industry to continue the tremendous work they are already doing to meet the needs of this crisis," said Scott Whitaker, the CEO of medical device industry group AdvaMed.
Experts said that the Biden strategy could benefit from groundwork laid by the Trump administration – such as investments that the health department and Pentagon have made to address supply shortages, such as ordering pipette tips from Switzerland-based Tecan.
Some of the 150 million rapid antigen tests that HHS bought from Abbott are being used by Rockefeller to study how the tests could support safe school reopenings. And the FDA is expected to authorise new antigen tests in the coming months that could help fuel significant growth in rapid testing.
But O'Connor argues that the Trump administration should have invested "a lot more" money into an
Operation Warp Speed
-like effort for diagnostic tests in the early days of the pandemic. "The whole mindset against widespread testing – that when you test you have more cases – is just nonsensical, illogical," she said, citing one of Trump's favourite arguments.
Some key health groups like the American Public Health Association have not yet formally spoken to the Biden team, but say they anticipate doing so shortly. Others have already offered their assistance.
"Our focus remains on expanding access to accurate and reliable testing for all Americans," American Clinical Laboratory Association President Julie Khani said.
"We've reached out to offer our support and stand ready to assist the incoming Biden Administration as it takes on the greatest public health challenge in a century."
That challenge was on Biden's mind on Thursday, when he met with several governors to talk about making testing more available and accessible.
"Anyone who wants a test should be able to get one, period," he told reporters after the meeting.
Adam Cancryn contributed to this report.