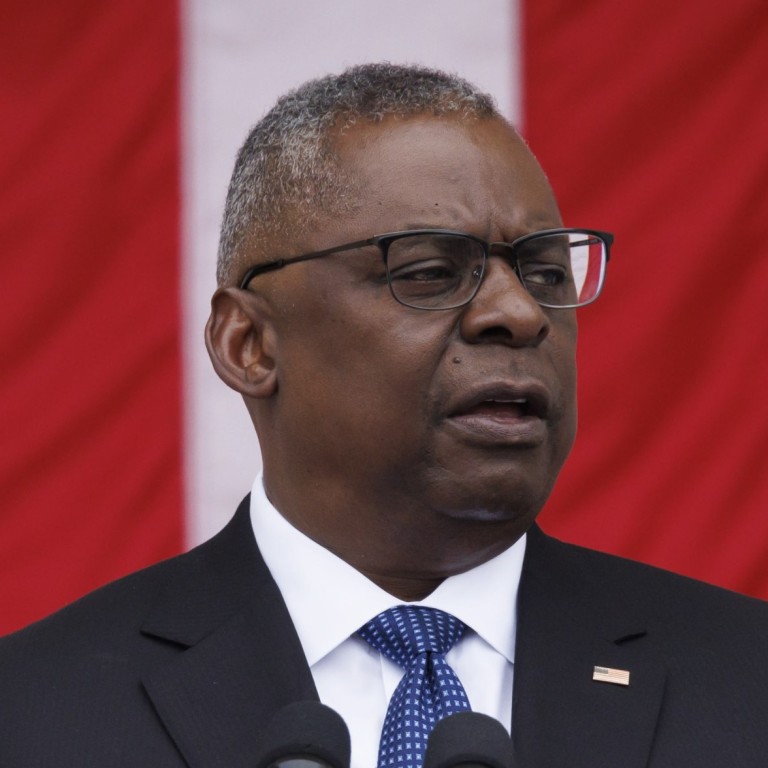 China says US must 'correct its mistaken actions' before top defence chiefs can meet
The US had proposed a meeting of defence chiefs Li Shangfu and Lloyd Austin at the Shangri-La Dialogue next week in Singapore
Rebuff by sanctioned defence minister comes as high-level bilateral talks appear to be making progress
Washington must "correct its mistaken actions" to resume military dialogue, Beijing said in response to a US claim that China declined a meeting between top military leaders.
The remarks from China's foreign ministry came after the Pentagon said on Monday that China rejected an invitation for Chinese Defence Minister Li Shangfu to meet his US counterpart Lloyd Austin at the coming Shangri-La Dialogue defence summit, which is set to take place from June 2 to June 4 in Singapore.
Resuming talks that were "faced with difficulties" would require an effort by Washington to create a "necessary atmosphere and conditions", foreign ministry spokeswoman Mao Ning said on Tuesday.
"Washington should earnestly respect the sovereignty, security and interests of China and immediately correct its mistaken actions to show its sincerity [to talk]," she said.
The US should also "take concrete actions to create necessary conditions for conversation between both sides", Mao added in response to a question on whether the refusal was due to the US sanctions.
Analysts had expected
that Li would refuse a meeting with his US counterpart as long as he remained sanctioned by Washington.
The rejection comes as high-level bilateral talks in recent weeks appeared to have gained momentum. Those talks included Chinese Commerce Minister Wang Wentao's
meetings
last week with US trade representative Katherine Tai and Commerce Secretary Gina Raimondo.
The meetings followed "
candid talks
" between US national security adviser Jake Sullivan and China's top diplomat Wang Yi for two days earlier this month, in which they discussed the hot button issues of Taiwan and Russia's war against Ukraine.
"[But] the PRC's concerning unwillingness to engage in meaningful military-to-military discussions will not diminish [the Defence Department's] commitment to seeking open queues of communication with the People's Liberation Army," Pentagon spokesman Brigadier General Pat Ryder said, referring to the People's Republic of China.
The sanctions were imposed in 2018 for what Washington said were violations by the People's Liberation Army (PLA) in helping to transfer fighter jets and air-defence missile systems to China from Russia.
Officials in US President Joe Biden's administration insisted that the sanctions would not prevent US officials from meeting Li in Singapore, a point made by US Indo-Pacific Commander Admiral John Aquilino when he said last week that high-level, military-to-military talks between the two countries were needed "to mitigate risk and to avoid miscalculation".
Speaking at the Centre for Strategic and International Studies on Thursday, US assistant secretary of defence for Indo-Pacific security affairs Ely Ratner reiterated that Washington hoped for "open queues of communication", but that China had yet to reciprocate.
"Several weeks ago, Secretary Austin and the Department of Defence issued a request to meet with General Li," Ratner said. "That request has not been answered.
"The United States and the Department of Defence have an outstretched hand on this question of military-to-military engagement and we have yet to have had a consistently willing partner [in China]."