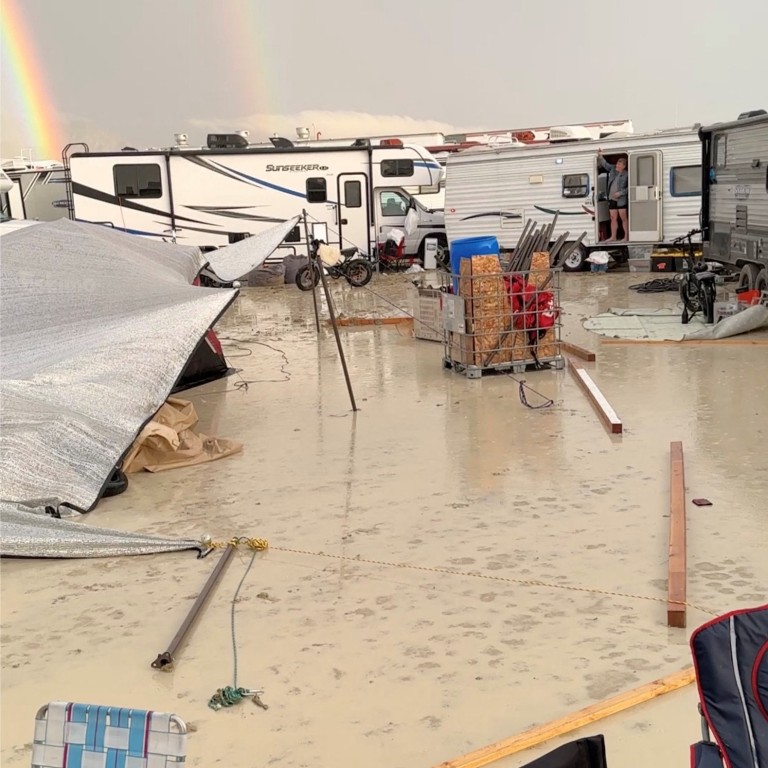 1 dead at US Burning Man festival as thousands trapped during heavy rains
'As the death is still under investigation, there is no further information available at this time', police said late on Saturday
Attendees have been told to conserve food and water and to shelter in place, after rough weather closed the gate and airport in Black Rock City, Nevada
Nevada police on Sunday said they were investigating one death after a severe rainstorm left tens of thousands of revellers attending the annual Burning Man festival stranded in mud.
Pershing County Sheriff's Office in northern Nevada said a death happened during the event but offered few details as the investigation continued, including the identity of the deceased person or the suspected cause of death, KNSD-TV reported.
"As this death is still under investigation, there is no further information available at this time," news outlet NBC quoted the statement as saying.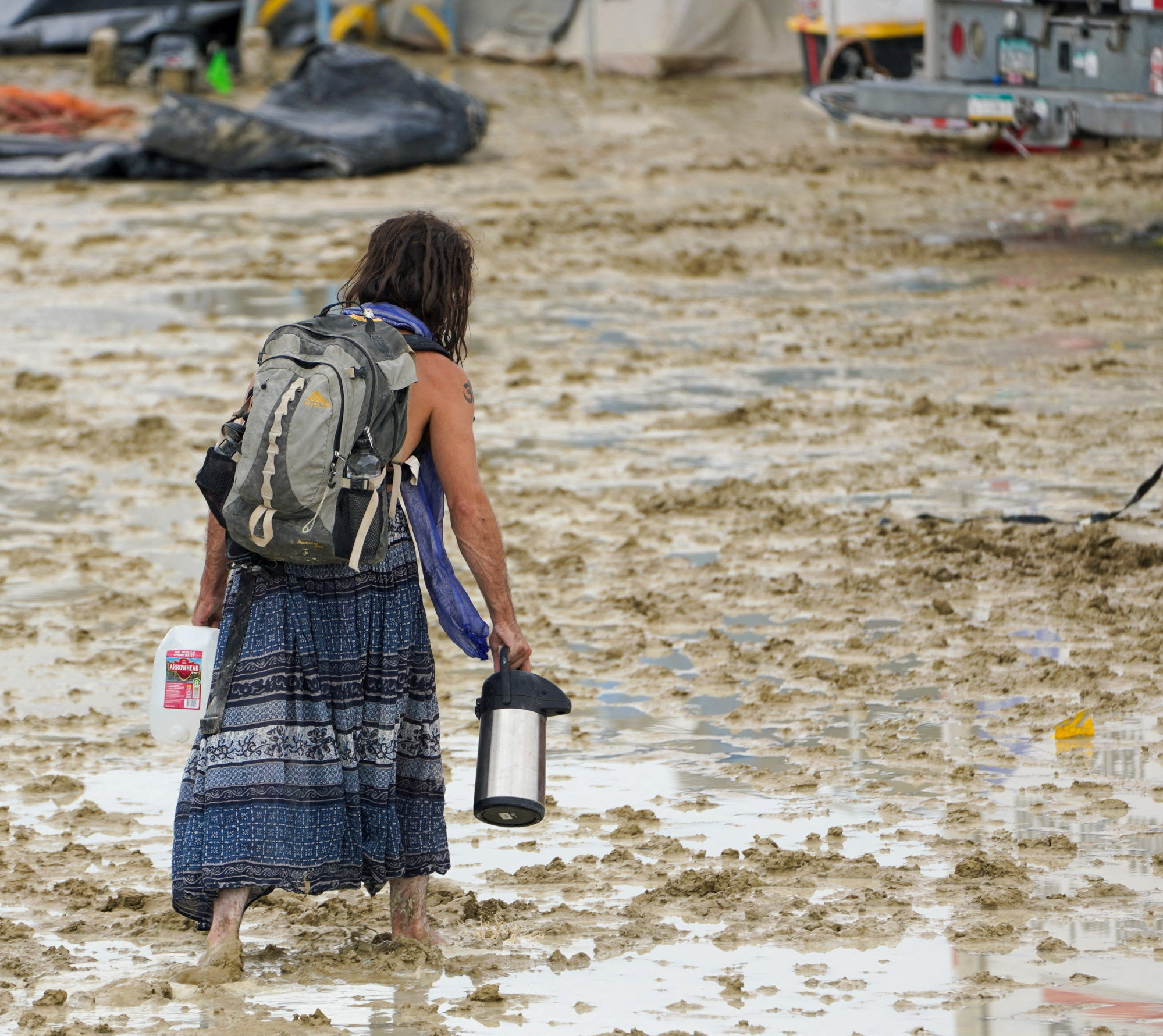 The tens of thousands of people gathered for the festival remained stranded in the Nevada desert on Sunday after storms swept through the area and authorities worked to open exit paths by the end of the Labour Day weekend.
Organisers closed vehicular access to the counterculture festival and attendees trudged through mud, many barefoot or wearing plastic bags on their feet. The revellers were urged to shelter in place and conserve food, water and other supplies. All events at the festival were cancelled
On their website, organisers encouraged participants to remain calm and suggested that the festival is built to endure conditions such as flooding. They said mobile phone trailers were being dropped in several locations on Saturday night and that they would be briefly opening up internet overnight. Shuttle buses were also being organised to take attendees to Reno from the nearest town of Gerlach, a walk of about five miles (8km) from the site.
"Burning Man is a community of people who are prepared to support one another. We have come here knowing this is a place where we bring everything we need to survive," the organisers said in a statement. "It is because of this that we are all well-prepared for a weather event like this."
The Reno Gazette Journal reported that more than 73,000 people are currently at the festival.
Celebrity DJ Diplo posted a video to Instagram on Saturday evening showing him and comedian Chris Rock in the back of a fan's pick-up truck. He said they had walked six miles through the mud before hitching a ride.
"I legit walked the side of the road for hours with my thumb out," wrote Diplo, whose real name is Thomas Wesley Pentz.
Vehicle gates will not open for the remainder of the event, which began on August 27 and was expected to end on Monday, according to the US Bureau of Land Management, which oversees the Black Rock Desert where the festival is being held.
More than one-half inch of rain is believed to have fallen on Friday at the festival site, located about 110 miles (177 km) north of Reno, the National Weather Service in Reno said. At least another quarter of an inch of rain is expected on Sunday.
The Reno Gazette Journal reported that organisers had started rationing ice sales and that all vehicle traffic at the sprawling festival grounds had been stopped, leaving portable toilets unable to be serviced.
Officials said late on Saturday the entrance to the event remained closed, and it was not immediately known when guests could leave the grounds. No driving is allowed except for emergency vehicles and organisers said they did not have a time yet when the roads would "be dry enough for RVs or vehicles to navigate safely." But if weather conditions improve, they were hopeful vehicles could depart by late on Monday.
The announcements came just before the culminating moment for the annual event - when a large wooden effigy was to be burned on Saturday night.
Messages left on Saturday afternoon by Associated Press for both the Bureau of Land Management and the Pershing County Sheriff's Office, the agencies that closed the entrance, were not immediately returned.
Many people played beer pong, danced and splashed in standing water, the Gazette Journal reported. Mike Jed, a festivalgoer, and fellow campers made a bucket toilet so people did not have to trudge as often through the mud to reach the portable toilets.
"If it really turns into a disaster, well, no one is going to have sympathy for us," Jed said. "I mean, it's Burning Man."
Before leaving Ojai, California, for Burning Man, Tara Saylor faced the threat of Hurricane Hilary. Less than 24 hours after she left, a 5.1 magnitude earthquake hit her city, tumbling wine glasses in her kitchen.
When Saylor reached Nevada and tried to get into the festival on August 21 to set up, she and her campmates were not able to get in because of the rain.
They waited two days, leading them to jokingly call it "Waiting Man."
Once they were at the festival, the rain descended on them again on Friday afternoon, creating bowls of water in shaded structures and turning the alkaline lake bed into "a cakey mess."
The mud coated bike tyres and people were forced to carry bikes on their backs. Saylor pulled rubbish bags over her boots to be able to slide through it.
"You've got the hurricane, you've got an earthquake and now a flood," she said
The festival got off to a rough start this year and may have proved foretelling. On August 27, opening day, climate and anti-capitalist activists blocked a road leading into Burning Man, creating miles of gridlock.
According to a statement from Seven Circles, a coalition of activist groups who organised the protest, the blockade aimed to spotlight "capitalism's inability to address climate and ecological breakdown."
Reporting by Associated Press, Reuters, Tribune News, Agence France-Presse